blood orange marmalade ginger shrimp salad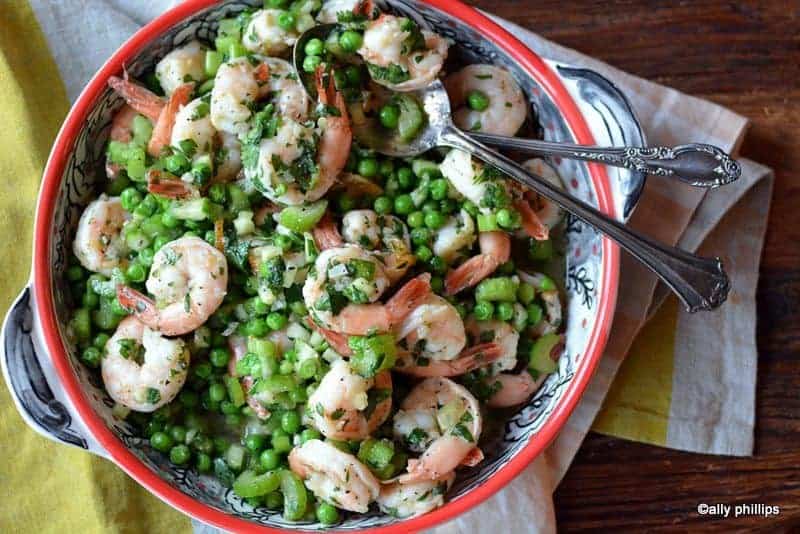 Blood orange marmalade ginger shrimp salad is one of those dishes that will be memorable for your palate. You'll dream about the tasty bites!
Dressing for Shrimp Salad
The sauce for this shrimp salad is really the dressing. It's got some Asian flavors happening. Fish sauce. Rice vinegar. Fresh ginger.
Shrimp Salad with Pasta
You certainly could add pasta to this recipe. If I were doing that, I'd use a small bow tie pasta or something similar. I wouldn't want the pasta to overwhelm the shrimp, which is the star of this recipe.
Salad with Shrimp
Love when I get an email from The Fresh Market and it says 'shrimp on sale'! That's exactly how this recipe was born.
Ginger Marmalade Shrimp Salad Recipe
I had a hankerin' for a few different flavors with the shrimp, something kind of 'Asian-inspired'. So what's better than clean simple flavors like fresh ginger, cilantro, toasted sesame oil and rice vinegar.
Shrimp Salad Chinese Style
On our travels to China where we stay almost a month, I had the incredible opportunity to eat and taste so many flavors of their cuisines.
That's what prompted me to add a tad of sweetness with the orange marmalade and some crunch with the cucumbers and celery.
And, there's nothing more beautiful and simple than English peas, so in they went, too! For a twist of heat and spice, the serrano pepper filled the bill.
Thai Shrimp Salad
Visiting Thailand also inspired some of the flavors in this recipe. We'd indulge in everything. From street food and venders to outdoor markets and the very finest restaurants, this recipe has some snippets of most all of those experiences.
Here are a few more of my favorite shrimp recipes inspired from my Asian travels.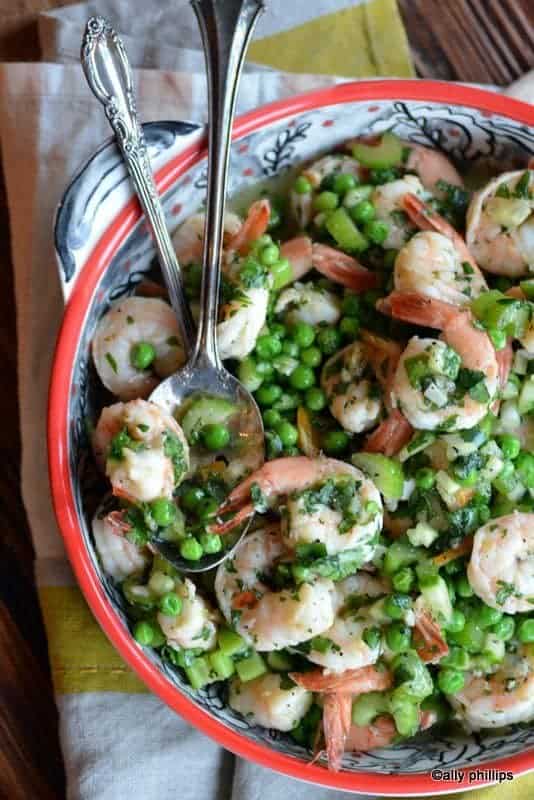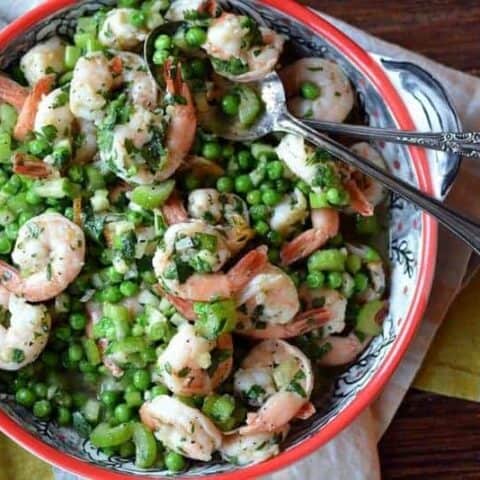 blood orange marmalade ginger shrimp salad
Ingredients
SAUCE:
4 Tbl. orange marmalade (I used Blood Orange Marmalade from World Market.)
3 tsp. rice vinegar
3 tsp. fish sauce
3 tsp. ginger, minced
½ tsp. coarse ground pepper
1 ½ cups peas, previously frozen
VEGGIES:
1 cup English cucumbers, diced, skin on
1 cup celery, sliced
¼ cup green onions & tops, sliced
1 tsp. serrano pepper, diced (some of seeds removed and 2 tsp. if your adventurous)
¼ cup fresh cilantro, chopped
SHRIMP:
3 Tbl. toasted sesame oil
1 Tbl. fresh garlic, minced
1 lb. large shrimp, tail on, peeled, deveined
Instructions
In a small bowl, combine the marmalade, vinegar, fish sauce, ginger and pepper and blend together. Set aside.
In a large mixing bowl put the peas, cucumbers, celery, green onions, serrano pepper, cilantro and toss together. Set aside.
In a heavy skillet over medium low heat, put the oil. Add the garlic and sauté about 5 minutes (don't let it burn!). Add the shrimp and cook about 4-5 minutes.
Drizzle on the sauce and toss and blend. Remove skillet from the blaze. Cover with a lid and let it steam for about 5 minutes. Toss into the veggies and mix together.
Refrigerate about an hour (or longer) before serving.
Notes
It's optional to remove tails or leave on!