Love when I get an email from The Fresh Market and it says 'shrimp on sale'! That's exactly how this recipe was born. I had a hankerin' for a few different flavors with the shrimp, something kind of 'Asian-inspired'. So what's better than clean simple flavors like fresh ginger, cilantro, toasted sesame oil and rice vinegar.
Then I added a tad of sweetness with the orange marmalade and some crunch with the cucumbers and celery. Now there's nothing more beautiful and simple than English peas, so in they went, too! For a twist of heat and spice, the serrano pepper filled the bill.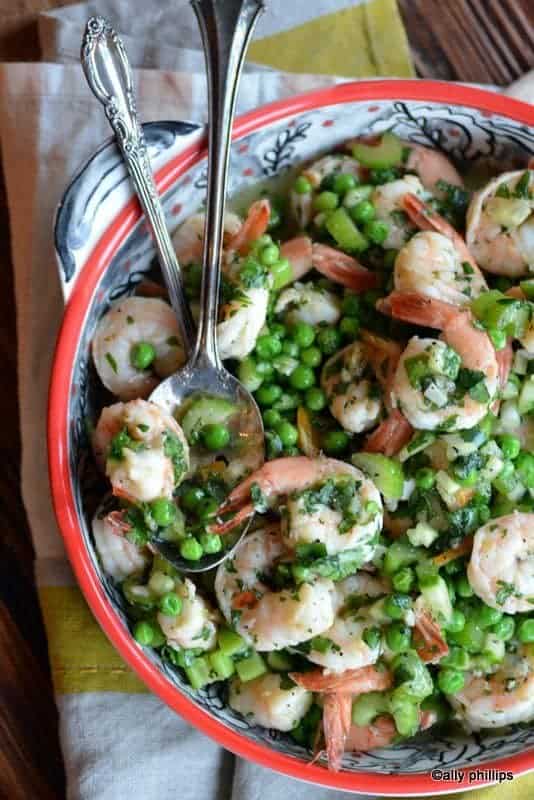 blood orange marmalade ginger shrimp salad
Ingredients
SAUCE:
4 Tbl. orange marmalade (I used Blood Orange Marmalade from World Market.)
3 tsp. rice vinegar
3 tsp. fish sauce
3 tsp. ginger, minced
½ tsp. coarse ground pepper
1 ½ cups peas, previously frozen
VEGGIES:
1 cup English cucumbers, diced, skin on
1 cup celery, sliced
¼ cup green onions & tops, sliced
1 tsp. serrano pepper, diced (some of seeds removed and 2 tsp. if your adventurous)
¼ cup fresh cilantro, chopped
SHRIMP:
3 Tbl. toasted sesame oil
1 Tbl. fresh garlic, minced
1 lb. large shrimp, tail on, peeled, deveined
Instructions
In a small bowl, combine the marmalade, vinegar, fish sauce, ginger and pepper and blend together. Set aside.
In a large mixing bowl put the peas, cucumbers, celery, green onions, serrano pepper, cilantro and toss together. Set aside.
In a heavy skillet over medium low heat, put the oil. Add the garlic and sauté about 5 minutes (don't let it burn!). Add the shrimp and cook about 4-5 minutes.
Drizzle on the sauce and toss and blend. Remove skillet from the blaze. Cover with a lid and let it steam for about 5 minutes. Toss into the veggies and mix together.
Refrigerate about an hour (or longer) before serving.
https://allyskitchen.com/blood-orange-marmalade-ginger-shrimp-salad/
©ally's kitchen intellectual property