smoked paprika salmon chunks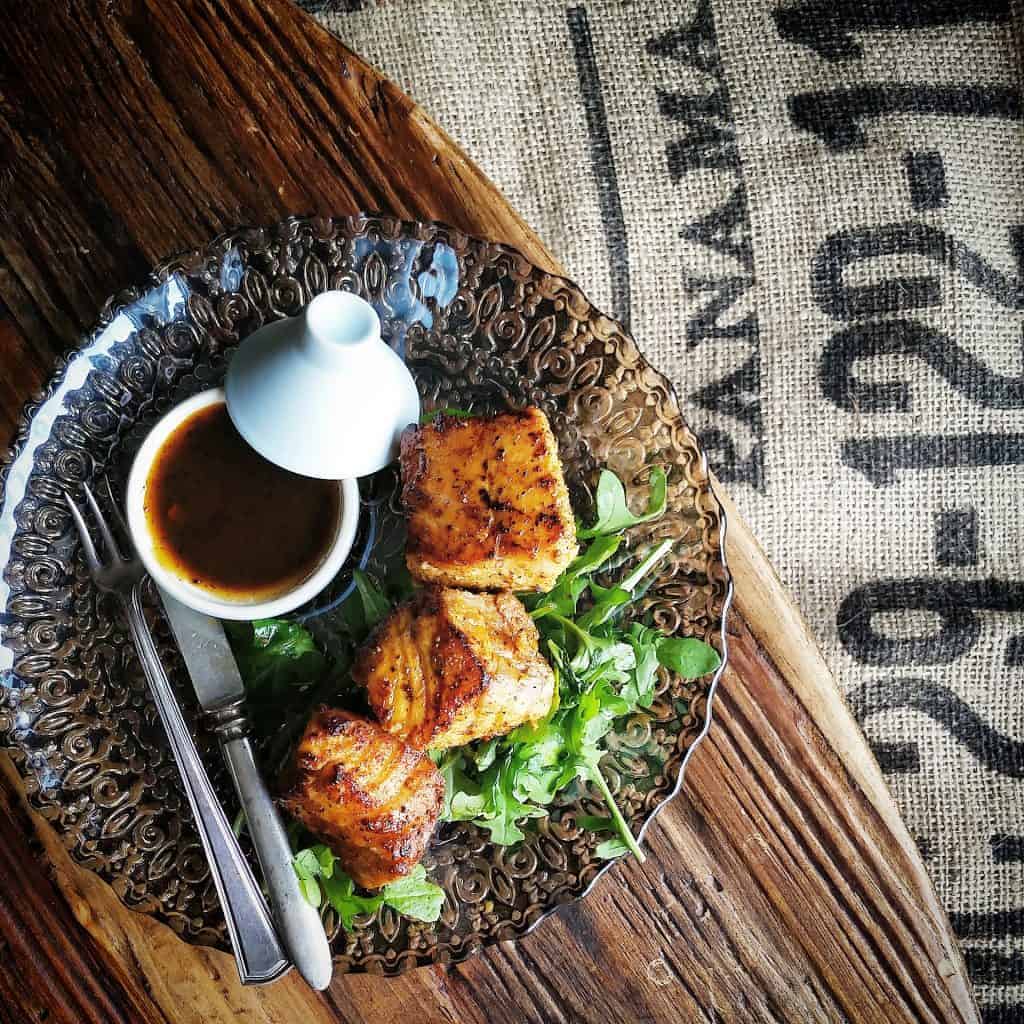 lySalmon
Smoked paprika salmon chunks are a fun way to create an appeatizer or meal with healthy salmon! These smoked salmon chunks are keto friendly and nutritious!
Salmon is one of those really healthy foods that we all should be eating at least weekly. Just in case you don't know why, here's a synopsis of eleven impressive health benefits from Healthline:
Rich in Omega-3 Fatty Acids. Salmon is one of the best sources of the long-chain omega-3 fatty acids EPA and DHA.
Great Source of Protein
High in B Vitamins
Good Source of Potassium
Loaded With Selenium
Contains the Antioxidant Astaxanthin
May Reduce the Risk of Heart Disease
May Benefit Weight Control
Salmon Recipes
Lots of salmon recipes give us options for cooking this delicious seafood. And, you don't need to do much to the salmon to make it even more scrumptious. You want to make sure your salmon recipe lets the salmon be centerpiece flavor. And, no recipe does this better than the smoked paprika salmon chunks.
You probably aren't thinking of cutting your salmon into chunks, but once you try this recipe, you'll become a believer. Just make sure that the centermost part of your salmon is thick so the chunks don't just shred. You can slice off the thinner ends of the salmon and cook those, too. Just consider them a bonus treat for you to munch on when preparing this recipe!
Keto Side Dishes
Salmon is a beautiful seafood to prepare. It makes the perfect keto side dish! And, there's so many ways to twist salmon into something new each time you eat it. From the way you cook it, poach, grill, pan sear, bake, to the way you 'shape' it, salmon can take on a new profile with a tad bit of creativity!
Keto Snacks
For this dish, I wanted 'chunks' hearty bite-size pieces that would each have its own individual personality from the cooking. Simply by cutting the salmon filet into chunks, you're able to transform a filet of salmon into a keto snack. And, keto snacks are healthier for you! You can have seconds, thirds and fourths.
The combination of the smoked hot paprika with the lemon pepper and then the honey mustard dill sauce and the fact that it's such a simple easy preparation will have you coming back again and again making this recipe~next time, maybe triangles!
Here are some appetizers you can prepare at home quickly:-
pan seared scallops
fried green tomatoes
Fresh Crab & Campari Tomatoes
Crispy & Savory Shrimp Brie & Prosciutto Wrap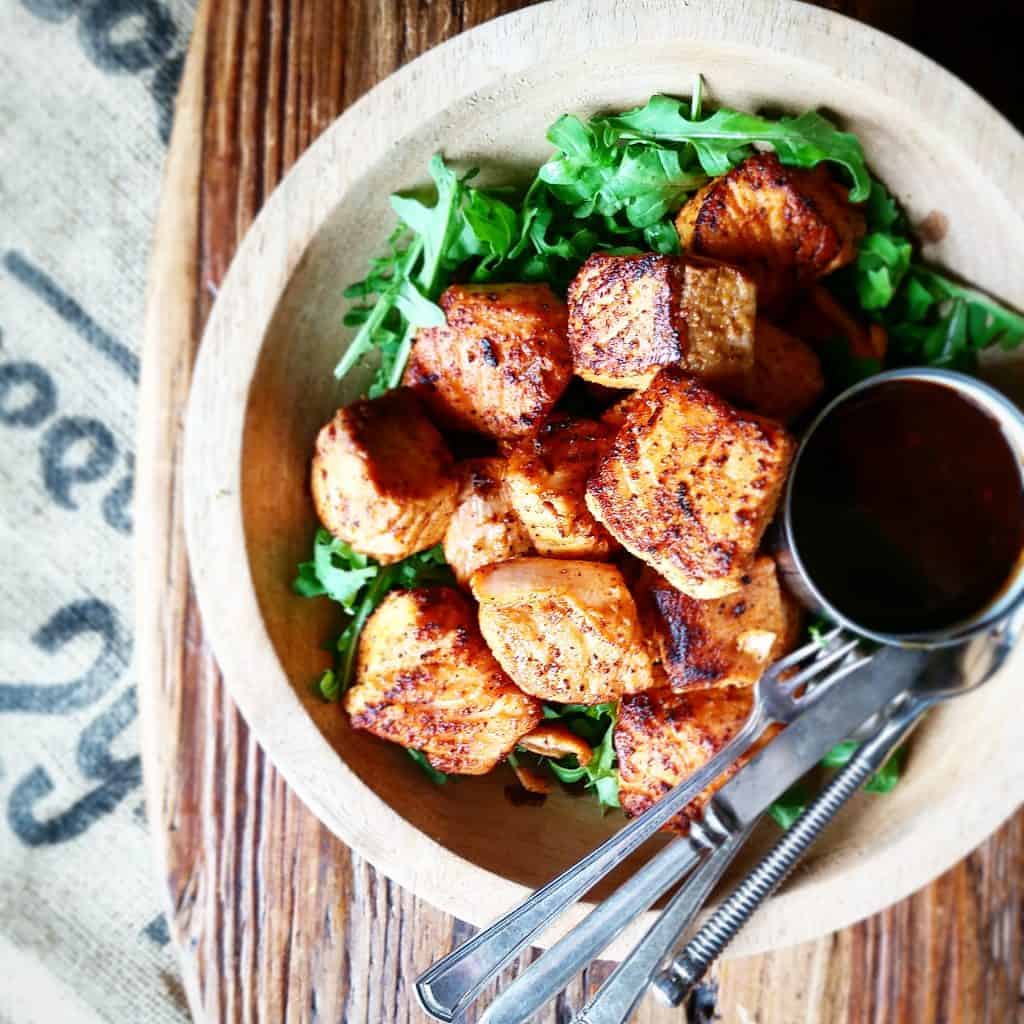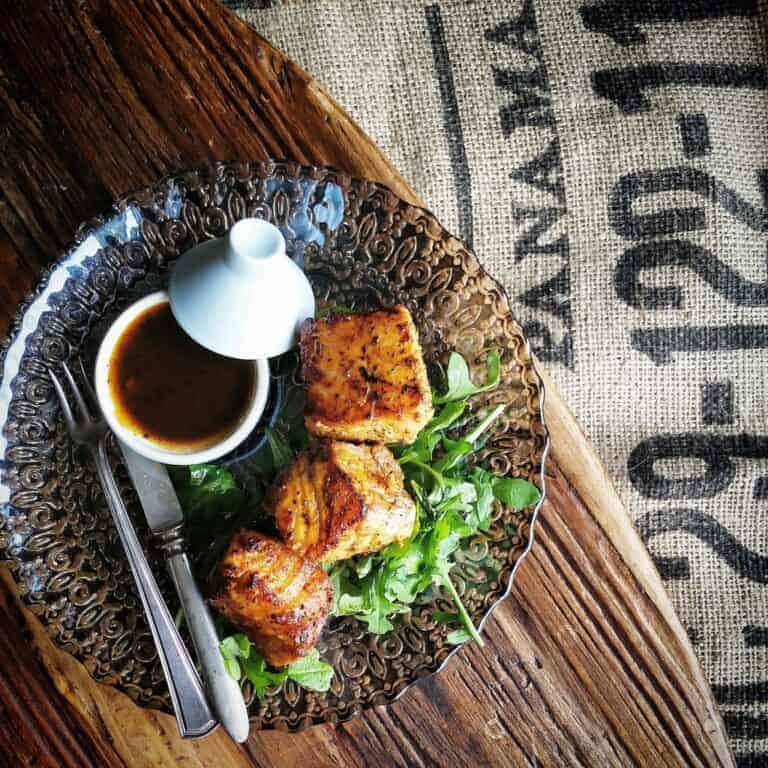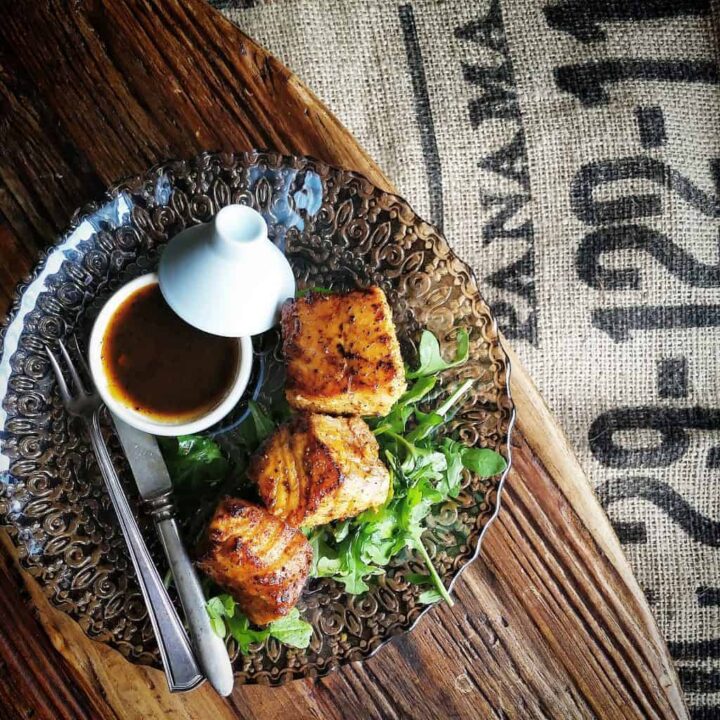 smoked paprika salmon chunks
Smoked paprika salmon chunks are a fun way to create an appeatizer or meal with healthy salmon! These smoked salmon chunks are keto friendly and nutritious!
Ingredients
1 ½ to 2 lb. thick cut salmon, underside skin removed, trim thin sides to square up salmon & cut into 1 ½ to 2" chunks
1 Tbl. smoked hot paprika
1 Tbl. lemon pepper
¼ tsp. sea salt
3 Tbl. olive oil
1/3 cup white wine, like a chardonna
¼ cup honey
1 Tbl. mustard
1 Tbl. chopped fresh dill
Instructions
Put the salmon chunks in a bowl. Combine the paprika, lemon pepper and salt in another small bowl then sprinkle on the salmon and toss and coat.

Over medium high blaze, heat an 8-10" cast iron skillet. Put the olive oil in and let it get hot. When cooking the salmon, you'll go back and forth between medium and medium high.

Put about 6 chunks in at a time (do no crowd the skillet) and pan sear on the first side about a 90 seconds. Turn with tongs and cook on the flip side another about 90 seconds. Gently flip to some of the other sides of each cube/chunk and cook another about 60-90 seconds. Remove to a plate, loosely cover with doubled foil and repeat with the remaining salmon.

In the same skillet over medium heat (after all salmon is cooked), pour the wine to deglaze the pan. Whisk in the honey, mustard and dill. Stir and blend cooking on medium about 3-5 minutes. Turn off heat. Pour sauce in a small container for serving.