Salmon is a beautiful seafood to prepare. And, there's so many ways to twist salmon into something new each time you eat it. From the way you cook it, poach, grill, pan sear, bake, to the way you 'shape' it, salmon can take on a new profile with a tad bit of creativity!
For this dish, I wanted 'chunks'~hearty bite-size pieces that would each have its own individual personality from the cooking. The combination of the smoked hot paprika with the lemon pepper and then the honey mustard dill sauce and the fact that it's such a simple easy preparation will have you coming back again and again making this recipe~next time, maybe triangles!
xoxo ~peace & namaste ally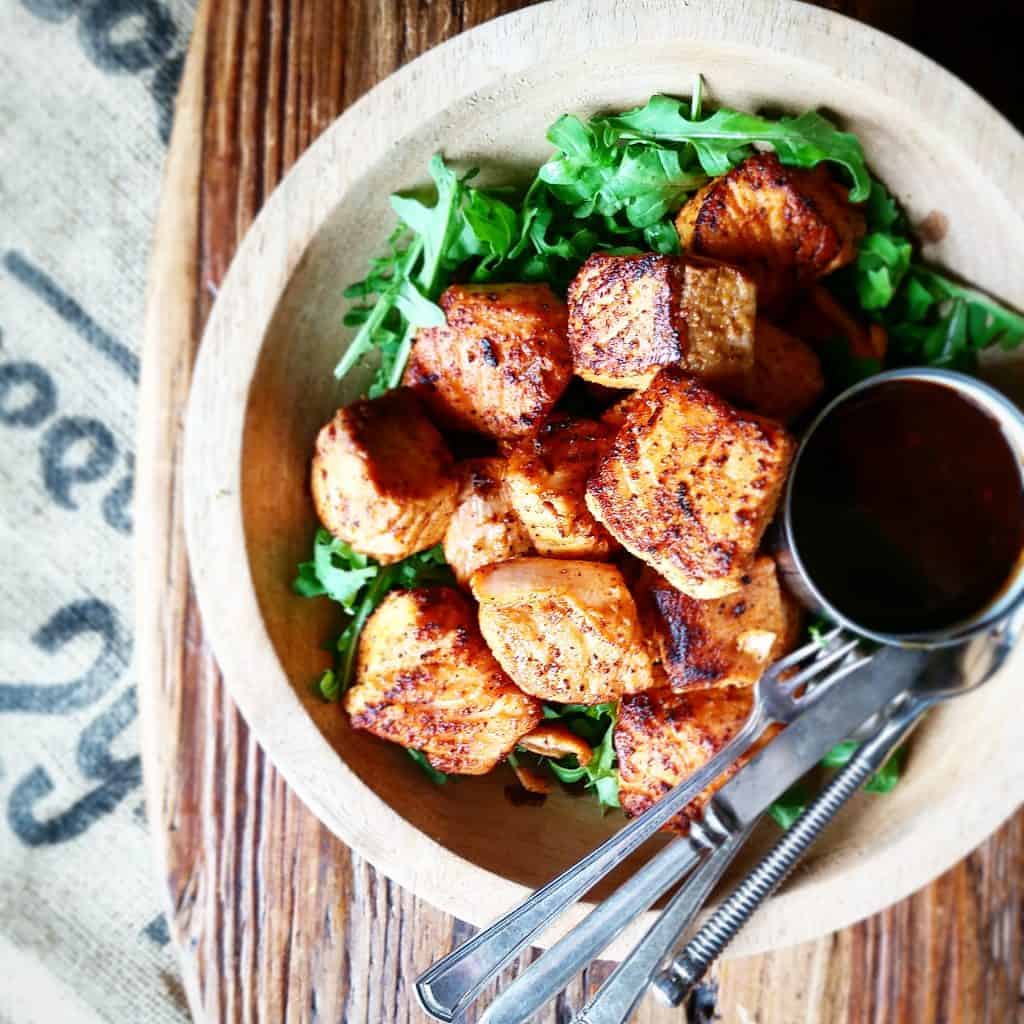 smoked paprika salmon chunks
Ingredients
1 ½ to 2 lb. thick cut salmon, underside skin removed, trim thin sides to square up salmon & cut into 1 ½ to 2" chunks
1 Tbl. smoked hot paprika
1 Tbl. lemon pepper
¼ tsp. sea salt
3 Tbl. olive oil
1/3 cup white wine, like a chardonna
¼ cup honey
1 Tbl. mustard
1 Tbl. chopped fresh dill
Instructions
Put the salmon chunks in a bowl. Combine the paprika, lemon pepper and salt in another small bowl then sprinkle on the salmon and toss and coat.
Over medium high blaze, heat an 8-10" cast iron skillet. Put the olive oil in and let it get hot. When cooking the salmon, you'll go back and forth between medium and medium high.
Put about 6 chunks in at a time (do no crowd the skillet) and pan sear on the first side about a 90 seconds. Turn with tongs and cook on the flip side another about 90 seconds. Gently flip to some of the other sides of each cube/chunk and cook another about 60-90 seconds. Remove to a plate, loosely cover with doubled foil and repeat with the remaining salmon.
In the same skillet over medium heat (after all salmon is cooked), pour the wine to deglaze the pan. Whisk in the honey, mustard and dill. Stir and blend cooking on medium about 3-5 minutes. Turn off heat. Pour sauce in a small container for serving.
https://allyskitchen.com/smoked-paprika-salmon-chunks/
©ally's kitchen intellectual property