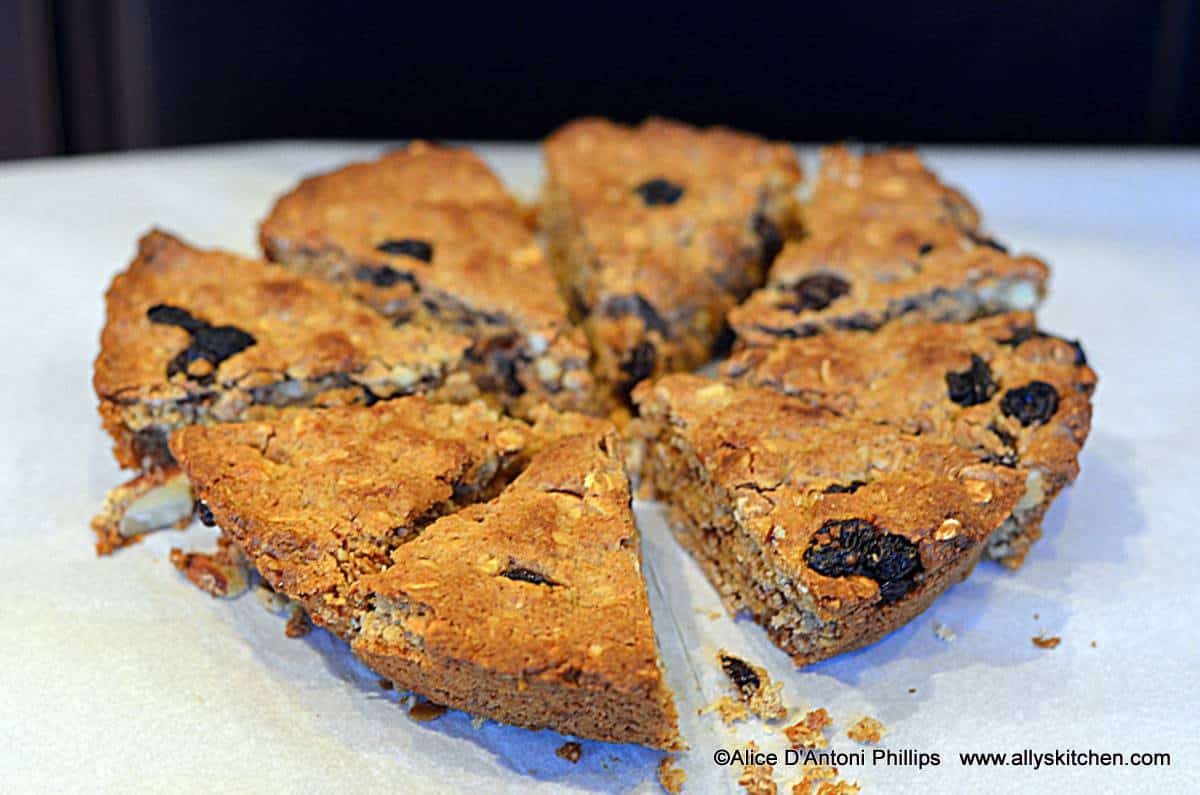 After winning the 'Voters Choice' in Sara Moulton's 'Locavore' contest, I got not only a set of awesome copper clad cookware, but Sara sent me her three cookbooks all personally signed!  There are so many fabulous recipes, I just decided to fan through  and stop where it stopped~~and, it just so happened, that it landed on page 355 of her 'Sara Moulton's Everyday Family Dinners' cookbook!
Since I love oatmeal, I was happy, and knowing my 'boho' tendencies~~I mean I always have to tweak and make a recipe my own~~but, isn't that the way it's supposed to be~~I decided to make these a tad more healthy with wheat germ, and to add for richness some of Rodelle's wonderful organic vanilla.  Both of these choices worked well because these are like chewy granola bars~~and, that's why I'm not calling them cookies, like Sara does!  But, I think she'd approve and be delighted to see what I've done with her great recipe!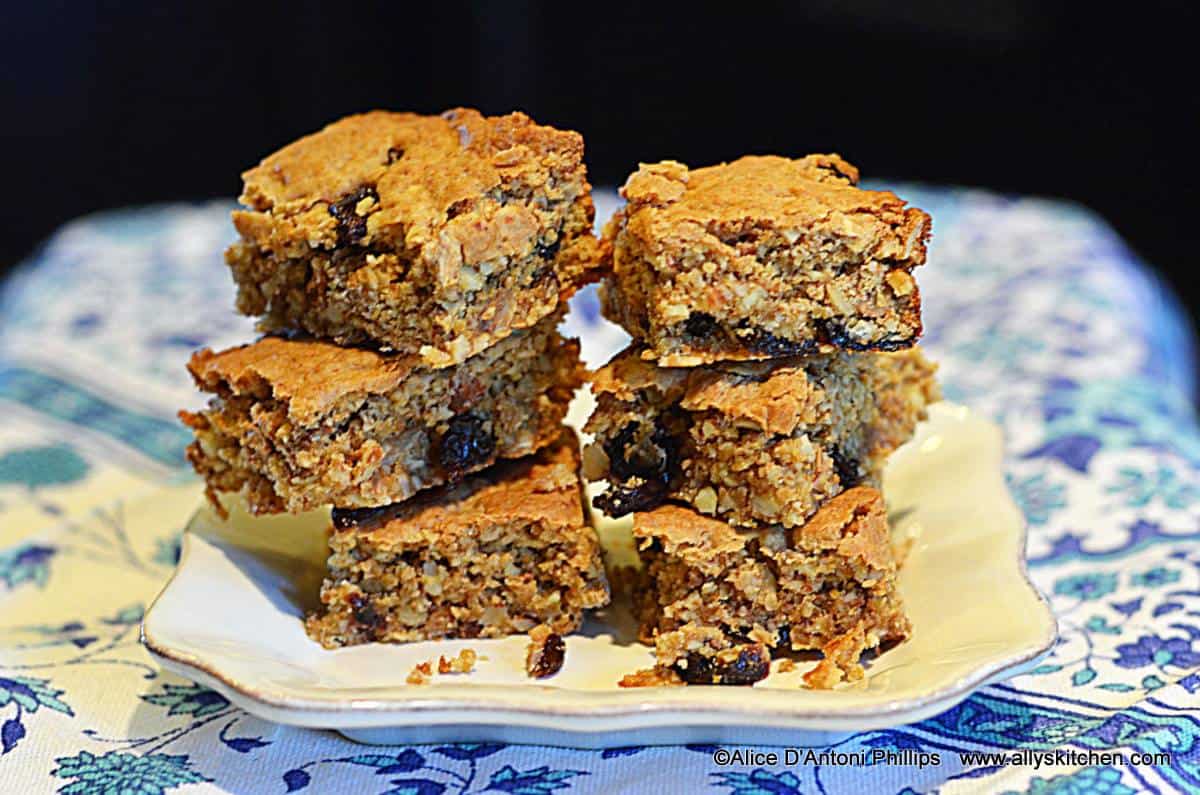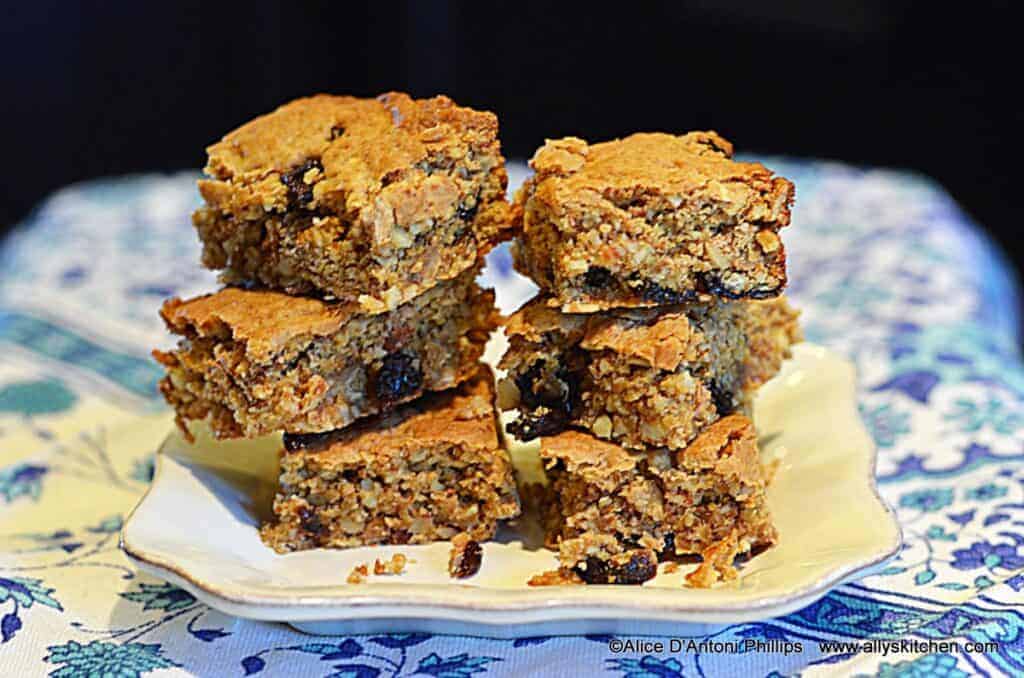 Makes: One 10×12 baking sheet
Preheat oven to 350
What you need:
1 cup packed dark brown sugar
8 tbl softened butter
2 eggs
1 tsp Rodelle pure almond extract
1 tsp Rodelle  vanilla extract
1 cup almonds
1 cup self-rising flour
1/2 cup wheat germ
1 cup old-fashioned oats
1/2 cup raisins
What you do:
In a food processor put the brown sugar, butter, eggs, almond and vanilla extract and almonds and pulse until well incorporated~~about 2 minutes.  Add the flour, wheat germ and pulse 4 or 5 times making a dough.
Add the oats, raisins and pulse another 4 or 5 times.  Dump into a greased baking dish. (Note:  I used an 8×8 baking pan and a 5″ cast iron skillet.)  Put oil on your hands and pat into the dish working into the corners.  Bake in a preheated 350 oven about 15-17 minutes (until firm and golden brown–do not overcook–will dry out.)  Remove, let rest about 2-3 minutes then slice while still hot.  Let the cool until ready to serve.
Store in an airtight container.