best cherry chocolate smoothie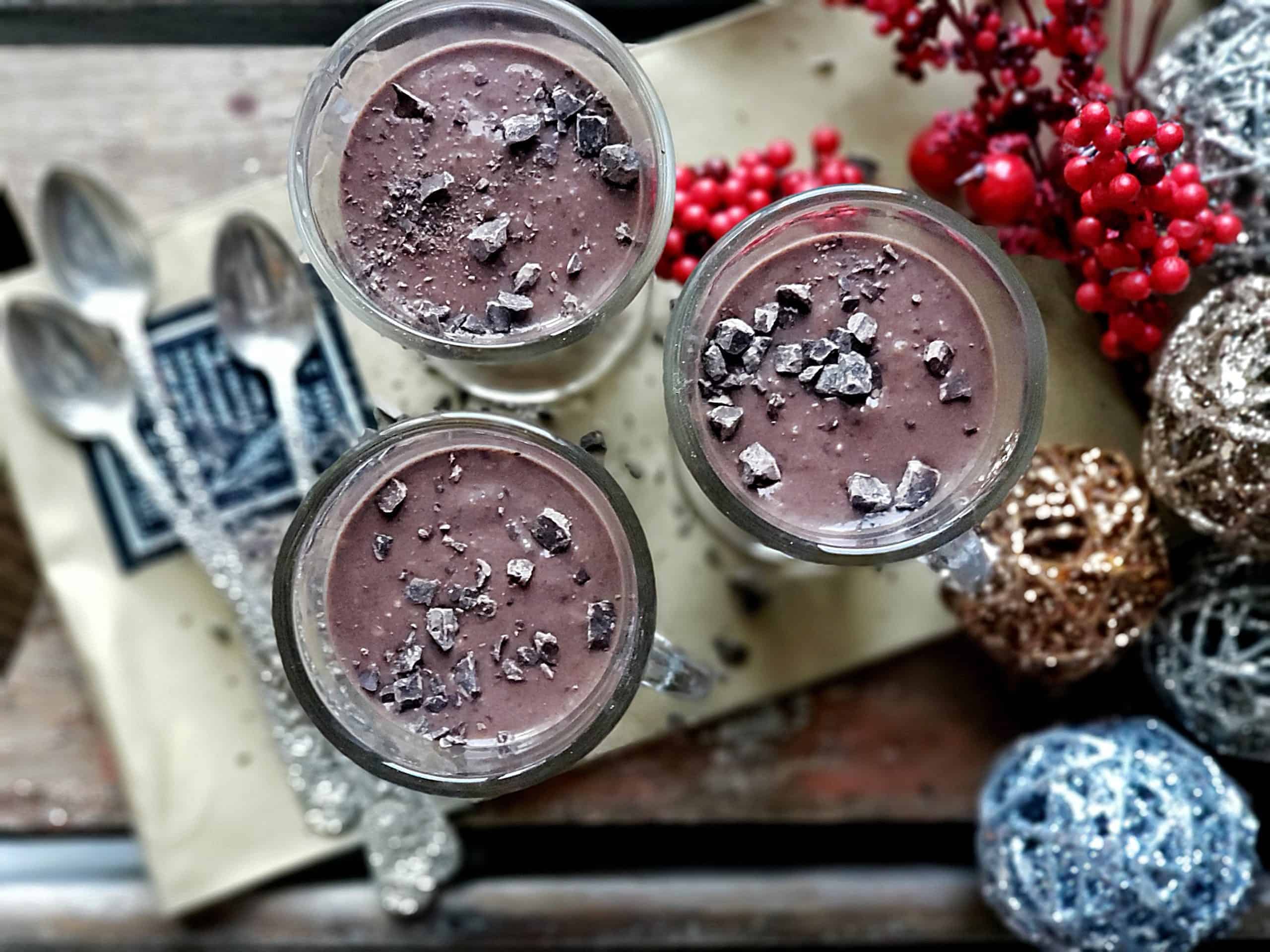 Smoothies at Home
Looking for THE best cherry chocolate smoothie recipe ever?? Well, search no further! You've just found it! Choked full of goodliness & even kid approved!
Making smoothies at home is one of the simplest things in the world! And, all you need is a good smoothie maker. That smoothie maker can be a food processor, blender, or some fancy dancy smoothie machine.
Are Smoothies Good for Kids
If you're wondering 'are smoothies good for kids', well, bottom line is that depends on what you put into them! But, if you're looking for a way to get fruits and vegetables into your kiddos, then smoothies are great for making this happen.
Here are a couple of other smoothies that you can put in a bowl or make into a sipping smoothie that are also packed with goodliness!
Strawberry Watermelon Smoothie
And, if you're wondering what are some of the best ingredients to put in a smoothing, then here you go!
Easy Smoothie Recipe
An easy smoothie recipe has healthy trustworthy ingredients in it. Fruits, vegetables, and nuts. Some have nutter butters. Some have different nut milks, yogurts, sour cream and other additions like protein powders. Basically, when I'm looking for an easy smoothie for my grandkids, I want it to be yummy, really smooth, and something that will make them think they're having a treat.
Cherry Smoothie
So, let's talking about what makes this 'cherry smoothie so nutritious. Maintaining that dark brown chocolate 'look' is important. Yes, it's a visual appeal thing that's so essential with food. I'm using dark red pitted frozen cherries.
And, the best you can find, hands down, are Dole Sunshine cherries in the frozen food section. Cherries are full of anti-oxidants and are anti-inflammatory. If you're a big kid sipping on this drink and you have some aches and pains or even something like arthritis, then these cherries are for you. They also are full of fiber, protein and vitamins A and C.
Cherry Chocolate Smoothie
Toss in some magical cinnamon, ground flax seeds and unsweetened cocoa and almond milk to this smoothie and you've got like a 'chocolate milkshake'. But, wait, it's not an ice cream sugary milkshake. You have a super smoothie with dietary benefits that will fool you with each sip! And, if you want to toss in a tablespoon of maca root powder, then you'll have even more anti-oxidant and energy power.
Kid Smoothie Recipes
Ya'll might or might not know, but I have eight, yes, eight, grandchildren and three more on the way as of this writing. And, I'm sure by the time everyone finishes growing their families, there will be close to a dozen! Having all these littl' monkeys running around the house when the come to visit means coming up with lots of ideas for picky palates and personal preferences.
You know how kids are. Textures, shapes, flavors, combinations, and other things about food might or might not appeal to them. Sometimes getting good ingredients into the kids' mouths means getting creative. And, I'm doing that with this cherry chocolate smoothie.
Healthy Kid Smoothies
Healthy kid smoothies start with healthy ingredients. Low fat and high fiber butternut squash is in the smoothie, as well as heart healthy anti-oxidant packed pumpkin seeds and almonds. Pumpkin seeds and almonds are known for their ability to lower blood sugar levels and help with blood pressure and cholesterol. While kids usually don't have these issues, it's good to know the benefits of them.
As you can see,my littl' elves to are helping me with the pictures of this smoothie. They are most happy to oblige because after the shoot, they get the smoothie!!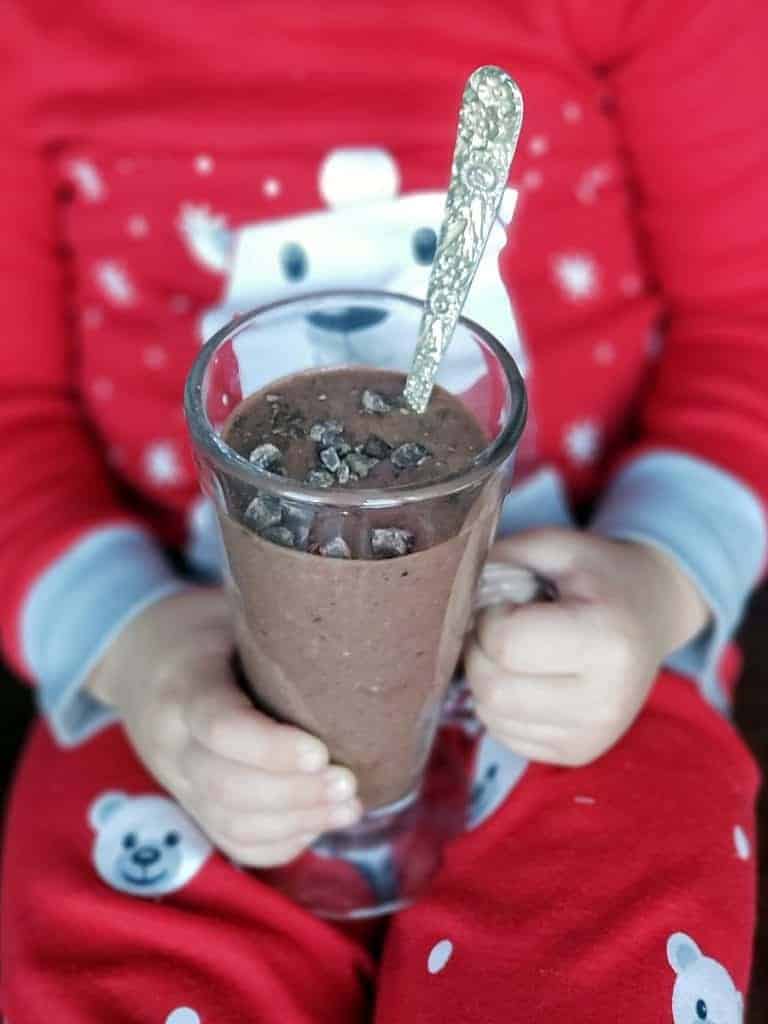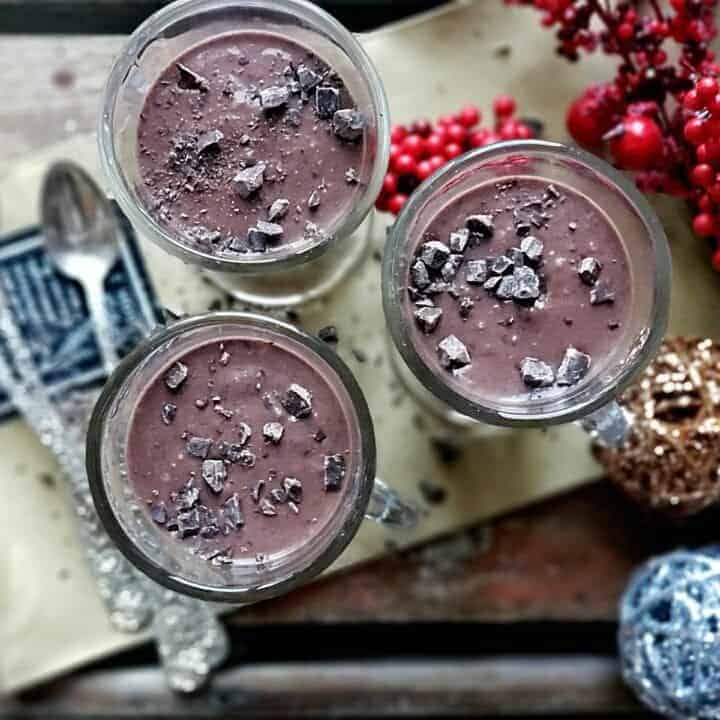 cherry chocolate nutty smoothie
Yield: 3 about 6-8 oz. drinks

This cherry chocolate smoothie is simply the best! You'll never know that you're sipping ingredients like butternut squash, pumpkin seeds and more!
Ingredients
1 cup Dole Packaged Foods frozen dark red cherries
½ cup butternut squash, medium dice
2 bananas, frozen, then cut in several pieces
¼ cup pumpkin seeds
½ cup almonds, sliced
½ tsp. ground cinnamon
1 Tbl. + 2 tsp. 100% unsweetened cocoa
2 Tbl. ground flax seeds
¼ cup Dole Packaged Foods pitted dates, diced
1 ½ cups almond milk, vanilla
GARNISH:
2 Tbl. 70% cacao chips, crushed
Instructions
Put all the ingredients in a blender (VitaMix) and pulse until it is a creamy smooth mixture.

Add more almond milk if a more drinkable consistency is desired.

Serve in chilled glasses and top with some crushed cacao chips.