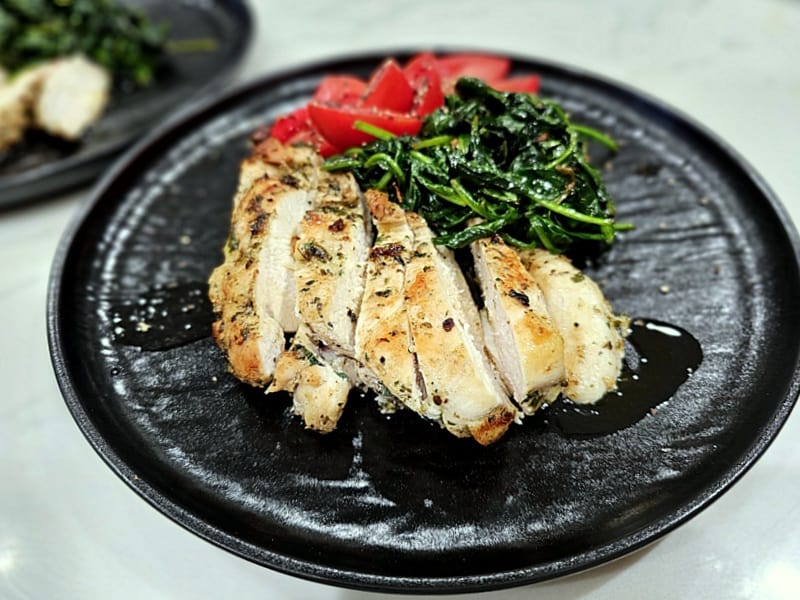 Fire up your skillet. Get it really hot! This Greek Chicken is going to be pan seared to perfection. Juice inside. Golden brown outside!
Greek Chicken
Greek chicken, prepared in a Mediterranean style, offers several health benefits due to its nutritious ingredients and cooking methods.
Skillet Greek Chicken
Lean Protein: Chicken is a lean source of protein, which is essential for muscle growth and repair. Protein also helps with satiety, making you feel full and potentially aiding in weight management.
Heart Health: Greek chicken often incorporates heart-healthy ingredients like olive oil, which is rich in monounsaturated fats that can help reduce the risk of heart disease. Additionally, the use of herbs and spices like oregano and garlic may have cardiovascular benefits.
Greek Seasoning
The seasoning that I've pulled together for this recipe is so simple! You could use it for shrimp, pork and even vegetables for grilling!
Greek chicken is seasoned with flavorful herbs and spices like oregano, mint, and garlic. These ingredients add taste without relying on excessive salt or unhealthy seasonings.
Greek Chicken Seasoning
With this recipe, I've got about 1/4 cup of fresh herbs. Use a combination of herbs, parsley (flat), chives, mint and dill. Sometimes I throw in fresh oregano or and a little rosemary, not much of the rose because it's very strong.
Mince this all up into a fine mixture. It will coat the chicken beautifully. As for amounts of each herb, well, you can decide which you like best, but I typically do about two teaspoons of parsley, then add in about one or so of each of the other herbs, excluding the rosemary, which is about one-half teaspoon.
Don't fret about exact measurements. You'll not mess up. And, if you mince too many herbs, just save it for garnish when serving.
Greek Sheetpan Chicken
I absolutely love pan searing this chicken in a hot cast iron skillet. It gives the sear and golden brown on the chicken that I love.
Once it's seared on each side, I reduce the heat, cover, and let it steam until it reaches an internal temperature of 165+. Using a digital thermometer, I check. Be sure to let the chicken rest a few minutes before serving. Those juices ooze somewhat and you can just drizzle that on your chicken when serving.
Greek Chicken and Potatoes
You know I love potatoes, but with this Greek Chicken I'm doing fresh baby spinach!
Right after I've cooked the chicken, removed from the pan, and let it rest a few minutes before serving, I just toss in a lot of spinach into the same skillet.
There's usually enough oil and flavoring from the chicken to steam this spinach in just a few minutes. It's absolutely fabulous, we think!
Greek-Style Chicken Thighs
I used boneless skinless chicken breasts for my recipe. I love the ones I get from Cooks Venture! They're pasture-raised and just the right size and thickness for this recipe. Full of so much more nutrition, it's worth checking them out. And, with my discounts, you'll get a nice savings.
Here's the link to 'Shop the Brands I Love'. Scroll down and check out the Cooks Venture!
If you want to use bone-in or boneless chicken thighs, CV's are perfect for this recipe, too.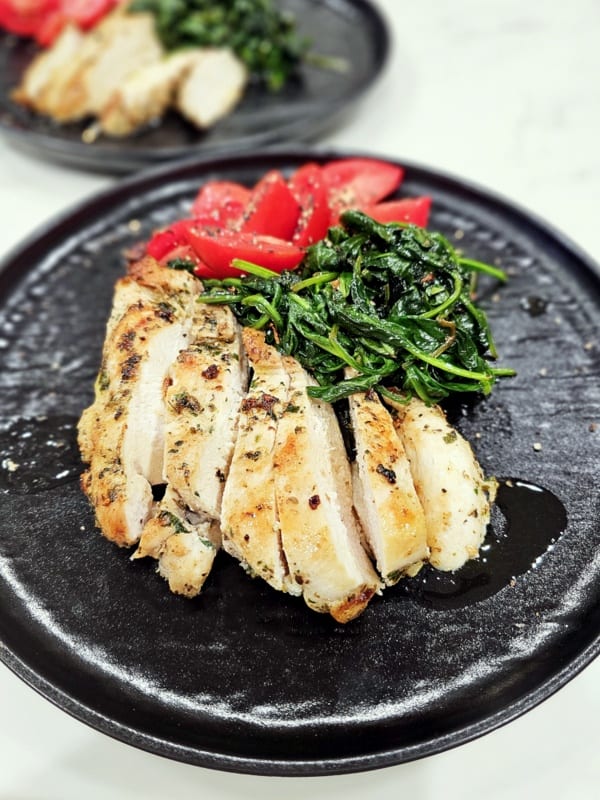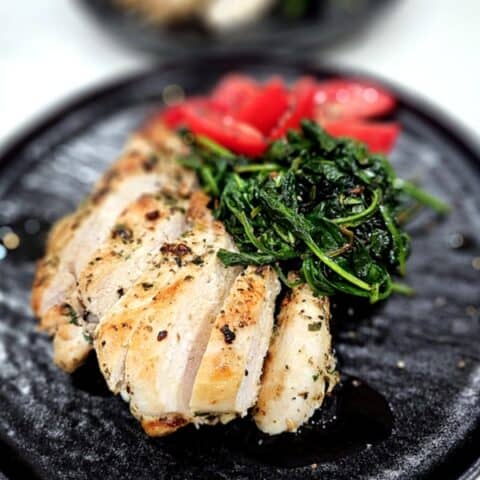 Easy Greek Chicken
Ingredients
GREEK SEASONING
1/2 cup extra virgin olive oil, divided
1/2 tsp. red chili flakes
3 tsp. Greek seasoning, dried
2 Tbl. fresh garlic, minced
1/4 cup, fresh herbs, packed, parsley, chives, mint, dill
1 tsp. ground cumin
1 tsp. Himalayan pink salt
1 tsp. ground pepper
CHICKEN
6 chicken breasts, boneless, skinless, not super thick breasts
FRESH SPINACH (optional)
One large container of fresh baby spinach, organic
Instructions
In a large pie plate combine all the Greek seasoning ingredients and whisk and blend well.
Using tongs, add the chicken breasts to this seasoning mixture. Coat and cover on both sides. Let it sit for about 10 minutes turning the chicken a couple of times.
In a large cast iron skillet over medium high heat, let the pan get really hot.
Add the chicken, don't crowd. brown on each side to a golden brown, about 2 minutes per side.
Once all the chicken is browned, reduce heat to low and let the chicken steam until it's 165+ degrees internal temperature. Check with a digital thermometer inserting into the thickest breast.
Remove the chicken to a plate. Cover with a lid (you can stack two pieces of chicken making 3 stacks). Rest for 3-4 minutes.
If serving spinach with the chicken, put into the skillet (medium heat), add salt and pepper to your liking, cover with a lid and let it steam while the chicken is resting. Toss and blend once or twice
Serve immediately.