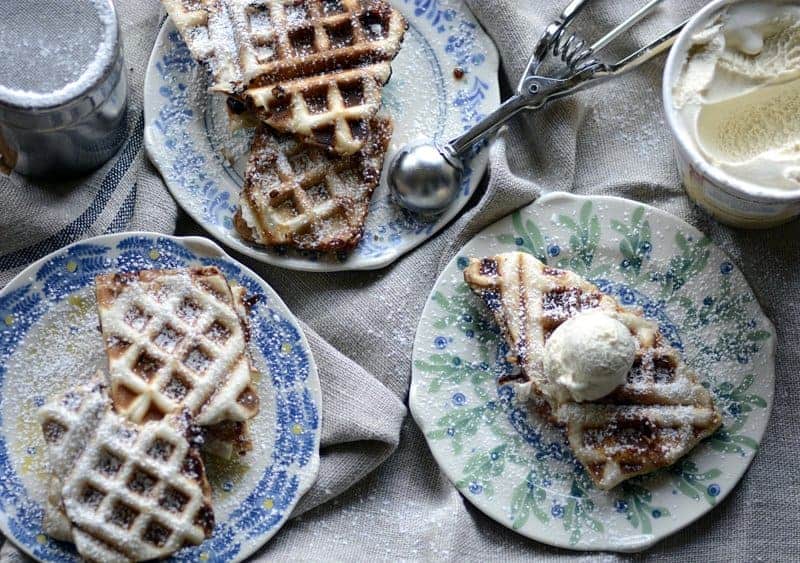 When you need a quick impressive dessert, then serve up this warm waffle cookie with anything from melted chocolate to ice cream!
Cookie Wafers
Wafers are thin cookies. When bite into them cookie wafers are full of crunch and crispy! And, they're absolutely perfect to finish off a delicious dinner or meal.
Pizzelles
Pizzelles are crispy crunchy cookies made with a waffle iron! Originating in Italy in the 19th century, these not-to-sweet cookies are perfect for toppings from sprinkles to ice cream. And, you can make your own version of pizzells at home using my waffle cookie recipe!
Thin Waffle Cookies
Thin waffle cookies are so easy to make. We're going to use a premade refrigerated pie crust as our cookie.
Waffle Cookie
Now when you're making this waffle cookie, you can doll it up with so many other yummmies–sprinkles, cinnamon sugar, drizzled chocolate and more.
Recipe for Waffle Cookies
My recipe for waffle cookies is super simple. Basically four ingredients to make these cinnamon sugar waffle cookies.
Italian Waffle Cookies
The most well-known of the Italian waffle cookies is the pizzelle. Yes, you can buy these premade, but making them using this recipe takes pizzelles to a whole new level.
Cookie Waffles Recipe
A cookie waffles recipe can include making the dough from scratch. But, what I've found is that if I want a super thin crispy cookie then this refrigerated pie crust works well. Another idea is to roll out pre-made or homemade dough really thin and put in your waffle iron. Another idea for your cookie waffles is to use wonton wrappers!
Waffle and Pancake
If I've got the choice between waffle and pancake, well, give me a waffle!
Here are some of my other yummy waffles recipes!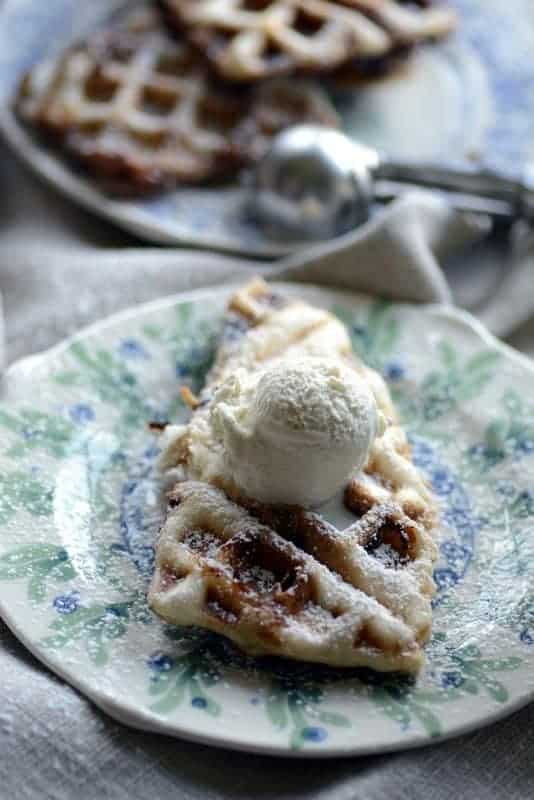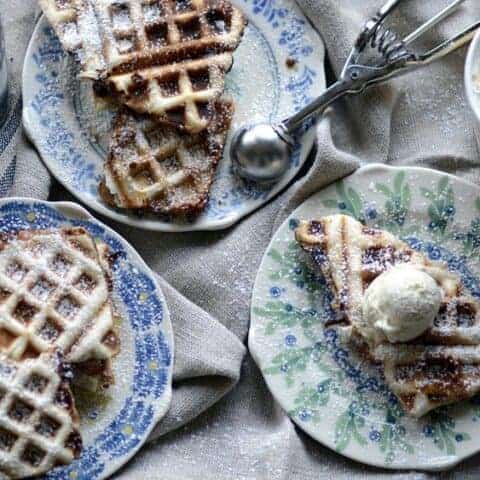 waffle cookies
Yield: 6-8 good size cookies
Ingredients
2 refrigerated pie crust, about room temperature
4 Tbl. Butter, salted & melted
1/4 cup sugar
2 tsp. cinnamon
TOPPINGS:
Shredded coconut
Chocolate chips, mini
Chopped nuts
Powdered sugar, garnish
Instructions
Heat your waffle iron.

Roll out both pie crusts.

In a small bowl, mix the sugar and cinnamon together.

On one pie crust, brush with the butter and sprinkle on the cinnamon sugar. Place the other pie crust on top and pinch all around the edges sealing it somewhat. Use the palm of your hand to gently flatten the pieces together (without squishing out the butter/cinnamon sugar!).

Cut this double pie crust into pieces. These will be probably irregular shapes, but that's just fine!

Depending upon the size of your appliance, place several pieces in. the hot waffle iron Close and wait for the green light to signal that the "cookie" is done.

Remove to a plate. Serve immediately and with an array of garnishes
Notes
You can change up the spices for the sugar—try ground cardamom, allspice, nutmeg, cloves. Of course, adjust amounts, particularly with cardamon which can be a stronger spice.

Experiment with toppings.

The size of the cookie can vary depending upon what you like.

Another idea is to serve warm with ice cream, frozen yogurt, a dollop of plain Greek yogurt with honey and fruit—let your imagination soar!