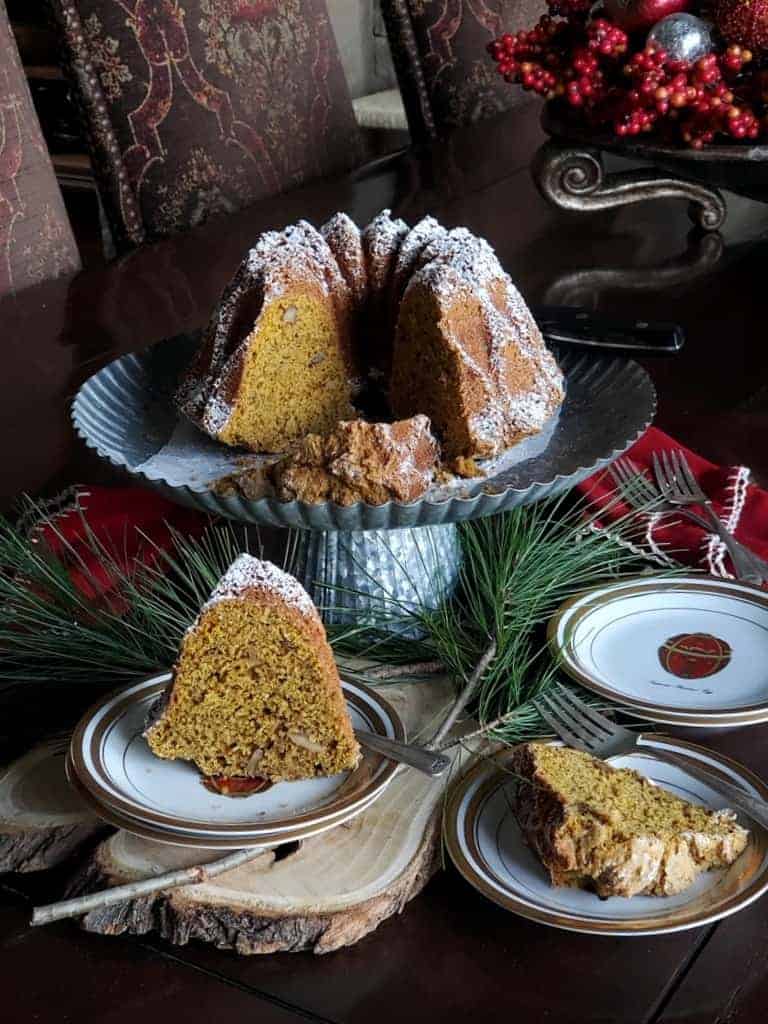 Possibly the best pumpkin spice bundt cake you'll ever make! So simple. Dry ingredients. Wet ingredients. And, you have a luscious cake!
Easy Dessert with Pumpkin
There's just so much that I love about this pumpkin spice bundt cake! First of all, you well know that I'm not an accomplished baker. In fact, I call myself a 'rogue baker' because most of my baking is rustic and pretty 'organic' looking.
Now I love pumpkin and have some really great ideas for you. If you want pumpkin and pineapple, well, try this tart! Want a delicious pumpkin bread with your morning coffee or tea, then try my pumpkin fig date bread!
Spiced Pumpkin Cake
Nothing fancy or prissy like macaroons or a sophisticated French cheesecake. I suppose this pumpkin spice bundt cake is just about as 'prissy' as I get. And, that's because of the bundt pan!
If you're using a fancy schmancy bundt pan like this, be sure to grease it really well. Even if it's 'non stick' it will stick! And, get into those nooks and crannies!
Easy Pumpkin Cake
OK, so what do I love about this cake. First of all, the pumpkinEEEEEE flavors! I just love love pumpkin! (I have no idea why I don't use it year round!).
And, kind of similar to this bundt pumpkin cake is the applesauce bundt cake. OMG! Exquisite!
Pumpkin Bundt Cake
The cake's really moist inside and because of the pan, there's an exterior crunch. Love that. Well, along with those walnuts which are pretty awesome!
Healthy Pumpkin Cake Recipes
Adding more 'nuttiness' flavor is the ground flax you'll be adding to this batter. It just gives a subtle depth of flavor to the pumpkin.
Easy Healthy Pumpkin Cake
What makes this recipe so easy? Well, it's basically two steps. Wet ingredients. Dry ingredients.
This cake also keeps for a few days. I keep it covered and placed in a cool area. It's just soooooooooooooooooo good with your morning coffee or tea!
Cake Recipes with Pumpkin
Sure hope you'll be making this pumpkin spice bundt cake for your holiday festivities. It's gonna be a great hit! And, here's another vintage family recipe I'll be making. My Croatian Mama and Grandmama's 'Croatian Cheesecake'! xoxo ~ally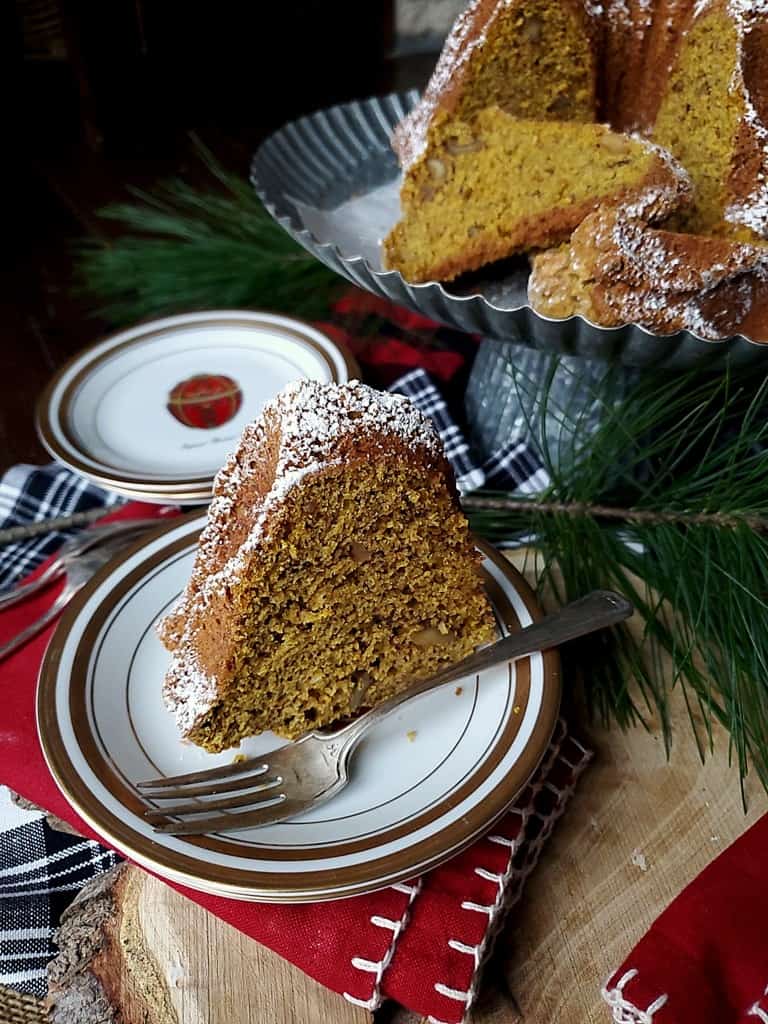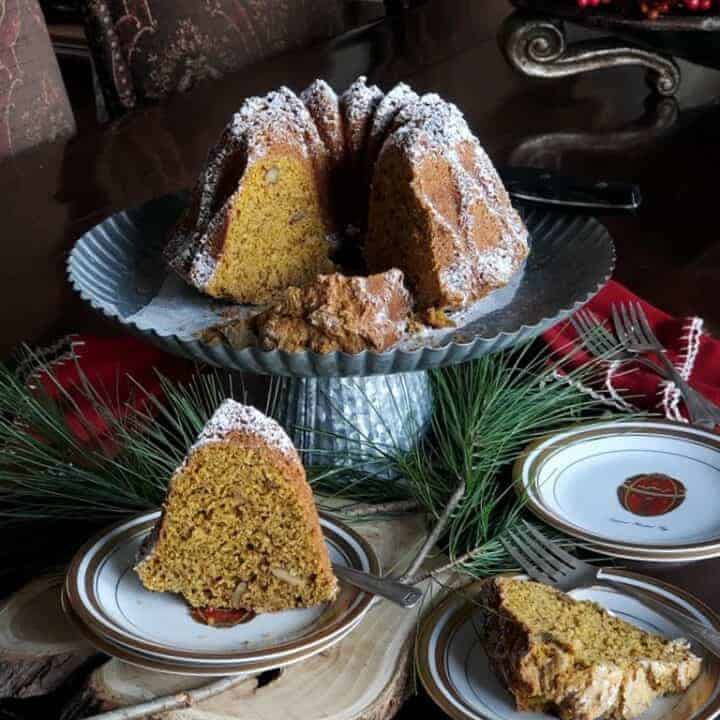 spiced pumpkin bundt cake
Yield: One Bundt Cake Pan
Ingredients
Preheat oven to 350
DRY INGREDIENTS:
2 cups flour, all-purpose
½ cup ground flax
¼ tsp. sea salt
1 Tbl. + 1 tsp. baking powder
½ tsp. baking soda
2 tsp. ground cinnamon
2 tsp. ground allspice
½ tsp. ground ginger
WET INGREDIENTS:
i1 cup butter, room temperature
1 cup sugar + 1 Tbl. sugar, divided, coconut, date, or maple sugar preferred
2 tsp. vanilla
3 eggs
1 can (15 oz.) pumpkin puree
1 ¼ cup buttermilk
OPTIONAL:
1 cup walnuts, chopped, optional
3 Tbl. powdered sugar, dusting when baked
Instructions
In a medium mixing bowl, sift together the flour, ground flax, salt, baking powder, baking soda, cinnamon, allspice and ginger. In the bowl, blend well with a whisk. Set aside.
In a large mixing bowl and using a hand mixer on medium low speed, cream the butter and one cup of sugar together. Mix about 2 minutes.
Add the vanilla then one egg at a time continually mixing and blending. Blend in the pumpkin puree and buttermilk. Mix on low speed about 30 seconds.
Add half the dry mixture to the wet and blend well. Add the remaining dry and blend into a thick batter. If adding walnuts, fold into the batter.
Make sure the bundt pan is well-greased and dusted (especially if it's a decorative bundt pan with an intricate design with lots of nooks and crannies!).
Pour in the batter and smooth. Sprinkle on the one tablespoon of sugar.
Bake in a preheated 350 for 50 to 60 minutes or until a thin skewer comes clean from the center.
Remove to a cooling rack. Cool completely then invert and dust with powdered sugar.