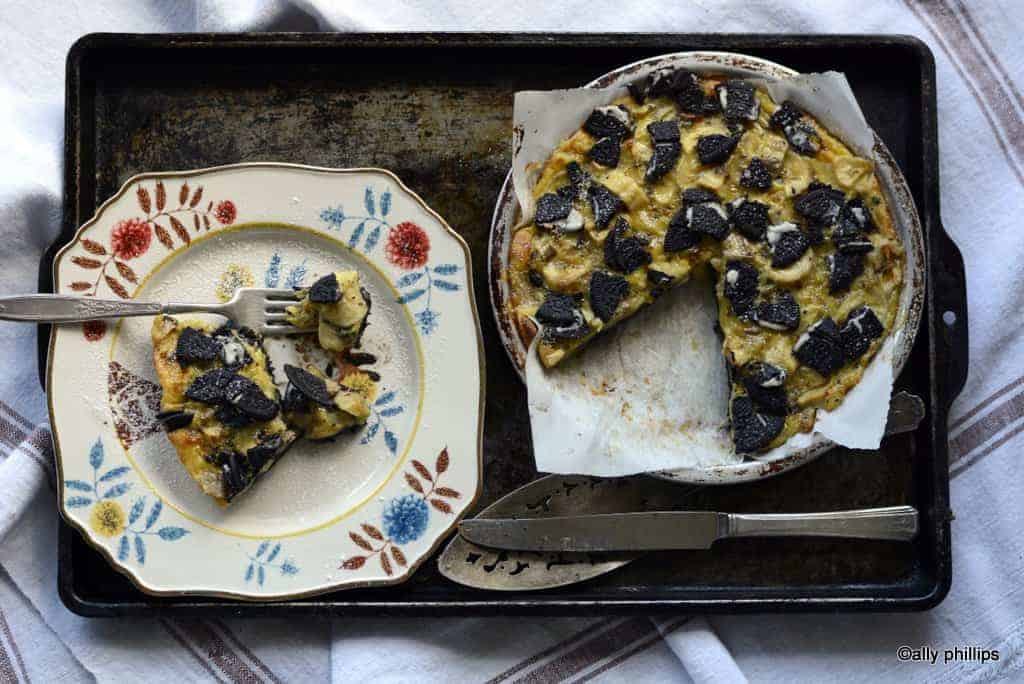 I always say that food is history. And, history is food. Such is the case with this Oreo banana custard pie. Well, really not 'the' pie, but the Oreo cookie.
This iconic Oreo cookie has been around since 1912. That's when Nabisco came up with the idea of two chocolate discs with cream between them. I mean how simple is that. How ingenious! Who doesn't love an Oreo cookie. And, it seems that most folks have their own way of eating their Oreo cookies. Whether it's taking them apart and eating the cream first then the chocolate cookies, dipping in milk or just popping the entire cookie in the mouth and chomping, Oreo cookies not only are for eating, but they're for making memories.
Originally called the Oreo biscuit, the name went through several changes over the decades, sandwich, then Oreo cream sandwich, then Oreo Chocolate Sandwich Cookie in 1974. Now, it's just an Oreo. Kind of like Oprah or Ellen or other icons who are immediately recognized by one word, the Oreo lost its trans fat in 2006.
I'm loving these thin Oreo cookies. Yes, there are many other varieties and special ones that appear on holidays. The thin Oreo just makes me think I'm being good, cutting calories, not practicing gluttony.
So what's your favorite way of eating an Oreo? Let me know in the comments section! For me it's with a big frosty glass of ice cold milk. Then I break the cookie in half and kind of nibble at it like a squirrel. I want it to last as long as I can! However, another way is now with this Oreo banana custard pie. I mean imagine having your favorite cookie with even more deliciousness. Creamy custard. Fresh bananas. And, warm! Or cold. Doesn't matter. You choose. Any way you bite it, the Oreo banana custard pie is just another way to have you cookie and eat it too!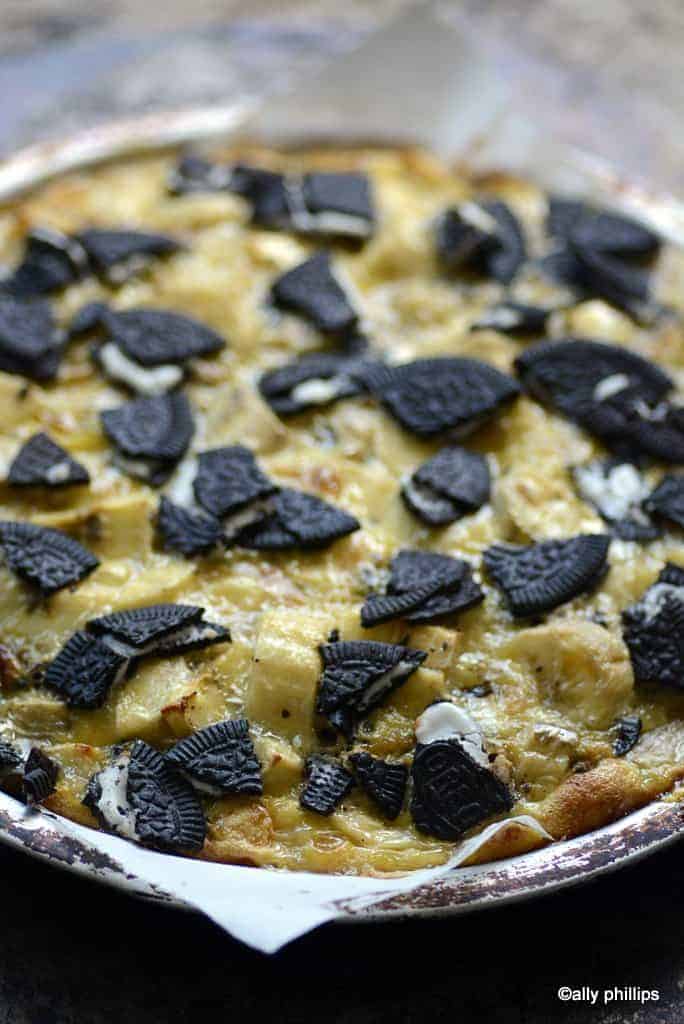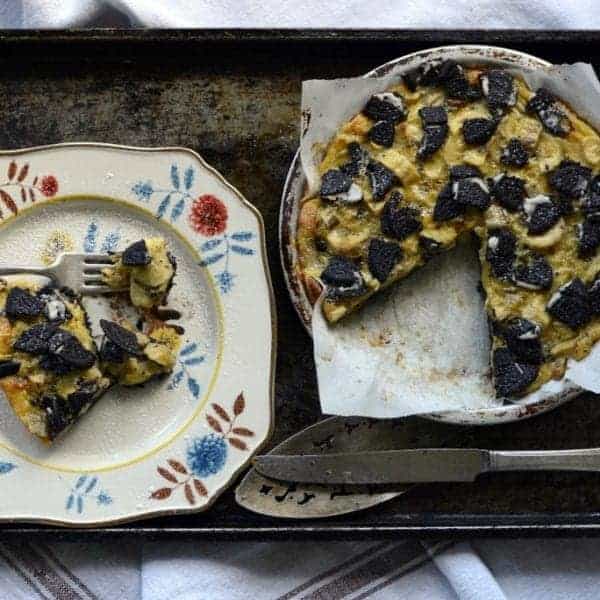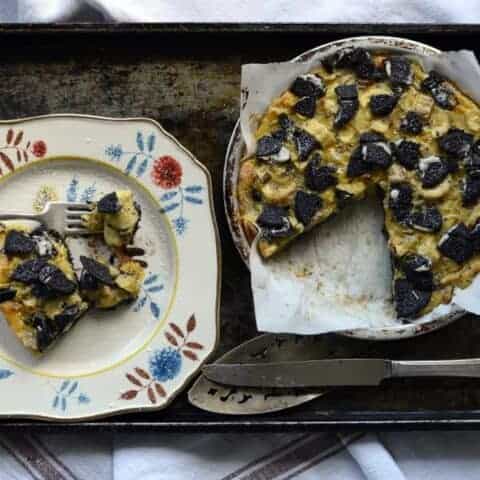 oreo banana custard pie
Ingredients
Preheat oven to 350
18 Thin Oreo cookies, divided
2 Tbl. butter, salted & melted
3 large bananas, diced (not overripe ones)
3 large organic eggs, beaten
1 cup sweetened condensed milk
Pinch of sea salt
Instructions
Take 14 of the cookies and put in a zip lock bag. Crush well. Add the melted butter and toss and blend well.
Coat a small pie plate with cooking spray. Put the crushed Oreos in the bottom and pat down (not up the sides.).
Add the diced bananas. In a small bowl, combine the eggs, sweetened condensed milk and salt and blend. Pour over the bananas.
With the four remaining cookies, break them into smaller pieces and put on top. Bake in a preheated 350 oven about 40-45 minutes or until a toothpick comes clean from the center.
Remove to a cooling rack. Take a butter knife and gently run around the inside perimeter to loosen any custard that may be sticking. Let the pie cool for about 15 minutes. Slice and eat!
Notes
I lined my pie plate with a piece of parchment paper. It's your choice to do or not do.