Smoked Ale Campfire Beef Stew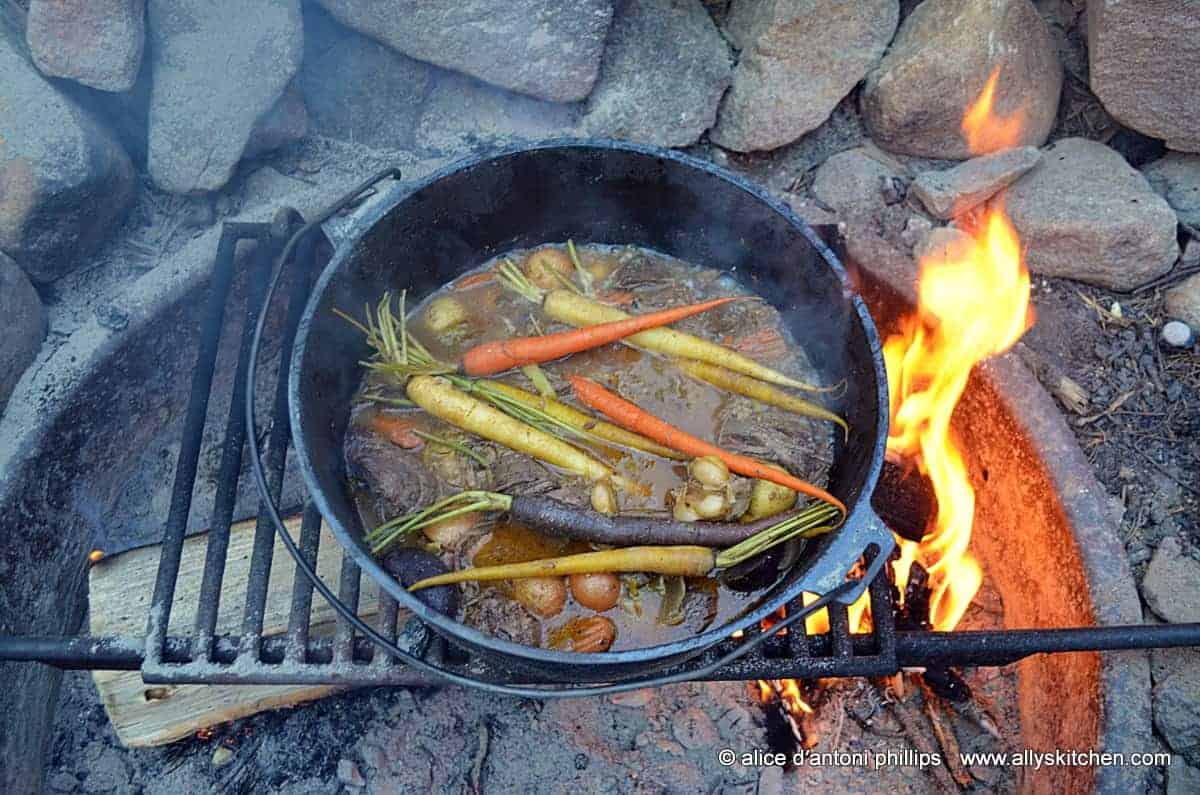 Campfire beef stew is the belly-filling meal when you're camping or if you're at home! Full of rustic flavors, it's sure to bring smiles!
Winter Dinner Ideas

The weather these days has ranged from freezing temperatures to border spring highs! However, having good comfort food has been a bonus. And, I'm thinking of more winter dinner ideas.
These Bread Bowls for Beef Stew with Beer and Paprika. It especially made it easier to stay home, snuggle, and feel comfortable with my boys. Pressure cooked beef simmers in a flavorful broth bath, beer, and paprika, while carrots, potatoes, and peas join the party in a crusty bread bowl just before serving.
Try Delicious Beef Stew with Beer & Paprika!
Everyone would love the best paprika beer stew dish so feel free to use your favorite beer. It really lends itself to giving the stew a nice complex flavor.
The addition of paprika also works great with the flavor and also adds some color. I cooked the carrots and potatoes separately so they would retain their shape and color as the meat cooks for several hours in a slow cooker. It's a good way to get an aesthetically pleasing dish of stew.
Prepare Alluring BEEF IN BEER STEW Recipe At Home

Of course you can prepare an alluring beef in beer stew recipe at home, but why not make it one of your super special camping recipes!

Camping Dinner Ideas
Camping dinner ideas really help when you're heading into the wilderness! This recipe is one of several in a series of eats we recently had while wilderness camping in Colorado. There's just something about being at nearly 11,000 feet elevation that makes the air crisp, the sleeping hypnotic and the eating intoxicating!
Campfire Meal
This campfire meal roast was pre-cooked at home just for convenience's sake and when we got to the campsite, the balance of the meal was prepared over the campfire. Now, no doubt the entire meal could have been done on the campfire, so be sure to regulate heat and have a good old heavy Dutch oven in which to cook!
Gourmet Camping Recipes
To sop up the amazing juices and broth in this stew, which I consider being one of those gourmet camping recipes, we grilled over the fire some artisan buttered bread, then we threw in corn on the cob just in case the stew wasn't quite enough!
This meal has a myriad of flavors from all the spices and then the beer just adds a tad bit of sweet and tenderizes the meat. Colorful and tantalizing to the eyes as well as the palate, immerse yourself in some campfire beef stew that gets better the next day!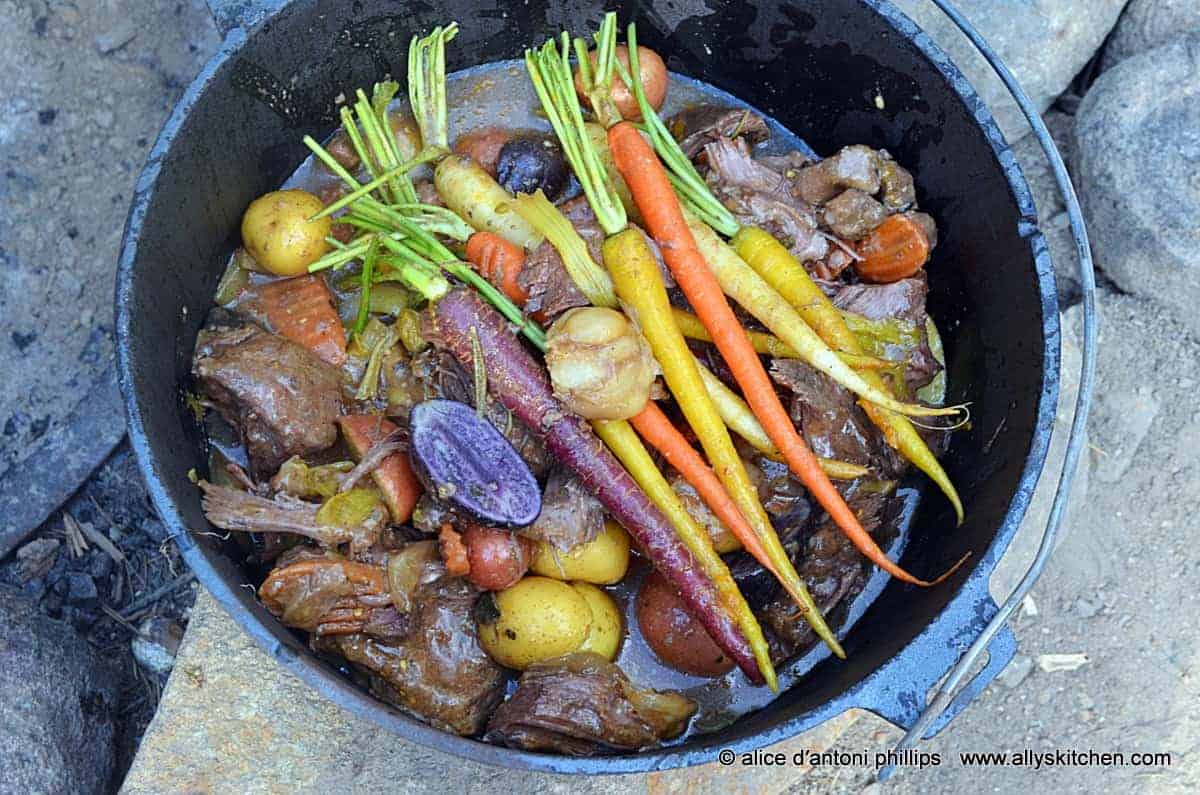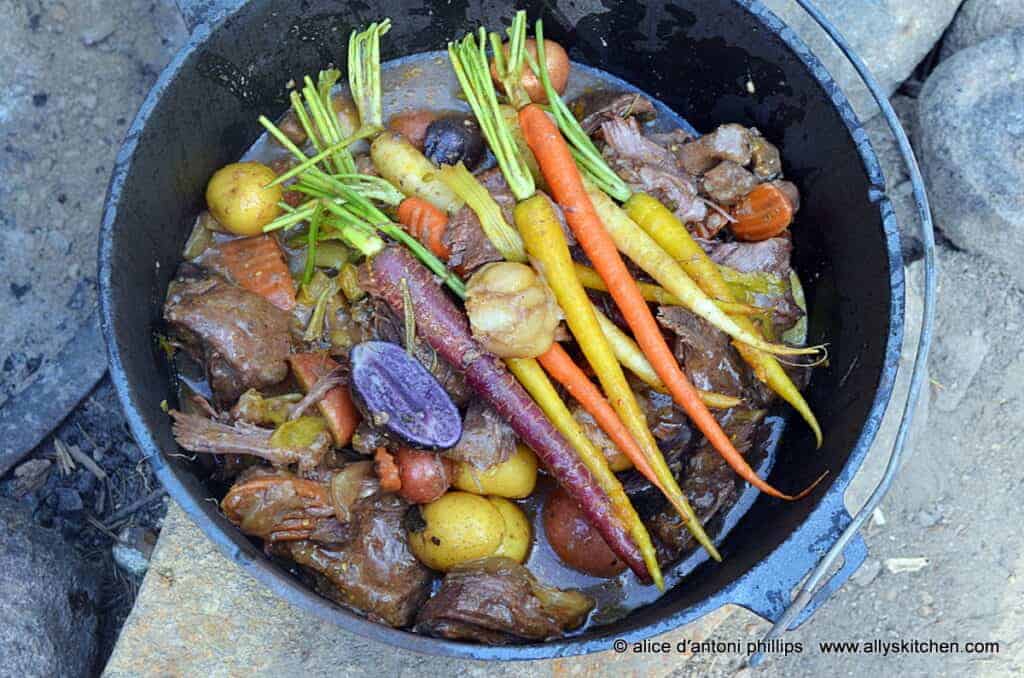 smoked ale campfire beef stew
Campfire beef stew is the belly-filling meal when you're camping or if you're at home! Full of rustic flavors, it's sure to bring smiles!
Ingredients
2 1/2 to 3 pound beef roast (I used a nice rump roast.)
1/4 cup all-purpose flour
1 tsp. sea salt
1/4 cup canola oil
2 cups water (plus more when cooking if needed)
1/2 cup carrot chunks
1 whole sweet onion cut into chunks
2 celery ribs (with leaves) cut in 2" pieces
1/3 cup Worcestershire
1 Tbl. soy sauce
1Tbl. stone-ground mustard
12 ounces wheat ale beer
1 Tbl. extra virgin olive oil
1 Tbl. harissa
1 Tbl. smoked paprika
1 tsp. red chili flakes
1 whole fresh garlic clove
3 cups multi-colored potatoes cut in halves
1 bunch multi-colored carrots with stems trimmed
Instructions
Cut the beef into 4-5 large chunks. Coat with salt then in all the pieces in flour; shake off excess. In a large heavy pot (with a lid) heat the oil on medium-high. When the oil is hot, put the beef chunks in and pan sear on all sides getting a golden brown. Add the water and deglaze the skillet. Throw the carrots, onions, and celery on top.

Meanwhile in another bowl, combine the Worcestershire, soy, mustard, beer, olive oil, harissa, paprika, and chili flakes and whisk together. Pour onto the meat in the pot. Add the garlic clove. Turn heat to medium, cover tightly with a lid and cook for about 1 1/2 to 2 hours. Add the potatoes, blend into the broth, then put the stemmed carrots on top and cook another 45 minutes. Check occasionally to see if you need to add water.

Serve up with some good crusty grilled artisan bread, corn on the cob and strong hot coffee~~you'll feel like you're around our campfire, and I'll be soooooooooooo happy! xoxo ~~ally