This recipe is one of several in a series of eats we recently had while wilderness camping in Colorado~~there's just something about being at nearly 11,000 feet elevation that makes the air crisp, the sleeping hypnotic and the eating intoxicating!  This roast was pre-cooked at home just for convenience sake and when we got to the campsite, the balance of the meal was prepared over the campfire~~now, no doubt the entire meal could have been done on the campfire, so be sure to regulate you heat and have a good ol' heavy Dutch oven in which to cook!
To sop up the amazing juices and broth in this stew, we grilled over the fire some artisan buttered bread, then we threw in corn on the cob just in case the stew wasn't quite enough!  This meal has a myriad of flavors from all the spices and then the beer just adds a tad bit of sweet and tenderizes the meat.  Colorful and tantalizing to the eyes as well as the palate, immerse yourself in some campfire beef stew that gets better the next day!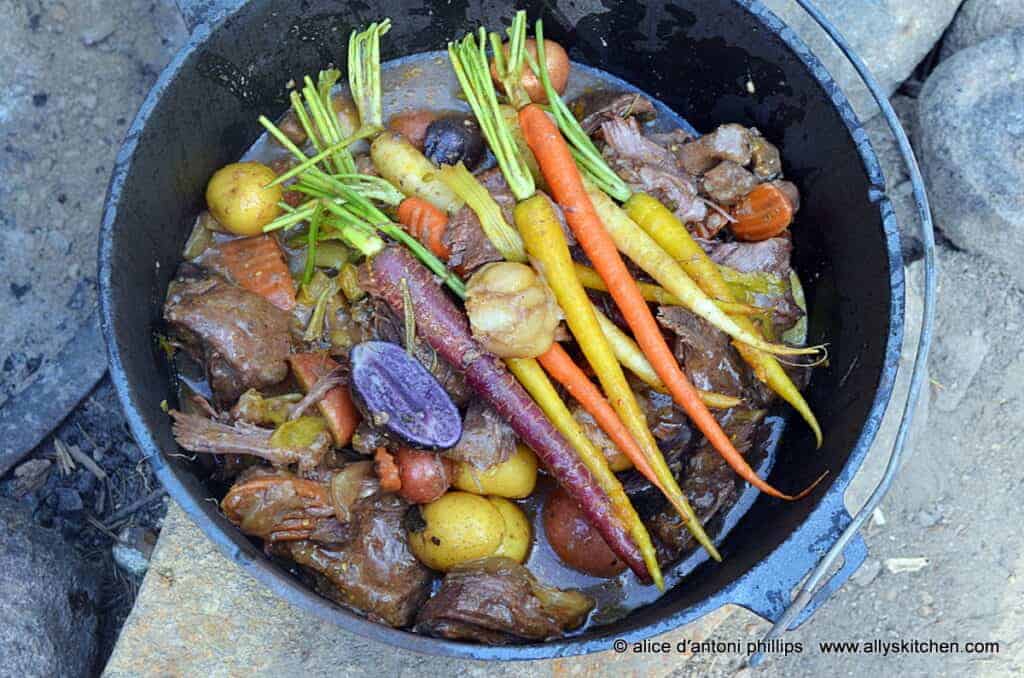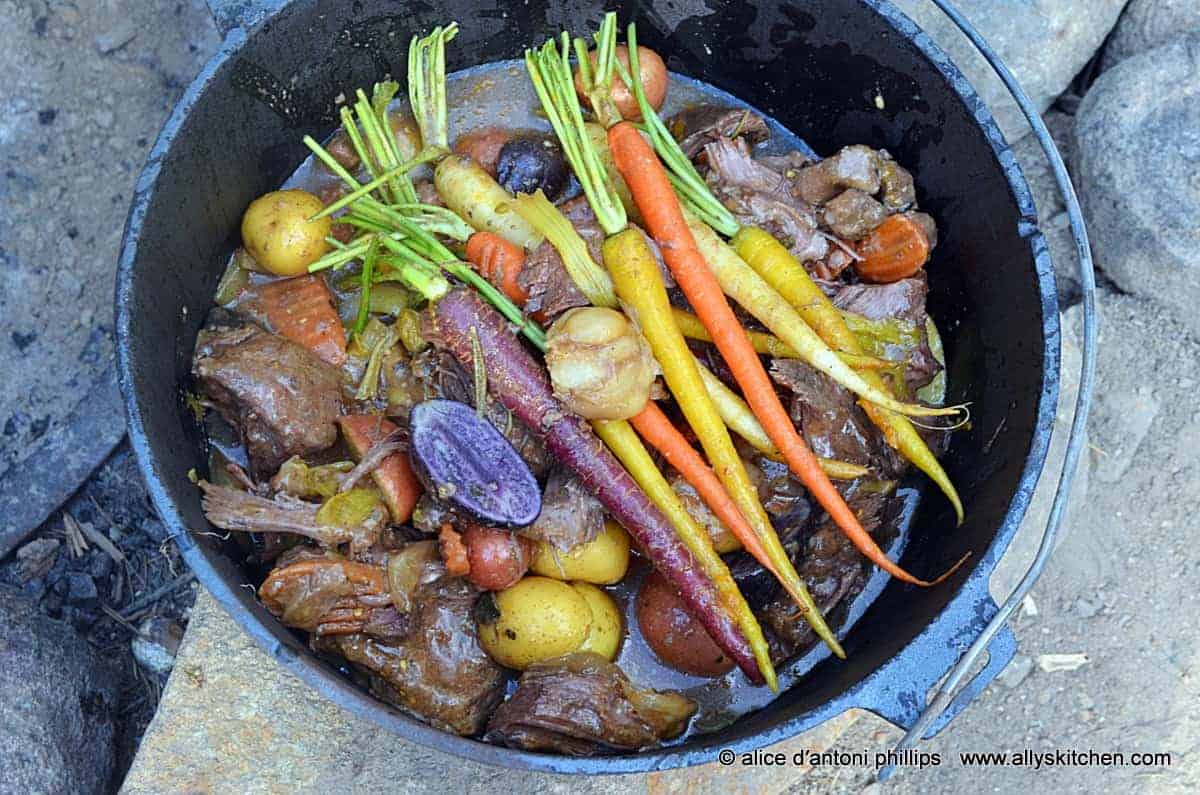 Serves: 8
What you need:
2 1/2 to 3 pound beef roast (I used a nice rump roast.)
1/4 cup all purpose flour
1 tsp. sea salt
1/4 cup canola oil
2 cups water (plus more when cooking if needed)
1/2 cup carrot chunks
1 whole sweet onion cut into chunks
2 celery ribs (with leaves) cut in 2″ pieces
1/3 cup Worcestershire
1 Tbl. soy sauce
1Tbl. stone ground mustard
12 ounces wheat ale beer
1 Tbl. extra virgin olive oil
1 Tbl. harissa
1 Tbl. smoked paprika
1 tsp. red chili flakes
1 whole fresh garlic clove
3 cups multi-colored potatoes cut in halves
1 bunch multi-colored carrots with stems trimmed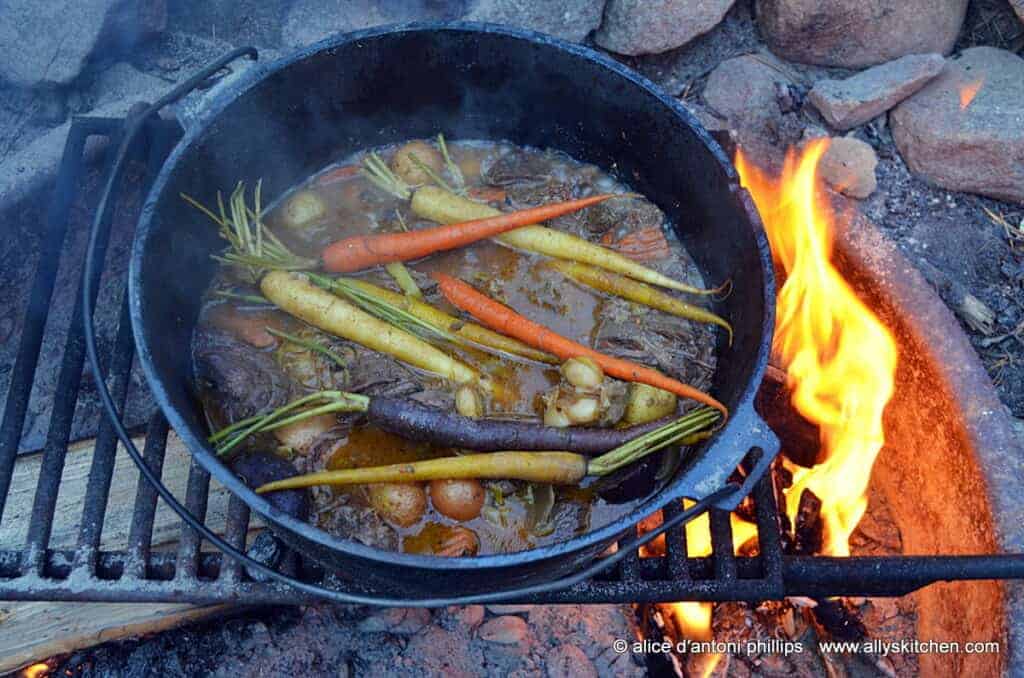 What you do:
Cut the beef into 4-5 large chunks. Coat with salt then in all the pieces in flour; shake off excess. In a large heavy pot (with a lid) heat the oil on medium high. When oil is hot, put the beef chunks in and pan sear on all sides getting a golden brown. Add the water and deglaze the skillet. Throw the carrots, onions and celery on top.
Meanwhile in another bowl, combine the Worcestershire, soy, mustard, beer, olive oil, harissa, paprika, and chili flakes and whisk together. Pour onto the meat in the pot. Add the garlic clove. Turn heat to medium, cover tightly with a lid and cook for about 1 1/2 to 2 hours. Add the potatoes, blend into the broth, then put the stemmed carrots on top and cook another 45 minutes. Check occasionally to see if you need to add water.
Serve up with some good crusty grilled artisan bread, corn on the cob and strong hot coffee~~you'll feel like you're around our campfire, and I'll be soooooooooooo happy! xoxo ~~ally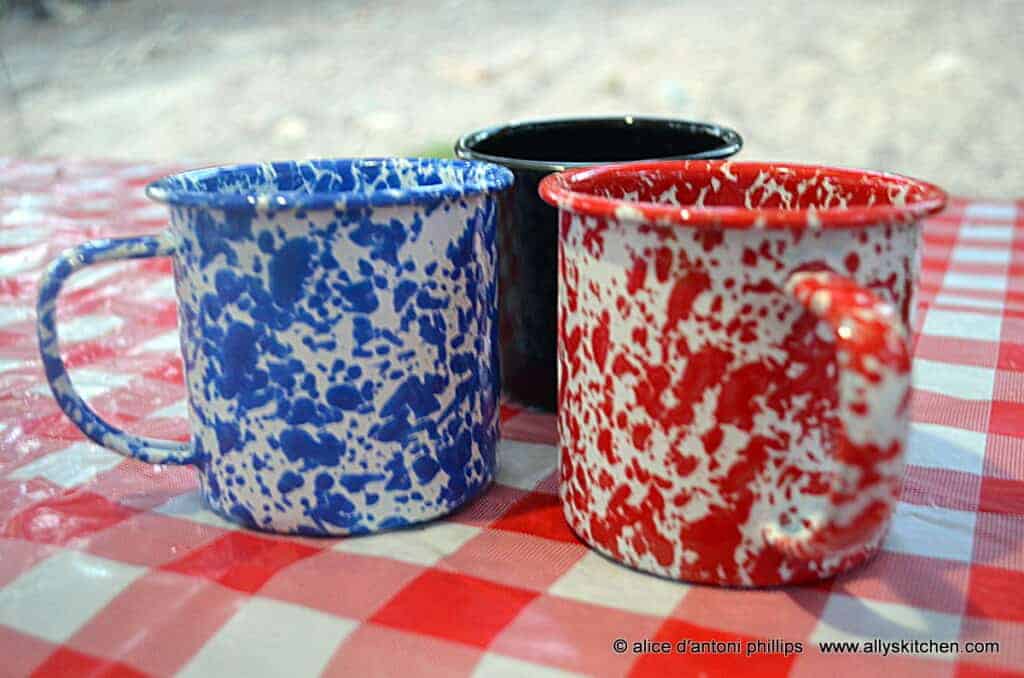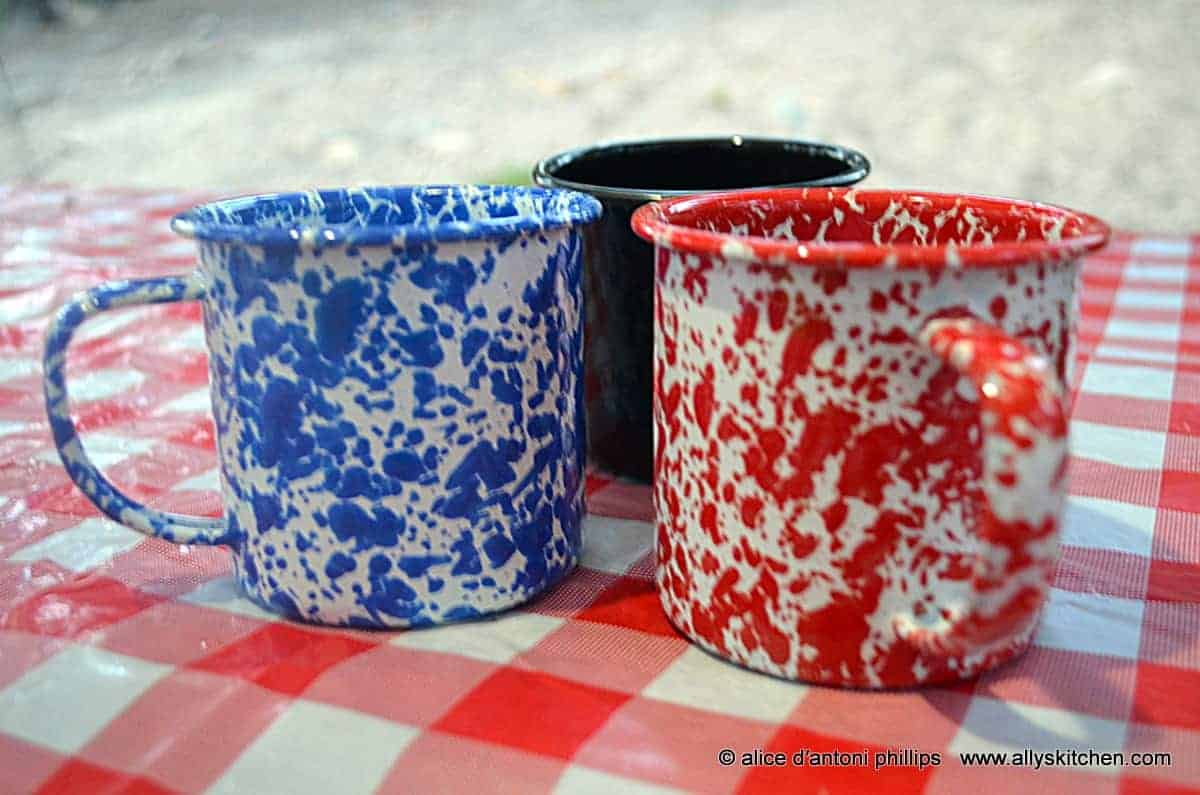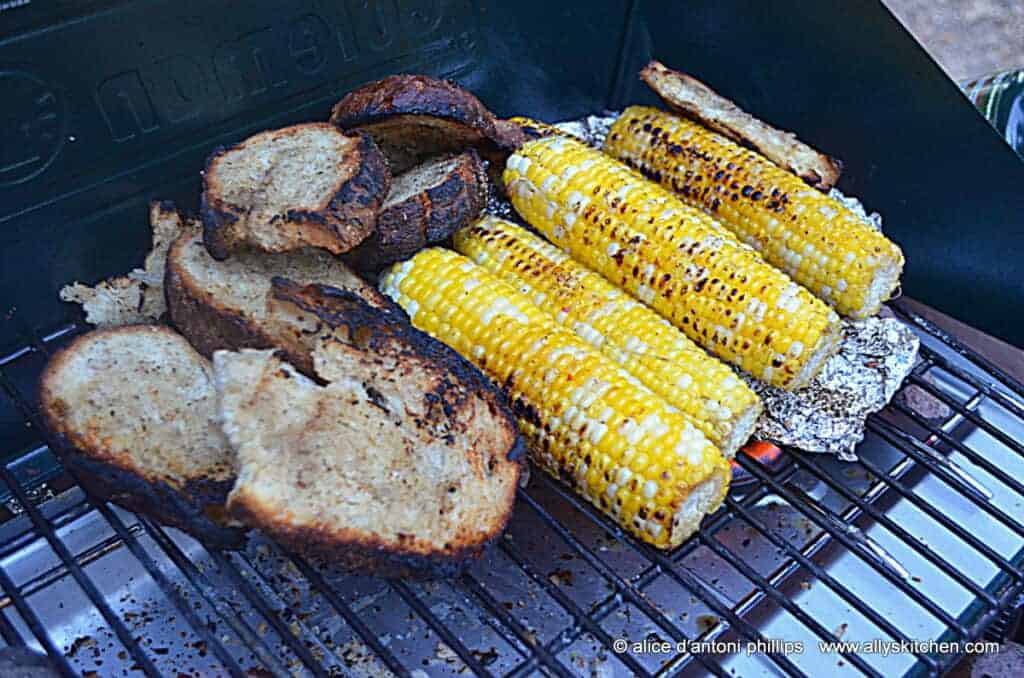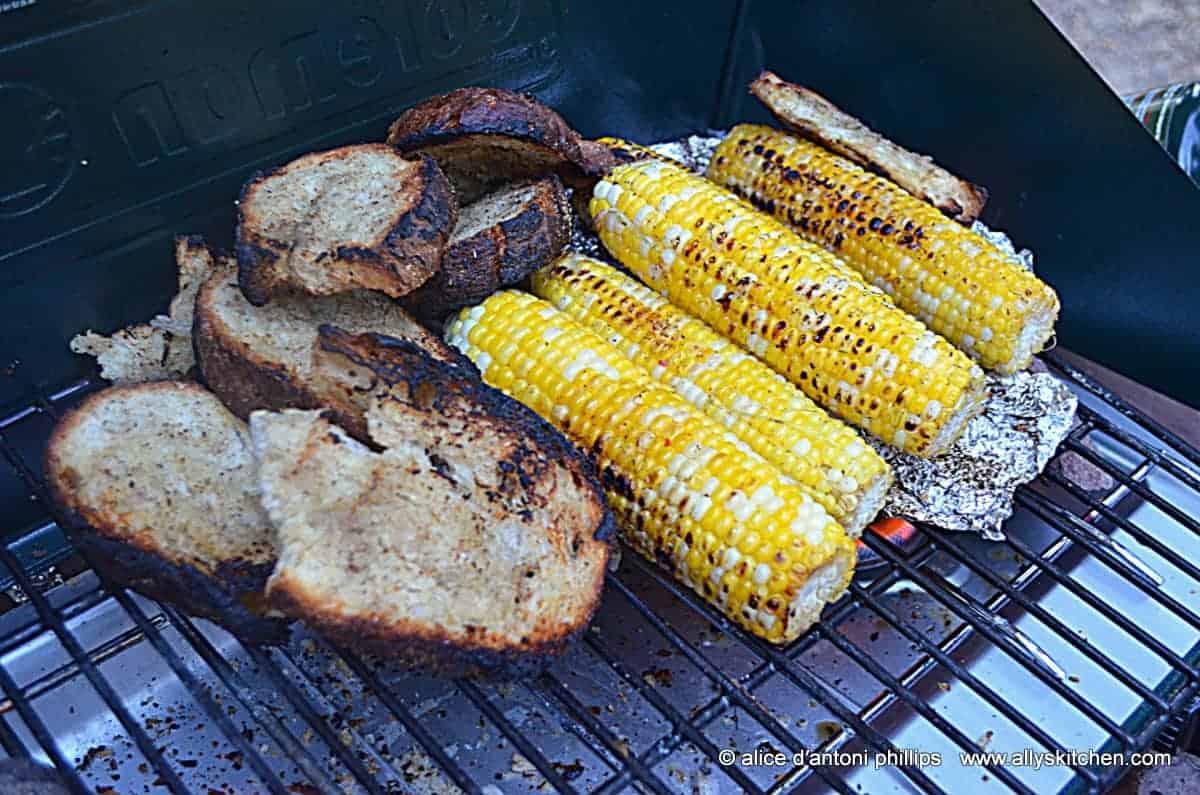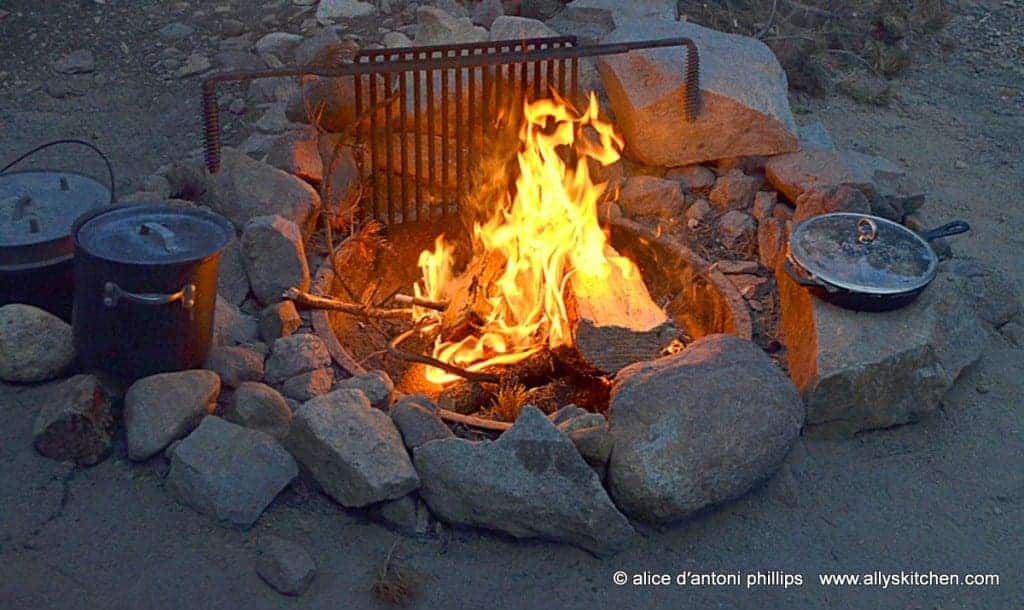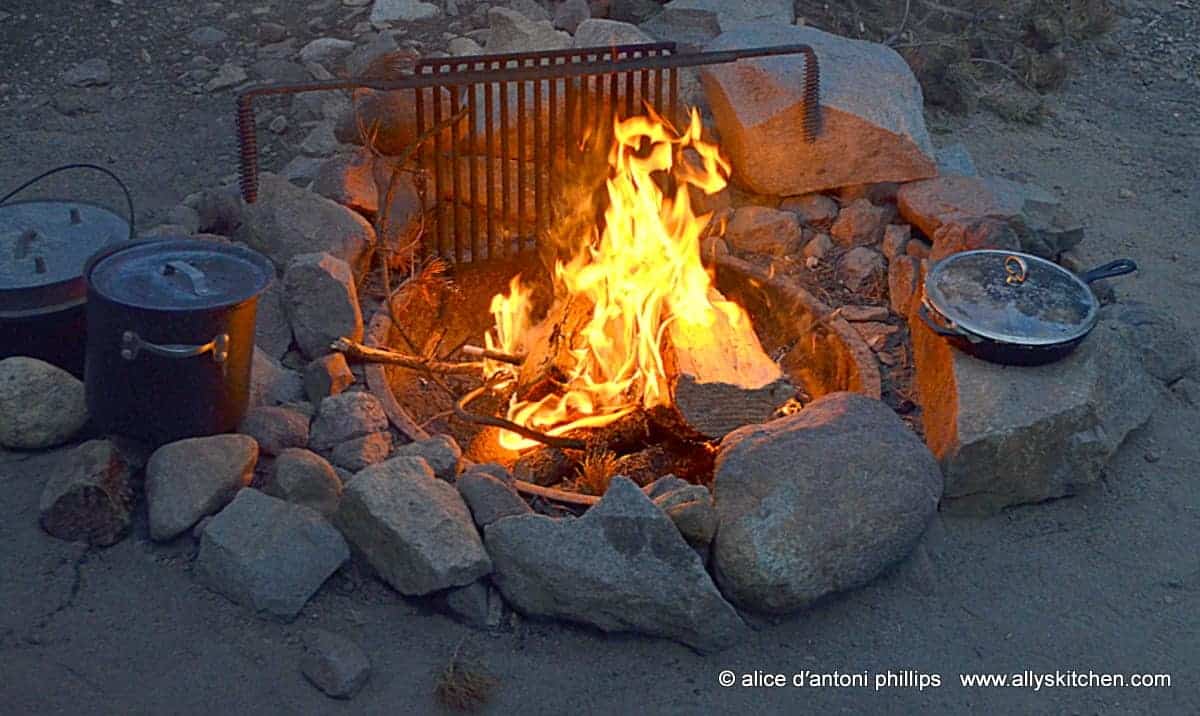 ©alice d'antoni phillips www.allyskitchen.com