Easy Chicken Cacciatore Hunter Style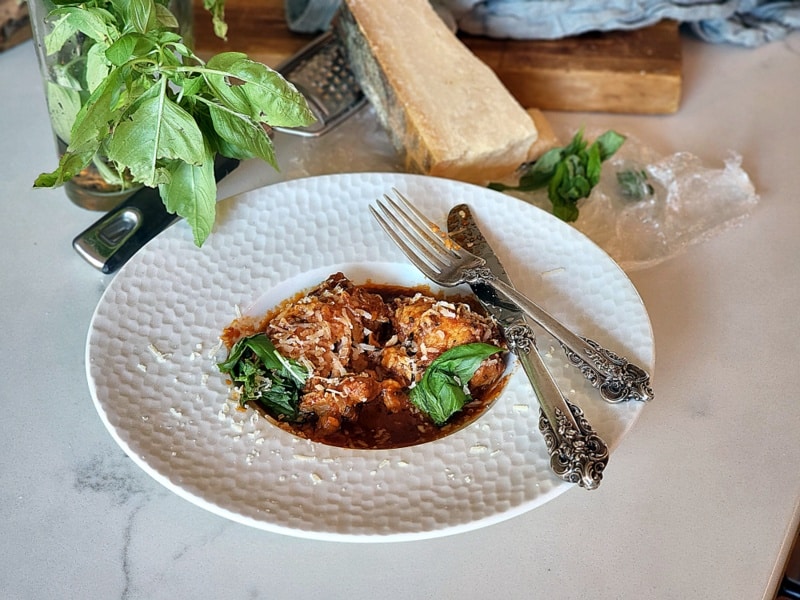 Chicken Cacciatore Hunter Style is totally Italian. Totally authentic. Talk about easy, simple and full of immense flavor!
What is Hunter Style Chicken
Hunter style chicken is what we know in America as Chicken Cacciatore! Yes, a favorite and so simple to make!
What makes this recipe unique? It's from the Coselli Collection Cooking Class in Lucca Italy. I had the privilege of watching and cooking with Chef Pietro when we stayed for a week in one of the villas. Yes, I learned so much from him. The most important things are keep it simple and keep it the freshest and best ingredients.
What does Hunter style mean?
Hunter style chicken is a traditional Italian dish usually some type of game or chicken.
It's braised in a tomato-based sauce and oftentimes includes mushrooms.
Why's it called 'hunter' style and we call it chicken cacciatore? Well, the word cacciatore means 'hunter' in Italian.
Easy Chicken Cacciatore
Yes, this is an easy recipe. However, it does take some time and patience when the chicken is cooking and simmering/reducing. Remember to have nearby more chicken bone broth to put in if needed. You want to keep the sauce fluid.
Another couple of things about making this recipe:
If you can, use pasture-raised chicken. The flavor differences are notable. But, even more important the nutrient density of pasture-raised chicken exceeds ordinary chicken or even organic chicken. At checkout, use my code AK50 at Cooks Venture to get $50 off your first order. Or if you're ordering again and again (like me!) use AK20 for $20 off your order. Hey, every little bit helps in buying food.
And, bone broth, you'll get 20% off your order at Kettle and Fire using my code ALLYSKITCHEN at checkout. This is the only bone broth I use! Yes, it's THAT GOOD and healthy for us!
Chicken Cacciatore Traditional
This is a very traditional recipe. Right from the kitchens of the Coselli Collection villas in Lucca Italy. It calls for white wine. I used a chardonnay.
If you don't want to cook with wine, then the sweetness and light color of apple juice is a good non-alcoholic substitute. It can be used in recipe at a 1:1 ratio.
Simple Chicken Cacciatore
Italian cooking is basically very simple with fresh ingredients.
If you can't want to make your own tomato sauce for this recipe, then you must use my authentic Italian tomato sauce. Yes, I learned to make it in Florence Italy while spending time at The Cooking Touch cooking school.
And, another recipe that I created with Chef Stefan! Tuscan Chicken Liver Pate! Oh, yes, this is fabulous!
Best Chicken Cacciatore Recipe
IMPORTANT: Now the original recipe from the cookbook says to heat the 'olive oil (in the pan) over high heat until smoking.' I didn't allow it to get that hot. Yes, it was hot and when you put the chicken pieces in (don't crowd! Do in batches), it crackled and popped.
The garlic pieces do get black because of the heat. You can skim some of it off, which I did, but, just know as the sauce cooks and reduces (keep adding chicken bone broth so it doesn't burn) these flicks of garlic and rosemary blend into the dark wine colored tomato sauce that is created. You don't even know they're there!
Another option is to omit the garlic/rosemary from the mix and start with only the olive oil, salt and pepper on the chicken. Sear/brown it. And, then when you deglaze the pan with wine, add the garlic and rosemary into this liquid mixture along with the tomato puree and chicken bone broth.
Chicken Cacciatore Easy
If you don't want to make this tomato sauce, then no problem.
I'm using a high-quality canned Italian Roma tomato. All you need to do is puree the tomatoes or buy the tomatoes pureed.
Or if you prefer the texture of tomatoes, then use them whole and as they cook they'll begin to break down and break apart. Yes, you'll have more texture in your finished chicken. It's all a personal thing!
Authentic Chicken Cacciatore
The original recipe calls for cooking the chicken for about 40 minutes (20 minutes covered, then 15 to 20 minutes uncovered.)
I cooked mine longer for two reasons. I wanted it to be more fork tender. And, the sizes of the chicken were different which meant more cook time. I used thighs, half of a chicken (spatchcocked) and also chicken wing drumettes.
Hunter Style Chicken Cacciatore
You can use a whole chicken cut up or if you prefer one cut of chicken, like thighs.
I strong recommend that whatever you choose, it's bone in and skin on. You'll get so much more flavor and nutrients in this dish when you use this type of chicken. Even chicken wings can be used.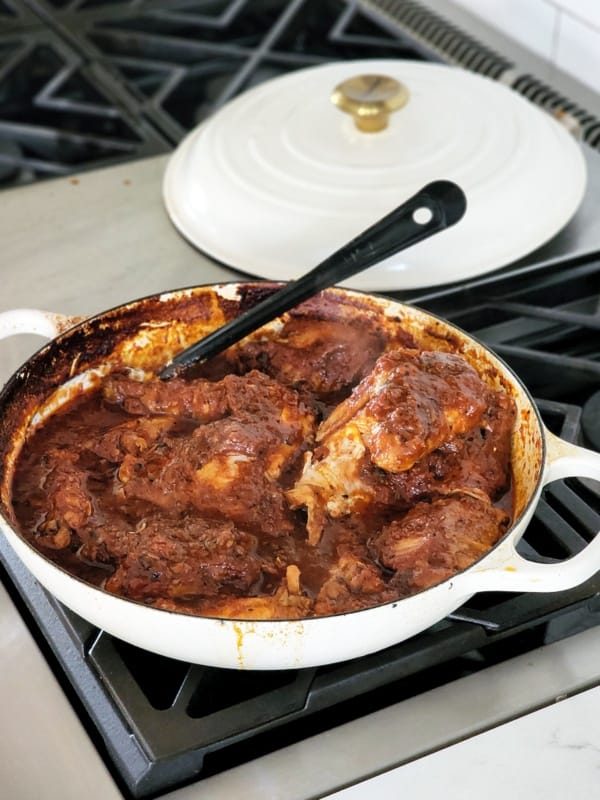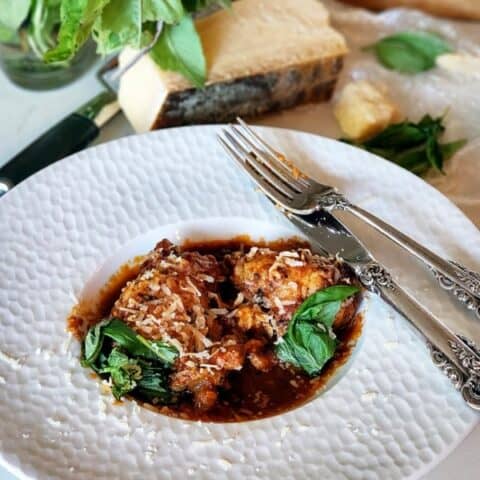 Easy Chicken Cacciatore Hunter Style
Ingredients
4 to 4.5 lbs. chicken, bone in, skin on, cut into preferred pieces
4 cloves garlic, finely minced
3 Tbl. fresh rosemary, finely minced
2 tsp. sea salt
1 tsp. coarse ground pepper
1/3 cup + 3 Tbl. extra virgin olive oil, divided
1 cup white wine, i.e., chardonnay, can substitute apple juice for wine
1 can (28 oz.) tomato puree
1 1/2 cups chicken bone broth
Water as needed
GARNISH: Parmesan Reggiano and Fresh Basil
Instructions
Prepare the chicken pieces. Pat dry with paper towels.
Combine garlic, rosemary, salt, pepper and one-third cup of olive oil. Mix well. Pour on to chicken pieces and massage into the meat on all sides.
In a large braising skillet over high heat, put the remaining olive oil. Let it get hot. Reduce heat to medium high.
Brush off excess oil mixture and put several pieces into the skillet to sear and brown. Repeat with all the chicken pieces browning them well. Reduce heat to medium.
Move the chicken to the side of the skillet and add the wine. Stire the bottom of the pan with a wooden spoon to dislodge the browned bits.
Add the tomato puree and chicken stock. Bring to a simmering boil cooking for about 20 minutes uncovered. Add more chicken bone broth or water as needed in the cooking of the chicken.
Cover the skillet and continue cooking on medium (simmering boil) for another about 30 to 45 minutes or until the chicken is tender and at 165 degrees internal temperature.
Serve with extra sauce and grate parmesan and fresh basil.
Notes
Yes, you will see garlic specks that are black. These will dissipate as the chicken is cooking. You can remove if you like.
Your sauce will becomes thick and more rich as it cooks. You can let the skillet stay on simmer/warm on the stove top before serving.