jamaican jerk london broil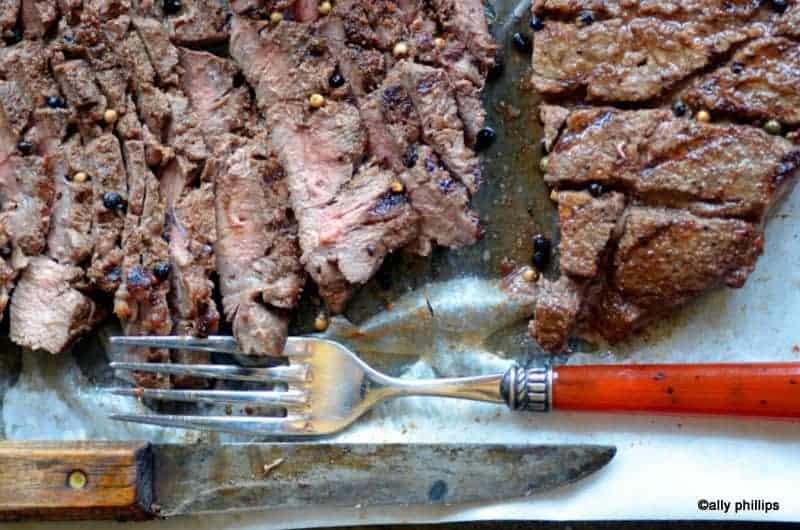 This grilled jamaican jerk london broil has an array of flavors that pop on your palate as you chew each bite. You'll not notice the slight 'chewiness' of this cut of beef as you taste the wafting hints of warm spices like cinnamon, allspice and nutmeg. Then there are the spicy spices like red chili flakes and cayenne. Slicing it thin and at an angle, using a very sharp knife, deconstructs some of that beef chewiness also!
A final surprise with some of your bites will be the crunch of a peppercorn~yes, whole peppercorns make for a unique taste~kind of like a sparkler on your palate! No, not quite fireworks, but a sparkler always makes things fun. Doesn't take long at all to grill this up, so be sure you don't leave it on too long. I made that mistake, so that's why these photos are of a medium well to well done cut of meat. Nonetheless, it was dang good!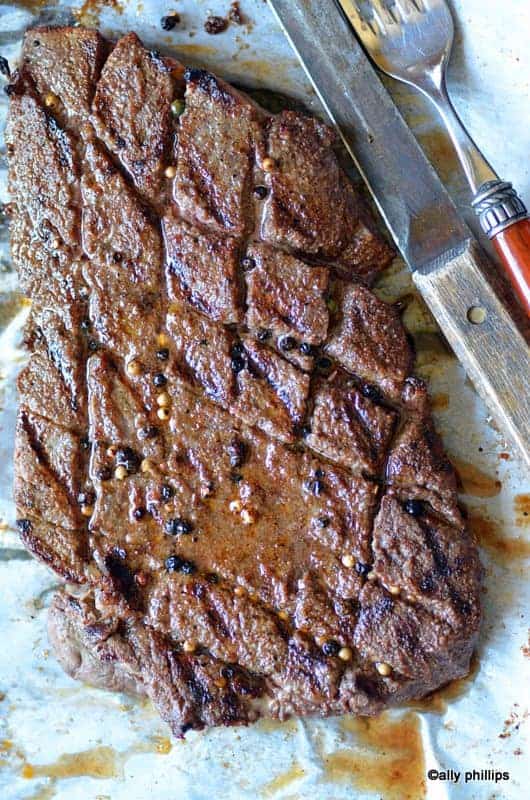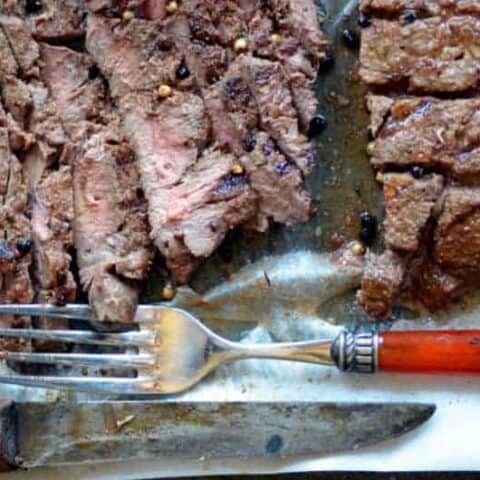 jamaican jerk london broil
Ingredients
Preheat Grill to 500 degrees
1 3/4-2 lb. beef, London Broil (about 1 1/2 to 2" thick)
2 Tbl. extra virgin olive oil
1 tsp. sea salt
1 Tbl. Jamaican Jerk seasoning
1 1/2 tsp. peppercorns
!
Instructions
Put the steak on a parchment paper covered cookie sheet. With a sharp knife, make 1/4" deep slits, criss crossing, into the meat.
!
Drizzle on the olive oil and work into the meat and crevices. Rub some of the olive oil on the reverse side of the meat. Sprinkle the salt and seasoning and press/work into the meat and the slits.
Work the peppercorns into the slits as much as you can.
!
Place on a preheated hot 500 degree grill and cook on each side about 3 to 4 minutes for a medium to medium rare.
!
Remove to the cookie sheet. Let it rest about 5 minutes then slice thinly at an angle.
Notes
London Broil is not a super tender cut of beef. That's why you want to slice it thinly and at an angle once it's off the grill. Serve with some of your favorite BBQ sauce or a sriracha spiced ketchup. Add some roasted potatoes, and you have a cowboy meal!