turkish strawberry chocolate cupcakes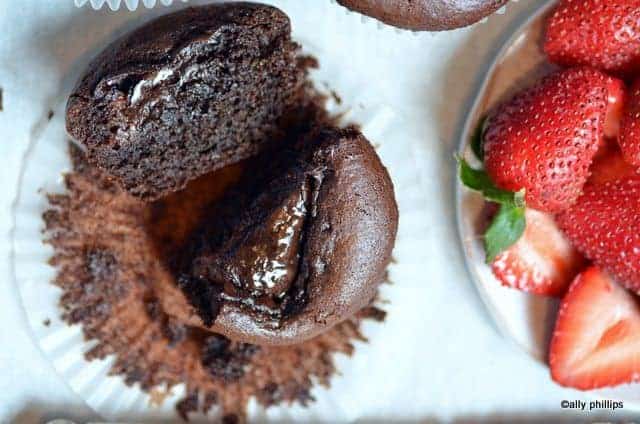 Hints of espresso, deep rich chocolate, subtle molasses, the sweetness of a bite of strawberry and the allure of the wonderful spice cardamom, these cupcakes are moist and don't err on the side of being really sweet. For me, biting into them is like a journey half way around the world sitting in a chic kasbah cafe!
Topping each cupcake, moistening the batter, is a Dole Strawberry Dipper. This frozen fresh strawberry dipped in 67% real cacao offers a taste of indulgence as it melts and bakes into the Turkish chocolate cake batter. You can put more than one on top~that's your choice! And, another thing, if you want this to be a cake, then just change to a baking pan and adjust your cooking time a little longer or until a toothpick come basically clean from the center. Serve with some fresh strawberries, ice cream, whipped cream, or just as is~no one will be disappointed!
This recipe is sponsored by Dole Packaged Foods. All the opinions and recipe creation are my own. For a full disclosure~click here.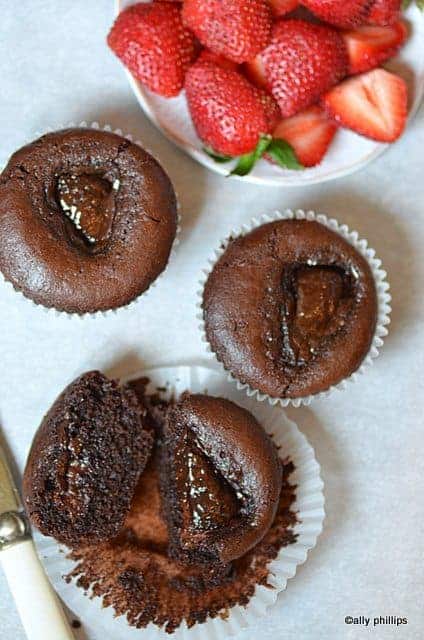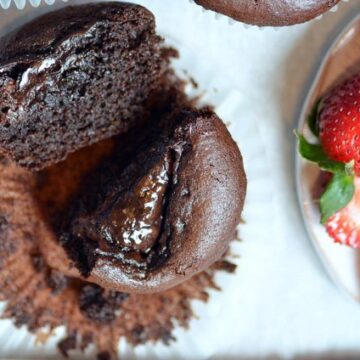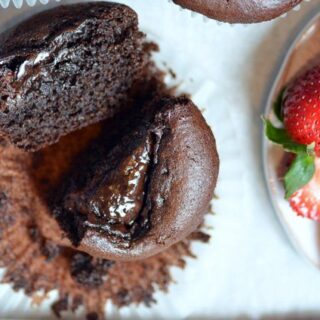 turkish strawberry chocolate cupcakes
Ingredients
Preheat oven to 350
½ cup brown sugar + 2 Tbl. water, dissolve sugar
2 Tbl. pomegranate molasses (regular molasses can be substituted)
2 egg yolks
2 eggs
½ cup canola oil
1 cup self-rising flour
1 tsp. baking powder
½ tsp. baking soda
½ cup cocoa
1 tsp. cardamom
1 Tbl. instant espresso coffee
4 oz. chocolate, 60%, melted
4 packs DOLE Strawberry Chocolate Dippers (16 individual half strawberry chocolate covered bites)
Instructions
In a medium mixing bowl, combine the brown sugar water and blend, add the molasses, egg yolks, eggs and canola oil and blend. Use a hand mixer on medium speed and blend for about 60 seconds. It will be a frothy mixture. Set aside.
In another large mixing bowl, sift together the flour, baking powder, baking soda, cocoa and cardamom. Blend in the espresso coffee. Add the wet mixture and blend well. Add the melted chocolate and blend well.
Put equal amounts of batter into 12-15 cupcake holders. Put on top of each one Dole chocolate covered strawberry dipper.
Bake in a preheated 350 oven for 16 to 18 minutes. Remove and let cool.
Notes
Now if you're looking for something really sweet and 'candy bar' like chocolate, this isn't the cupcake for you. This is the kind of cupcake that you feel like you're eating a cup of rich deep chocolate espresso coffee and cake!

Oh, yes! Another thing you could do with the Dole chocolate covered strawberries is cut them in a couple of pieces and mix in the batter and then bake. I just preferred biting into the luscious thing in its entirety, so I like them on top!