kasbah ribeye with grilled onions gourmet mushrooms & mint butter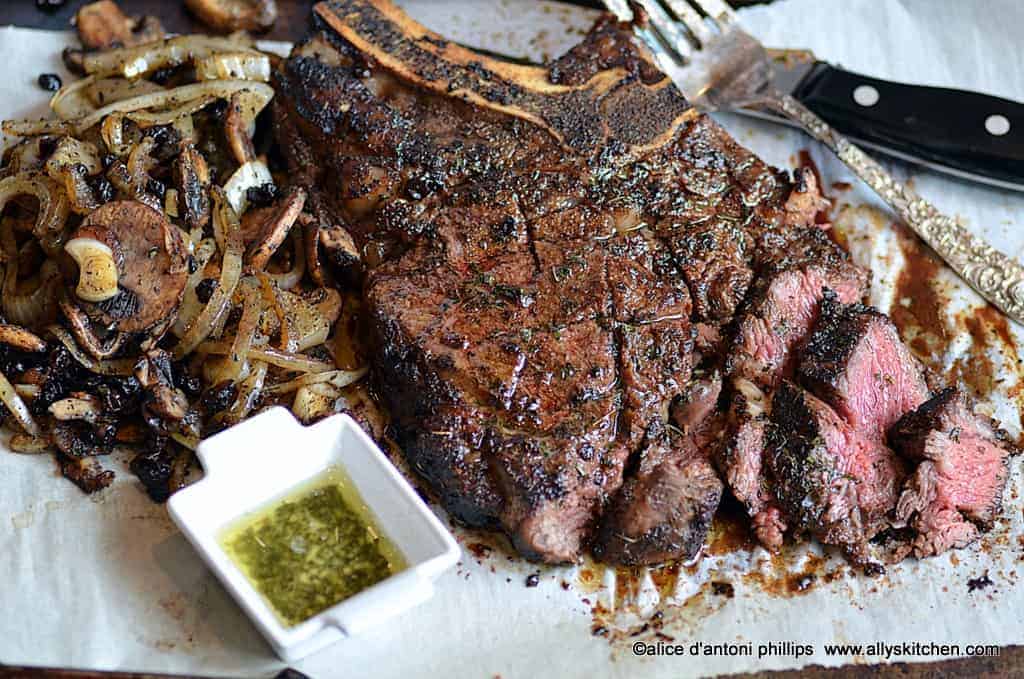 Ribeye steaks are just full of flavor~~and even more flavoring for this thick cut steak, seasoned with a spice mixture that will make you think Marco Polo was your chef, comes from the combination of unlikely companions in the mixture.
The grilled onions and mint butter add a hint of exotic as they are a velvety texture that complements the meat extraordinarily. Open an excellent bottle of wine for this one, let it breathe, and enjoy as you imagine yourself and a companion at the 'kasbah'~ ~peace~ ally xo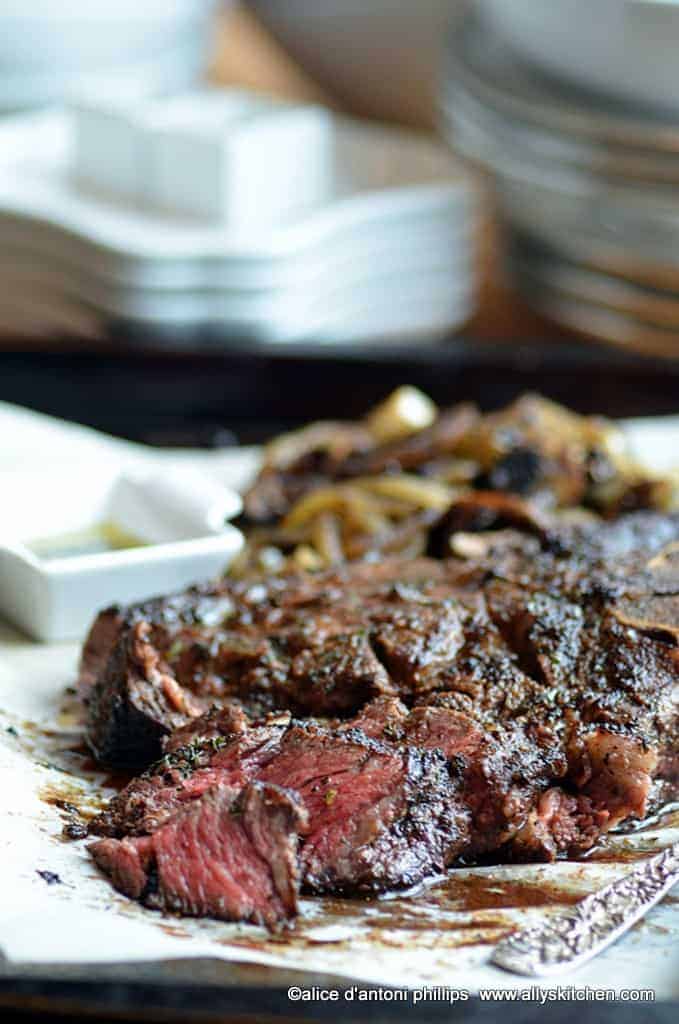 Serves: 2
Preheat oven to 400
What you need:
1 Tbl. Brown sugar
1 ½ tsp. ground cumin
1 tsp. dried tarragon
2 ½ tsp. dried mint (divided)
1 tsp. sea salt
1 tsp. garlic powder
½ tsp. onion powder
½ tsp. hot paprika
½ tsp. chipotle chili pepper
½ tsp. Jamaican allspice
¼ cup olive oil + 3 Tbl.
1 ¾ to 2 lb. thickcut bone-in ribeye steak
½ large sweet onion, sliced in thin half-moon pieces
¼ cup currants
1 cup gourmet mushroom blend (cremini, shitaki, oyster), roughly chopped
2 Tbl. butter, melted
Cooking Spray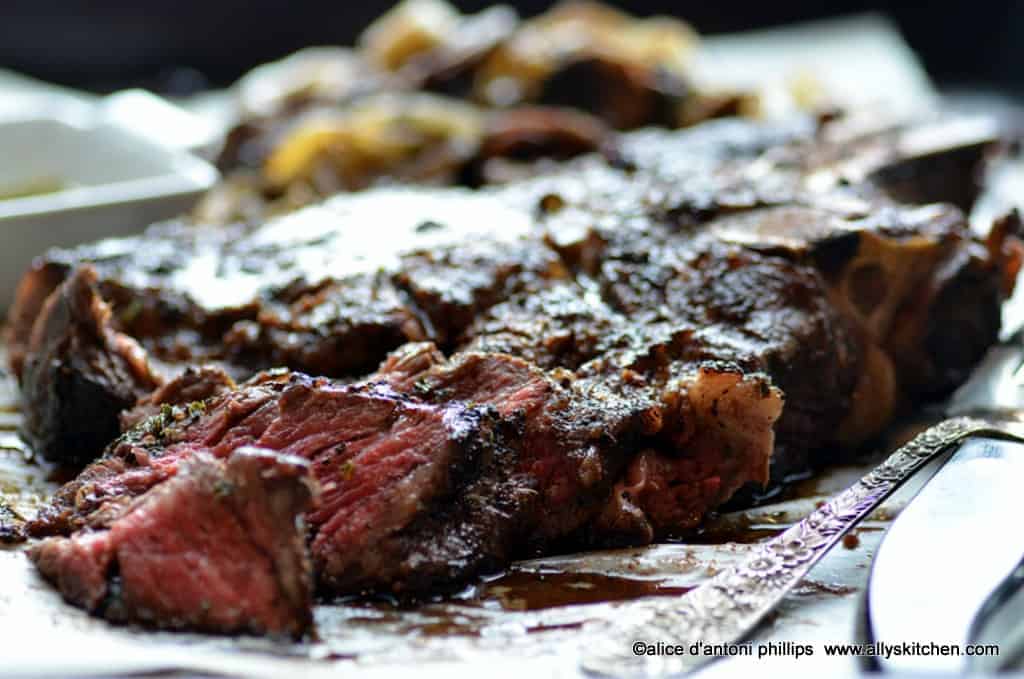 What you do:
In a small mixing bowl, combine the brown sugar, cumin, tarragon, one teaspoon of mint, salt, paprika, chipotle chili pepper, allspice and ¼ cup of olive oil and blend well. Microwave on high for 20 seconds, blend again, and set aside.
Take the ribeye and score both sides, criss cross pattern, making incisions about 1/8" deep. Put the ribeye in a pie plate. Drizzle the spice/oil blend on both sides and massage into the meat with your hands. Let the ribeye sit at room temperature for about 15-20 minutes.
Coat a large heavy cast iron skillet with cooking spray. Turn the heat to medium high and get it hot. Put the steak in and pan sear on each side about 2-3 minutes or until a crusty golden brown searing is there.
Using tongs, place the steak on a parchment paper covered cookie sheet. (Do not discard the skillet—reduce heat to low.) Cover the steak with a lid. Put in a preheated 400 oven and cook about 11-12 minutes to a medium rare finish.
While the steak is in the oven, add the remaining oil to the skillet and put the onions and mushrooms in; increase heat to medium high and sauté cook about 5-7 minutes tossing and turning occasionally. Reduce the heat to low, add 1 teaspoon dried mint and the currants then toss and blend well. Reduce heat to low, cover with a lid and let this mixture simmer until ready to serve.
Put the remaining ½ teaspoon of mint in the warm melted butter. When the steak is done, remove from the oven, drizzle with some of the warm mint butter. Put the onions/mushroom mixture on the cookie sheet with the steak. Serve with plates, forks, a sharp knife for slicing the meat and some good wine!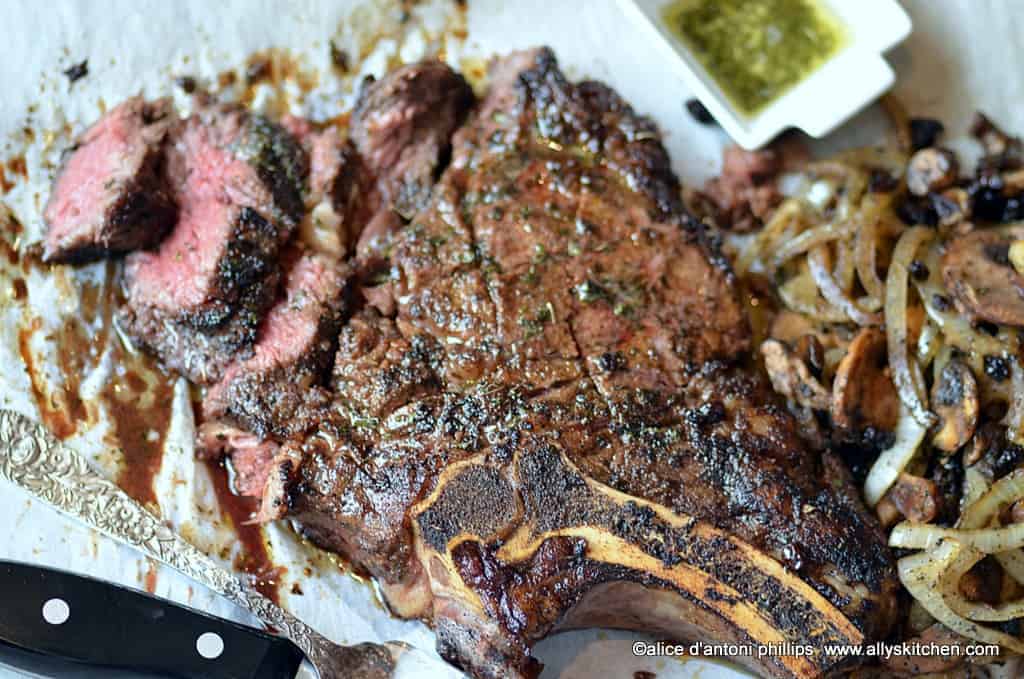 ©alice d'antoni phillips www.allyskitchen.com