Thanks to Dole Sunshine for partnering with me on this cucumber celery olive odyssey salad recipe! I am the creator of this recipe and for the description and information that follows. For a full disclosure, click here!
There is nothing easier than a dump cake! It's precisely what it is. You simple 'dump' the ingredients into your baking dish. Bake. And, presto out comes something insanely delicious. When I took some of this mandarin pineapple dump cake to my neighbors one Saturday late afternoon, I warned them that it should be called dump 'crack'! That's because you want more and more and more!
Dump cakes abound on the internet. You can make them with so many different types of fruits. But, once you make this mandarin pineapple dump cake, well, you'll be hooked. Now I've added some healthy ingredients, too. Maybe that's a way to assuage my 'guilt' for wanting a second helping! There are chia seeds and almonds in this recipe that simply add to the texture and layers of flavor of the dump cake.
Another thing about this dump cake that's just so crazy good. The crunch. Yes, the crunch of the cake mix that oozes into the natural juices of the mandarin and pineapple underneath. Then the butter melts into the dry mixture on top and creates this unbelievable crisp and crunch! I love crunch when I eat most anything! Now, you can choose to get the top of the cake, once it's done baking, more golden brown by simply turning on the broiler and watching very closely. Once it's to your liking, then take your baking dish out of the oven. Personally, I like a nice rich deep mahogany brown on top!
I'm serving the mandarin pineapple dump cake with a fluffy topping dollop. You can decide to do that or you might simply add whipped cream, ice cream or nothing! And, if you want to swap out to a different kind of nuts, say pecans or walnuts, then no problem. You can also make this dump cake into your own designer cake by deciding to use all pineapple or all mandarins. Hey, you might want to check out Dole Sunshine's peaches!
I have sooooooooooooo many wonderful Dole Sunshine recipes! Here's one of my favorites, in fact, I made it at a cooking demo at the Rose Parade's "Live on Green" family festival in 2019, and, let me tell you, it was LOVED! Kung Pao Chicken!
Just in case you can't find them at your local grocer's, try Amazon! Dole Sunshine Fridge Packs come in four different fruits!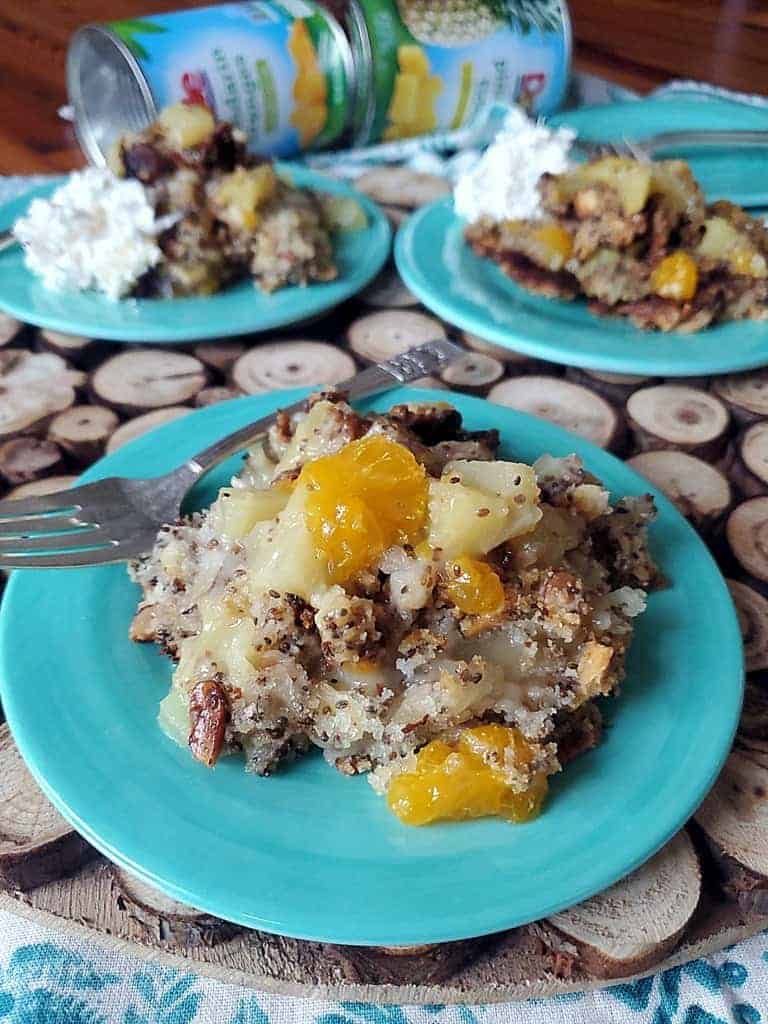 mandarin pineapple dump cake
Ingredients
Preheat 350
1 (15 oz.) can Dole Sunshine Mandarin Oranges
1 (20 oz.) can Dole Sunshine Pineapple Tidbits
1 (8 oz.) can Dole Sunshine Tidbits
1 (1.25 oz.) white cake mix, i.e., French Vanilla
½ cup chia seeds
1 cup almonds, sliced and roughly crushed
12 Tbl. butter, unsalted, chilled & cut into 16 slices
TOPPING (Optional)
1 (8 oz.) container Cool Whip
1 cup shredded coconut, unsweetened
1 (8 oz.) can Dole Sunshine Pineapple Tidbits, drained
Instructions
Grease the baking pan well.
Add the mandarin oranges and pineapple tidbits with juice to the baking pan.
In a mixing bowl, combine the cake mix, chia seeds and almonds. Blend well then spread over the fruit. Place the butter pieces on top.
Bake in a preheated 350 oven for 40 to 45 minutes or until the top is somewhat golden brown.
Meanwhile, in a medium mixing bowl, combine the cool whip, coconut and pineapple tidbits. Refrigerate until ready to serve atop individual servings of the dump cake.
When the cake is done, remove and cool just a few minutes, then scoop and serve.
If you want more browning on top, after the cake is done, turn to broil just for a couple of minutes. Watch closely!
https://allyskitchen.com/mandarin-pineapple-dump-cake/
©ally's kitchen intellectual property