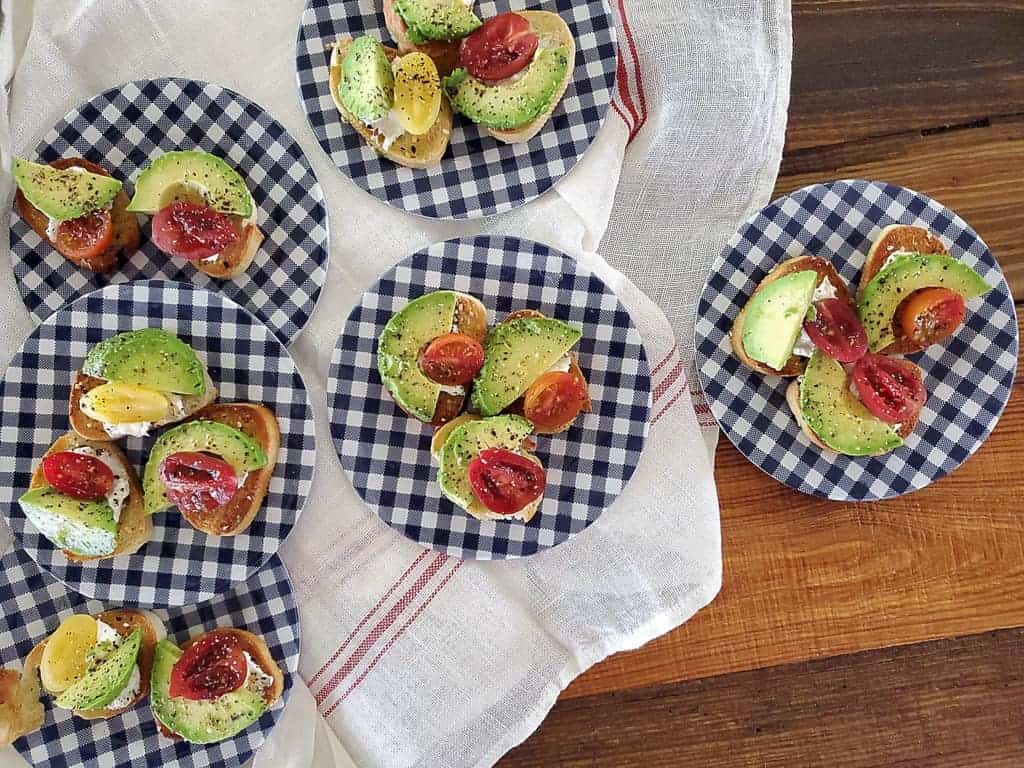 I never know which of my recipes will ignite excitement in those who follow me on social media. But, I can tell you that this recipe did! And, quite frankly, I was shocked because it's just such an easy simple recipe. Nothing fancy dancy. Nothing extraordinary about it. At least, that's what I think.
To me, the star of this recipe is, of course, the avocado, but it's the way the avocado is combined with the other simple ingredients that makes this avocado garlic crostini totally awesome!
Toasting the thin bread rounds, and I'm talking toasting just to a slight golden brown (you still want some of the 'chew' of the bread in them) then coating with the fresh garlic cloves is genius in amplifying flavors.
Add to that the drizzle of extra virgin olive oil then the sprinkling of spice mixture and you'd be ready to eat them just like that. But, wait! You're gonna add a cream schmear of whipped cream cheese. Oh, yeah, I can eat them now, right?
No, wait, hold your horses. We're gonna add on a slice of fresh healthy avocado and a juicy bite of tomato. Then if that was not enough a shower of fresh lime juice and a dusting of coarse ground pepper.
OK, so I think now you're probably ready to jump in and make these avocado garlic crostinis, right now! I mean my yogini gal, Whit, and I made a meal from this entire cookie sheet. Yep, we ate them all! xoxo ~ally
Here's what Whit and I also ate with these crostinis! Kung Pao Kidney Beans!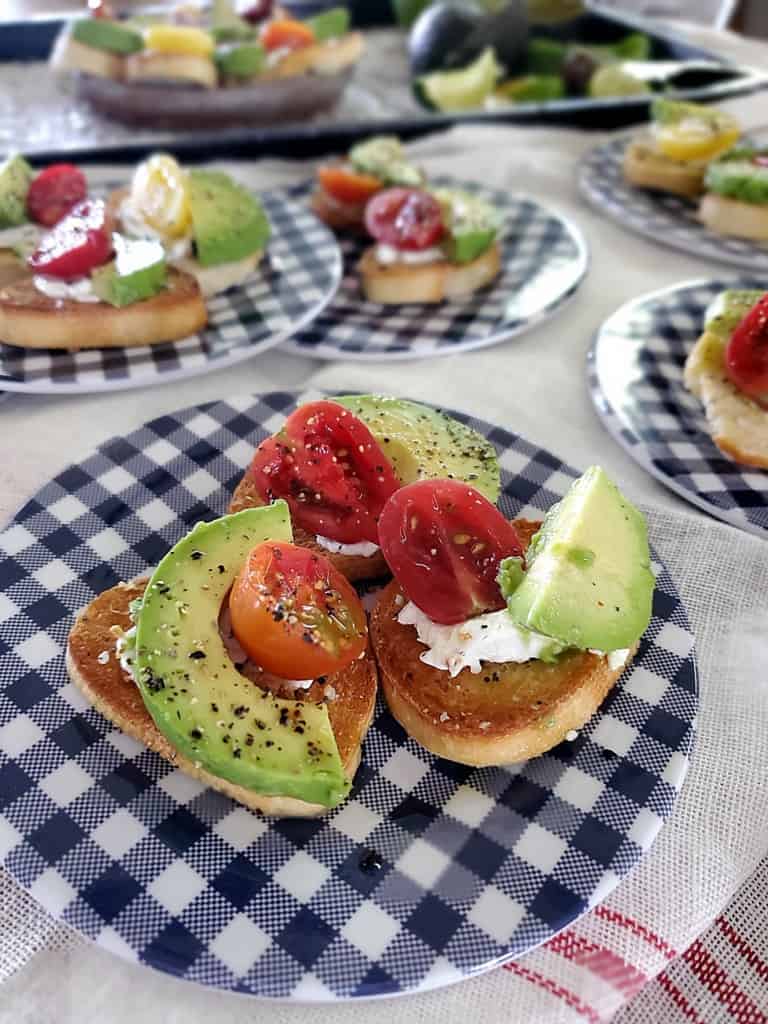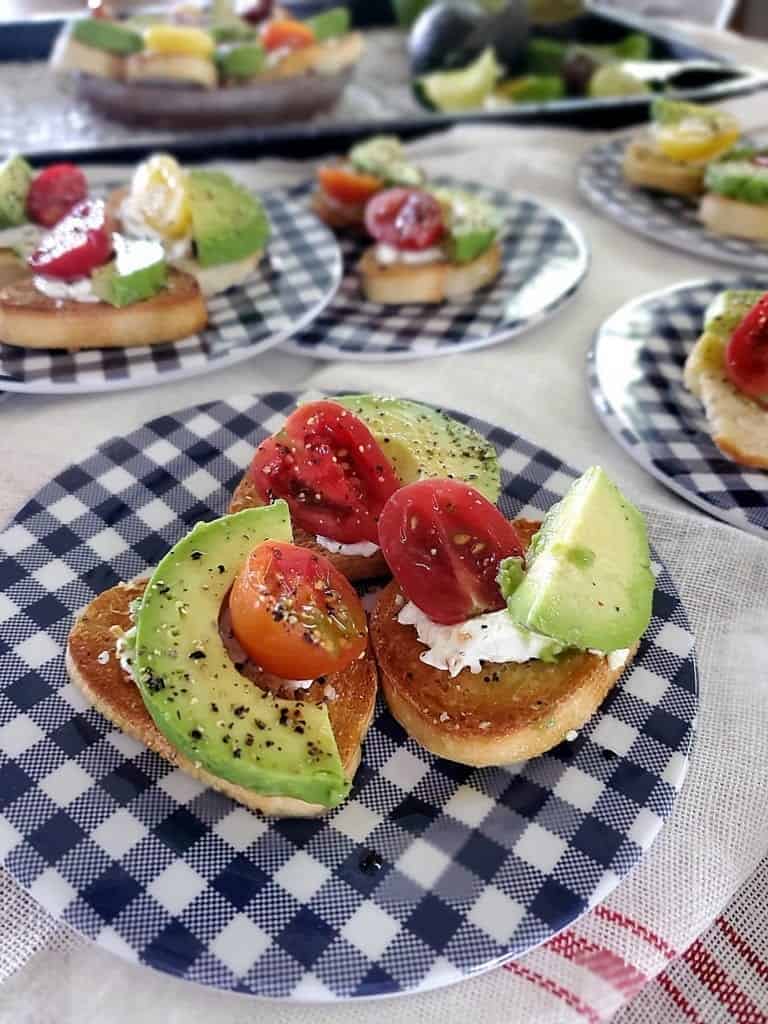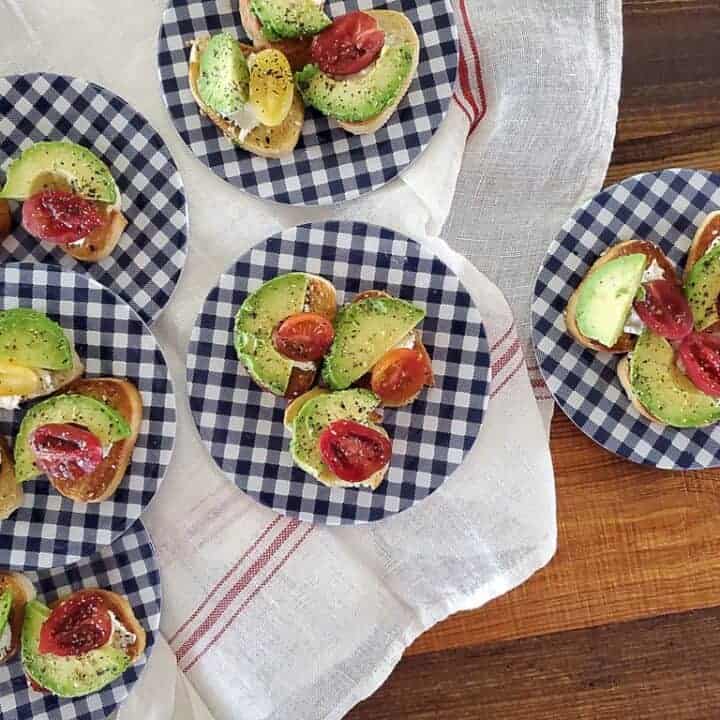 avocado garlic crostini
Ingredients
20 to 24 thin slices of Italian bread, toasted
1=2 garlic cloves
1/4 cup extra virgin olive oil
1 Tbl. Trader Joe's 'Everything but the Bagel Sesame Seasoning Blend'
1/3 cup whipped cream cheese
3 small avocados
12 cherry tomatoes, sliced in halves
2 fresh limes, divided
Coarse ground pepper
Instructions
Put the bread rounds on a parchment paper covered cookie sheet.
Turn oven to broil and toast bread. Remove and take the garlic cloves and rub each piece of toast with garlic.
Drizzle olive oil on toasted garlic bread.
Sprinkle on the seasoning mixture.
Put a schmear of whipped cream cheese on each toast round (about 1/2 to 1 teaspoon).
Remove avocados. Slice in half. Use one of the limes to drizzle on the avocados (to reduce turning brown).
Slice the avocados and place a slice on each round along with a tomato half.
Drizzle again with fresh lime.
Finish with sprinkling coarse ground pepper (optional).
Notes
Any type of your favorite seasoning blend will work. The Trader Joe's blend has sesame seeds (white and black), sea salt, minced garlic, minced onions and poppy seeds.

You can prepare in advance the crostini rounds with the rubbed garlic. When ready to serve, continue the steps in building them.