Mediterranean Cabbage Slaw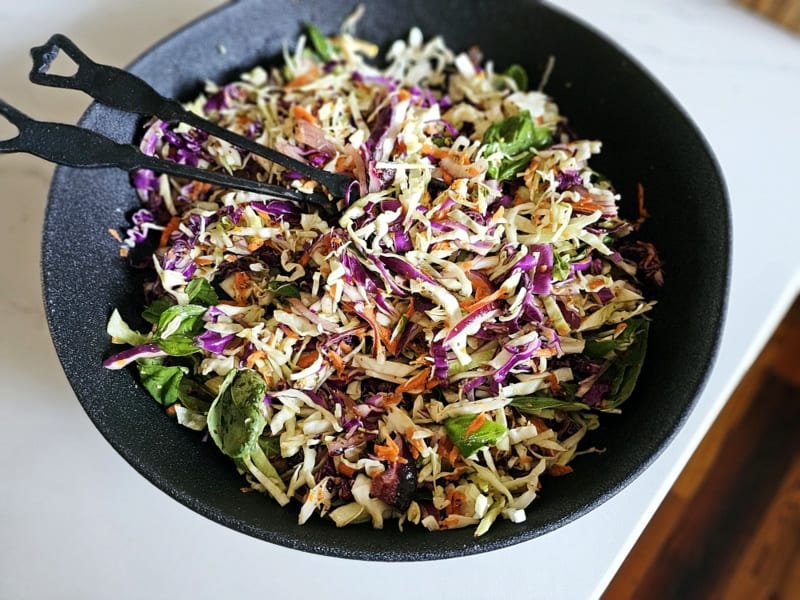 The healthy version of coleslaw. No mayo! It's a Mediterranean cabbage slaw version with all the flavor & anti-inflammatory ingredients.
Cabbage Based Salads
No-mayo coleslaw is a healthier alternative to traditional coleslaw, offering a refreshing, crunchy, and tangy side dish that's rich in nutrients and lower in less healthy components like saturated fat and added sugars.
It's an excellent addition to a well-balanced meal.
One thing that's absolutely essential in this salad: fresh ginger, garlic, and, if you can find it, turmeric. If you can't find fresh turmeric, then substitute one teaspoon of dried turmeric.
And, another essential ingredient, the stone ground mustard.
Here's the link to the best I think. Pommery Meaux Mustard, French and in the cutest of stone jars!
And, not to fret, you'll use for many other things. I have several recipes with it!
Homemade Coleslaw
No-mayo coleslaw, also known as vinegar-based coleslaw, or in this case lemon based, offers several health benefits compared to traditional coleslaw made with mayonnaise.
The Best Coleslaw Recipe
Coleslaw made without mayonnaise is often higher in fiber because it relies on vegetables like cabbage and carrots.
Fiber is essential for digestive health and can help you feel full, promoting better appetite control.
Coleslaw without Mayo
More distinct advantages of coleslaw with mayo!
No-mayo coleslaw doesn't contain perishable dairy or eggs, reducing the risk of foodborne illnesses that can result from mayonnaise-based salads when not handled and stored properly.
Mayonnaise Free Coleslaw
Now don't think for one second that this coleslaw doesn't have popping flavor, textures and style!
It's going to wow your palate from the first bite. Just like so many of my other cabbage recipes, especially those with purple cabbage! Take a peek at the possibilities!
The freshly grated ginger gives hints of spice and heat that are gentle and memorable!
And, the turmeric, well, you're doing your body real good with fresh if you can find, but if not, just substitute one teaspoon of dried turmeric.
Best Coleslaw without Mayo
Coleslaw without mayonnaise is cholesterol-free, while traditional coleslaw can contain cholesterol from the eggs used in mayonnaise.
If you want a tad bit of creamy, then simply add to the dressing about one fourth cup of plain Greek yogurt. This will give your that 'mayo' texture slightly with out the cholesterol issues.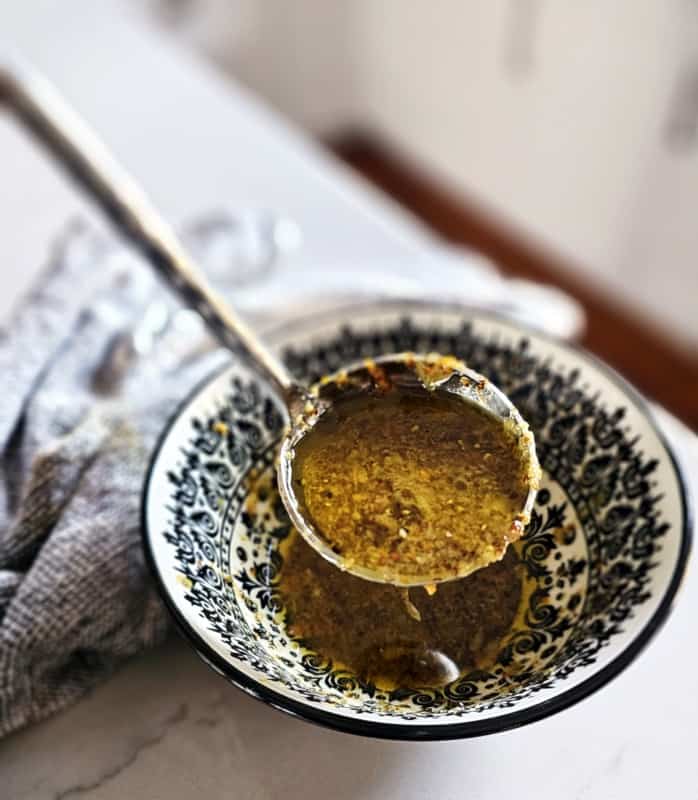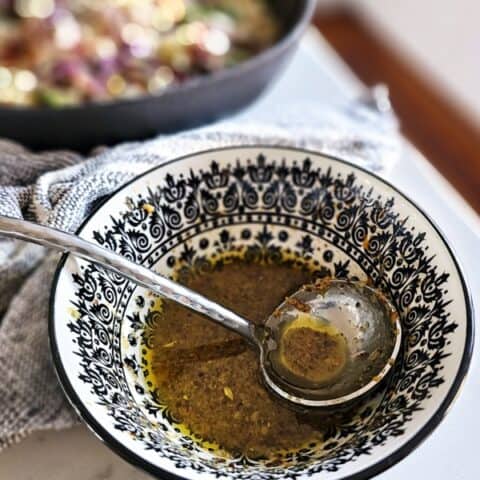 Mediterranean Cabbage Slaw
Ingredients
VINAIGRETTE:
1/2 cup extra virgin olive oil
1/3 cup maple syrup
2 heaping Tbl. freshly grated ginger
1 heaping Tbl. freshly grated turmeric
1 heaping Tbl. freshly grated garlic
2 heaping Tbl. stone ground mustard
Himalayan Pink Salt and Pepper, to taste
1 lemon, juice only
CABBAGE SLAW INGREDIENTS:
4 cups cabbage, thinly sliced
3 cups purple cabbage, thinly sliced
1 cup carrots, roughly grated
1 cup purple onions, thinly sliced
2 cups fresh basil leaves, packed
Instructions
In a small bowl, combine all the ingredients.
Whisk well.
Pour on cabbage salad and toss and blend.