Sometimes the bread I make is hit or miss…for some reason, my last few loaves were very dense and 'heavy', so instead of tossing in the trash, I decided to slice the bread thin and make 'toastees' using various toppings.  These are kind of like 'bagel crisps' not quite as thin, but the same style.  You can top with whatever your tastebuds want–I used EVOO, sea salt and pepper with some and then with some other, I used Aleppo chili (light light dusting).  These toastees keep well in an airtight container and are great for so many things~~soup, appetizers, hummus, spreads, a sliced tomato, whatever!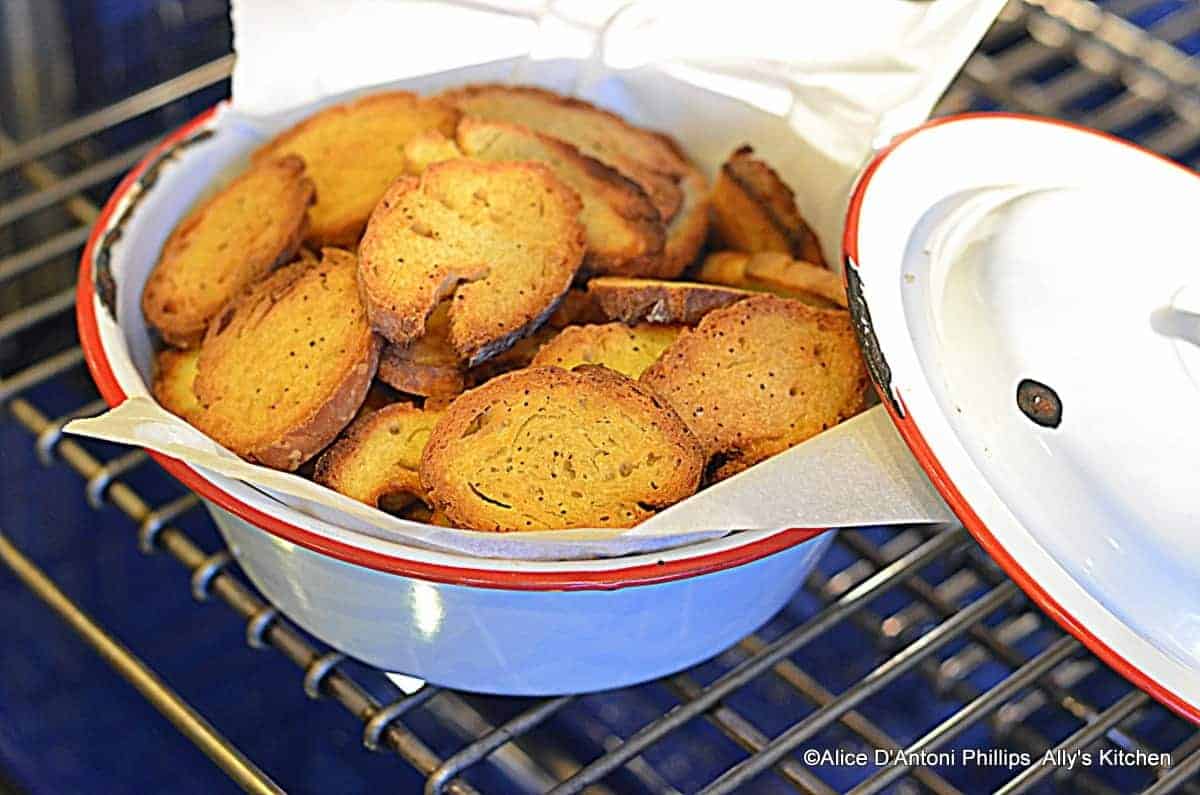 Makes:  2 French loaves
Preheat oven 400
What you need:
Step 1:  Make the bread
1 pkg yeast
¼ cup warm water (110-120 degrees)
1 ¾ cups lukewarm water
3 tbl mayonnaise
4-5+ cups all-purpose flour
1 tsp sea salt
3 tbl grated lemon
Step 2:  Make the Toast
¾ cup olive oil
1 tsp sea salt
1 tsp coarse ground pepper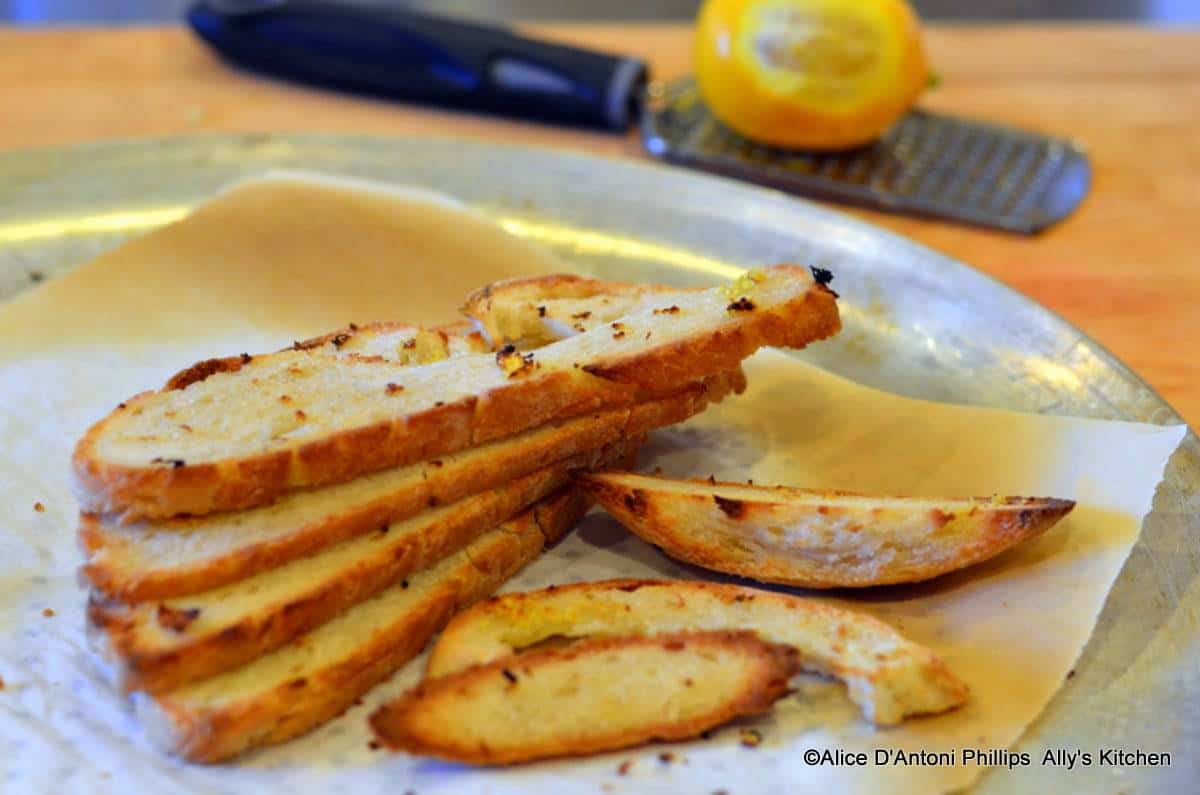 What you do:
(Note:  If you have leftover homemade or store-bought French bread, just go to step 2~~grate some lemon into the olive oil along with the sea salt and pepper. )
Making the Bread:
Shortcut: Yes, you can simply buy a loaf of bread (dense type like sourdough) at the deli and slice it really thin.
Combine the yeast in the ¼ cup warm water for about 5-7 minutes.  It will become slightly frothy.  Add the mayo to the 1 ¾ cups lukewarm water and blend.
In a large mixing bowl, combine 4 cups of flour, sea salt and grated lemon and blend. Add the yeast/water and blend and then add the mayo/water and blend.  Use a wooden spoon and blend and work the dough in the bowl about 3-5 minutes.
Cover with a clean dish towel, put in a draft-free place (like your oven with the light on) and let rise about 2 hours.
Coat working surface with flour, dump dough onto flour and begin kneading  for about 7 minutes adding flour as needed.  Shape into French bread loaves.
Bake in preheated 400 degree oven about 25-30 minutes.  Remove and let cool completely (like overnight).
Making the Toastees:
With a serrated knife, cut into thin slices.  Arrange on a large cookie or pizza sheet.  Combine the olive oil, salt and pepper.  Brush on the bread.  Put under the broiler until golden brown.  Store in an airtight container.
Note:  I also made the bread without lemon zest.  Made toastees by buttering the slices then sprinkling (using a fine sifter) just a little Aleppo chili on top.  Put under broiler and toast until crispy.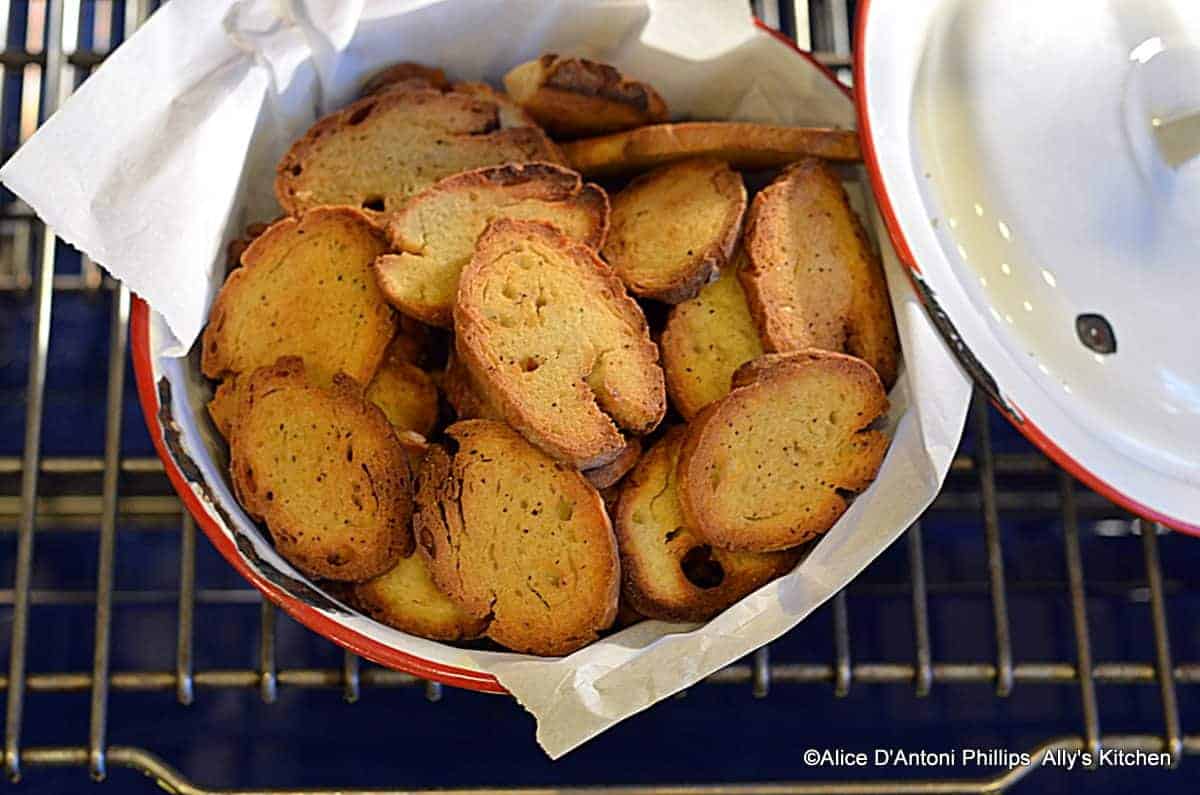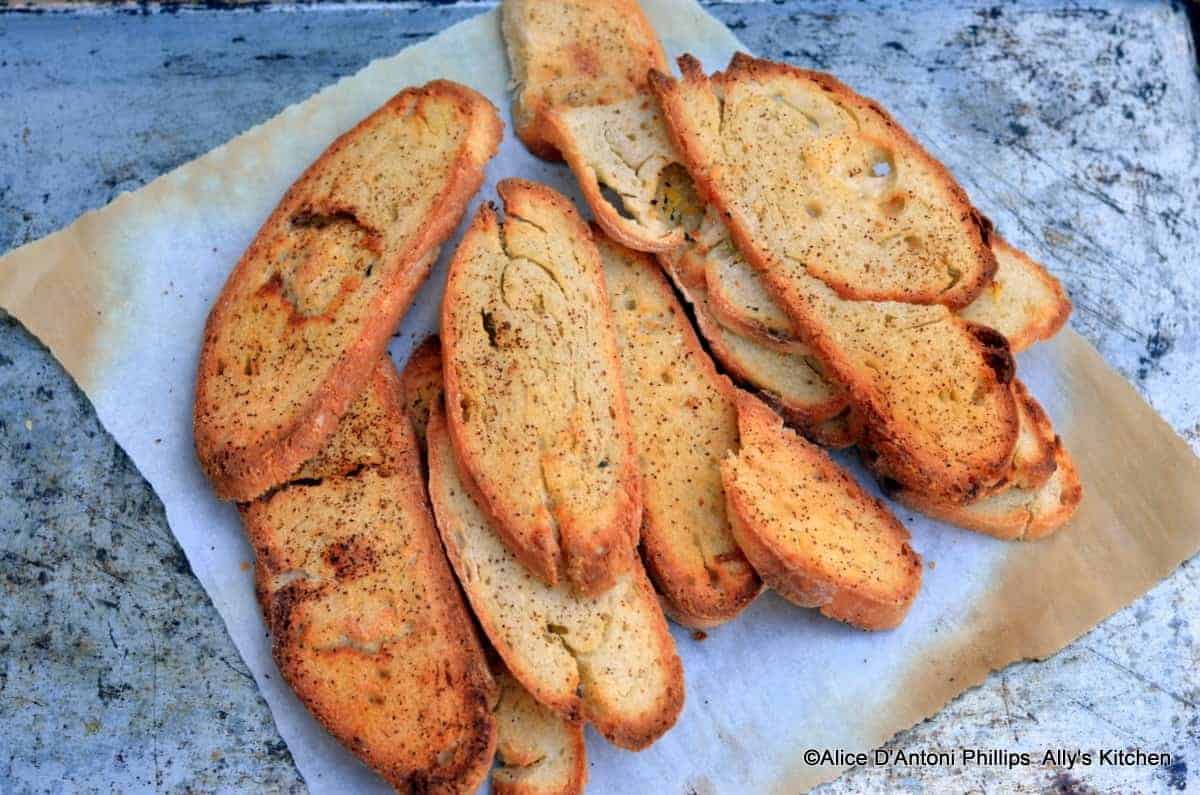 ©Alice D'Antoni Phillips  Ally's Kitchen