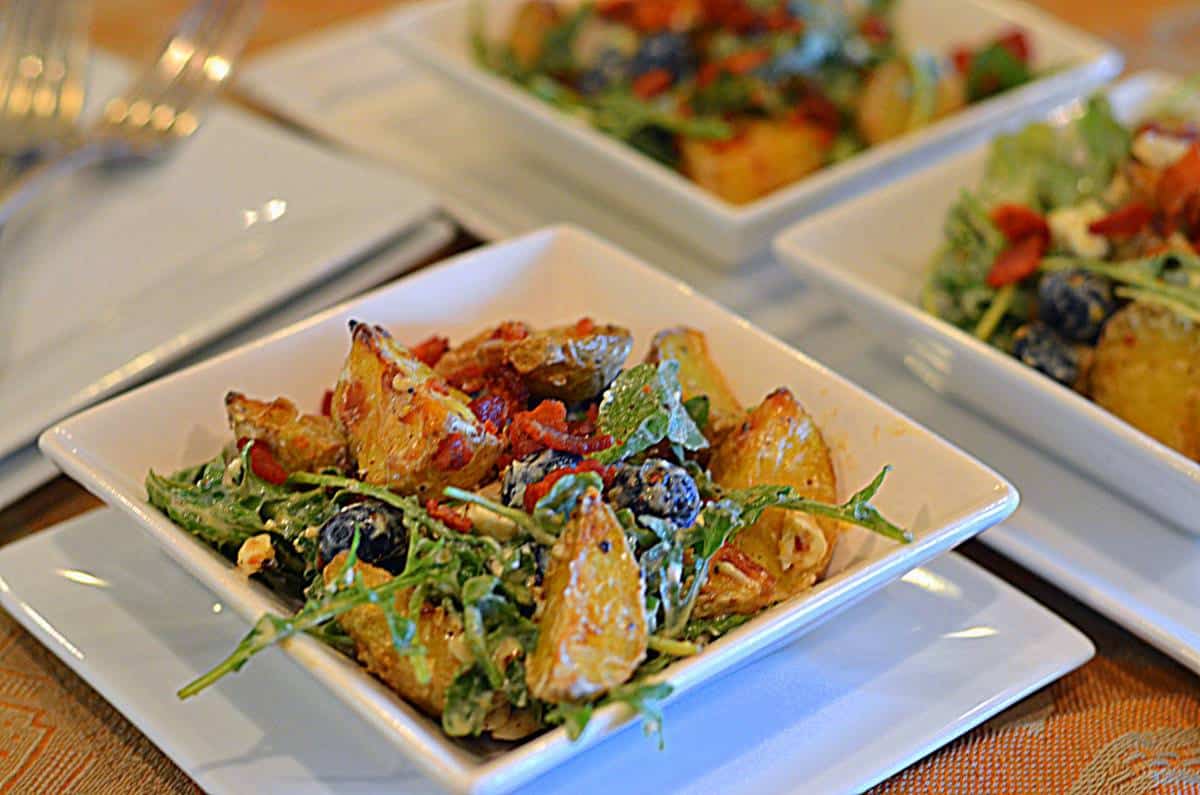 Potato Salad with a new twist! Blueberries…rocket salad or arugula and other good stuff! Who says potato salad has to be like grandma used to make! Spread your wings, create something different, expand your palate…I admit this salad is flat out great…I know cuz I literally ate it ALL!
Yes, after photographing it, I chowed down on every bowl…now I say this makes about 6 servings, but that is IF you're not a little oink oink like me!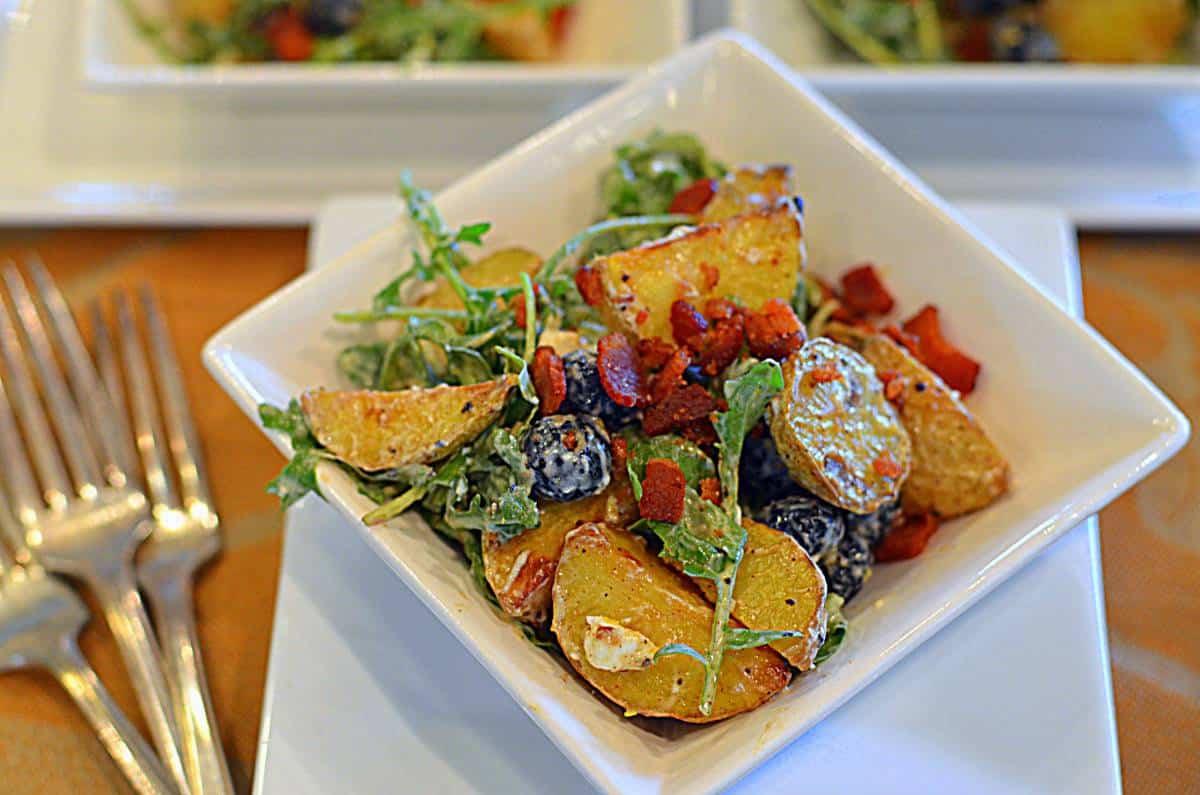 Preheat oven to 425
Serves: 6
What you need:
3 cups quartered baby gold potatoes
Olive Oil cooking spray
2 tsp Thai Spice (mixture of sesame seeds, paprika, oriander, garlic, onion, cilantro, basil, red pepper, cinnamon, nutmeg)
½ tsp lemon pepper
1 tsp sea salt
½ tsp pepper
4 slices thick cut bacon fried, crumbled and the drippings reserved (divided)
1 cup packed fresh arugula
1 cup fresh blueberries
1/3 cup thinly sliced green onions with tops
1 cup crumbled goat cheese
1 small lemon zest and juice
2 heaping tbl mayonnaise
Sea Salt Finishing Flakes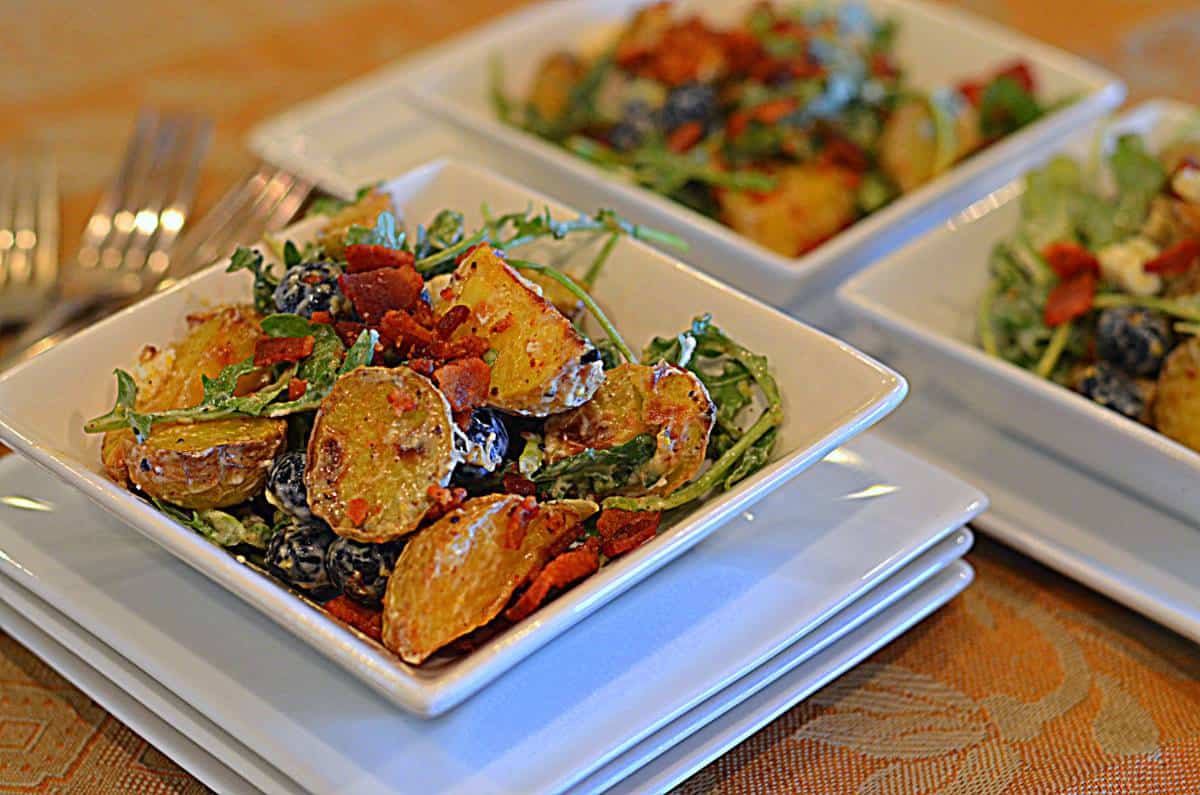 What you do:
Put the potatoes on a parchment-paper covered cookie sheet. Coat well with the cooking spray. Sprinkle on the Thai spice, lemon pepper, salt, and pepper and toss with your hands. Roast potatoes in a 425 preheated oven for about 18-20 minutes or until golden brown.
Remove and drizzle on about half of the bacon drippings on the potatoes. Toss with a spatula. Return to oven. Turn on broiler for about 2 minutes to get more of a golden brown. When done, remove and let cool.
In a large mixing bowl, combine the arugula (also known as 'Rocket' salad), blueberries, green onions and goat cheese. Add cooled roasted potatoes.
In a small bowl combine the remaining bacon drippings, lemon zest, juice and mayonnaise and blend. Drizzle on to ingredients in large bowl and toss.
Garnish with crumbled bacon bits and sea salt finishing flakes. Serve!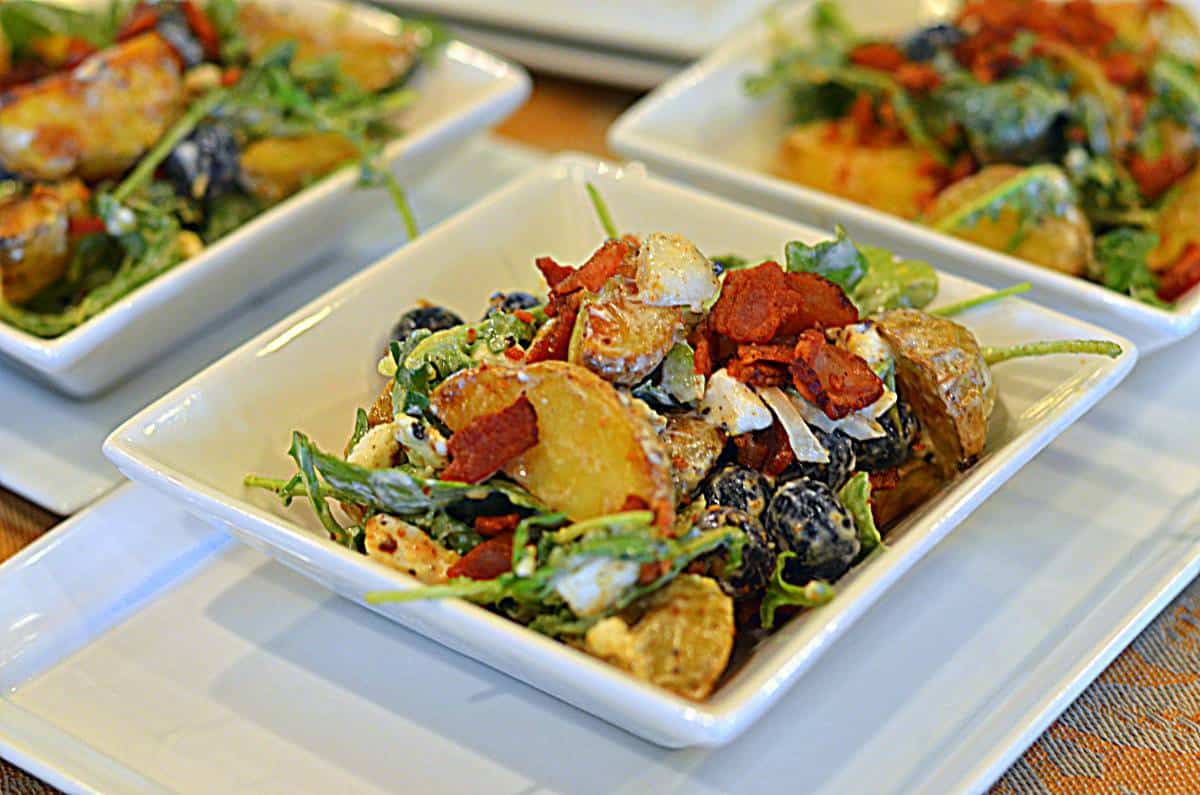 ©alice d'antoni phillips www.allyskitchen.com