sarma croatian cabbage rolls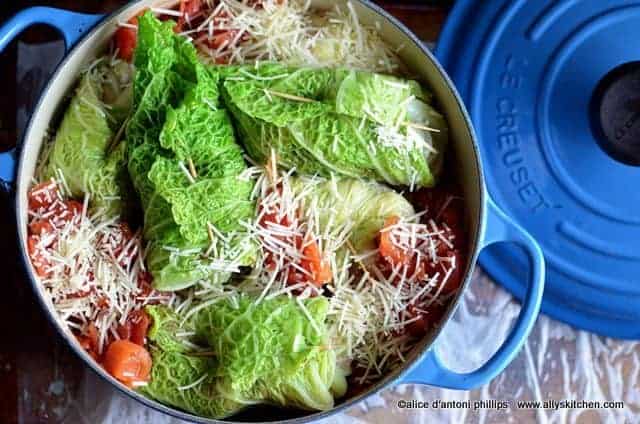 These sarma croatian cabbages rolls are a huge part of my growing up. My Croatian mom made them all the time! Mom's recipe is the best!
Sarma
The word 'sarma' is of Turkish derivative and it means to wrap. So you take leaves be they cabbage, chard, kale or another and use some type of filling, usually ground meat and other ingredients, and wrap in the leaf then cook.
Cabbage rolls! Growing up my Croatian Mom used to make these in huge batches because we'd eat on them for days. Yes, they get better as they hang out overnight much like pasta sauce and soups! I'd watch as Mom worked on the kitchen table deftly rolling the meat mixture in the wilted cabbage leaves then securing expertly with a toothpick~~it was if she was performing surgery as she would 'sew' together the parts of the leaf so as to keep the meat tightly bound. In Croatian they're known as 'Sarma', so in memory of my Mom they become 'sarma croatian cabbage rolls.'
Healthy Cabbage Rolls
First of all cabbage rolls essentially are healthy. But I always try to take my Mom's recipes and make them healthier. So that's what these are, healthy cabbage rolls. Yet, they are still your classic cabbage rolls.
Classic Cabbage Rolls
Classic cabbage rolls are an anomaly. Really is there one recipe that makes it classic.
Different ethnic groups and countries, the Croatians, Turks, Bulgarians, Albanians, Greeks, all claim to have 'invented' the stuffed cabbage roll. Romania and Croatia call it sarma. Bulgaria calls it 'sarmi' and the Greeks call it 'sarmalaki'. So go figure. It really doesn't matter who gets the bragging rights. All agree that the cabbage roll is fine eating!
Stuffed Cabbage
Of course cabbage is a hearty vegetable, and it's got lots of uses from cole slaw to fried cabbage and more. But, the wonderful full leaves of cabbage make it perfect for stuffing and rolling. Stuffed cabbage surely isn't one of my quick and easy recipes, however. It takes time, lots of time, especially if it's your first go at it.
Mom used regular cabbage for her sarma. I really don't think we had Savoy cabbage available back in those mountains of Appalachia, plus the regular cabbage was used back in the old country. But, I sometimes prefer to use Savoy cabbage. It's easier to peel form the heads, more pliable, and seems to hold together better for me. Plus, I think the crinkley nature of the leaves is just really pretty. And, 'pretty eating' is part of making every day a tad bit more luxurious!
Cabbage Rolls in Oven
I suppose the biggest trick to this recipe is making the leaves and meat mixture come out evenly. So, if you have to steam a few more leaves or not use as many as you've steamed, then no problem. Every head of cabbage is uniquely different, just like each of us!
Once you have them all rolled and pinned together you're going to cook the cabbage rolls in the oven. Some may cook on the stove top, and I suppose you could do that with this recipe, too. These were so so good that everyone dug in and literally ate before I could get pictures of the finished product, so just imagine in your mind or make them and you'll see!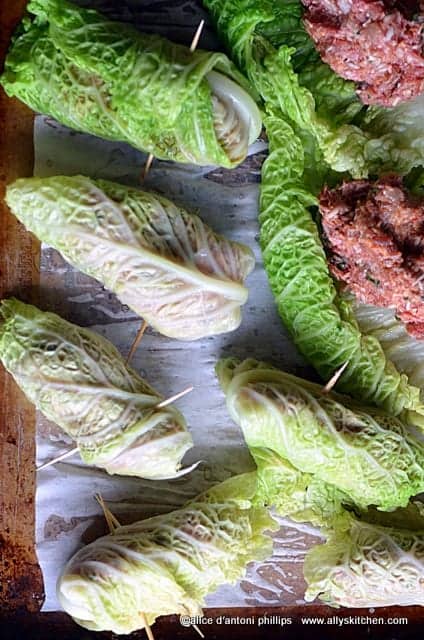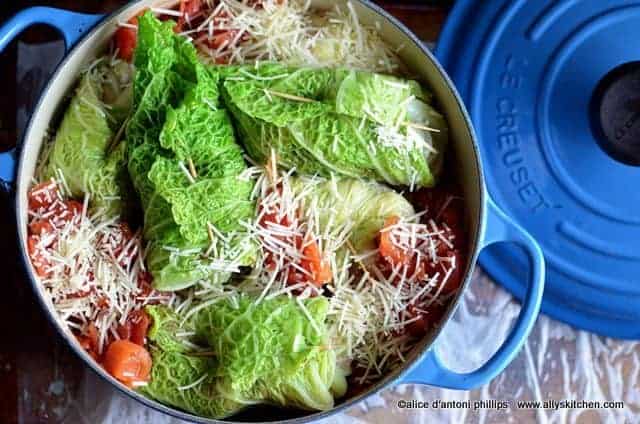 sarma croatian cabbage rolls
Yield: About 15 small to medium cabbage

sarma croatian cabbage rolls
Ingredients
Preheat oven to 400
1 head cabbage, remove large outer leaves, about 10-12
½ cup sweet onions (or shallots), diced
2 Tbl. Olive oil
¾ lb. ground beef
½ lb. ground Italian sausage (can sub pork, lamb, veal)
2 eggs, beaten
1/4 cup sour cream
¾ cup rice, cooked
¾ cup shredded (or grated) parmesan, divided
3 tsp. garlic granules (can use garlic powder or garlic paste), can use 4-5 cloves of garlic
Fresh herb blend, chopped, 1/4 cup flat parsley, 1/4 cup basil, 2 Tbl. thyme and 2 Tbl. oregano
1 1/2 tsp. sea salt
1 tsp. fresh ground pepper
1 tsp. red chili flakes
2 tsp. sweet paprika, optional
1/2 tsp. allspice
2 tsp. oregano
1 (28 oz.) can chopped tomatoes
1 (28 oz.) can tomato sauce
Instructions
In a large stock pot over medium high heat, put about 2 cups of water. Put the head of cabbage in and let it steam just a few minutes. Remove and let it cool. Then gently pull off 15-20 cabbage leaves.
In a sauté pan over medium heat, put the olive oil and onions and cook about 3 to 5 minutes until tender and translucent. Set aside.
In a large mixing bowl, combine the ground meats, eggs sour cream, rice and one-half cup Parmesan. Use your hands to blend together. Add the garlic, herbs, salt, pepper, chili flakes, allspice and oregano and blend together well.
Line a cookie sheet with parchment paper. Take one leaf at a time and an amount of the meat mixture that seems to 'fit' the size of the center of the leaf.
Place the meat mixture in the center, then fold over opposite sides of the leaf and secure with a toothpick threading through it or a 'stitch' made. Repeat this for all the leaves.
Put one-third of the chopped tomatoes and tomato sauce in the Dutch oven pot with the sauteed onions. Add a few of the cabbage rolls. Add another 1/3 layer of tomatoes/sauce and cabbage rolls and the final tomatoes and cabbage rolls. Sprinkle with the remaining Parmesan.
Cook in a preheated 400 for about 40-50 minutes. Remove, cool about 15 minutes then serve!
Notes
Regular cabbage is perfect for this recipe, but you can experiment with purple cabbage, Savoy cabbage and even Napa cabbage. I've even thought about using Swiss chard leaves!

One to one and a half cups of bread crumbs or crushed crackers (i.e., saltines) can be substituted for the rice.

This recipe could be done in a slow cooker or crock pot. I'd cook on HIGH for about 4 hours.