When apples are in season, it's time to buy bushels and bags of them and enjoy the bounties of these sweet crisp fruits. This apple fig custard open faced pie is made in a half sheet cake pan and will serve a crowd! You can make ahead, then pop in the oven to cook and serve warm in no time at all. One thing that I love about this pie is that it's simple and easy. It uses puff pastry, which always adds both crunch and some tender 'dougheee' taste. A contrast for the palate.
No need to peel those apples. The beautiful skins create color and interest before and after cooking. Plus, they're so tender and add more nutrition to the pie. In fact, peels contain 2−6 times more nutrients and insoluble fiber than the flesh of apples according to Apple Boost. In fact, this SuperFoodsRx goes on to say this about those who spend time peeling apples:
If you're one of those people who meticulously peels the skin off the apple before cutting it up into cute little pieces for yourself or the kids, you should stop. Otherwise, you're throwing away the most important part of the fruit.
So, save yourself some time. Just scrub those apples and slice away. Then do your artistic work and place them in the pan. You'll have a showstopper that will dazzle your family and friends!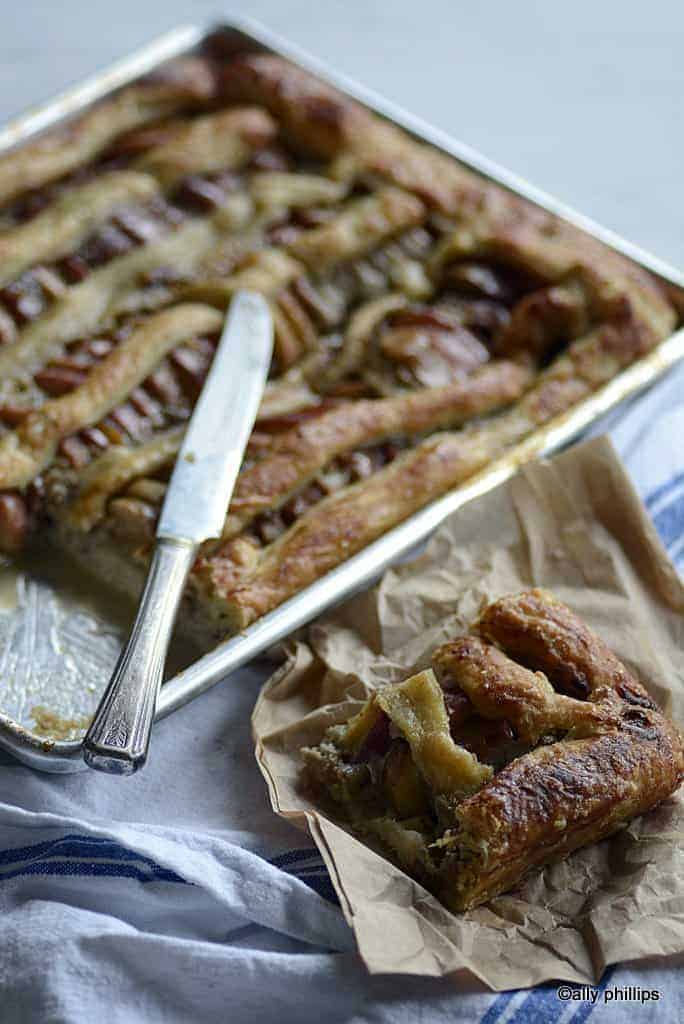 apple fig custard open faced pie
Ingredients
Preheat oven to 350
Makes: One 9 ½ x 13 sheet cake pan
1 box puff pastry (6 pieces), room temperature, divided
3 Tbl. butter, salted and room temperature for easy spreading
1/2 cup sugar, divided
4 large apples, honey crisp or pink lady, sliced into thin wedges, peel on
¼ cup lemon juice
3 eggs, divided
1/3 cup heavy cream
1/3 cup milk, 2%
¼ cup fig jam
1 tsp. allspice
1 Tbl. turbinado sugar,
Instructions
Grease the sheet cake pan well. Take 5 pieces of the pastry and pat into the bottom of the pan. Let about 2+" lap over the edges. Slather the butter on the pastry in the pan. Sprinkle with one-fourth cup of sugar.
Put the apple wedges in a bowl. Toss in the lemon juice. Layer into three rows in the pan. Sprinkle on one-fourth cup of the sugar.
In a small bowl (or 2-cup measuring cup), whisk together well two eggs, cream, milk, fig jam and allspice. Pour on the apples.
Cut the remaining piece of puff pastry into five long pieces (about ½ to 1 inch strips). Lay across top of the apples tucking in the end pieces and then pinching together the strips making a rippled effect.
Brush the crust with the white of the remaining egg (it's ok if you get some of the yolk in there). Then sprinkle the crust with the turbinado sugar.
Bake in a preheated 350 oven for 35 minutes. Remove and let cool.
Notes
This pie is perfect for breakfast! Try serving it with crumbled bacon on top!
Offer up 'toppings' when serving similar to a baked potato or taco bar. Things like shredded cheddar cheese, bacon crumbles, bleu cheese crumbles. Get creative!
https://allyskitchen.com/apple-fig-custard-open-faced-pie/
©ally's kitchen intellectual property