italian chicken creamy garlic shells pasta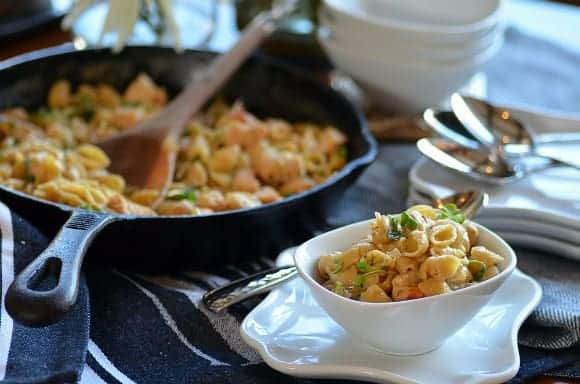 Family Friendly Dinner
Who doesn't want a family friendly dinner. And, I'm talking about a dinner that a 3 or 5 year old would like! Well, this Italian chicken creamy garlic shells pasta is your family friendly dinner that's going to please all! It's kind of like a mac and cheese with these garlic shells pasta, but throw in the chicken and you have a full meal. All you need is a salad! Plus, an added bonus is that it's one of the quickest dinner ideas out there because you're going to be using Knorr Pasta Sides.
Quickest Dinner Ideas
Sometimes we get home. Haven't really decided what we want for dinner and then we're in a crunch. That's when you turn to Google and put in quickest dinner ideas. Yes, this Italian chicken creamy garlic shells pasta is in that category. Don't beat yourself up that everything isn't made from scratch. Hey, you're doing good to get dinner on the table, homework supervised, the kids tucked into their beds and then you go about your next jobs of laundry, cleaning up and more. So searching for quick dinner ideas makes sense. And, with Knorr Pasta sides, which are darn good in a pinch. it's possible.
Knorr Pasta Sides
I've used Knorr Pasta Sides on several occasions. In fact, I keep some in my pantry just for those crunch situations when I need something quick and easy. You'll also find some other packaged products that are pinch hit home runs, like the pre-cooked rice, madras lentils, beans and more. We need these things to keep our sanity. Now the Knorr Pasta Sides come in a variety of types, so purchase a few. These creamy garlic shells are perfect for kids, little and big. You can adorn them with other things like throwing in peas, maybe some greens, or even adding a little more milk and grated cheese.
Knorr Italian Sides Creamy Garlic Shells (4.4 oz.) is a pasta side dish that enhances meals with amazing flavor.
Creamy Garlic Shells Italian Sides expertly combines garlic and butter with a Romano cheese-flavored sauce.
No artificial flavors.
Quick and easy to prepare – Cooks in 7 minutes.
Stovetop or microwave cooking.
Chicken Recipes
Chicken recipes are easy to construct and concoct because chicken goes with so many other things. It's like a universal meat for meat lovers. And, when you dice up boneless skinless chicken breasts and throw into Knorr Pasta Sides, you have a complete family friendly dinner. Add your salad, try my Farm Fresh Corn Caprese Salad, and presto, you're ready to sit down to dinner with family in no time.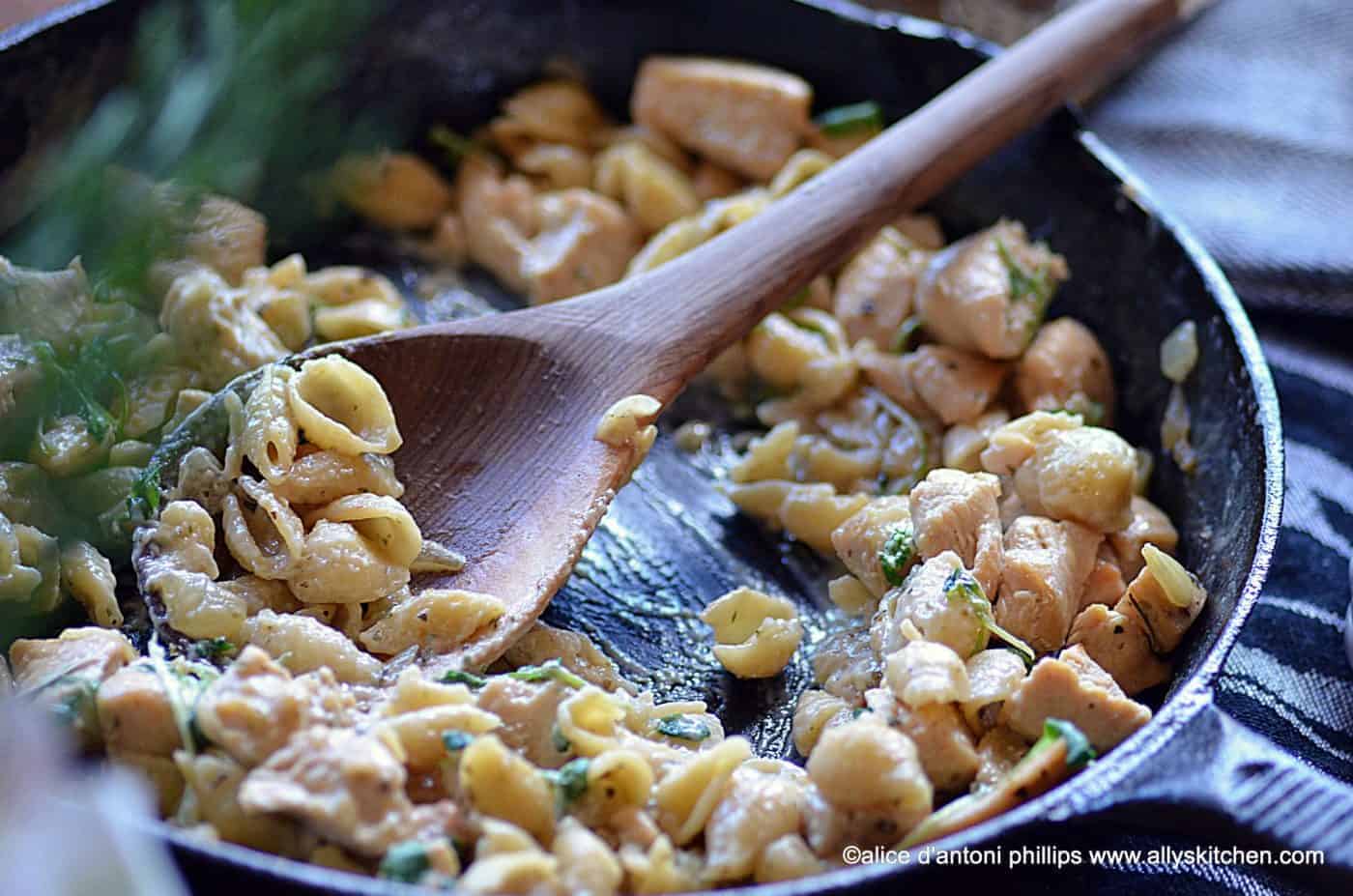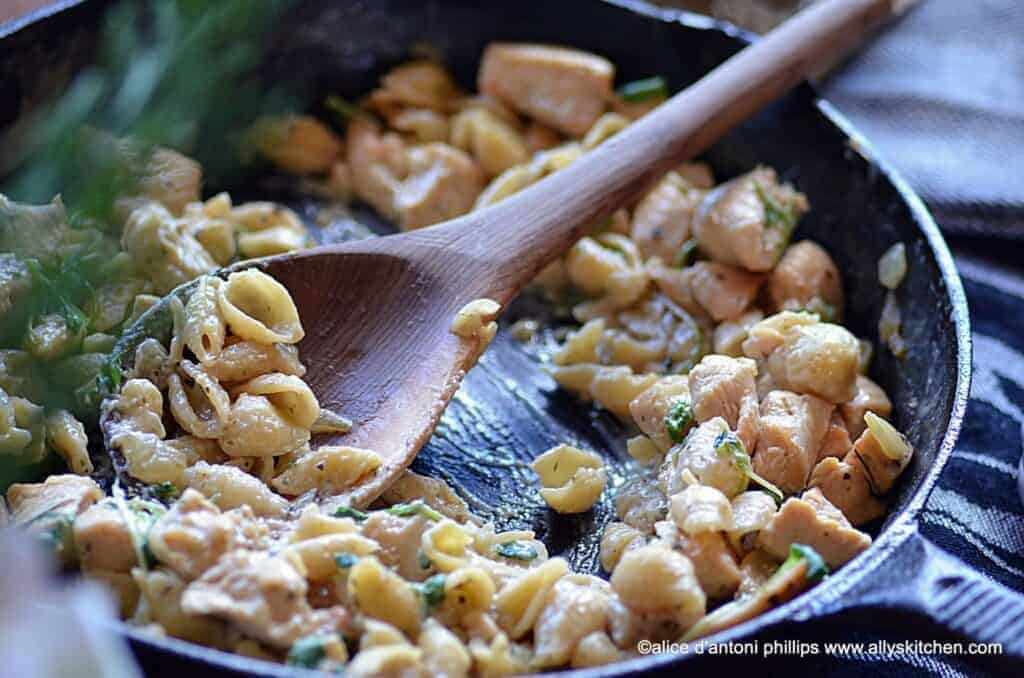 italian chicken creamy garlic shells pasta
Garlic shells pasta and chicken is a family friendly meal pleasing everyone! From the 3 y/o to Grandpa, it's one of the quickest dinner ideas out there.
Ingredients
1 lb. chicken breast, boneless, skinless, cut into bite size cubes
2 Tbl. olive oil
1 tsp. Italian seasoning mixture
1/2 cup parmesan, grated, divided
1 pkg. Knorrs Creamy Garlic Shells Pasta Side Dish
1/2 cup microgreens, can substitute baby arugula or small European greens
1 cup peas, frozen, OPTIONAL
Instructions
Heat a large cast iron skillet on medium heat. Add the olive oil, chicken, Italian seasoning. Mix and coat the chicken and cook for about 8 to 10 minutes turning and browning. Reduce heat to simmer. Add half of the parmesan and blend. Cover and let the chicken continue to cook while you prepare the garlic shells.

In a medium size sauce pan, prepare the Knorrs garlic shells per package directions. When done, add the remaining parmesan, microgreens and blend. Peas are optional.