silly monkey oatmeal buttermilk banana nut bread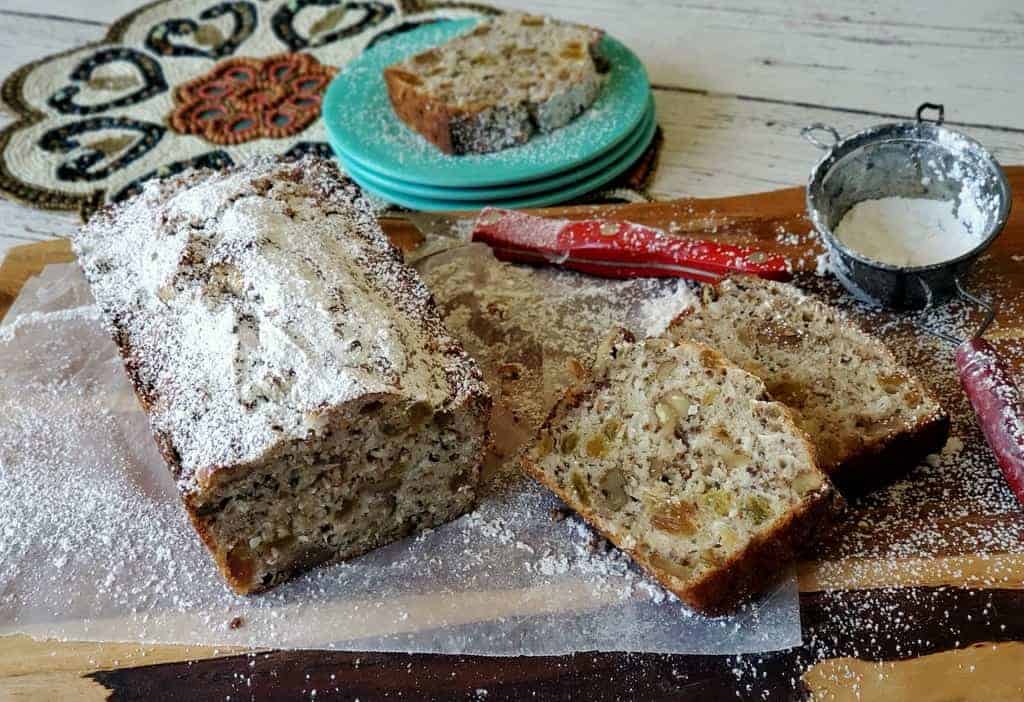 I'm using walnuts because they're just so meaty and hold their crunch when baked in this silly monkey oatmeal buttermilk banana nut bread.
Banana Bread with Two Eggs
There's something important about this banana bread! It's not the two eggs. It's the amount of batter you'll have after you complete the recipe. There's enough for a large loaf pan, like I used (10″ x 4.5″) and a small mini loaf pan. Or there's enough batter for two regular sized baking pans (inside dimensions 4.5″ x 8″). I'm filling my larger loaf pan about two-thirds full and putting the remaining batter in a small baking dish, which could be a mini loaf pan or something else. Just a heads up! Too much batter is really a good thing!
Banana Nut Bread
Sometimes I post on social media pictures of things I've cooked without the recipe. I simply describe the dish and give a general overview. That's precisely what I did with this banana nut bread or as I call it willy monkey oatmeal buttermilk banana nut bread. Well, if I got one request for the recipe, I must have gotten ten requests! Seems that lotsa folks have ripened bananas on their kitchen counters and need some inspiration!
Oatmeal Health Benefits
Anytime I'm creating recipes, I'm focused not only on the taste, flavors, texture, appearance, affordability of the ingredients, ease of preparation and more, but I'm super focused on the health benefits of what goes into the recipe. And, in this case, we've got some star ingredients. Oatmeal has long been a favorite of mine. I grew up on eating hot oatmeal for breakfast many a winter morning, and it certainly gave me staying power until lunchtime.
Oatmeal, however, has other health benefits besides keeping your tummy from growling soon after eating. Everyday Health gives us some great reasons to eat oatmeal:
1. Oats Can Lower Cholesterol, Stabilize Blood Sugar, and Help You 'Go'
2. Oats May Protect Your Heart and Your Colon
3. Oats Make an Easy, Balanced Breakfast
4. Oats Provide Important Vitamins and Minerals
5. Oats Are Gluten-Free
6. Oats May Help You Control Your Weight
The Health Benefits of Walnuts
Another health benefit of this oatmeal banana nut bread? The nuts! Yes, I'm using walnuts because they're just so meaty and hold their crunch when baked in this silly monkey oatmeal buttermilk banana nut bread. You can read up on the health benefits of walnuts, but one of the big things that I love about them is their gut value! "Eating walnuts may be one way to support the health of your microbiota and your gut. When 194 healthy adults ate 1.5 ounces (43 grams) of walnuts every day for eight weeks, they had an increase in beneficial bacteria, compared to a period of not eating walnuts." And, honestly, even if you don't buy this health benefit of walnuts, just knowing the other benefits should convince you to snack on a few walnuts or throw some into your oatmeal banana nut bread!
Chunky Monkey Banana Bread
Names for recipes are sometimes a challenge for me. I don't want to make the cutesy. I want to have the name described what the recipe is. However, at other times when I'm making a recipe, I have flashbacks and memories. And, in this case, it's with my littl' silly monkey grandkids who love to cook with me when they come to visit. I know that this love of being in the kitchen with Mama Ally will someday dissipate. Yes, they'll have more "exciting" things to do as they become preteens, teenagers and someday adults. But, for now, I created this recipe thinking about them and having them in the kitchen with me.
You see I'm sort of a gunslinger in the kitchen. And, that's what I do when the tykes are here. I'll be whipping something up, and say, 'Hey, whatya think about adding such and such to this recipe? What'd you think it'll do to it?" It's a kind of intuitive and 'shoot from the hips' cooking, but a lot of times, yes, something better always emerges with the recipe. And, that's the case with this silly monkey banana nut bread.
Hey, let's try some oatmeal. It'll add texture plus it's got more nutritional and fiber value in it. OK, I've got just a little ground chia and flax seeds. Let's throw it in. Or, I'm staring at about one half cup of wheat germ in the jar in the refrigerator, let's use it! And, when the kids chime in with their ideas, I'll usually say, 'Oh, yeah, man, now that's a silly monkey and a great idea!' You'll see a beam of happiness come across their face. Yes, things like this build confidence in kids.
Easy Banana Bread
It's great to have a stash of other easy recipes like this banana bread. Here are a few of my favorites.
Oh, gosh, you've gotta try this English Banana Bread!
How about a Banana Walnut Bundt Cake! And, yes, healthier!
Come see why I call this Healthy Banana Bread!
Recipe for Banana Nut Bread
To me, recipes are nothing more than a starting point. Inspiration for adding your own personal touches and preferences. Yes, you'll probably use the basic framework, but you become a 'real cook' when you have the confidence to experiment, be intuitive and try things outside the parameters of the recipe. That's when cooking becomes so much more fun. You realize that you're understanding ingredients and how things come together to make whatever it is that you're making. And, these are the instances where you truly learn how to cook.
So, have some fun. Try some new things. Be a silly monkey in the kitchen and soar! xoxo ~ally
Ever had an 'Almond Joy Cake'? Yes? No? Well, try it, you silly monkey! And, check the super cute serving plates! Perfect for picnics, camping, serving this silly monkey banana nut bread and more!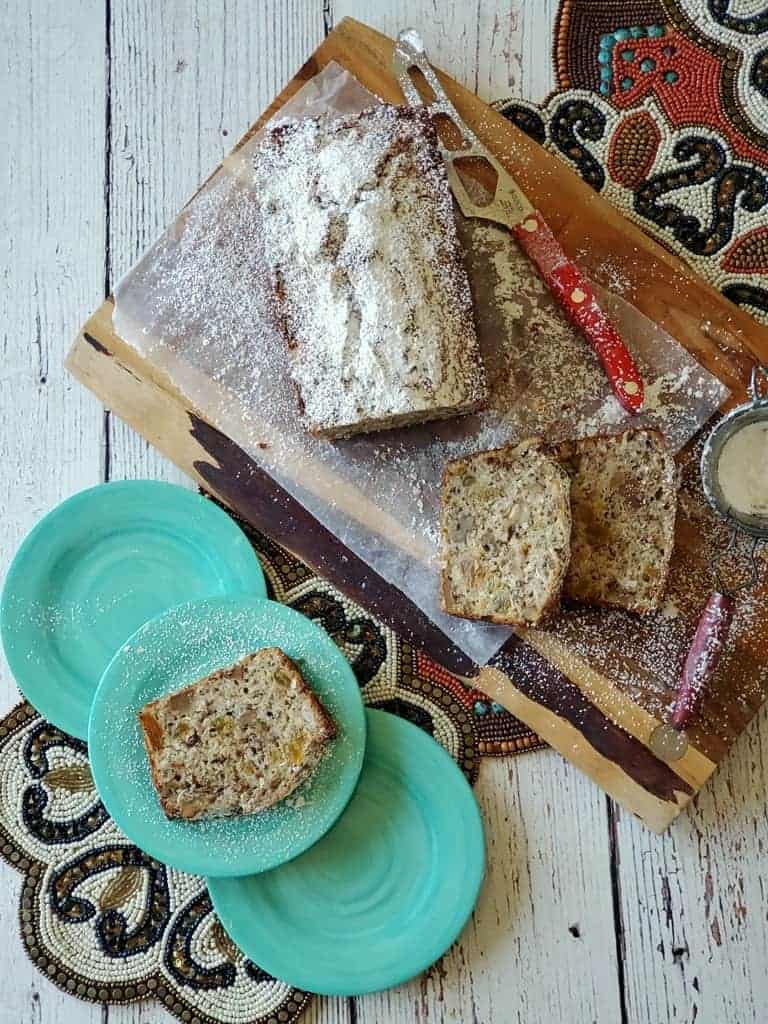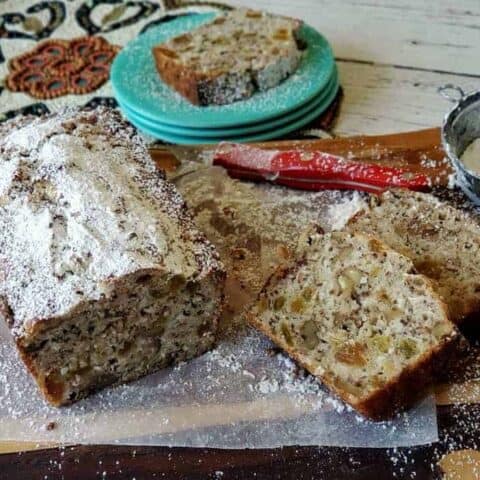 silly monkey oatmeal buttermilk banana nut bread
Yield: 1 bread pan loaf (10 x 4.5") + One mini bread pan
Ingredients
Preheat oven to 375
2 ripe bananas, large bananas, mashed
1/3 cup oil, coconut, olive oil or avocado oil
2 eggs
1 1/3 cups buttermilk
2 tsp. vanilla
1/3 cup date sugar, can use coconut sugar
1 ½ cup flour, all-purpose
1 Tbl. + 1 tsp. baking powder
1/8 tsp. salt
½ cup ground flax and/or chia seeds, can substitute wheat germ
1 cup whole oats
2 tsp. cinnamon, optional
1 cup golden raisins
1 cup sweetened shredded coconut
1 cup walnuts, chopped, can use sliced almonds
Instructions
In a large mixing bowl blend together well the bananas, oil, eggs, buttermilk, vanilla and sugar.
Sift in the flour, baking powder and salt. Add the ground flax/chia seeds, oats and incorporate well.
Fold in the raisins, shredded coconut and walnuts.
Grease your baking pans well. Pour into a large baking loaf filling to about two-thirds of the way up. Pour the balance of the batter into the smaller baking pan.
Bake (see note below please!) in a preheated 375 oven for about 37 to 45 minutes or until the top has cracks and crevices and a small skewer comes clean from the center. Timing varies, so please use a wooden skewer to test the middle of the bread.
Remove and cool completely.
Notes
The smaller baking pan probably will bake faster (25-30 minutes). Check it with a thin wooden skewer for doneness and remove when done (even if the larger pan is not completely done).

If you don't like coconut, hummmm, you could omit or add in more nuts and/or raisins.

Adding cinnamon is optional. I like it!

Gluten free substitute option: 1 1/4 cups GF flour + 1/4 cup arrowroot

You could also substitute some very finely grated carrots. I haven't tried a very finely grated zucchini, but, hey, it's worth a try! Be sure to dry out moisture in these veggies as much as possible using paper towels.

If you have extra batter, don't fret! You can use another small baking dish!