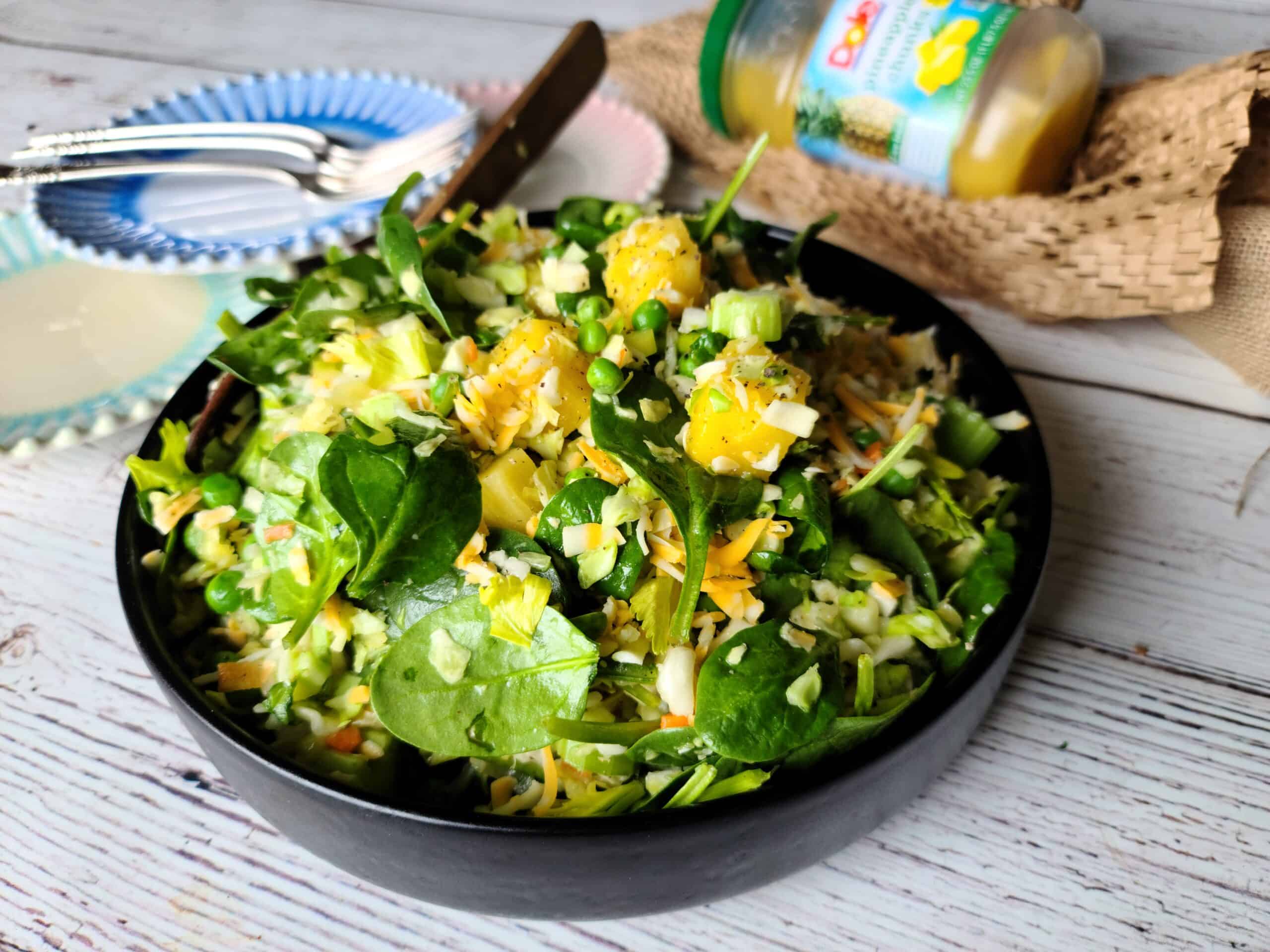 This simple easy Hawaiian Pineapple Salad is perfectly suited for any grilled meat or seafood! Healthy, easy and quick to make, it's a winner!
Old Fashioned Pineapple Salad
Thanks to Dole Sunshine for partnering with me on this recipe! I am the creator of this recipe and for the description and information that follows. For a full disclosure, click here!
Pineapple Lettuce Salad
Classic pineapple lettuce salad. Yes, that salad of the 20th century. Popular from the 1920s through the 1960s, I wonder just how many moms were making it for dinner tables!
Pineapple Cheddar Cheese Salad
It's an old-school salad for sure. Kind of similar to the pear salad. Cheddar cheese. Lettuce. A dollop of mayonnaise. Tasty, but maybe not as healthy as you want it.
Hawaiian Salad Recipes
Now, I love pineapples and cottage cheese. Then, of course, because I'm into crunchy texture with bites, I'll toss on some chopped walnuts.
Pineapples aren't only for salads. Dang, I use them in so many recipes. If you simply search the words, pineapple or pineapples, on my website, you're get dizzy looking at all the recipes. Here are just a few:
Cajun Beef Onions and Pineapples
Pineapple Salad Recipes
You can surely bypass the heavy emphasis on mayonnaise with a pineapple salad. Try using cottage cheese or a dollop of sour cream.
And, this recipe is absolutely the best for a picnic, holiday like July 4th or Memorial Day, and other special occasions. Why? Because it travels so well and stays fresh.
Salad with Pineapple
Nothings more refreshing than a salad with pineapple. And, this Hawaiian pineapple salad is full of flavors that burst on your palate!
Pineapple Fruit Salad
The most classic pineapple fruit salad is the candle salad. If you've not tried it, well, then you're in for a treat!
Candle salad has a unique history according to Wikipedia:
The salad is typically composed of lettuce, pineapple, banana, cherry, and either mayonnaise or, according to some recipes, cottage cheese. Whipped cream may also be used.
Its preparation is: first arrange a few leaves of lettuce on a plate or decorative napkin, this forms the salad's base. Then stack pineapple rings on top of the lettuce, providing a niche for inserting one whole (or more often half) peeled banana. For garnish, the banana can be topped with choice of cream and a cherry.[1]
The Food Timeline History website states that "The earliest print reference we find for Candle Salad is dated 1916. It was presented in this socialite menu; no description or recipe was included:
"Fruit Cocktail, Chicken a la King, Mashed Potatoes, Buttered Peas, Rolls, Olives, Candle Salad, Cheese Straws, Fancy Cakes, Nut Ice Creams, Candies and Nuts, Coffee."

— Oelwein Daily Register [IA] April 5, 1916 p. 4.[2]
The site lists several other references to the salad in cookbooks and newspapers throughout the 1920s.[2]
Candle salad was known as an easy way to get kids to eat fruit because of its unusual appearance. It was also considered a child-friendly introduction to cooking because of its simple construction. The recipe for candle salad was published in the 1950 edition of A Child's First Cook Book by Alma S. Lach, one of the first cookbooks written for children. It is also in the 1957 edition of the Betty Crocker's Cook Book for Boys and Girls with the description, "It's better than a real candle because you can eat it."[3][4]
Hawaiian Salad Dressing
My salad dressing of choice for this mixture is simple. To me, there's no sense in masking or competing with the fresh flavors of the ingredients. Just some extra virgin olive oil, salt and pepper. The pineapple juice works well to make this tasty vinagrette.
Pineapple Dressing for Salad
One of my most popular salads using pineapples is the crunchy pineapple blueberry slaw. Lawsy, this is perfect for any occasion too. And, it's ideal for taking to a dinner party when you're asked to bring a salad.
Not only beautiful to look at because of the vibrant colors, but it's super simple to make. And, it abounds with all those textures that titillate your palate.
Pineapple Juice Salad Dressing
Dole Sunshine pineapples, whether canned, jarred or frozen, are perfect for both savory and sweet recipes. And, if you're getting the canned or jarred, then you've got the added bonus (yes, bonus!) of the pineapple juice.
For goodness sakes, never never throw it out if you're draining the pineapples for something. Store it in a container, refrigerate and use for so many different things, including making vinagrette.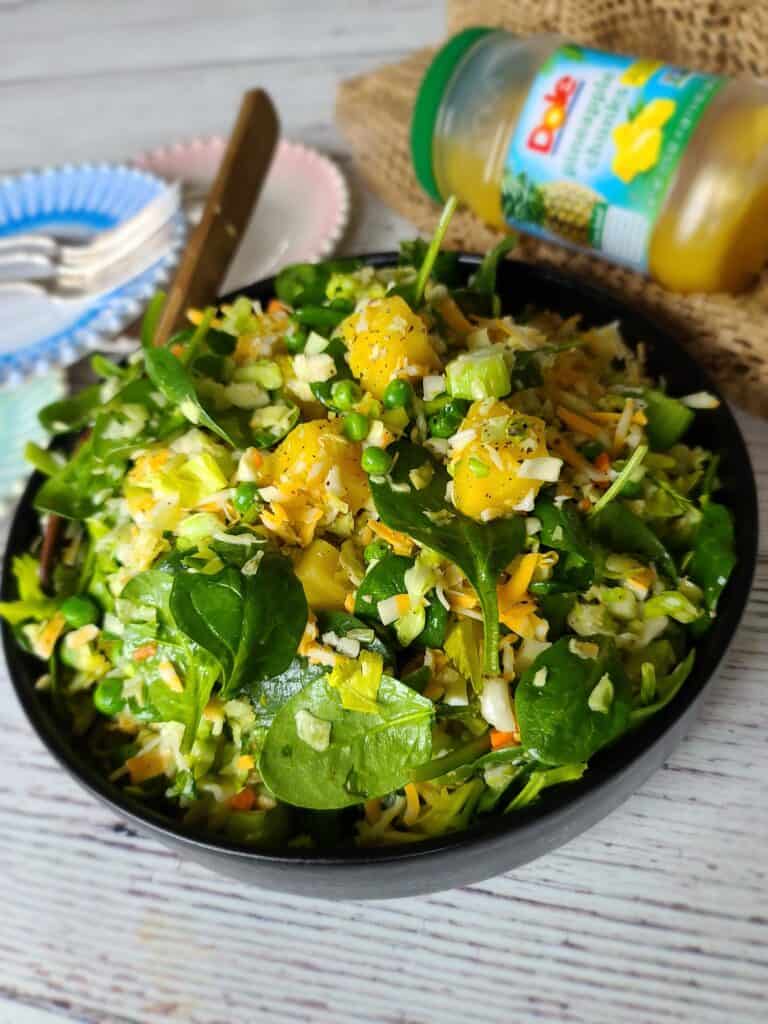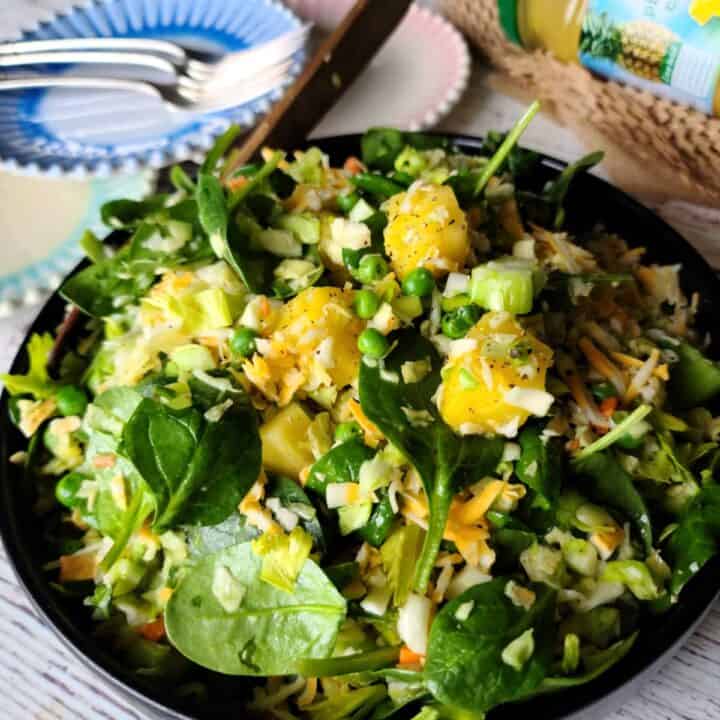 hawaiian pineapple salad
Ingredients
2 cups cabbage, finely chopped
1 cup carrots, very fine dice or roughly minced
5 oz. package fresh baby spinach
1 cup celery, sliced with leaves
1 ½ cups peas, previously frozen
1 jar (23.5 oz.) Dole Sunshine Pineapple chunks, drain liquid, reserve
2 cups Colby cheese, grated, divided
¼ cup extra virgin olive oil
Salt/Pepper to taste
Instructions
In a large mixing bowl, combine the cabbage, carrots, celery, peas drained pineapple chunks and one cup of the grated cheese. Toss and blend.

In a measuring cup, whisk together ½ cup pineapple juice, olive oil and salt and pepper to taste. Pour over the salad mixture.

Toss. Blend. Serve.

Can be refrigerated up to two days.