Having company for breakfast just makes my heart sing!  Since I'm full of vim, vigor and energy first thing in the morning, my kitchen usually rocks.  And, having hungry food-seekers to chow down means that all this good stuff gets eaten!  This morning we had two couples, great friends, staying with us, and cooking for them, serving it up like a swanky B&B makes me happy~~did I say I think of myself as a 'happy-maker'?
And, having a sous chef, in my good buddy, JB, who knows his way around the kitchen like a pro after decades of running and owning restaurants and working in some of Vail's finest eateries, was like a living dream.  So, together Jer and I whipped up a mighty find breakfast~~this is just one of the features~~also did an Spicy Fresh Herb Egg Pizza that was served atop (along with Greek yogurt) grilled Jamaican All-Spice & Cinnamon French toast made from Bon Jour Bakery's 'Pasaean Bread'~~there was sweet juicy cantaloupe, a skillet of grilled onions, herbs, and sweet peppers, and plenty of coffee from Dan at Coffee on the Porch~~Camden, Maine!  Since I had even more than enough for the six of us, I took a plate to our neighbor, Scott, a special friend who suffers from Parkinsons, who's always bringing us fresh mountain trout he catches~~gotta love the exchange of good eats!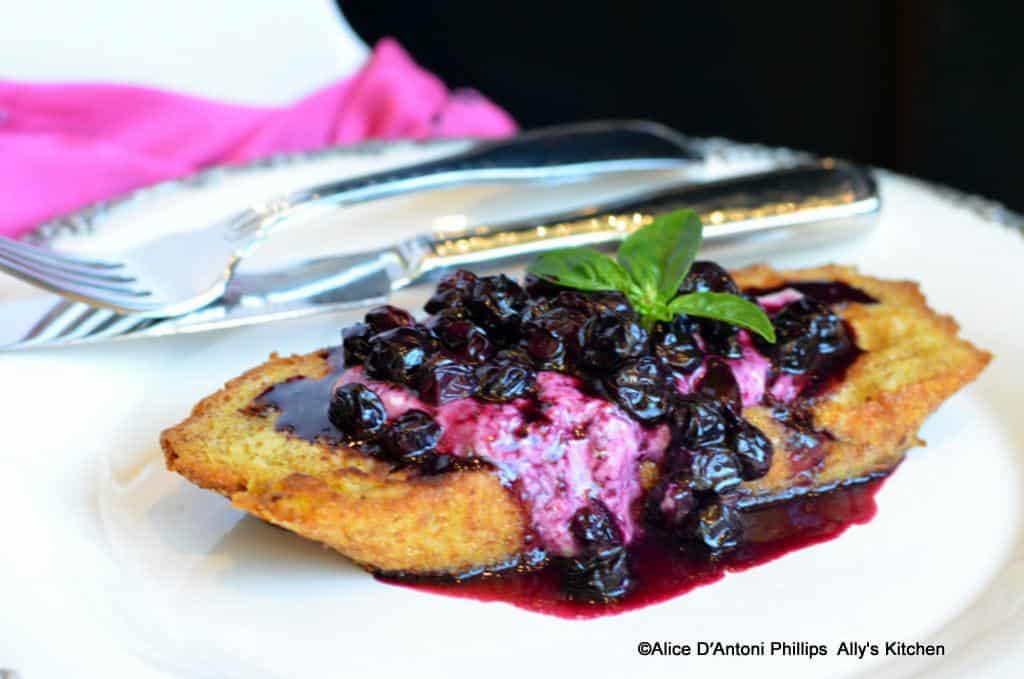 Makes:  About 2+ cups
What you need:
3 tbl butter
3 cups fresh blueberries or if out of seaason, Dole Frozen Blueberries~~they're as close to fresh as fresh can be!
¼ tsp sea salt
¼ cup Amaretto
4 heaping tbl jam or preserves (i.e., raspberry, blackberry, boysenberry, etc.)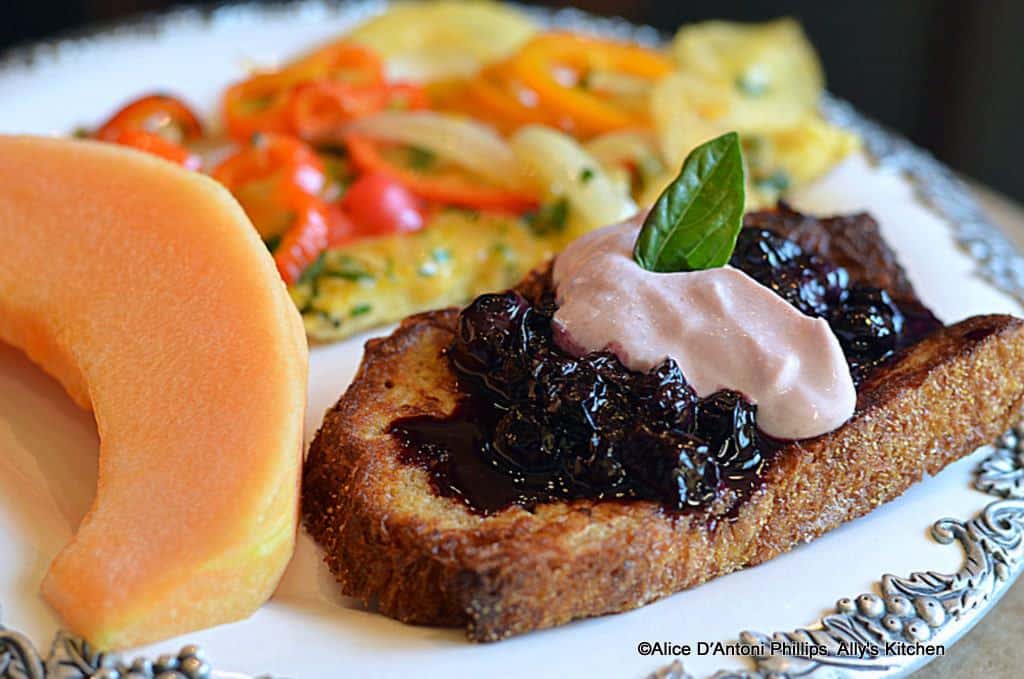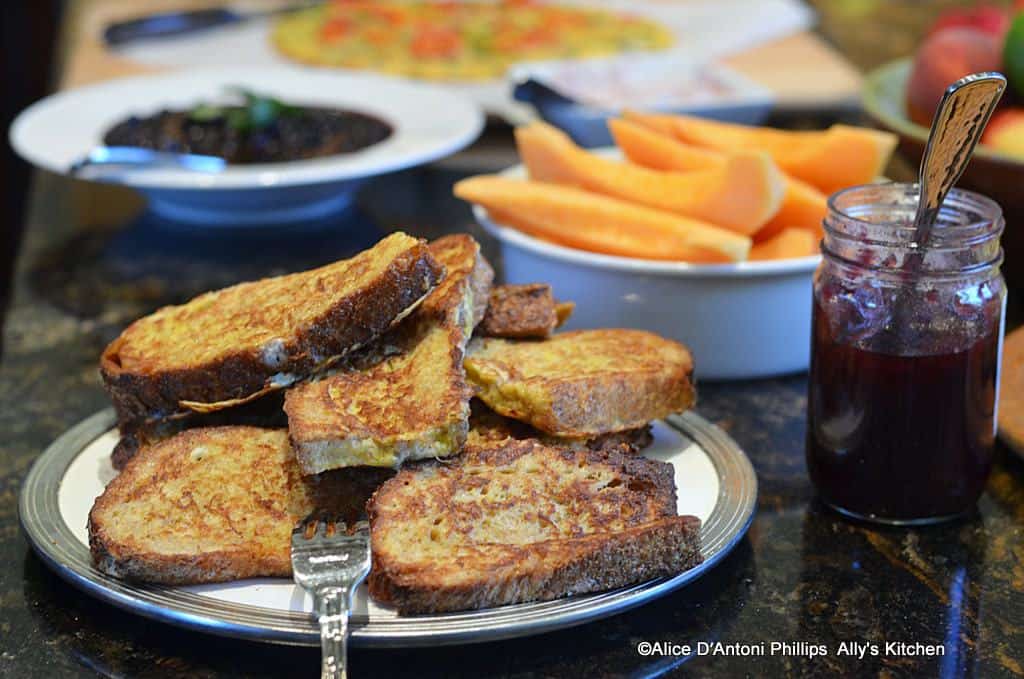 What you do:
Melt the butter in a heavy skillet over medium high heat.  Add the blueberries, salt and toss and turn cooking about 5 minutes. Add the Amaretto cooking another 5 minutes; the berries will begin to burst and juice.
Add the preserves or jam and blend.  Reduce heat to low or simmer and cook another about 20 minutes to let the sauce thicken somewhat.  Ready to serve and use however you decide!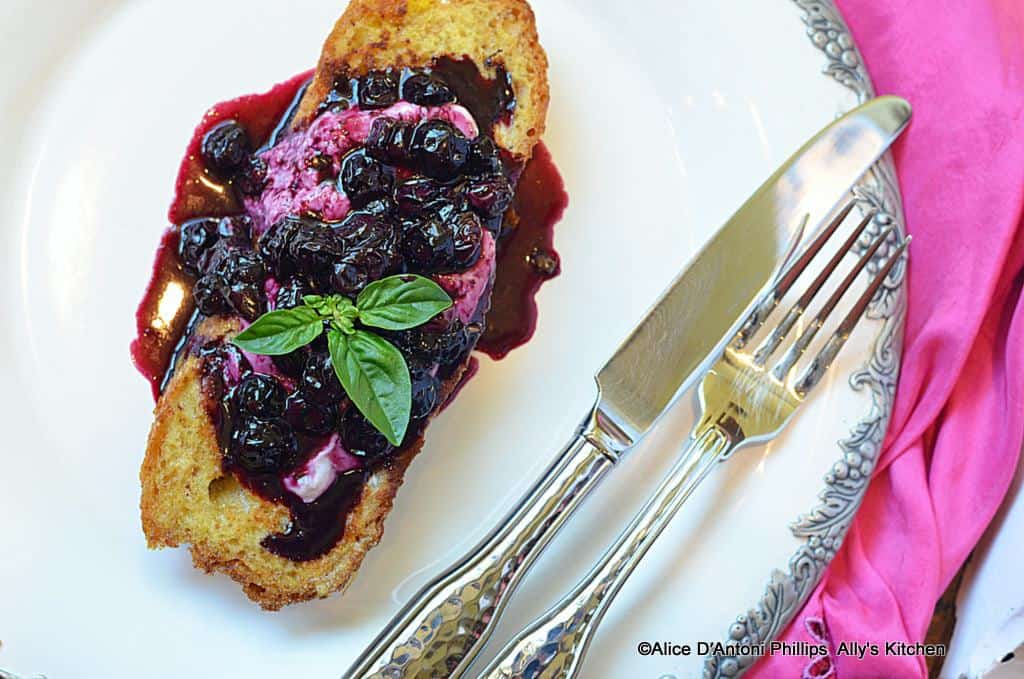 ©Alice D'Antoni Phillips www.allyskitchen.com