Amaretto Fresh Blueberry Sauce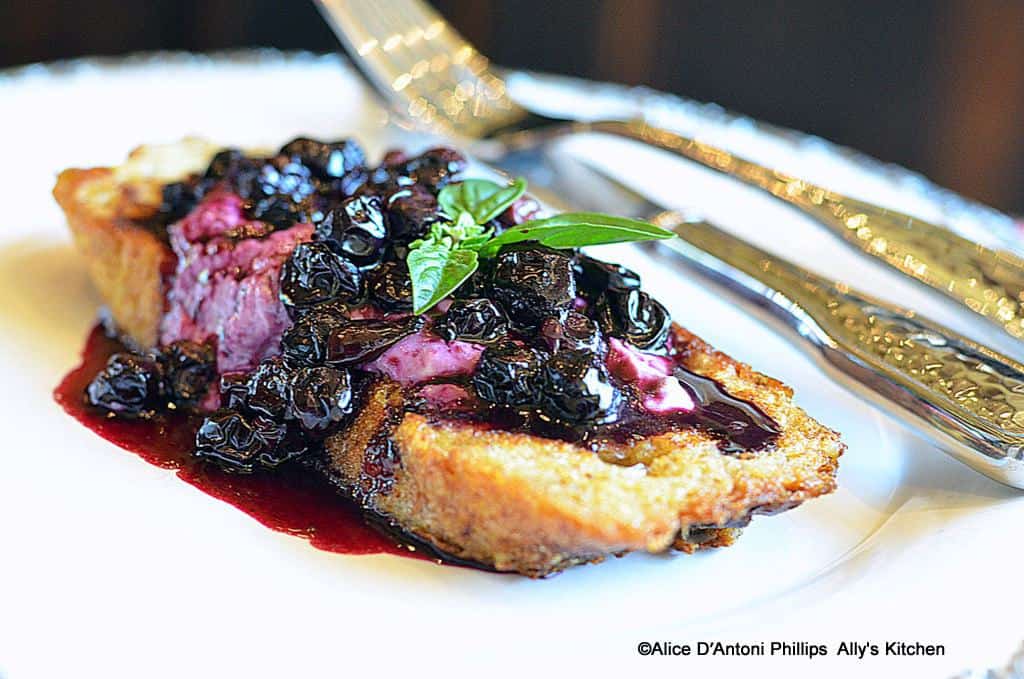 Amaretto Fresh Blueberry Sauce is so simple and delicious. It's the perfect topping added to your favorite dessert recipes or breakfasts.
Amaretto Fresh Blueberry Sauce
Having company for breakfast just makes my heart sing! Since I'm full of vim, vigor and energy first thing in the morning, my kitchen usually rocks. And, having hungry food-seekers to chow down means that all this good stuff gets eaten! This morning we had two couples, great friends, staying with us, and cooking for them, serving it up like a swanky B&B makes me happy~~did I say I think of myself as a 'happy-maker'?
Healthy Blueberry Recipes
Blueberries contain only 57 kcal per 100 g, so they can be used for weight loss. This berry is able to lower blood sugar levels, and it also helps burn fat cells, normalize digestion. In addition, blueberries are high in fiber, so they are good for filling.
Healthy blueberry muffin recipe is easy to make, too. Forget those box mixes! You can make these wholesome muffins from scratch with basic grocery store ingredients. No special equipment required.
Having them on your holiday morning eats gives a global flair that adds to the fun of the holidays! I hope you give it a try!
Easy Blueberry Recipes
Blueberries have a pleasant sweet and sour taste, which is why they are used to prepare many dishes such as pies, mousses, ice cream, jams, muffins, cookies, smoothies, cocktails, berry and fruit salads, jellies, pancakes, muffins, fruit drinks, compotes, cakes and much more. These are mainly sweet dishes, but you can make sauces for meat dishes from blueberries, and serve blueberries with fish.
Blueberries are one of the most delicious and healthy berries! Simple blueberry recipes recommend adding the berry to desserts, fruit salads and baked goods. Thus, you will not only beneficially decorate the taste of your dish but also add a significant proportion of nutrients to it.
I have so many recipes with blueberry. How about in, buttermilk blueberry scookies! I'm telling you, crazy good!
Homemade Blueberry Syrup
So, you have prepared your favourite confectionery "masterpiece". It's time to decorate it in an original way. Have you wondered how best to do this? Summer is outside – just make a bright blueberry frosting!
Such glaze will become an original decoration, moreover, universal, because it is suitable for decorating donuts, cake, cakes, cookies, muffins. At the same time, cooking will not take much of your time – a maximum of half an hour.
Amaretto Flavor
Amaretto refers to dessert liqueurs. It is customary to drink it neat with ice or add it to a mug with tea and coffee. Amaretto goes well with fruits, chocolate, nuts, ice cream. Other snacks are usually not served with it. People just can't believe that you can actually make this yourself & it's so GOOD! I hope you give it a try!
Here's another recipe that you should try: Pizza Grilled Cheese with Pepperoni and Shredded Cheeses! Oh, yeah, good stuff! xoxo ~ally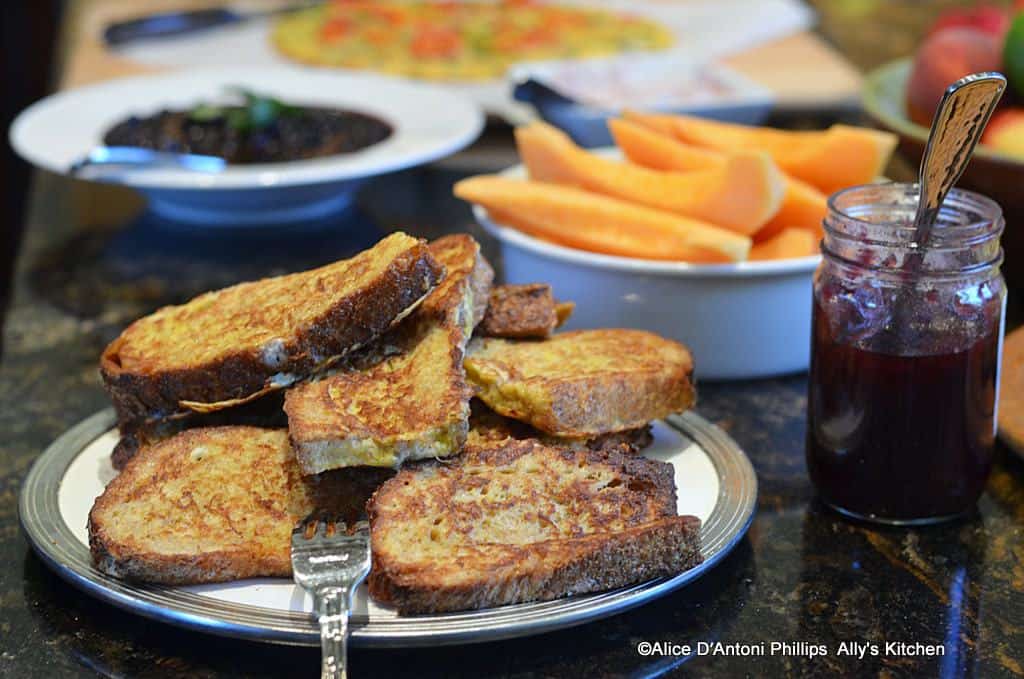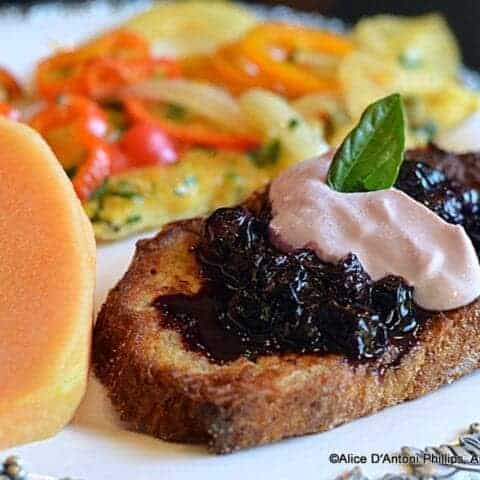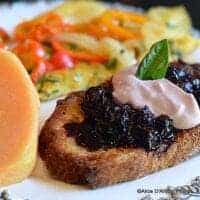 Amaretto Fresh Blueberry Sauce
Yield: Makes:  About 2+ cups

Amaretto Fresh Blueberry Sauce is so simple and delicious. It's the perfect topping added to your favorite dessert recipes or breakfasts.
Ingredients
3 tbl butter
3 cups fresh blueberries or if out of seaason, Dole Frozen Blueberries~~they're as close to fresh as fresh can be!
¼ tsp sea salt
¼ cup Amaretto
4 heaping tbl jam or preserves (i.e., raspberry, blackberry, boysenberry, etc.)
Instructions
Melt the butter in a heavy skillet over medium-high heat. Add the blueberries, salt and toss and turn cooking about 5 minutes. Add the Amaretto cooking another 5 minutes; the berries will begin to burst and juice.

Add the preserves or jam and blend. Reduce heat to low or simmer and cook another about 20 minutes to let the sauce thicken somewhat. Ready to serve and use however you decide!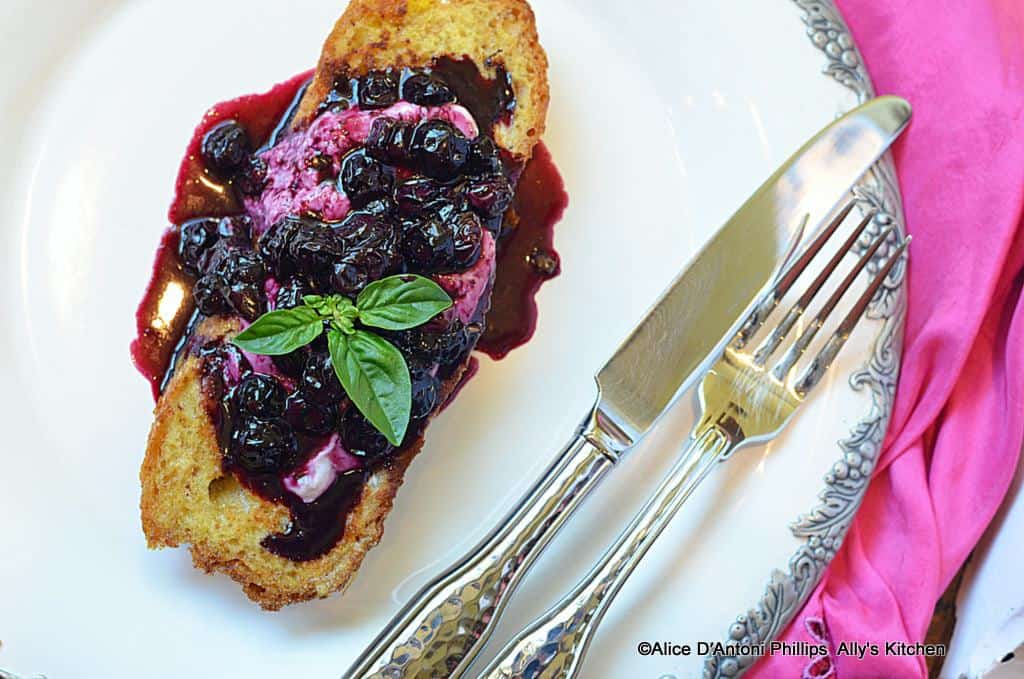 ©Alice D'Antoni Phillips www.allyskitchen.com