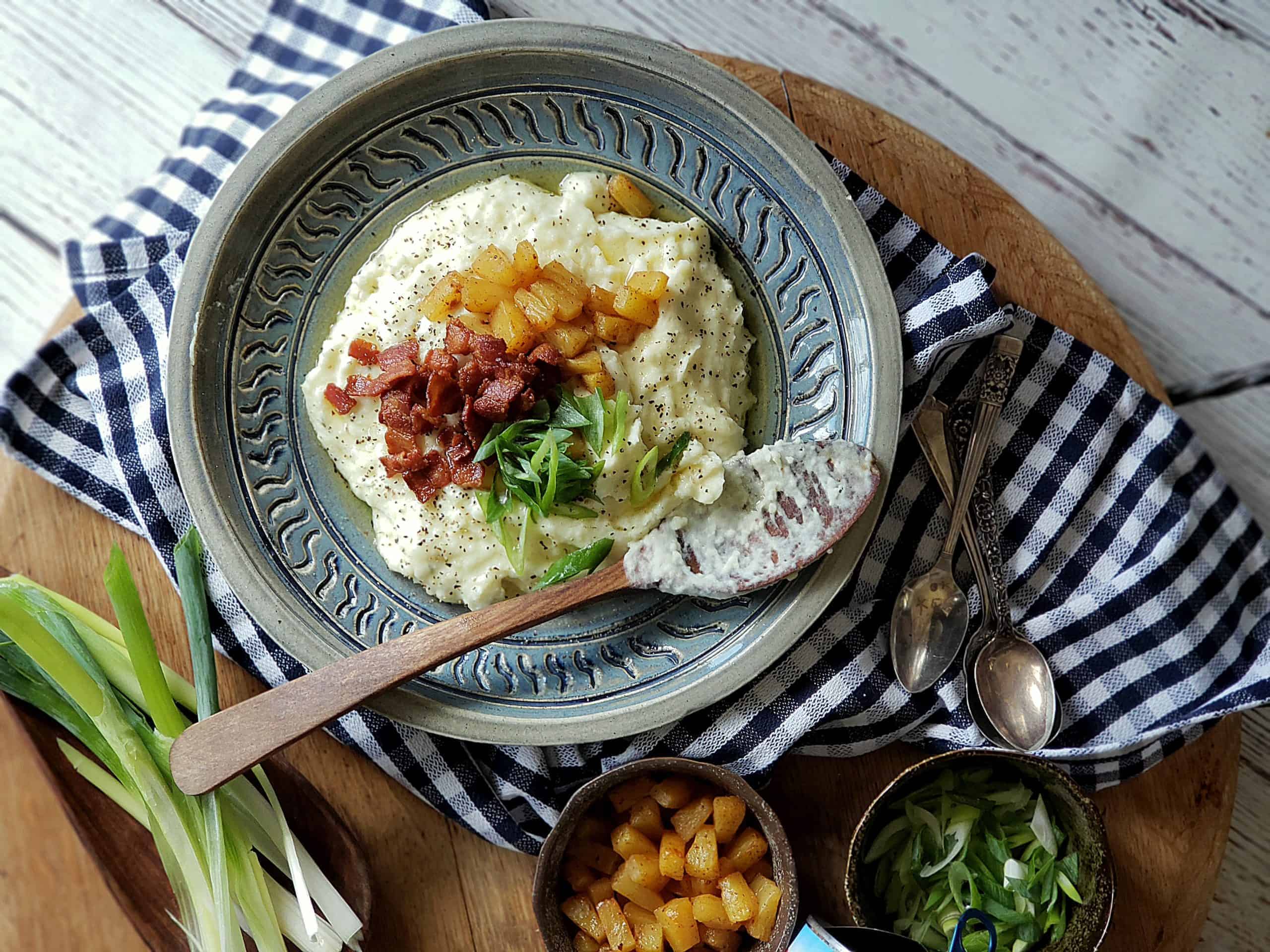 Thanks to Dole Packaged Foods for partnering with me for this pineapple  bacon  mashed potatoes recipe! I am the creator of this recipe and for the description and information that follows. For a full disclosure, click here!
What's your idea of the ultimate comfort food? Grilled cheese sandwich. Chicken and dumplings. Chicken soup. Creamy potato soup. Maybe a loaded hot dog or hamburger. Hey, a big plate of crispy salty french fries? Ice cream. Pizza. Chocolate. Yeah, for sure, the list can go on and on. Definitely on most of these comfort food lists are mashed potatoes! And, this new version of mashed potatoes will blow your socks off!
What we have here are not only creamy buttery velvety mash potatoes, but crispy bacon bits, and something you'd never expect. Pineapple tidbits! Adding these grilled pineapple tidbits takes mashers to a new level. You've got all the cylinders poppin' with textures and flavors. The subtle hints of sweet from the natural pineapples, only the best from Dole Packaged Foods, will certainly surprise and titillate palates around the table.
Dole Sunshine is certainly know to be the 'king' of pineapple. And, besides just drinking the juice and eating the delicious pineapple, there are so many other things can you do with the different cuts of pineapple. Sweet and savory, pineapple is an ultimate versatile ingredient. I love to take pineapple chunks or tidbits, pan sear in a hot cast iron skillet in some butter and just add a spicy seasoning mixture, like Cajun seasoning or Trader Joe's Chili Lime seasoning.
There are some pretty impressive health benefits of pineapple like being loaded with healthy anti-oxidants, having bountiful nutrients, and a group of enzymes, known as bromelain, that ease indigestion. Dig into the research more on your own, so you know. There's plenty of information out there in cyberspace! Just knowing that by adding pineapple you can boost your nutrients in a wonderful comfort food like mashed potatoes makes me smile! xoxo ~ally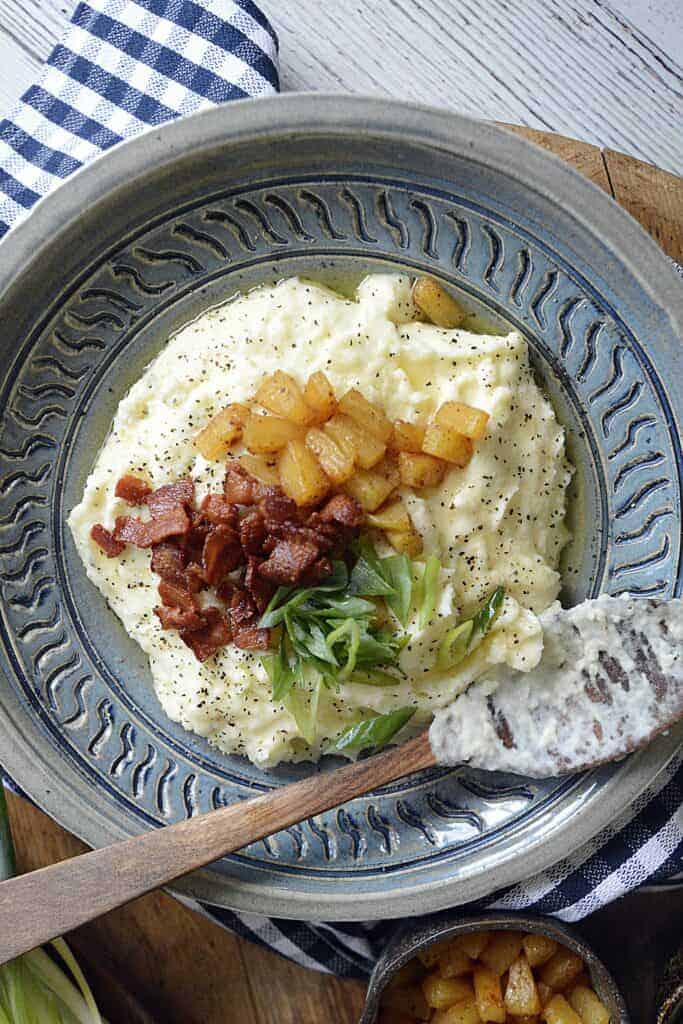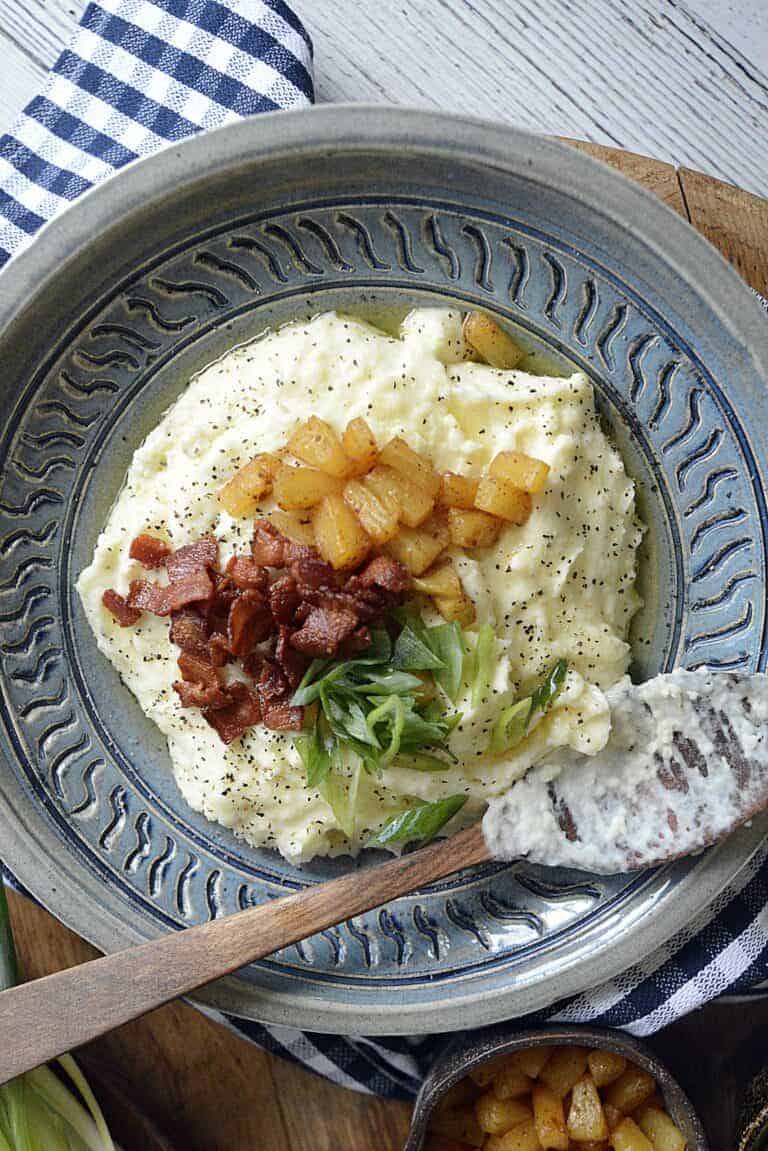 pineapple bacon mashed potatoes
Ingredients
2 ½ cups potatoes, peeled, large dice
4 Tbl. butter, unsalted, divided
1 tsp. garlic granules
1/3 cup half and half
4 slices thick cut bacon, friend, crumbled
1 can (20 oz.) Dole Packaged Foods Pineapple Tidbits, reserve liquid, tidbits divided
4 green onions, chiffonade two for garnish and two for additional serving
Sea salt and pepper to taste
Instructions
Put the potatoes, one-half cup of water, one-half cup of the pineapple juice and one teaspoon of salt into a sauce pan. Cover with a lid. Turn heat to medium and boil until tender, about 10-12 minutes. (While the potatoes are cooking, fry the bacon.) Use a fork or potato masher to mash potatoes. Add three tablespoons of butter, garlic and blend. Use a hand mixer and whip adding the half and half.
Stack the bacon slices. Cut in half. Stack again. Then cut halves into about one-half inch pieces.
In a medium sized sauce pan with heat on medium high, put the bacon pieces. Fry until golden brown. Remove bacon bits to a doubled paper towel. Set aside.
Drain the bacon drippings (leaving one tablespoon in the pan) into a small glass bowl. Return saucepan to blaze and turn to medium. Add the pineapple tidbits to the hot pan, toss, blend and cook about three minutes. Remove tidbits to a bowl.
Put the mashed potatoes in a serving dish and top with remaining butter. Add some of the bacon dripping pineapple tidbits, bacon bits and sliced green onions on top. Put the remaining in small bowls for serving.
Notes
If you prefer creamier mashed potatoes, add more milk or chicken broth or stock and blend well.
Certainly a shortcut option to this recipe is to buy precooked bacon crumbles and use pre-packaged mashed potatoes.
To reduce some calories, you can surely substitute 2% milk for half and half.
https://allyskitchen.com/mashed-potatoes/
©ally's kitchen intellectual property