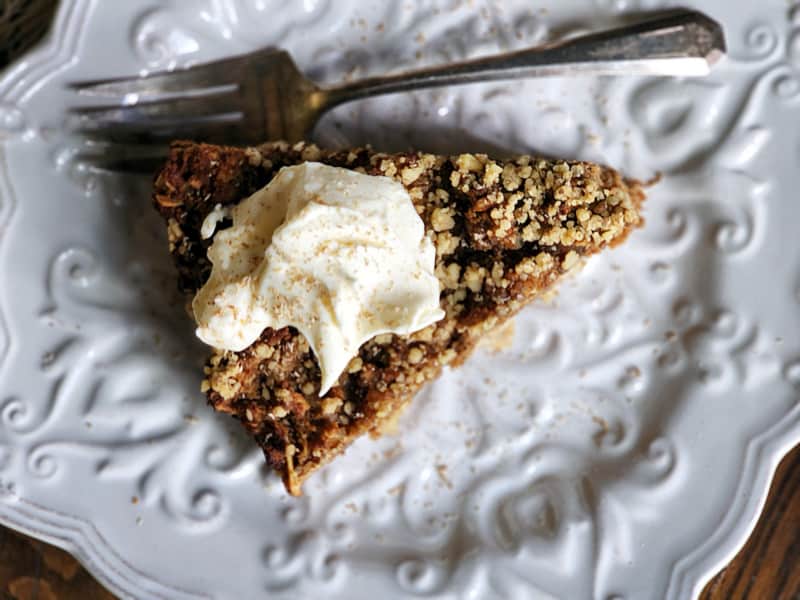 My easy GF coconut cake is filled with warm spices, walnuts and coconut! A little crispy on top. Perfect with a dollop of creme fraiche!
Coconut Flour Cake
I'm really into coconut with this easy GF coconut cake. Not only do I use coconut flour, but I'm also using coconut oil, coconut sugar and unsweetened coconut!
Easy Coconut Cake Recipe
Easy cake recipes, for me, mean that I'll enjoy baking.
I don't like complicated. I don't like a long list of ingredients.
I want to make something that's tasty and simple and that wows the palate.
Coconut Cake Gluten Free
This easy GF coconut cake does not disappoint.
I actually created it for Dagmar, a beautiful friend of mine, who must eat gluten free. She and her hubby, Kenny, are absolutely salt-of-the-earth beautiful people.
Both are very much naturalists who live high in the mountains of Colorado. They love good food, a clean environment, earthing, wine, yoga, meditation and taking care of others. Our favorite kind of folks!
Gluten Free Desserts
While I don't have issues with gluten, I do create GF recipes because it's fun to see how the different flours and ingredients work together. Also, we do have several friends and some family who prefer GF.
Here are some really tasty creations that you'll want to peek at! Gluten Free Easy Peach Cobbler, yes, eat it warm with ice cream! And nothing's better with a hot cup of coffee or tea than my GF Ice Cream Scoop Cookies.
In the mood for banana bread but want it gluten free? And, these Italian Walnut Wine Cookies are to die for! Chocolate splatter optional!
Healthy Coconut Cake
There's so much that's healthy about this coconut cake.
From the walnuts to the dates to the list of ingredients, you're going to taste the quality.
Plus, the warm spice mixture. And, I love the combination of spices, cinnamon, allspice, nutmeg, cloves, cardamom. Yes, those that let you know they're right there in the cake.
Gluten Free Coffee Cake
Perfect as a coffee cake, this cake will last a couple of days sitting on your kitchen counter. Simply cover it loosely with foil or plastic wrap. You can also refrigerate it which will improve the slicing of it.
Date Walnut Tea Cake
You could probably use another type of gluten free flour if you want to. I just wanted to stick with the coconut theme.
I find that the coconut flour is quite 'absorbent' in comparison to other gluten free flours. You can certainly substitute and experiment.
Cake Recipe Gluten Free
According to Bob's Red Mill:
Coconut flour is extremely high in fiber, which means it absorbs a lot of liquid during baking. This makes it critical to follow the recipe exactly without making additional substitutions. Dough will often be much thicker than expected when baking with coconut flour.
Easy Gluten Free Cake
Now I baked this cake at high altitude. I can't precisely give you how that may affect your baking at your location. Yes, altitude, especially high altitude, does make some differences, so I've referenced two things I've done with this particular cake. The temperature of the oven is 375 vs. usually 350. I added more liquid than I would have a lower elevations. And, I simply needed to check it via the centermost part of the cake for doneness a few times before removing.
That's the thing about cooking and baking. Locations can make a difference. Elevation makes a difference. Even the particular oven you might have. Nonetheless, with some checking and adjusting this cake will work for you.
And, as King Arthur website notes, The higher the altitude, the lower the air pressure. While this is an excellent environment for training athletes, it is a difficult one for baking recipes.
Finally keep in mind that it's not a light fluffy cake. It's dense, somewhat moist and can even be slightly crumbly. All good though because however you serve it, it's gonna be tasty!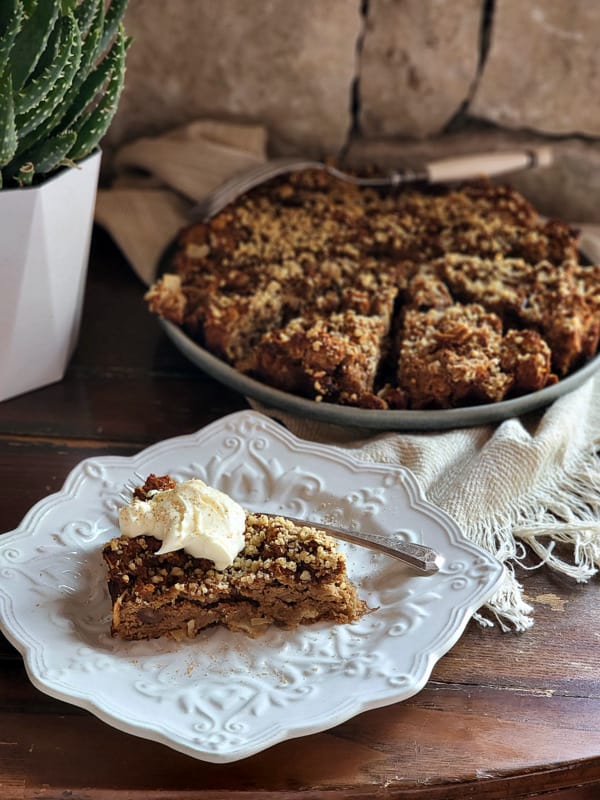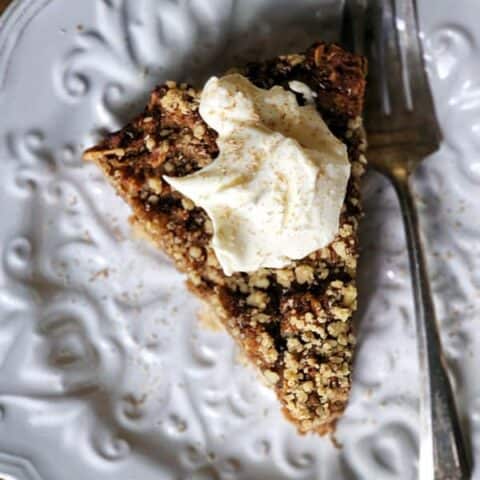 Easy GF Coconut Cake
Yield:
One About 9" tart pan Cake
Ingredients
Preheat oven to 375* (see Notes below)
3 very ripe bananas, mashed well
1/4 cup coconut oil
2 fresh pasture-raised eggs
3/4 cup coconut milk**, see notes below
1/2 cup coconut sugar
1/2 tsp. ground cinnamon
1/2 tsp. allspice
1/4 tsp. ground cardamom
1 1/3 cups coconut flour
3/4 cup ground walnuts, divided
1/2 cup dates, small dice, optional
1/3 cup shredded coconut, optional
1 nutmeg pod, serving/fine grating, optional
Instructions
Grease the tart pan well. Make sure you get into and around all the fluting of the pan. Line the bottom with a cut out round piece of parchment paper that goes up the sides of the perimeter about 1/4 to 1/2 inch.
In a large mixing bowl, mash the bananas. Add the coconut oil. Blend. Add the eggs. Blend well. Add the coconut milk and blend well.
Combine the spices with the coconut sugar, blend and add into the wet mixture. Blend well.
Add the coconut flour and blend well. Add the all but 3 tablespoons of the ground walnuts and blend. If adding the dates and coconut, add now and blend into the batter. (I did and loved!)
Put batter into the baking pan. Spread out and leave a kind of crinkly top. Sprinkle on the remaining ground walnuts.
Bake in a preheated 350 oven about 60 to 70* minutes or until a small skewer stick comes basically clean from the center of the cake.
Remove to a cooling rack. Take that same small skewer while the cake is warm and gently go around the fluting to help release the cake.
When cooled, remove from the tart pan.
Serve with your favorite topping, warm maple syrup, creme fraiche, ice cream, whipped cream or nothing at all!
*I baked this cake at high altitude. See notes below.
Notes
*According to BetterCrocker.com: Air pressure is lower, so foods take longer to bake. Temperatures and/or bake times may need to be increased. Liquids evaporate faster, so amounts of flour, sugar and liquids may need to be changed to prevent batter that is too moist, dry or gummy. Gases expand more, so doughs rise faster.
**According to Wilton.com: Raise the oven temperature by 15 to 25° F. Because goods will bake faster at a higher temperature, set your time for 5 to 8 minutes less per 30 minutes of baking time in the recipe. Increase your liquid. Add 1 to 2 tablespoons at 3000 feet and an additional 1 1/2 teaspoons for every additional 1000 feet of elevation