rosemary white chicken chili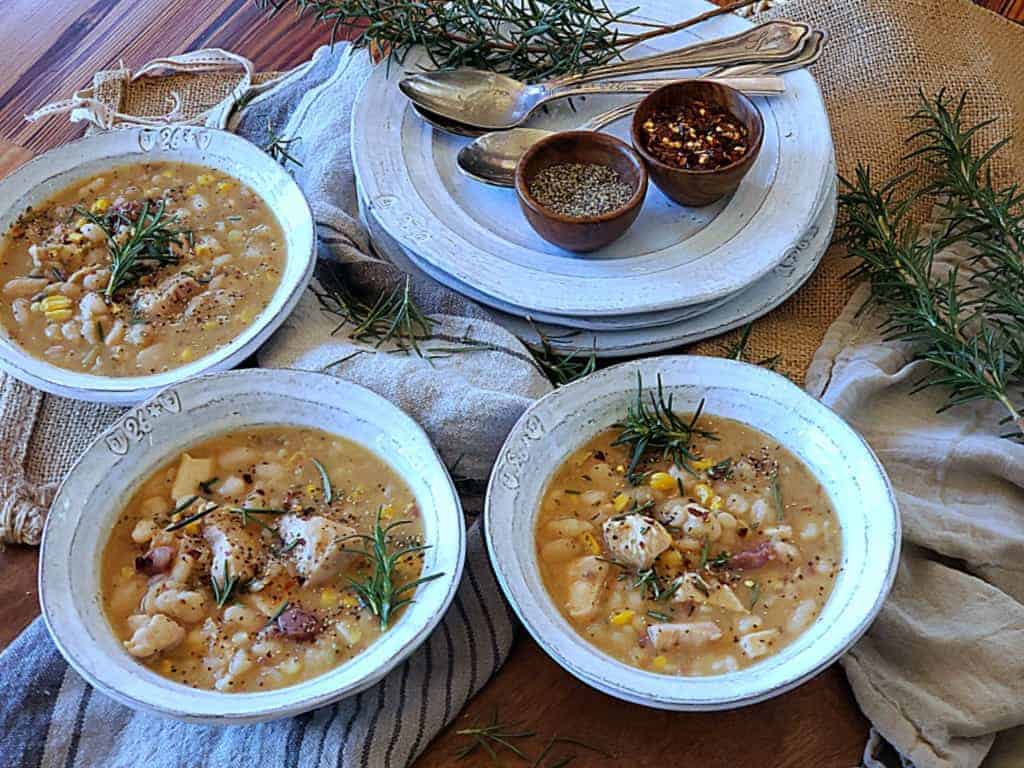 Looking for the easiest quickest most deeeelish white chicken chili recipe? Well, here you go. Stop your Google searching right now!
If you want to expedite this recipe, then skip the dried beans and go for the canned beans. Saves a bunch of time. But, I must warn you, you'll lose some of the intense deep flavors because you're losing the deliciousness of the ham hock. In this case, you can buy thick cut ham and cut it into small bite size chunks and use in the beans as they're slowly warming. Just add chicken stock to make it a soupy bean mixture. You'll, of course, cook it only about 30 minutes. Hey, if we talk about this much longer, this is going to be a whole new recipe using canned beans. For now, I really urge you to take the time, maybe on a weekend, and cook your beans from scratch. So worth the time, energy and effort. Money certainly not a big deal because a pound of dried beans is about a buck and a quarter!
Now, you well know how beautifully rosemary and chicken go together, so this recipe incorporates that aromatic rosemary giving the white chicken chili an elegance and elevation over just regular white chicken chili. Think of it as uber gourmet! And, like many sauces, stews and soups, making this chili a day ahead of serving sho' does enhance and activate all those flavors! Enjoy this recipe and if you want a 'salad' with it, well, try one of my Appalachian recipes! xoxo ~ally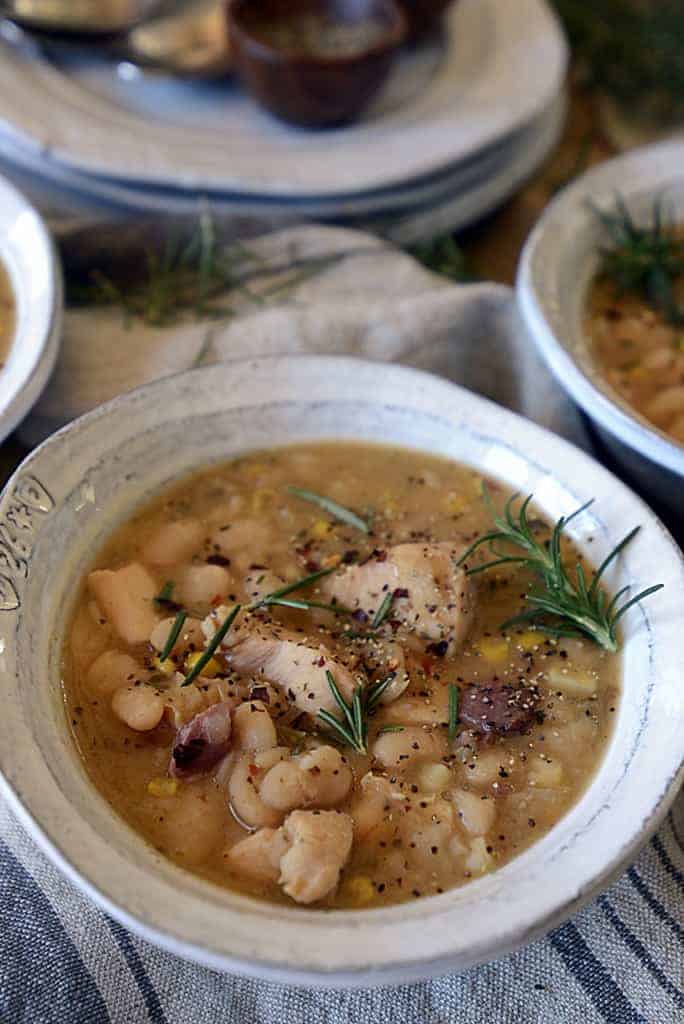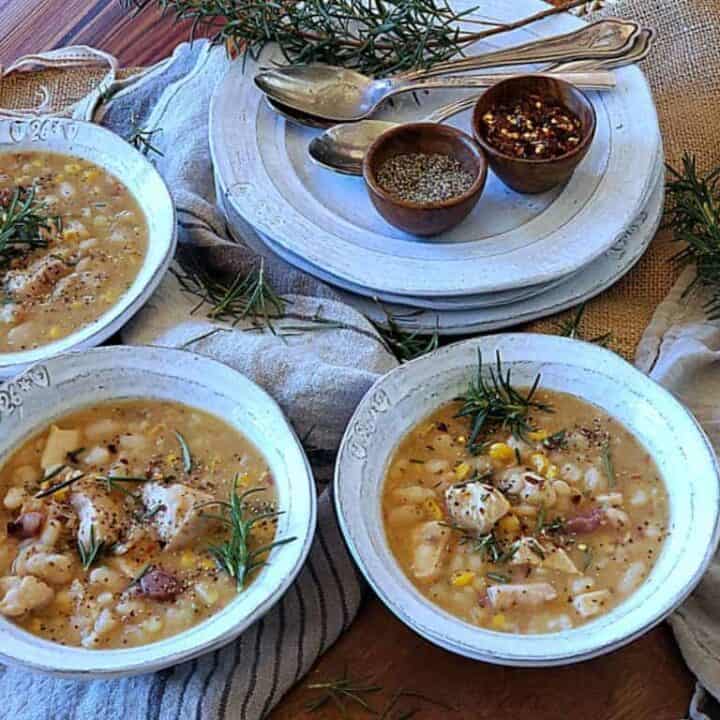 roesemary white chicken chili
Ingredients
1 lb. Great Northern Beans, dried, can substitute 4 cans of white beans (drained)
1 ham hock, medium size
2 tsp. sea salt
½ cup sweet onions, diced
1 (32 oz.) box chicken stock
1 package Onion Soup mix
1 package (1.25 oz.) white chicken chili seasoning mix
1 ½ lbs. boneless skinless chicken breasts, cut into 1 ½" to 2" chunks
2 cups frozen corn kernels
1 Tbl. fresh rosemary, finely chopped + more for garnish
Instructions
Put the beans in a colander and rinse well. Put in a large Dutch oven pot. Cover with water to about two thirds height of the pot.
Add the ham hock, salt and onions. Cover (place lid askew to let steam escape) and bring to boil on high. Reduce heat to medium high and continue to cook for about 1 ½ to 2 hours adding water as needed.
After this time, let the water slightly cover the beans. (Note: Continue to simmer boil to reduce water.) Add the chicken stock. Remove ham hock with tongs and place in a bowl. When cool, pick off any meat on the hock. Chop finely and put back in with the beans.
Add the onion soup, chili seasoning, chicken breast chunks, corn and rosemary. Blend well. Cover, turn heat to medium low and simmer another hour.
Notes
Beans can be prepared in pressure cooker for quicker preparation.

Canned beans can be substituted. Simply drain, add to pot, and proceed with recipe ingredients starting with chopped sweet onions.

Adjust salt to taste. Cooking time will be reduced until chicken chunks are done.