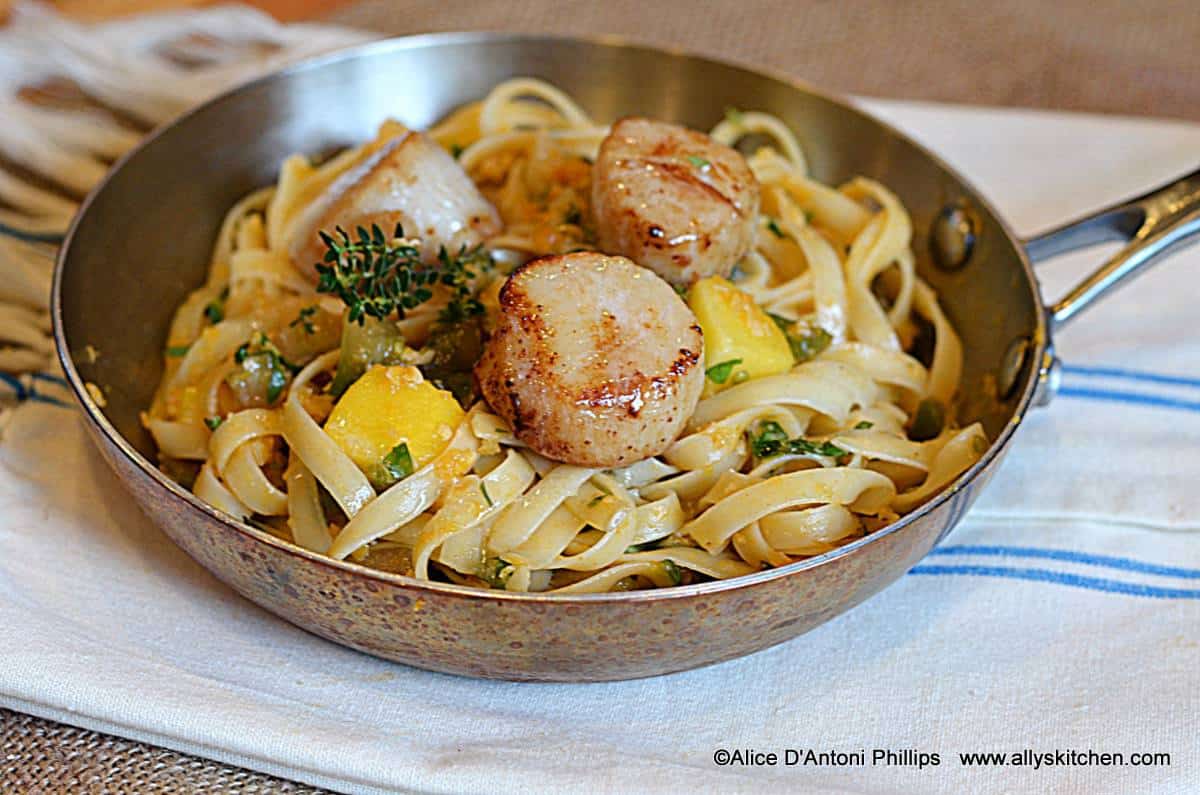 Escape to the Caribbean with this easy pan seared scallops recipe! The flavors of the tropics ooze through the scallops and the pasta!
Pan Seared Scallops Recipe
This is the easiest and most delicious pan seared scallops recipe you'll find! Yes, there's an art to cooking scallops, but you can do it!
Scallops Cooking
Much like cooking shrimp, scallops cooking is all about not overcooking. Once your skillet is hot and the butter melted, without burning, put the scallops in. Make sure they have plenty of space and aren't touching. Cook about 90 seconds on each side, then remove to a plate.
Pan Seared Scallops with Sauce
Be sure to rinse and pat dry your scallops before preparing. The pan seared scallops with sauce is one of those quick and easy even weeknight recipes. And, this sauce has a Caribbean flair that will make you feel like you're on a tropical island!
Pan Seared Scallops with Lemon
Now pan seared scallops with lemon is like the finishing touch. Yes, lemon and that glorious refreshing flavor of citrus brings out all the flavors.
What to Serve with Pan Seared Scallops
I get asked all the time. What to serve with pan seared scallops! For me, nothing's more delicious to serve with these scallops than pasta! The lightness of the scallops with the more 'bold' of the pasta, and in this case a thick noodle, balances out and makes this an entire meal.
You've got a combination of sweet, salty and spicy comes together to make this dish really extraordinary and so easy to prepare.
Easy Seafood Recipes for Two
While this recipe certainly is an easy seafood recipe for two, I have several others that might interest you!
Pan Seared Salmon and Mixed Greens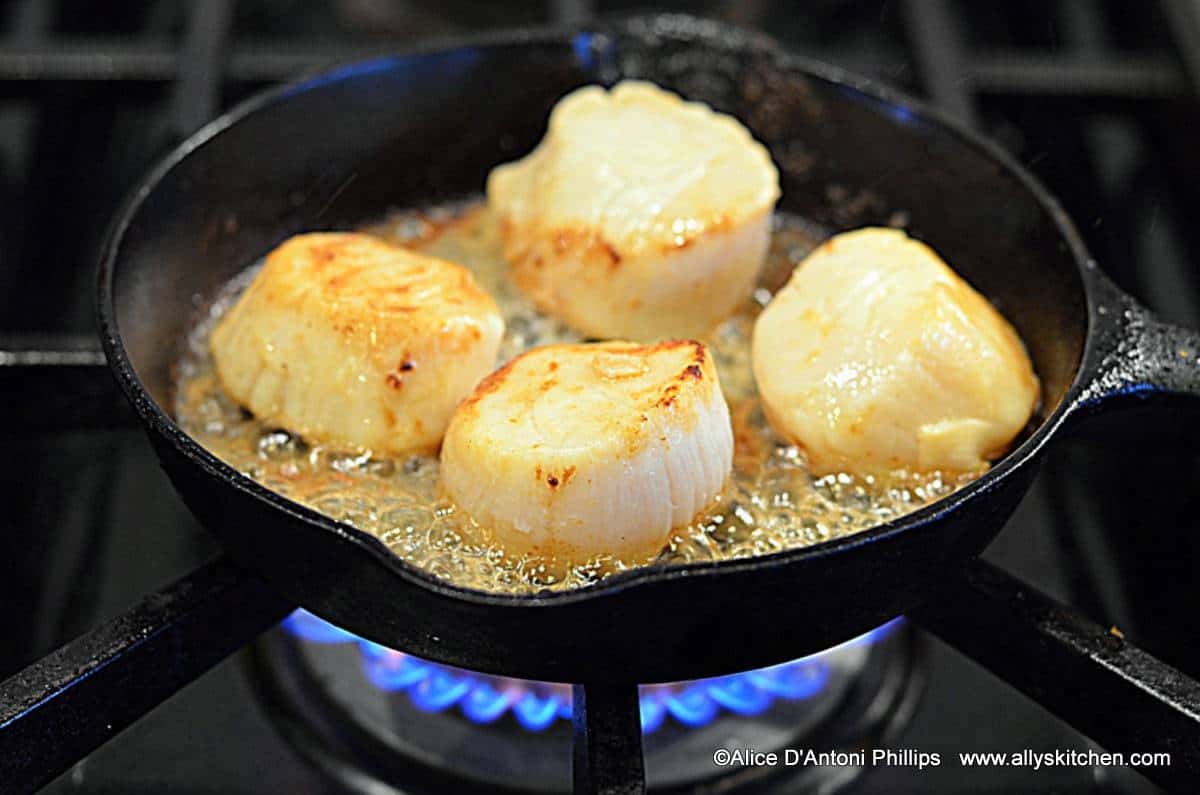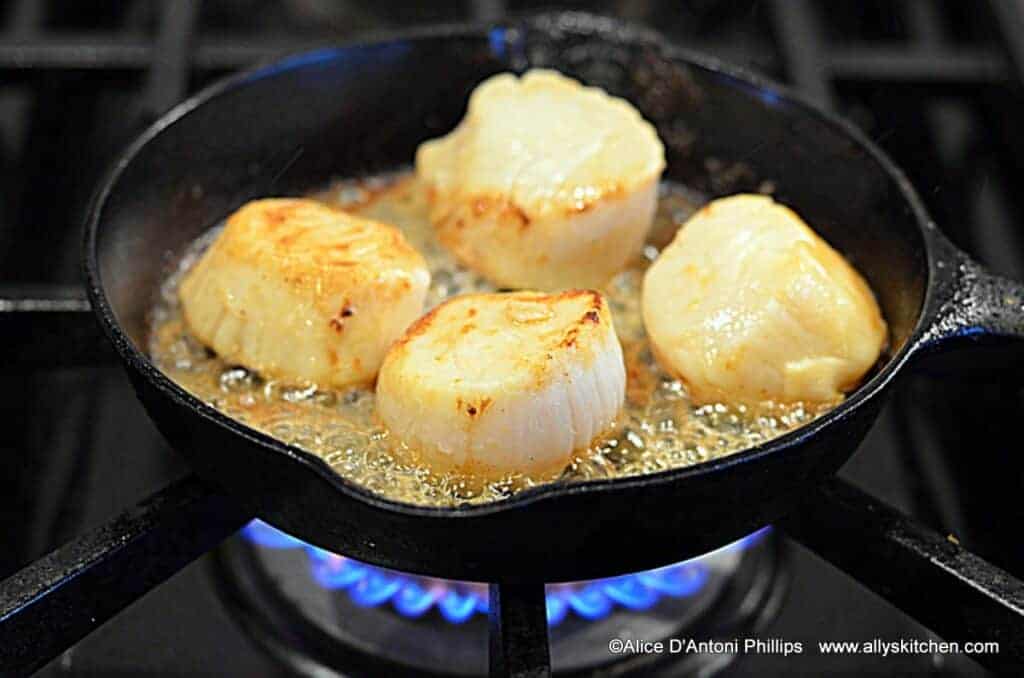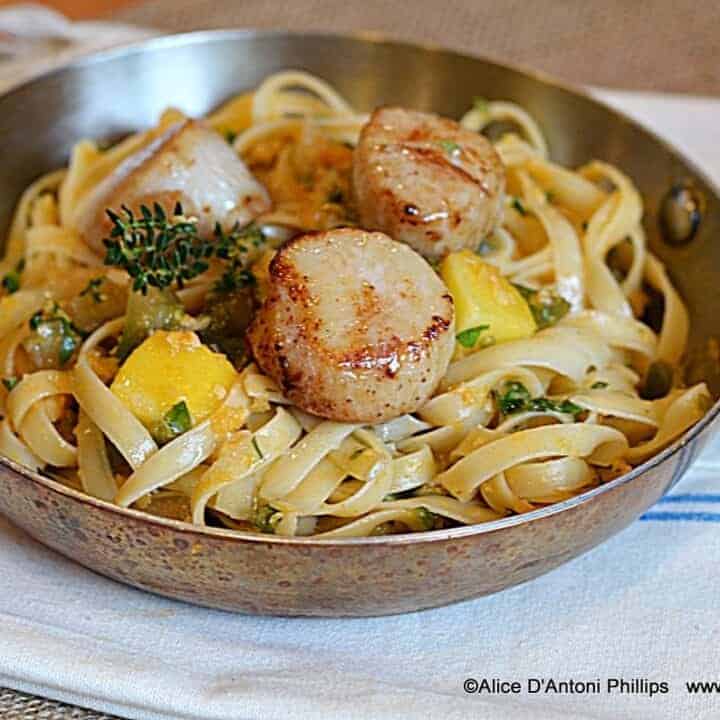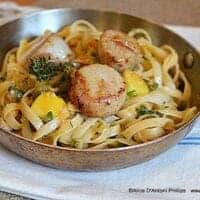 pan seared scallops
Ingredients
PASTA:
8 ounces tagliatelli pasta —prepare according to package directions—when done coat with olive oil spray to prevent sticking
SAUCE:
3 Tbl. butter
2 (4 oz.) individual containers of DOLE Mixed Fruit
¼  tsp. sea salt
2 tsp. Korean Sweet & Spicy Sauce
1/3 cup chopped fresh sweet basil
¼ cup chopped flat Italian fresh parsley
2 Tbl. l fresh lemon thyme, plus extra sprigs for garnish
½ cup shredded parmesan reggiano
1 cup DOLE mangoes, diced and thawed
1 heirloom large green tomato, cut into medium size chunks
SCALLOPS:
4 very large or 8 medium size scallops
¼ tsp. sea salt
6 Tbl. butter, unsalted
½ lemon, juice & zest
Instructions
SAUCE:
Put mixed fruit in the food processor and blend well into a sauce. Melt butter in a medium-large heavy skillet over medium high heat.

Add fruit sauce. Add salt and Korean sauce and cook about 7 minutes. Reduce heat to medium low and add basil, parsley, lemon thyme and shredded parm reggiano and blend cooking about 5 minutes.

Toss in mangoes and green tomato pieces. Reduce heat to simmer and set aside.

PASTA:
Cook according to package directions. Coat with about half of the sauce. Remaining sauce for serving.

SCALLOPS:
Melt the butter in a heavy skillet over medium heat. Add lemon juice and zest cooking for about 2 minutes. Pour ½ to two-thirds of the melted butter into a small dish and reserve for plating. Salt the scallops on both sides.

Increase skillet heat to medium high. Place scallops in and pan sear about 2-3 minutes on each side until golden brown. Remove to a plate and cover with a lid or loosely with foil.