Healthy Apple Nut Seed Salad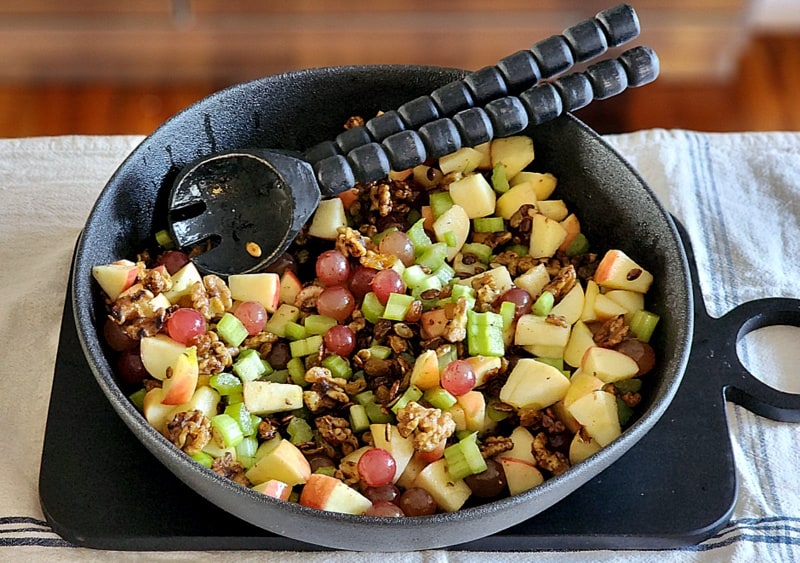 My apple nut seed salad is going to be a staple on your holiday tables! Refreshing and guaranteed scrumptious!
Apple Walnut Salad Recipe
Fall means so many things to me. Crunchy fallen leaves that have the most glorious scent. As a child growing up in Appalachia, I vividly remember having to rake the yard's leaves that would cover the dying splotchy 'grass' (mostly weeds!) and hating to do it. But, absolutely loving when that pile of maple and oak leaves grew and grew into a huge mound.
Yes, that was the time that we kids would stand back several hundred feet. Start running and screaming towards the 'mountain' of leaves. Geronimo!!! We'd jump in, tumble and turn and come out with our mouths, hair, clothing and even ear canals full of leaves and leaf pieces!
As I reminisce here, I can almost smell those leaves. But, I digress, we're here to talk about this beautiful Fall apple walnut pumpkin seed salad!
Apple Walnut Salad Easy
There's absolutely nothing difficult about making this salad. You can actually do the celery and grapes the day ahead. Put them in small containers and refrigerate.
I'd hold off on the apples because they'll have more a tendency to turn brown despite tossing in lemon juice to keep them vibrant.
Gourmet Salads
Now, I'm really known for two delicious types of recipes, salads and beans. And, if you're interested in searching for some truly gourmet unique salads for any meal or occasion, then click here and window shop to your heart's delight.
Fancy Salads
When I say my salads are gourmet, I do mean fancy. But, not fancy as in prissy and maybe looking like a couple of leaves, slice of radish and some purple drizzle. No, I mean fancy as in different, new ingredients, yes, they're affordable, like radicchio, A perfect example is this Beet Watermelon Salad.
Best Salad Dressing for Apple Salad
Oftentimes, the best salad dressing for any salad is simply extra virgin olive oil, maybe fresh lemon juice or balsamic and salt and pepper. That's the Mediterranean and Italian way. And, honestly you can't go wrong.
What this type of dressing does is let your ingredients shine and be tasted. You're not overwhelmed with a heavy dressing that masks the freshness of the ingredients.
Now I've got a couple of dressings that do have a small and unique twist to them. You can use both with about any salad, roasted vegetables and more. I'm talking about my maple mustard vinaigrette and simple garlic lemon vinaigrette.
Waldorf Salad with Apples
Now I do love a good Waldorf salad, And, the two I've created are probably somewhat different than other recipes you may have tried. I'm thinking at least the names of them are, too! The first is The Great Gatsby Waldorf Salad and the second is Cleopatra's Waldorf Salad.
I mean you just want to click on the links and find out why in Sam Hill I came up with those names!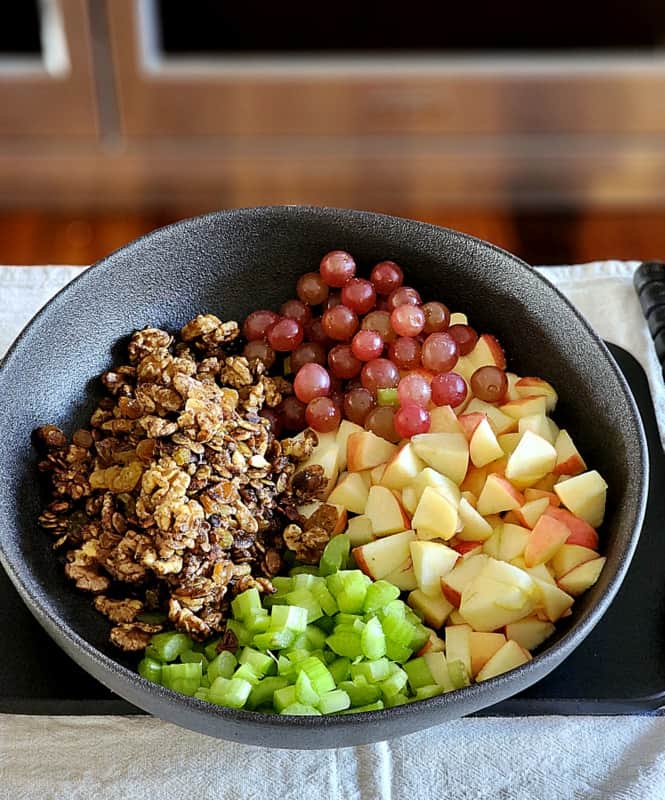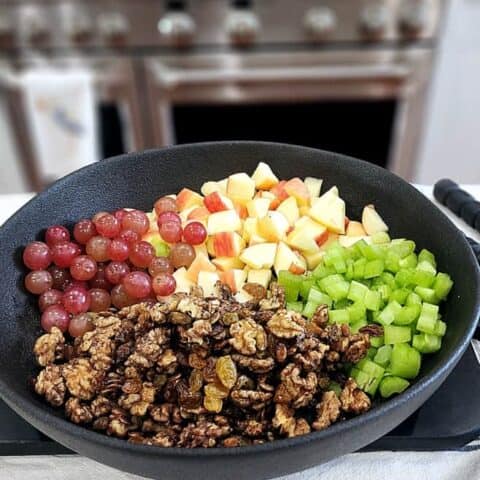 Healthy Apple Nut Seed Salad
Yield:
About 8-10 servings
Ingredients
1 tsp. butter, can substitute coconut oil
1 cup walnut halves
1/2 cup pumpkin seeds
1 tsp. Chinese 5-Spice
3 Tbl. maple syrup
1/4 tsp. sea salt flakes
1/2 cup golden raisins
3 cup apples, diced and mixed in juice of 1/2 lemon, set aside
2 cups celery, sliced
1 1/2 cups red grapes, whole or sliced in halves
1/4 cup extra virgin olive oil
1 1/2 lemons, large, juice only
Sea salt and pepper to taste
Instructions
In a saucepan over low heat, melt the butter. Add the walnuts and pumpkin seeds. Toss and blend turning as the nuts gently roast allowing the aromas to emit.
Keep heat on low. The pumpkin seeds will burn on a higher heat. And, keep tossing and blending
Add the spice mixture and blend well. Add the maple syrup and toss and blend the nuts and seeds.
Turn off heat. Add the sea salt and raisins. Toss and blend well. Remove from heat and set aside.
In a large mixing bowl, put the apples, celery, grapes and warm nuts/seeds mixture.
Drizzle with olive oil and the juice of one lemon. Toss and blend. Ready to serve!
Notes
Leftover salad will keep for a day or two refrigerated. The apples may turn slightly brown. They're still yummy!
Try some other add-ins if you like: shredded coconut, mandarin oranges, fresh thyme and mint. Get creative!