Healthy GF Museli Muffins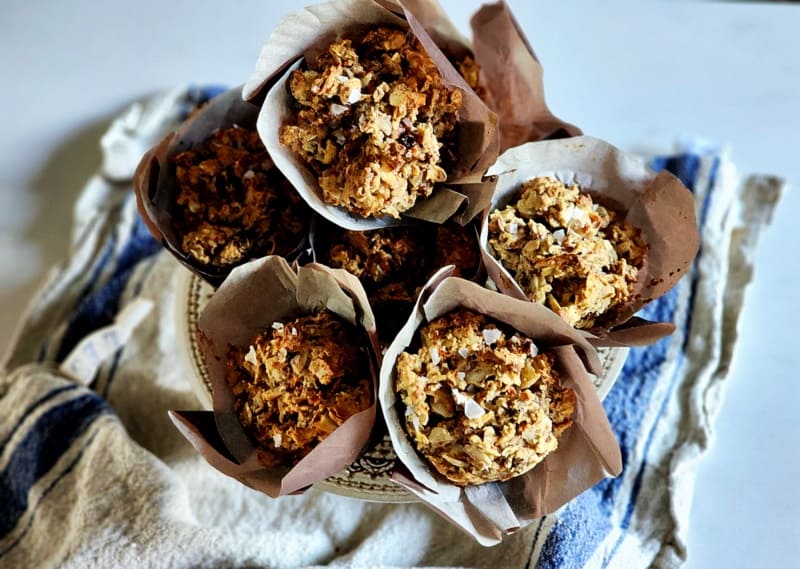 These healthy GF museli muffins are full of healthy stuff! Apples, carrots, almonds and yummy museli. And, GF! A must make!
Simple Muffin Recipe
This is really a simple muffin recipe.
Basically dumping ingredients in your mixing bowl. A few at a time. Blending and incorporating the tasty yummy things.
You can't mess up. I promise!
Apple Museli Muffins
For moistness and more healthy deliciousness, yes, I'm adding apples. They're washed well, Skin on. Then cut into halves then quarters, core and seeds removed, then pull out the box grater and grate away.
Just be careful. Watch those fingers and knuckles.
What kind of apple is best for this recipe? Fuji. Winesap. Honeycrisp. Braeburn. Empire. Rave (hard to find but ahhhhmazing!).
You want something crisp, sweet, juicy, a tad of tart.
Carrot Museli Muffins
Next ingredient that's going to add mega flavor, texture and healthy. Carrots!
Yes, these are kind of like 'carrot' cake muffins, however, the texture is not cake like.
The texture of these muffins is gritty, organic and you can see the ingredients.
Healthy Museli Breakfast Muffins
Yes, you recognize when you bite into these muffins or slice them, a lot of what's in them!
To me, that's the sign of a great farmer-like muffin!
Healthy Muffins
To keep these muffins as healthy as possibly, I decided to use a plant-based milk. So the muffins are also non-dairy.
If you've not tried Kiki Milk, then give it a look, It now comes in 32 oz. containers, original and chocolate and it's got a long shelf life. WhoooHooo! I keep it for baking, smoothies, shakes and more.
Kiki Milk is plant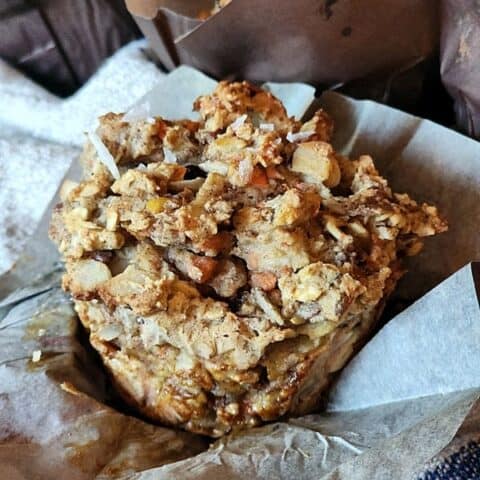 Healthy GF Museli Muffins
Yield:
About 8-10 large muffins
Ingredients
Preheat oven to 375
1 cup apples, skin on, grated
1 1/2 cups carrots, grated
1 cup sliced almonds, crushed into smaller pieces
2 eggs
1/4 cup + 2 Tbl maple syrup, divided
1 cup GF flour, one-to-one GF, can substitute almond flour
1 cup museli, see Notes below
1 Tbl. baking powder
1/8 tsp. sea salt
1/4 cup plant-based milk, i.e., Kiki Milk, see link in Notes
Sea Salt flakes
Instructions
Preheat oven to 375. Be sure to wash the apples well!
In a large mixing bowl, combine the apples, carrots, almonds eggs and one-fourth cup of maple syrup. Blend well.
Add the flour, musell, baking powder, salt, plant-based milk and blend well. Mixture will be thick.
Scoop batter into large cupcake holders filling about three-fourths full. Put cupcake holder in a cupcake pan. Top with a few sea salt sprinkles.
Bake in a peheated 375 oven. Use a long skewer to check for doneness. It should come out basically clean.
When done, remove to a cooling rack. Let the muffins cool about 10 minutes then drizzle with the remaining maple syrup.
Ready to chow down!