Healthy Fennel Salad with Apple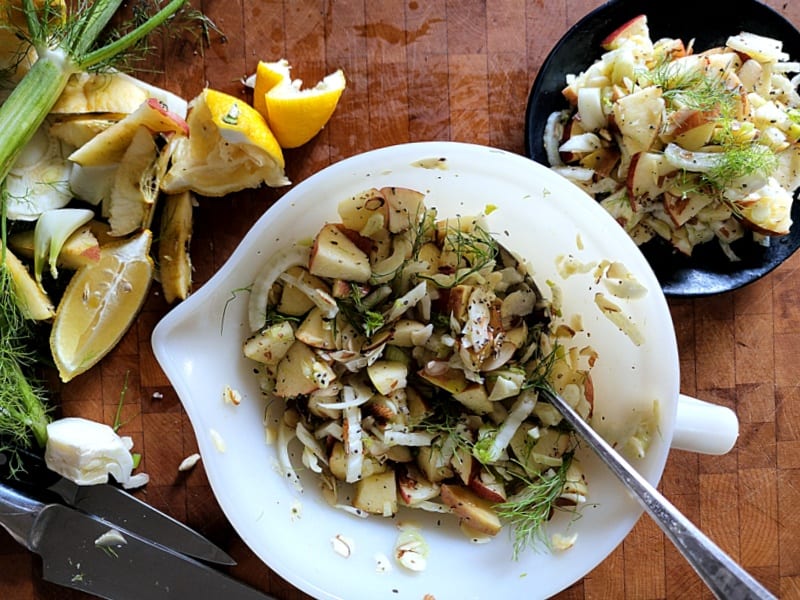 Stretch your tastebuds with this fabulous fennel salad with apple. The flavors explode. The textures are spot on. It's a must make!
Fennel Recipes
What the heck is fennel? And, have you ever had it?
Fennel is a vegetable. And, a glorious one at that. It's super popular in Italy, where I've been multiple times in my life. I suppose that's why I'm so enchanted with it.
There are so many ways to use fennel. Like celery, it's crunchy and delicious. However, it's taste might just surprise you. Think licorice!
Fennel Salad Recipe
Salads aren't the only thing you can use fennel in. Throw it in soups and stews. Roast or bake it as a side dish. The entire plant, hooooray, is edible! And, it's nicely nutritious!
Salad with Fennel
Fennel's packed with nutrients. Think iron, fiber, potassium and vitamin C.
Fennel is great to help digestion, too. Got an upset or queasy tummy, eat some fennel.
Cooking fennel reduces the anise taste and flavor somewhat. However, if you're loving it, like I do, then you want that flavor. That's why I love using it in salads.
Apple and Fennel Salad
Apples and fennel go together like peas and carrots. When you choose the apples to go in this recipe, select those that are the crispy crunchy kind. You're going to leave the skin on. It adds to nutrient value plus it adds a pop of color.
Here are some choices for apples: Honeycrisp, Pink Lady, Fuji, SweeTango, Jazz, Rave.
Fennel Salad Dressing
The dressing for this salad is super simple. However, it's full of complexity with flavors. What makes it so delicious? Well, frankly, I think it's the contrast of the French stone ground mustard and the sweet maple syrup. Now, the stone ground mustard. Let's talk about that. It's so worth investing in the best and that's this one!
Here are some other recipes that you'll be using it in! Maple Mustard Pork Chops. Simple Garlic Lemon Mustard Vinaigrette.
That's what you want in a dressing when you have exquisite ingredients. Simple, because you want the ingredients, fennel and apples, to shine.
Fennel Salad Apple
What I love serving this fennel apple salad with is a nice piece of grilled meat or seafood.
Yep, that's all you need to have a complete meal in my humble opinion. We've had it with grilled pork, chicken, beef, lamb. Also had the salad actually topped with spicy grilled shrimp. So many options.
Fennel and Orange Salad
If you haven't tried fennel and orange, well, then that's deliciousness missing from your life!
Popular in Italy, it's fresh and fabulous. I love to throw in sliced kalamata olives, too. You have the crunchy crispy anise of fennel, the sweet and juicy of Valencia orange pieces and then the salty of the olives. Oh, yes!
Fennel and Pear Salad
While you can use many different fruits, both fresh and dried, with fennel, a really popular one is also pears. When they're in season, give it try. Just substitute the pear bites for the apples. Same recipe, and it's all new and different.
Italian Fennel Salad
Grown primarily in cool weather, fennel can usually be found year-round in your grocery store.
When you're choosing fennel, grab the ones that are small to medium sized. You want the bulbs to be firm and basically beautiful white. Avoid those with browning and cracks.
Now, your stalks, which you can certainly chop up and eat should be bright green with feathery fronds. You'll eat those, too!
Fennel will keep refrigerated for a few days. Just wrap in plastic or put in an airtight ziplock bag.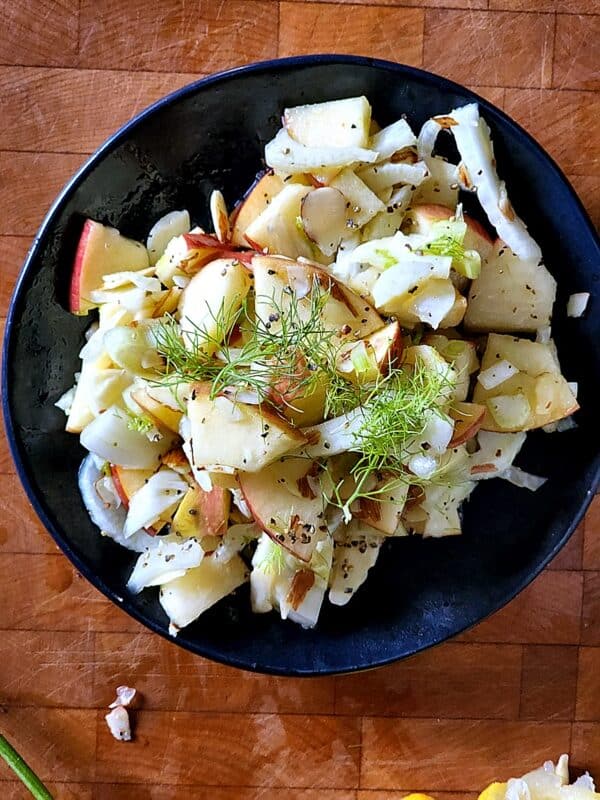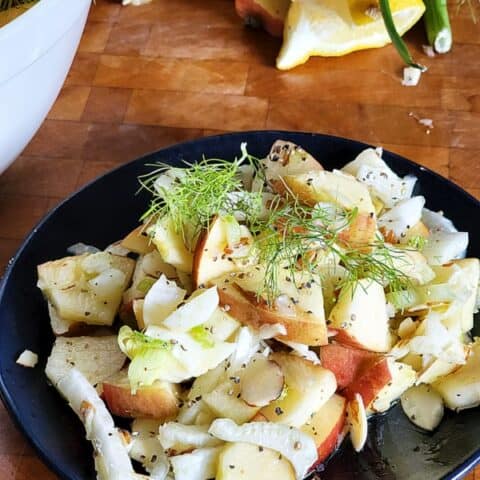 Healthy Fennel Salad with Apple
Ingredients
2 bulbs of fennel, medium size, stalks trimmed to about 2-3" from the top, sliced thinly and roughly chopped
3 to 4 apples, wash/dry, skin on, medium size, red, crispy, juice sweet, cut into bite size pieces
1 cup nuts, sliced almonds or walnuts, roughly chopped
4 Tbl. Extra virgin olive oil
1 Tbl. French stone ground mustard
3 Tbl. Maple syrup
½ lemon, large, juice and zest
½ tsp. sea salt
½ tsp. coarse ground pepper
½ cup gorgonzola, crumbled, can substitute blue cheese
Instructions
In a large mixing bowl, add the fennel, apples, nuts. Also add the chopped fronds. Toss and mix.
In a small bowl whisk together the olive oil, mustard, maple syrup, lemon juice/zest, salt and pepper.
Drizzle on the salad. Toss and blend well.
If using gorgonzola or blue cheese crumble on top and give a quick toss/blend.
Notes
It's worth investing in what I consider a superior mustard! Click here. You'll also use in other recipes!