Simple Baked Honey Garlic Chicken Casserole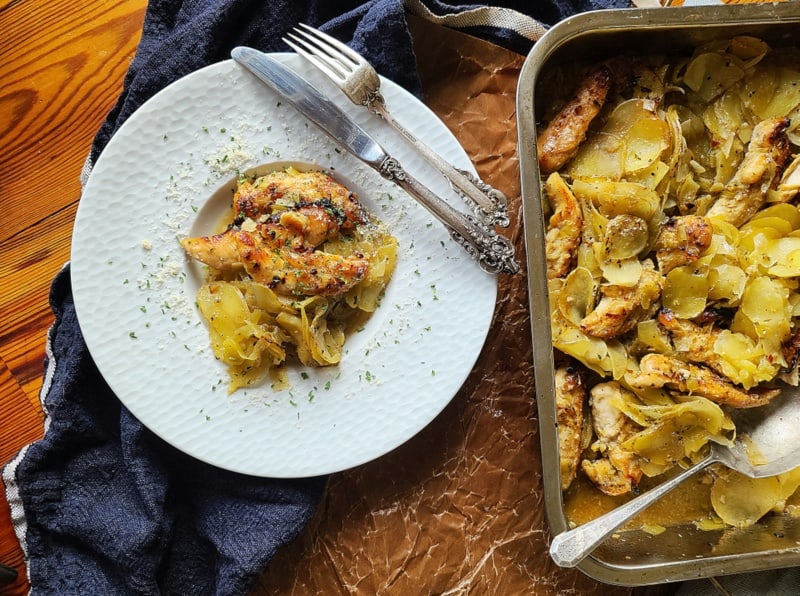 One skillet Simple Baked Honey Garlic Chicken is one-dish super easy! The potatoes and leeks are a surprise with fabulous flavors!
Easy Chicken Casserole
Most of us are always looking for an easy chicken casserole recipe. And, this recipe qualifies as easy. The most time consuming part is slicing the potatoes.
And, if you want a beef casserole, well then, you must check out my Pub-Style Beef Casserole! Crunchy flaky yummmy!
Honey Chicken Recipes
Lots of honey chicken recipes out there, but you must check out this one of mine that, honestly, is absolutely ahhhhmazing! Crunchy Honey Garlic Chicken
Honey Garlic Chicken Recipe
This honey garlic chicken recipe is super simple. Step one, you're gonna make the marinade and douse the chicken in it. While it's hanging out in all these yummy flavors, you can begin building your potatoes and leeks in your casserole dish.
Honey Garlic Chicken Crockpot
Now, I didn't do this recipe in a crockpot, but I think you could. Simply put the potatoes and leeks in the crockpot then add the marinade chicken and cook. Again, you want the chicken to be 165 degrees.
Chicken and Potatoes in Oven
Now I chose to use chicken tenders for a couple of reasons. First, these organic tenders were seriously marked down at the grocery store. And, secondly, I knew they'd cook faster than thick breasts or thighs or bone in chicken.
Easy Chicken and Potatoes Recipe
You can certainly prepare this casserole ahead of time, cover, refrigerate, then bake when you are ready for the meal. That's the beauty of this recipe. Plus, it's just going to get tastier as it sits in the juices.
Baked Chicken and Potatoes
Baked chicken and potatoes are the type of rustic home meal that my family loves. A couple of sides, like maybe peas or green beans. And, a salad, and here's my choice, and you're all set!
Mandolin for Slicing Potatoes
Alright, let's talk about slicing these potatoes. If you don't own a mandolin, here are some good ones. BUT, please buy the gloves, too. You can't be too careful when using a mandolin.
I very carefully slice. I go slowly. And, I don't try to slice the nubs of vegetables. Once they get down to a small piece, put it to the side and grab another large size vegetable that you're cutting.
I love mandolin slicing for potatoes because it creates paper thin slices that collectively make for fabulous flavor.
If you don't have a mandolin, you could use a potato peeler or try to slice very thinly. Again, safety first.
Yukon Potatoes Recipes
Now I love love Yukon potatoes. And, here are some of my recipes that I think you'll want to check out. These Easy Cheese Mojo Potatoes won an award from Chef's Roll! So amazing!
And, this All American Pot Roast, made with just 7 critical ingredients one of which is the meat, is off the charts with Yukon potatoes!
A perfect compromise between dry, fluffy russet potatoes and moist, waxy varieties, Yukon Golds are incredibly versatile. They're superb for mashing and in soups and chowders, and they're great for roasting and sauteeing, too.
Potatoes with Leeks
Nothing's tastier than potatoes with leeks. And, many recipes have been created for potato leek soup. Yep, potato soup is just a belly-warmer and pure comfort food. My recipe for tater soup, that I created while in Tuscany, is Italian inspired.
Leek and Potato Recipes
Leeks are vegetables unlike chives which is an herb. They have a similar flavor and, for me, are a cross between a scallion and garlic.
Sweet or white onions can be substituted. Even purple onions like I did in Tuscany. However, it's important to remember the onions are a stronger flavor profile than leeks.
The sweet onioneeee flavor of leeks make them perfect for pastas, stews, soups, and more!
What are Leeks
Leeks are relatives of garlic, chives, shallots and onions. Once you taste them, you'll know! And, they have a fabulous flavor.
Just make sure you clean your leeks very well. Trimming the tops and removing the first couple of layers will reveal how the dirt makes it way into the layers as the leeks grow and mature.
Slicing leeks thinly is the way I love to do it for this recipe. You don't need a mandolin for this step. Just have a good sharp knive.
Insanely Easy Chicken Dinners
Now I've got some really easy chicken dinners. One pot. One pan. One dish. And, different kinds of cuts of chicken. Remember you can swap out cuts of chicken for most all of these recipes. But, just make sure that you check the internal final temperature using your meat thermometer. Chicken should be 165 degrees.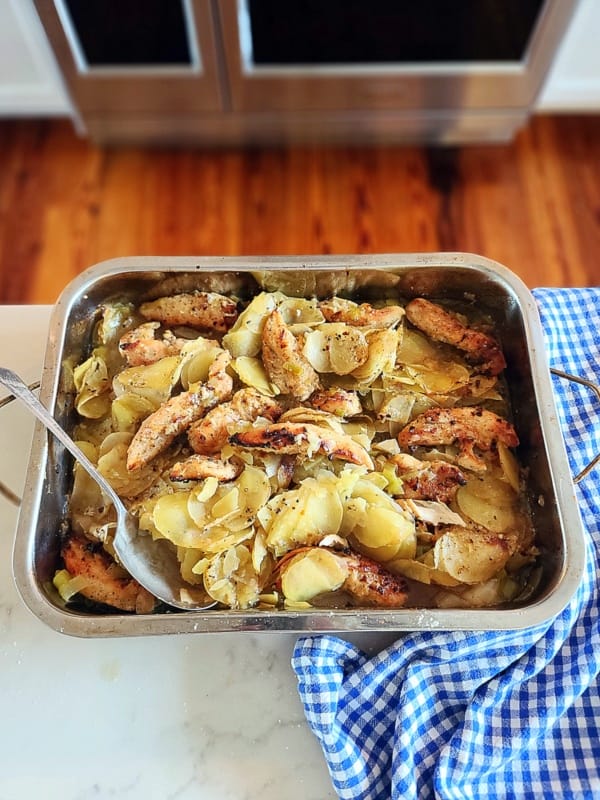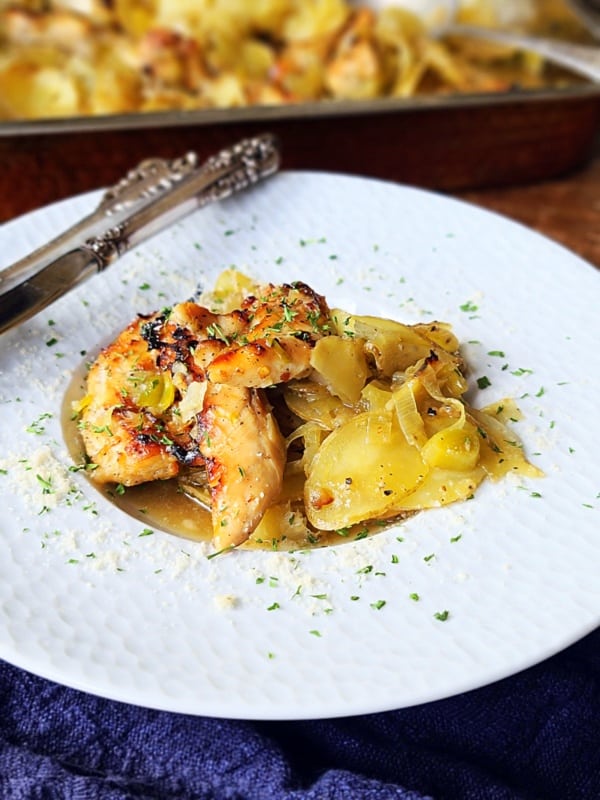 Simple Baked Honey Garlic Chicken Casserole
Ingredients
2 lbs. chicken tenders
MARINADE:
1 lemon, large, zest only
3 Tb. Garlic, minced
½ cup honey
2 Tbl. Red wine vinegar
2 tsp. sea salt, divided
2 tsp. pepper, divided
½ tsp. red chili flakes
CASSEROLE POTATOES/LEEKS:
6 leeks, washed and trimmed and sliced
6 Yukon gold potatoes, washed well, sliced on mandolin
1/3 cup extra virgin olive oil, divided
1 cup parmesan, freshly grated
Instructions
In a baking dish, whisk together the lemon zest, garlic, honey, salt, pepper and red chili flakes. Pour over the chicken tenders and coat them well. Add the chicken tenders. Mix well. Let them marinade about 30 minutes. You can refrigerate.
In a casserole dish (about 9 x 12"), drizzle some of the olive oil. Put the sliced leeks in the dish. Add a layer of the thinly sliced potatoes, some salt, pepper and about ¼ cup of the parmesan. Add another layer of potatoes doing the same with salt, pepper and parmesan.
On the top of the potatoes place the chicken tenders and drizzle on the marinade mixture. Cover the dish tightly with foil. Bake in a preheated 400 oven for about 25 to 30 minutes. Remove the foil.
Turn oven to broil (dish should be about 12-18" from broiler) to brown the chicken (about 3-4 minutes). emove from the oven. Cover loosely with the foil.
Let the dish rest about 5 minutes. Ready to serve with remaining parmesan.

Notes
If you use whole chicken, bone in or thicker cute breasts or thighs, adjust cooking time accordingly. Internal temperature of the chicken should be 165.

You can substitute sweet onions for the leeks.

Be VERY CAREFUL slicing your potatoes on a mandolin. Leave 'nubs' of the potatoes for something else. Don't try to slice to the very end. You might cut yourself! Not fun!