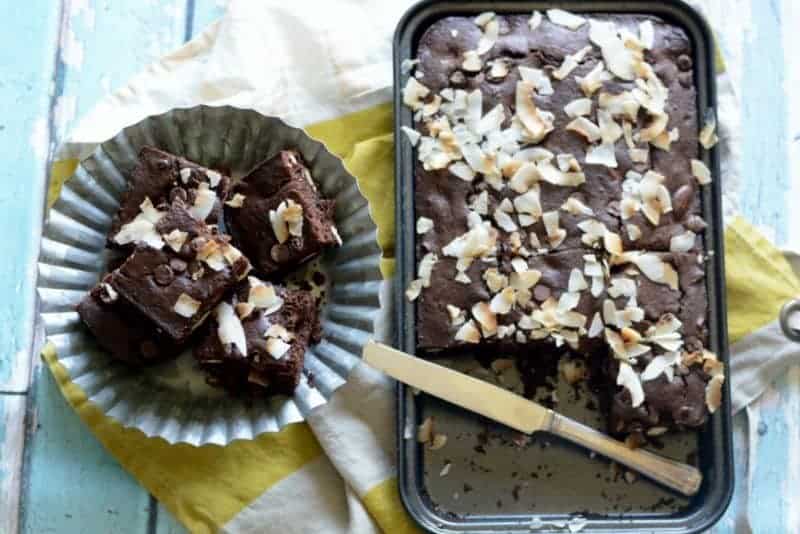 Finding Joy in Life
Finding joy in life can be as simple as making something that you love to eat. While I don't eat this almond joy cake often, when I do, I have a glint and playfulness in my heart!
Mounds Vs. Almond Joy
Did you have a favorite candy bar as a kid? Lots of people have food favorites from childhood. Food is such a powerful memory maker. For me there was never a rival between mounds vs. almond joy candy bars. It was almond joy hands down!
Seems those flavors, textures, visuals and tastes simply sear indelible memories in our brains. And, this 'almond joy cake' brings back great memories!
Benefits of Almond
Most all nuts are good for us. Healthy. The almond is no different. And, the benefits of eating almond whatever, almond butter, almond nuts, sliced almonds, smoked almonds, whole almonds, almond flour, almond 'milk' and more can't be challenged.
Almonds can help lower your blood sugar level, help reduce blood pressure and lower cholesterol. When you're super hungry and need to quell it the healthy way, eat a few almonds (I do this all the time!). Almonds also are full of the healthy fats your body needs. Plus, you're getting vitamin E, protein, fiber and magnesium.
Chocolate Almond Cake
So my recipe is really like a chocolate almond cake. But when you add the coconut, well, you've got a rendition of my beloved almond joy candy bar. Next, time I'm going to add more coconut!
Recipes for Chocolate
We all are looking for those perfect recipes for chocolate. And, recipes that aren't super complicated. As you see from the steps in preparing this cake, you basically have wet and dry ingredients. Mix together. Pour into the baking dish. Bake. And, you're ready to have something that's chocolateeeee decadent!
This almond joy cake, is a tribute to my childhood favorite, the Almond Joy. It's everything good about life for me. Those carefree days growing up in the mountains of West Virginia. Scurrying off to the 'littl' store' (run by the coal company) with my nickle in my pocket to buy an Almond Joy.
Or, going to the movie theater with my dime in hand for buying something. The big dilemma? Deciding whether I wanted popcorn (oh, lawsy, it smelled sooooooooo good and was dripping with real butter not the fake stuff) and a cherry coke or an Almond Joy and a cherry coke. Maybe you know what I picked!
Easy Chocolate
Oh, boy, do I have some outrageously amazing chocolate recipes and so many are super easy! Here're some starters! Many more. Just put the word 'chocolate' in the search box!
Retro Birthday Chocolate Sheet Cake
Chocolate Mousse Angel Dessert
Best Cherry Chocolate Smoothie
Coconut Candy Bar
Almond Joy, basically a coconut candy bar with nuts, was, and still is, my favorite candy bar. Yes, the sister of the Mounds bar, the Almond Joy has that whole almond sitting right on top covered in chocolate.
It's like the crowning bite for the candy bar. While the Mounds bar was created in the roaring 1920s (1921) and was a hit with soldiers in World War II, the Almond Joy came 25 years later, 1946. Yes, America had ended the war and now decades of prosperity were ahead.
It was a resounding success! And, I was always one who felt like a nut and forever wanted to bite into a creamy coconut chocolate half of the bar, then save those nuts for the last bites!
Almond Joy Recipes
The jingle for Mounds and Almond Joy launched in the 1970s is what still sticks in my head today. 'Sometimes you feel like a nut, sometimes you don't. Almond Joys got nuts. Mounds don't!' And, there are lots of almond joy recipes with the sweet shredded coconut, almond(s) and chocolate!
I'd love to hear what your favorite food candy bar was (or is) as a kid. Share with me in the comments. You never know, I just might try to replicate your fave into a sweet treat! xoxo ~ally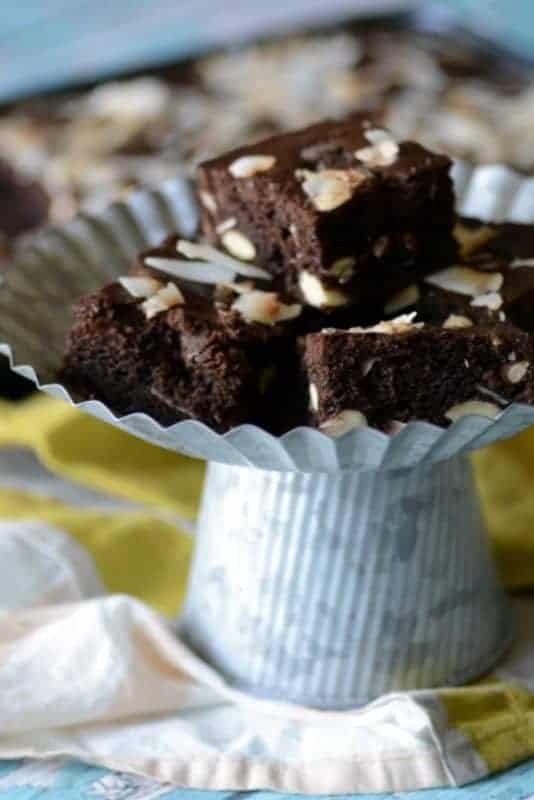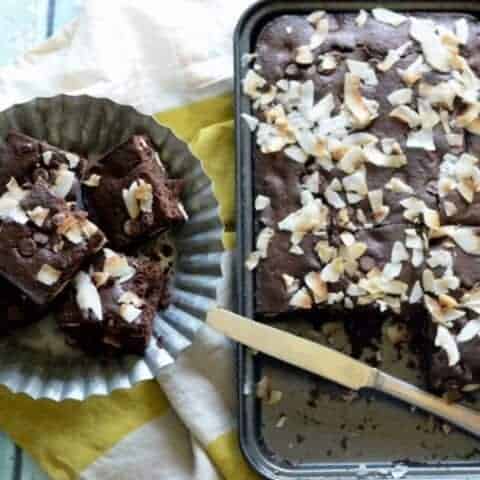 almond joy cake
Yield: One 8 x 12 baking dish

Get ready to transport yourself into your childhood with this almond joy cake! You'll be singing the catchy jingle with each bite of deliciousness!
Ingredients
Preheat oven to 350
8 Tbl. Butter, salted and melted
2 tsp. vanilla
3 eggs, beaten
¾ cup sour cream
¾ cup sugar
1 Tbl. Baking powder
1 cup all purpose flour
2/3 cup cacao
1 cup almonds, whole and roughly chopped
½ cup coconut, unsweetened, shaved
¼ cup mini chocolate chips
Instructions
In a medium mixing bowl, combine the butter, vanilla, eggs and sour cream and whisk together well. Set aside.

In a large mixing bowl, sift in the baking powder, flour and cacao.

Combine the wet mixture with the dry and blend well. Mix in the almonds. Grease an 8x14 baking pan. Pour in the batter. Top with the coconut and chocolate chips. Gently press into the batter.

Bake in a preheated 350 about 40-45 minutes. Remove to a cooling rack for about 30 minutes.
Notes
Serve with a scoop of vanilla ice cream or whipped cream!