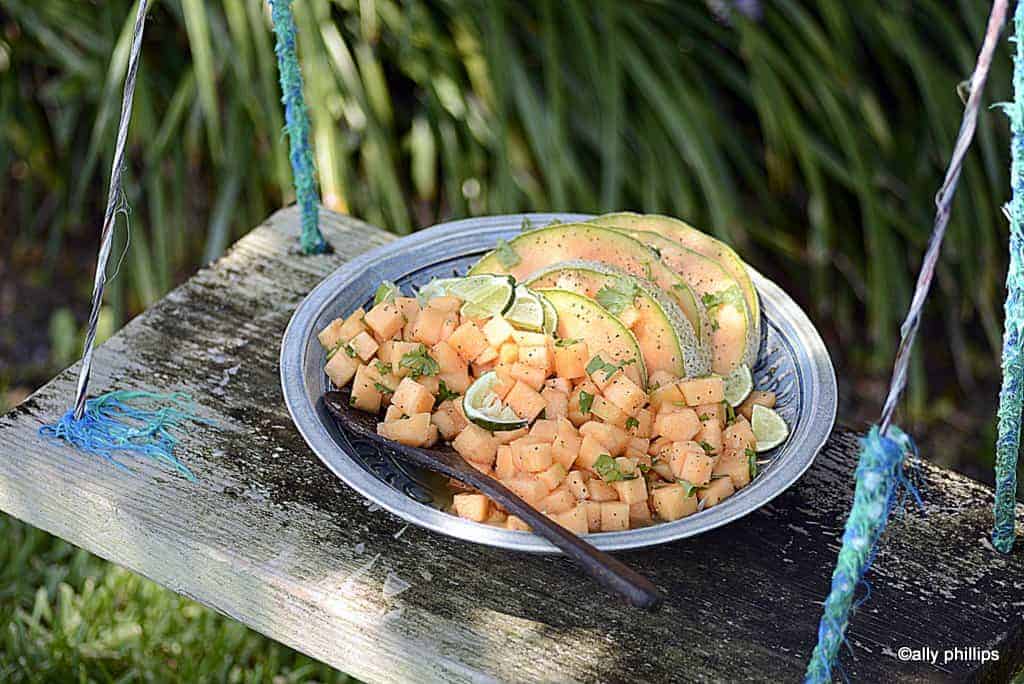 Here's how I've taken the glorious cantaloupe and dressed it up to be lime-cilantro cantaloupe. Get the recipe here!
Lime Cilantro Cantaloupe – Healthy Delicious Recipe
Cantaloupe season cannot be missed! Juicy, sweet cantaloupe not only quenches thirst well on hot days, but also saturates the body with vitamins A, C, K, potassium, folic acid, and fiber. Give it a try – you will definitely not regret it!
Cantalope Recipes Easy
How can you make Mother Nature's sweet delicious cantaloupe better? Well, maybe not 'better' but different. You're still going to get all the cantaloupe's outstanding benefits, but with a facelift of flavor! We're going to be changing it up and creating a new twist on it. Here's how I've taken the glorious cantaloupe and dressed it up to be lime cilantro cantaloupe.
Salad with Melon
Salad with melon is simple! First of all, the cut. Typically, you see cantaloupe in slices. These slices are either peeled or sometimes the peel's still on. Sometimes you might see cantaloupe scooped out into small marble size balls. That's a labor of love, for sure. Then, of course, we can cut up cantaloupe into chunks. I like cantaloupe diced. And, it's a perfect cut when mixed with the fresh citrusy lime juice and zest because every piece is coated in the flavor.
Melon Salad Recipes
This lime cilatro cantaloupe is a nice change from just 'regular' cantaloupe. It's perfect for serving with ice cream. I love it with 4% small curd cottage cheese. Of course, there's yogurt. Maybe a drizzle of honey? How about whipped cream cheese on a piece of toasted wheat bread and topped with the lime cilatro cantaloupe. What a sandwich! Go ahead. Play with your food. Imagine the possibilities beyond your normal expectations. Open your mind. Let that huge gust of fresh air thinking in!
Summer Cantaloupe
Sweet summer cantaloupe is the most long-awaited summer staple, preferred by many of us to other fruits and vegetables. Do not be limited to one variety of melon, because each of them is unique!
Juicy, sweet, aromatic – this is the kind of cantaloupe we want to see on our table. Such a cantaloupe will not only allow you to enjoy the taste but will also perfectly quench your thirst and improve your mood.
Honey-Mint Melon Salad
My favorite part about summer foods is how gloriously simple they can be and still be packed with flavor. Seriously, I love the combination of honeydew, watermelon, and cantaloupe for both flavor and color, but if you can get your hands on one or two of some other kinds of fun and funky melons from the farmers' market—knock yourself out!
Recipes with Melon
To prepare recipes with melon and mint with honey dressing you need remove the pulp from the melon halves with a spoon, without cutting the peel. Set aside the resulting "bowls" from the peel without pulp. Finely chop the pulp and put back into the "bowls" of the halves of the same melons.
Cut the zest from the lime and squeeze the juice. Combine lime juice, grated zest and honey, mix well. Pour the dressing over the melon pulp in the "bowls" and sprinkle with chopped mint leaves. Place in the refrigerator for 2 hours, and then serve the salad to the table.
Cantaloupe Salad Recipes
ENJOY! Cantaloupe salad recipes take salads to a whole new level. And if you give this honey-mint melon Salad recipe a try, let me know! Snap a photo and tag me and use the hashtag #allyskitchen on Twitter or Facebook!
I sure hope you try this recipe! You'll probably want to try more of my olive oil cilantro croutons! Or here's a perfect dipping sauce, eggplant & lime-cilantro sauce. Enjoy, and here's to eating healthy in a hurry! xoxo~ally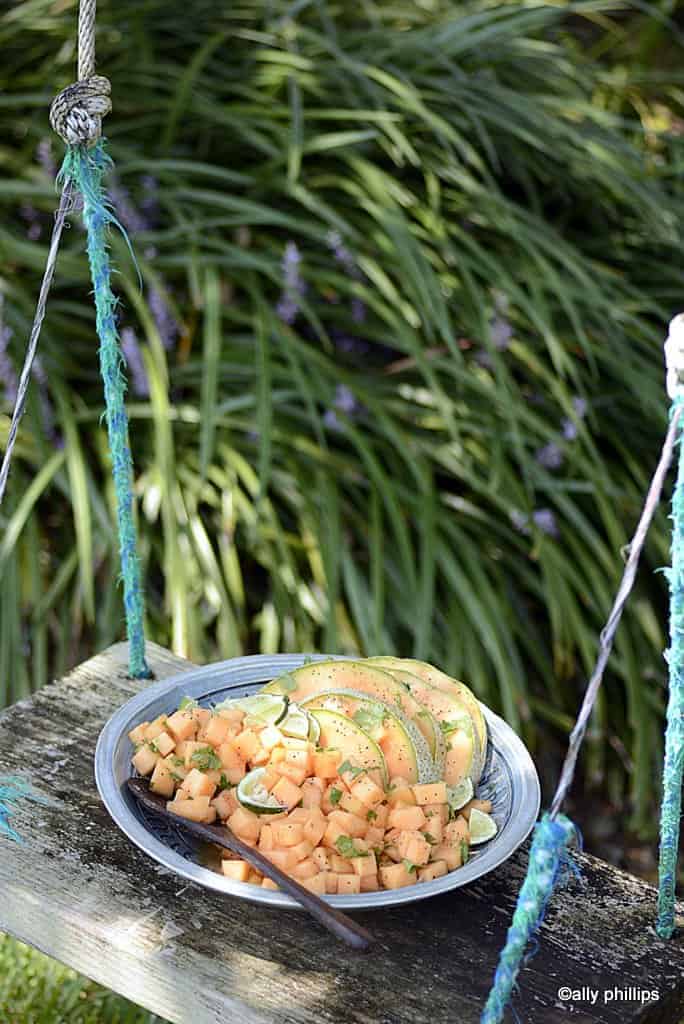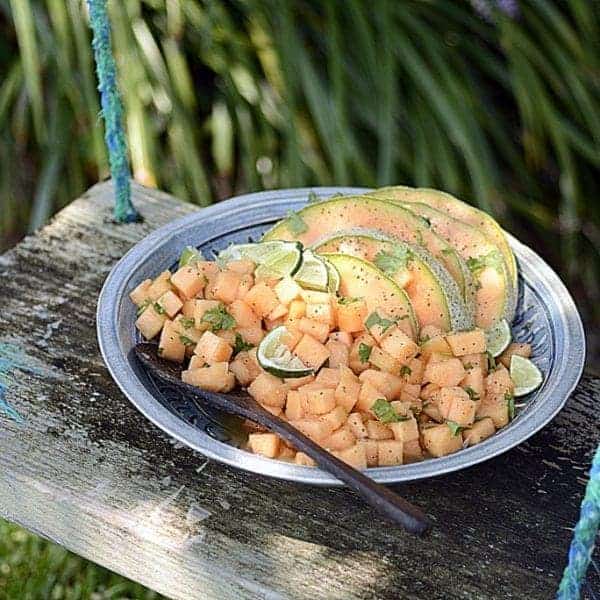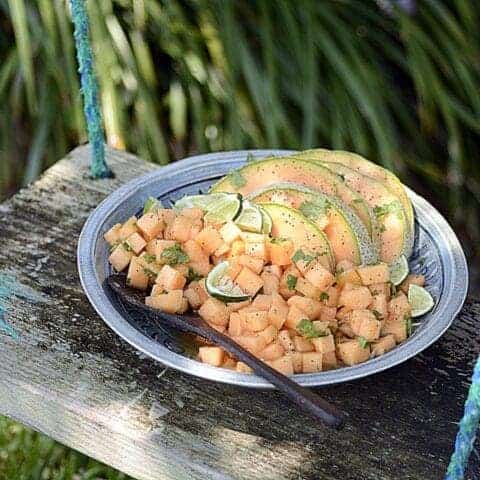 lime cilantro cantalope
Here's how I've taken the glorious cantaloupe and dressed it up to be lime cilantro cantaloupe. Get the recipe here!
Ingredients
One whole cantaloupe, peeled and diced (or you can do some slices)
2 large limes, juice & zest
1/4 tsp. sea salt
1/2 tsp. coarse ground pepper
1/2 cup fresh cilantro, chopped
Instructions
Put the diced cantaloupe in a large bowl. Add the lime juice/zest, salt, pepper and cilantro.

Toss and blend. Chill. Serve.
Notes
Serve with cottage cheese. I prefer 4% small curd cottage cheese. Sprinkle on some pepper and cilantro.

You can cut the cantaloupe as you like. I just find the diced version makes for easier eating and the lime juice/seasonings are better incorporated into the sweet melon.

You could try this with melon/watermelon too!