How can you make Mother Nature's sweet delicious cantaloupe better? Well, maybe not 'better' but different. You're still going to get all the outstanding benefits of the cantaloupe, but with a facelift of flavor! We're going to be changing it up. Creating a new twist on it. Here's how I've taken the glorious cantaloupe and dressed it up to be lime cilantro cantaloupe.
First of all, the cut. Typically, you see cantaloupe in slices. These slices are either peeled or sometimes the peel's still on. Sometimes you might see cantaloupe scooped out into small marble size balls. That's a labor of love, for sure. Then, of course, we can cut up cantaloupe into chunks. I like cantaloupe diced. And, it's a perfect cut when mixed with the fresh citrusy lime juice and zest because every piece is coated in the flavor.
This lime cilatro cantaloupe is a nice change from just 'regular' cantaloupe. It's perfect for serving with ice cream. I love it with 4% small curd cottage cheese. Of course, there's yogurt. Maybe a drizzle of honey? How about whipped cream cheese on a piece of toasted wheat bread and topped with the lime cilatro cantaloupe. What a sandwich! Go ahead. Play with your food. Imagine the possibilities beyond your normal expectations. Open your mind. Let that huge gust of fresh air thinking in! xoxo ~peace & namaste~ ally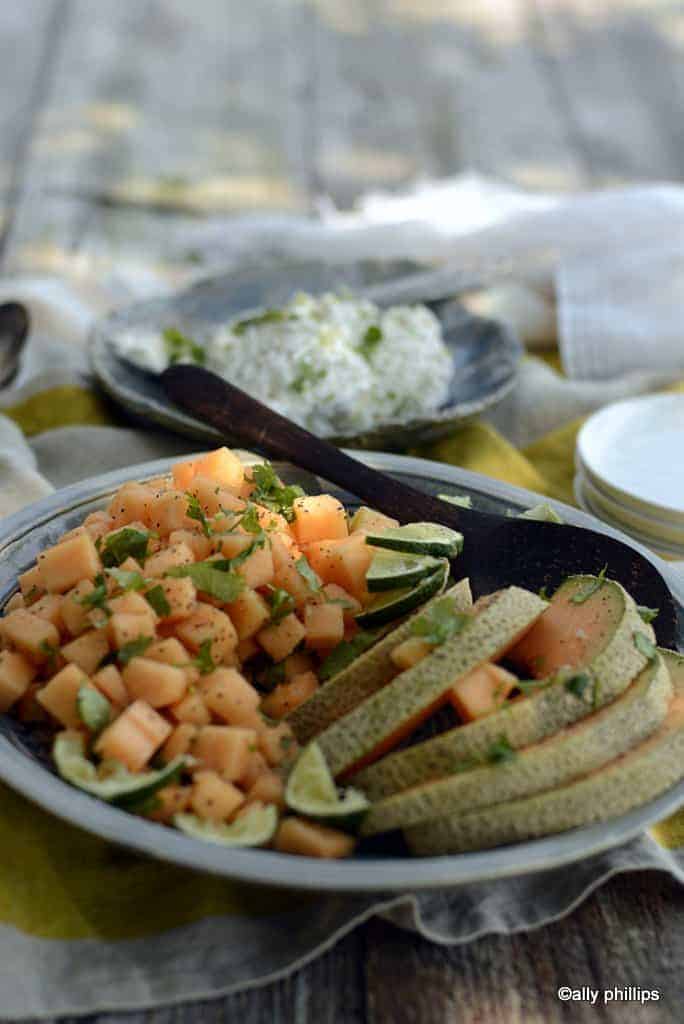 Ingredients
One whole cantaloupe, peeled and diced (or you can do some slices)
2 large limes, juice & zest
1/4 tsp. sea salt
1/2 tsp. coarse ground pepper
1/2 cup fresh cilantro, chopped
Instructions
Put the diced cantaloupe in a large bowl. Add the lime juice/zest, salt, pepper and cilantro.
Toss and blend. Chill. Serve.
Notes
Serve with cottage cheese. I prefer 4% small curd cottage cheese. Sprinkle on some pepper and cilantro.
You can cut the cantaloupe as you like. I just find the diced version makes for easier eating and the lime juice/seasonings are better incorporated into the sweet melon.
You could try this with melon/watermelon too!
https://allyskitchen.com/lime-cilantro-cantaloupe/
©ally's kitchen intellectual property