Easy Creamy Cucumber Yogurt Salad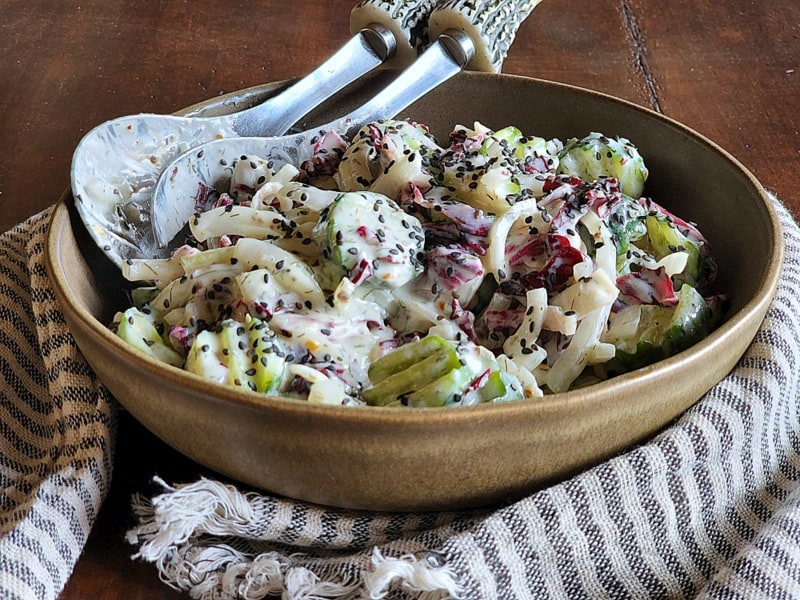 If you want to bite into something extraordinarily creamy and delicious, then you must try this creamy cucumber yogurt salad! No cooking!
Yogurt with Cucumber
There's nothing better than pairing yogurt with cucumbers.
Just something about the juicy crunchy taste of the fresh earthy cucumbers with the creamy yogurt.
Honestly, one of my favorite and most unusual recipes with cucumbers is this English Cucumber Galette! OMG, it's like a pizza with cukes!
Cucumber Yogurt Salad Recipe
The type of cucumbers I highly recommend for this recipe are either the cocktail cucumbers. You can get those at Costco. Or you can find in your product section. They're small, juicy, slightly sweet and perfect for this recipe.
If you can't find cocktail cucumbers, then look for an English cucumber. Regular cucumbers just aren't good for this recipe because you're leaving on the skin, and most of the time those regular cukes have waxy skins.
Of course, you can peel, but you're giving up some of the beauty of the cuke and the nutritional value.
Cucumber and Plain Yogurt Salad
Cucumbers come in several varieties and each has its purpose.
You've got those pickling cucumbers. Perfect for pickling. Not so good for this recipe or other cuke recipes I have like my Asian Cucumber Salad or my Appalachian Cucumber Buttermilk Salad.
Then you have the 'sweet success' cucumbers that are more like the regular ones you see in the produce section. They're fine for a lot of things, but not this recipe.
Other great cucumbers that you could use with this recipe is the Persian cucumber or the lemon cucumber.
Cucumber Dill Yogurt Salad
The best cucumber for this salad is the Marketer cucumber! Perfect for salads and as pickling cucumber, it has a mild, slightly sweet flavor. But, you can also grab those small cocktail cucumbers, and both are perfect for this recipe.
Cucumber Mint Yogurt Salad
There are several ways you can change up the yogurt sauce for this recipe. Adding mint is one way. It's going to give your a refreshing Middle Eastern flair.
Cucumber Tomato Yogurt Salad
Some like tomatoes in their yogurt salad, but I prefer to omit because sometimes tomatoes have more liquid and they just don't settle well into the salad if kept overnight refrigerated.
An option if you want to add tomatoes, use them as the 'garnish' atop your servings rather than mixing into the salad.
Cucumber Yogurt Salad Dressing
What makes this recipe is the dressing. Yes, we're going to flavor the creamy Greek yogurt with spices, citrus and olive oil. In the end, you'll have something that's not only fantastic for this salad, but you can use this dressing on other things.
I mean think about a spicy grilled chicken with a dollop of this chilled dressing on it!
Middle Eastern Cucumber Salad
Cucumbers are a staple in the Middle Eastern world. In fact, salata baladia is the most popular salad in the Middle East. It's a combination of cucumbers, onions, tomatoes, parsley, mint and a simple dressing.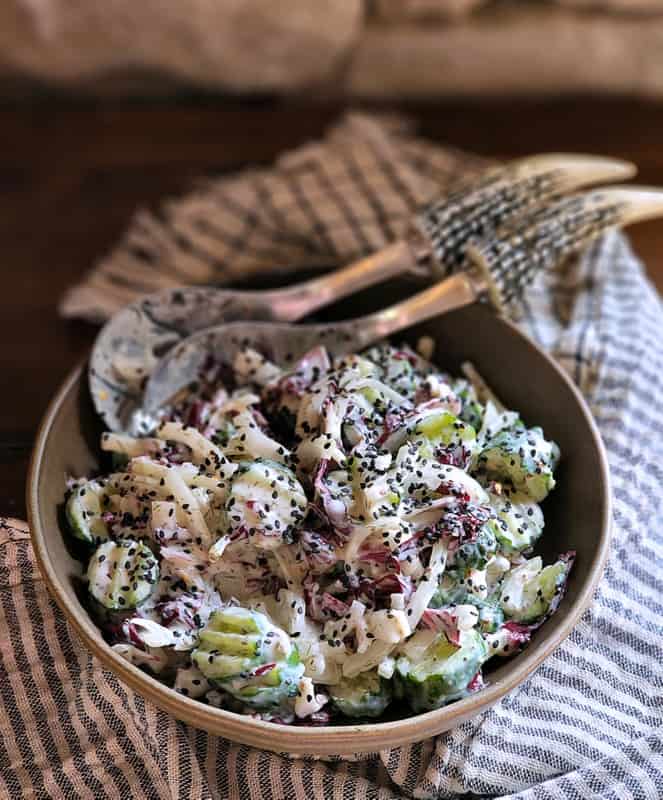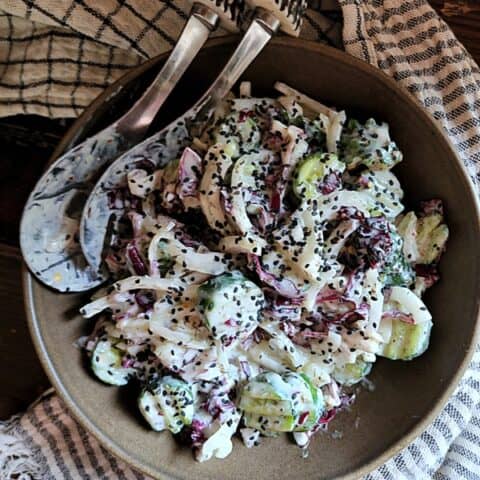 Easy Creamy Cucumber Yogurt Salad
Ingredients
5 cups cocktail cucumbers, sliced
½ large sweet onion, packed, French cut, thin slices
1 cup radicchio, shredded, packed
¾ cup Greek yogurt, plain
1 tsp. garlic granules
1 tsp. Italian seasoning
1 tsp. harissa seasoning mixture
½ tsp. onion powder
½ tsp. red chili flakes
1 tsp. sea salt
1 tsp. coarse ground pepper
½ lemon, large, juice only
¼ cup extra virgin olive oil
2 Tbl. maple syrup
Instructions
In a medium bowl, combine the cucumbers, sweet onions and raddicio. Blend and mix.
In a small bowl, combine the garlic, Italian seasoning, onion powder, red chili flakes, salt and pepper. Blend well.
In a large bowl, add the yogurt, seasoning mixture, lemon juice, olive oil. Whisk together. Pour in the cucumber mixture.
Toss and blend well. Drizzle on the maple syrup and give another few tosses to blend.
Refrigerate or serve immediately.