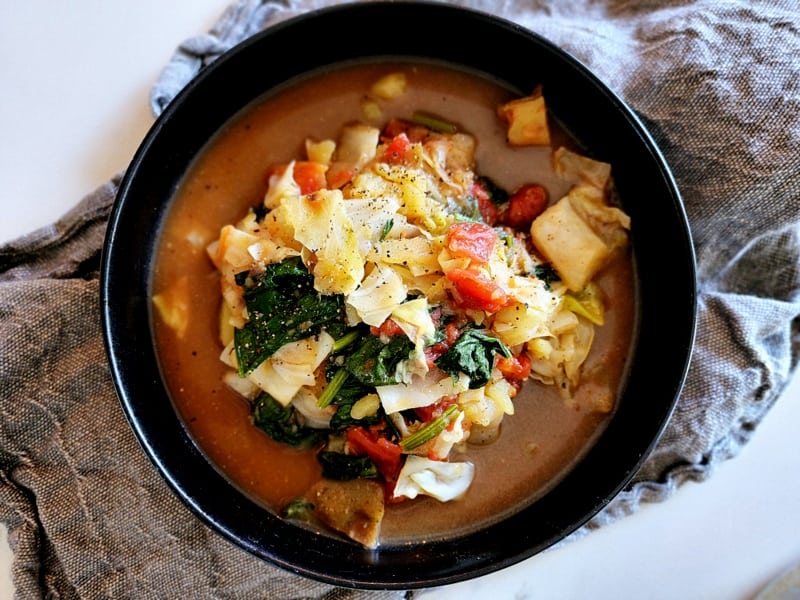 Meatless cabbage soup is all about the cabbage! Then you can add in your vegetables. There're 3 magic ingredients!
Meatless Cabbage Roll Soup
Yes, who doesn't love cabbage rolls, and my recipe is basically that of my Croatian Mom's. Eastern Europeans love their sarma, and this is the best. Choose your cabbage type, sometimes regular for me and sometimes Chinese cabbage!
But, wait! Can we make cabbage roll soup? And, can it be meatless? Yes, to both!
And, while we're talking meatless, here's another for The BEST VEGETABLE SOUP!
Best Cabbage Veggie Recipe
Cabbage roll soup is another hearty peasant meal in a bowl.
I love my recipe because it uses both beef and sausage and lots of cabbage!
Cabbage Soup
This cabbage soup is even easier to make than cabbage rolls or the deconstructed cabbage soup.
It's hearty and full of flavor.
Plus, there are three magical ingredients that boost not only flavor but make it much more nutrient dense!
Old Fashioned Cabbage Soup
So what are these three magic ingredients. And, where do you get them. Well, here you go. Yes, you can forgo them, but I won't guarantee that you'll get the intensity and the deliciousness. I know you won't get the nutrition because these three ingredients are mega boosters.
Cabbage Soup Ingredients
As a full disclosure, I do receive a small commission from the sale of these products. Thanks for supporting Ally's Kitchen.
Bone broth from grass fed beef bones is rich in proteins and amino acids that are sorely lacking in standard diets today. Our bone broth protein is crafted from healthy, grass fed, pasture-raised beef bones. We use no chemicals or solvents… just good old fashioned bone broth that is then gently powdered. Read more & order at a 15% discount.
Yes, you can add water to this soup, but why not boost nutrients with organic grassfed bone broth? Kettle and Fire is one of the best on the market. Just Google 'best bone broths'. Educate yourself. Use my discount code ALLYSKITCHEN at checkout and get 20% off your order. Free shipping with orders of 10+ boxes.
I use nutritional yeast in a lot of recipes. It's a staple for vegans and vegetarians. And, it has nutritional value for us in general. Touted by Dr. Oz, yes, it adds nutrients and enhances the flavor, and, no, it's not MSG! Order from my Amazon Storefront!
Here's a quick video on nutritional yeast that I put together. Enjoy!
Easy Cabbage Soup
So this is an easy cabbage soup. You need a big ol' stock pot. Gather your ingredients and you're in business.
I love cabbage and potatoes. And, since I had some oven roasted leftover, I used them. If you don't have those potatoes, use Yukons. Nice and buttery and delicious. Plus, just scrub well and leave the skins on. Then parboil them for the soup.
Soups for a Diet
Soups are great for any time of the year. And, if you're looking to curb calories, then this soup is for you. It's full of roughage and is definitely nutrient dense.
You can certainly add a ground meat if you like. If I'm doing this, my pick is going to be a nice Italian Ground Sausage! I'd crumble in with the onions during the first step of the recipe and then go from there.
Cabbage Vegetable Soup
If you want to make this soup vegetarian, no problem. Rather than using chicken bone broth, use a vegetable broth. Now, you probably will omit the bone broth protein, too (so sad), but I totally understand for vegetarians.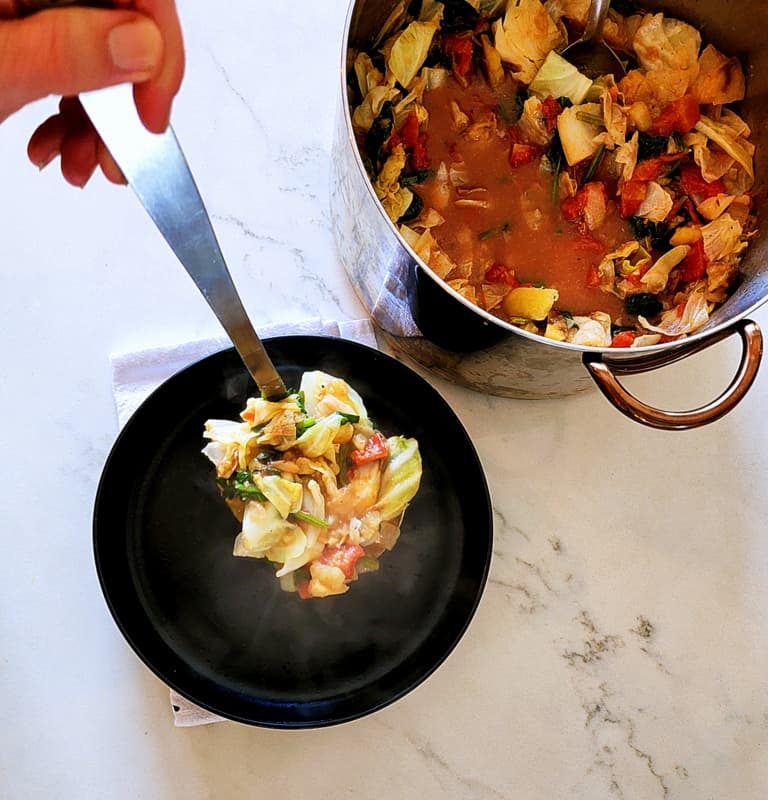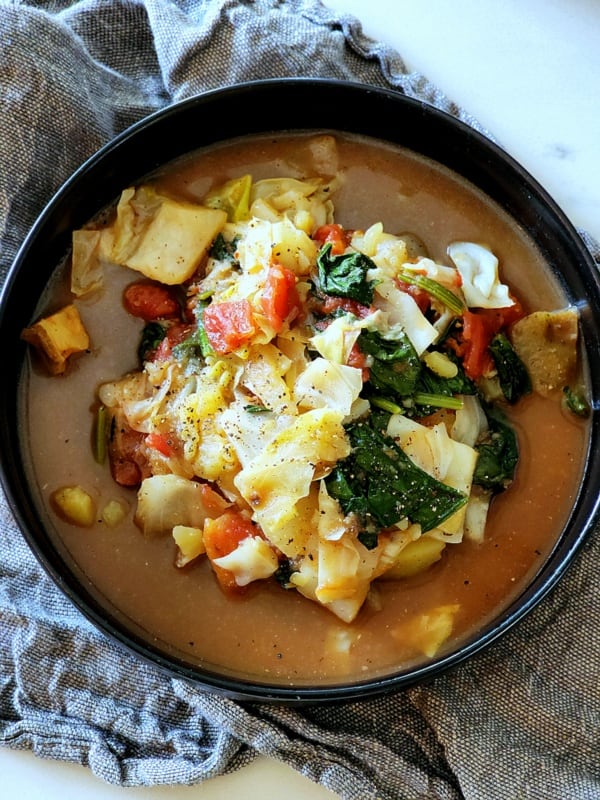 Meatless Cabbage Soup
Ingredients
¼ cup avocado oil
1 cup sweet onions, large dice
4 cups Yukon potatoes, large dice, parboiled and almost done
2 Tbl. Nutritional yeast
2 Tbl. No salt multi spice mixture, Costco brand or Mrs. Dash
1 Tbl. Garlic granules
2 tsp. sea salt
1 tsp. pepper
½ tsp. red chili flakes
1 scoop Bone Broth Protein Paleo Valley, about ¼ cup
1 box (16 oz.) Kettle & Fire chicken bone broth + ½ cup water to rinse box
6-8 cups cabbage, rough chop
2 cans (14.5 oz. each) tomatoes, diced, + 1 cup water to rinse cans
4 cups fresh spinach, rough chop
Instructions
In a large stock pot (8 quart) over medium high heat and hot, put the oil. Add the onions and sauté about 3 minutes.
Mix the spices and bone broth protein together in a small bowl. Add the potatoes. Sprinkle on the onions and potatoes and blend cooking a couple of minutes.
Add chicken bone broth, cabbage, diced tomatoes, water and blend. Reduce heat to medium.
Cover and cook about 15 to 20 minutes. Shortly before serving, add the chopped spinach! It just needs to quickly blanch and wilt.