Croatian Style Potato Soup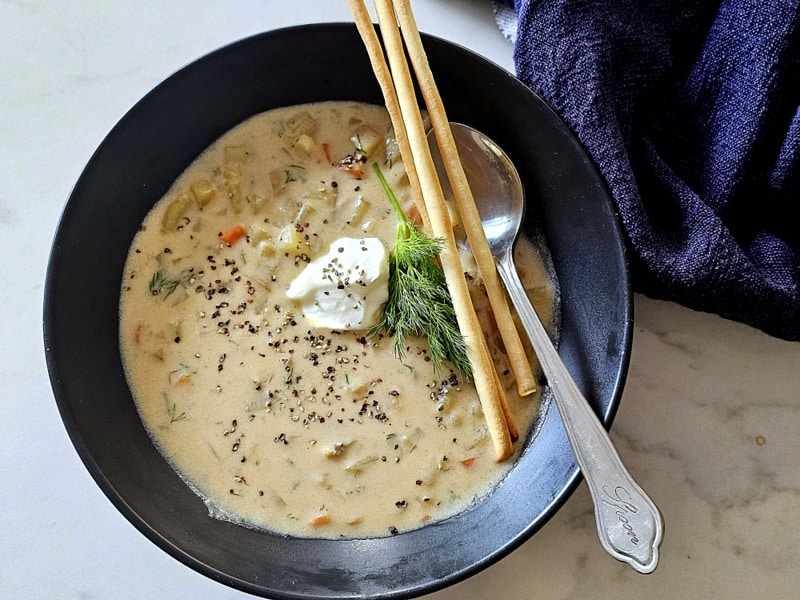 This rustic Croatian style potato soup is a trip to Eastern Europe in every bite! It's full of Yukon gold potatoes, carrots, onions, aromatic spices, and a kick of flavor thanks to beef bone broth.
Croatian peasant food is a rustic style of cooking that reflects the country's agricultural heritage and the use of locally available ingredients. It celebrates the flavors of the countryside, and many traditional recipes have been passed down through generations. It reflects the importance of using fresh, locally sourced ingredients and the principle of making the most of what's available. And it's what I grew up on!
This delicious soup was a staple in our home growing up, and it pairs well with my Italian yeast peasant bread or this thin and crispy cornbread recipe.
Why You'll Love This Croatian Style Potato Soup
It only uses a few simple ingredients.
It's a rustic, no-frills dish that's ready in just a few minutes.
It's the perfect meal for a fall or winter day.
It's a classic comfort food that will fill up your belly and your heart. 
Ingredients
Like most creation recipes, this rustic potato soup only uses a few simple ingredients. You probably have many of them in your kitchen right now, but if you need anything, you can get it with just one quick trip to your grocery store. Be sure to check the recipe card at the end of the post for exact amounts!
Bacon drippings
Sweet onions
All purpose flour
Garlic granules
Onion powder
Bay leaves
Smoked paprika
Salt and pepper to taste
Kettle & Fire Chicken Bone Broth
Water
Yukon potatoes – small dice
Carrots – small dice
Cream or half and half
Fresh dill – chopped
Substitutions and Variations
Russet potatoes work well in place of Yukon gold.
If you don't have garlic granules, you can use garlic powder.
Fresh dill is best, but dried dill will work.
Add any of your favorite vegetables like celery and/or mushrooms.
How to Make Rustic Croatian Style Potato Soup
This soup is as easy as it is delicious. It only takes a few minutes and a few simple steps, and you'll be all done! I have the recipe overview here, but you'll find the exact instructions in the recipe card at the end of the post.
1: Saute the onions and add spices and flour to make a roux.
2: Whisk in the water and bone broth and add the bay leaves.
3: Add potatoes and carrots and cook until tender-firm.
4: Stir in the cream and cook until the potatoes and carrots are tender. Stir in the fresh dill and enjoy!
Hint: Remove the pot from the heat before slowly adding the cream to avoid curdling.
If you love rustic potato soups like this one, then try my Game of Thrones potato soup.
Storage
Refrigerator: Store in an air-tight container for up to 5 days.
Freezer: DO NOT freeze this soup. The cream in it will cause the soup to develop a grainy texture when it defrosts.
Reheat: Place the soup in a saucepan or Dutch oven, depending on the amount of soup you're reheating, and heat it over medium-low heat until warmed through.
What to Serve with Croatian Potato Soup
This soup is often served as a starter or a light meal. It's wonderful when paired with:
Crusty bread
Bread and butter
Garlic bread
Breadsticks
Any main course of beef, pork, or chicken
Tips
Dice your potatoes into very small pieces to create a creamy soup.
There's no need to peel the potatoes.
Remove the pot from the heat before stirring in the cream to prevent curdling.
A heavy Dutch oven is your best bet for this recipe.
FAQ
If you have questions about Croatian potato soup, then read on. The following FAQ answers some of the most common questions about this rustic potato soup.
What is Croatian style potato soup?
Croatian potato soup is a rustic soup with a base of broth and cream and loaded with diced potatoes, carrots, and onions.
What kind of cuisine is Croatian cooking?
Croatian food has many influences, and it differs from region to region due to so many influences from the surrounding countries. One thing most Croatian cooking has in common is that it's simple, rustic, and all about flavor.
Why did my Croatian soup get grainy?
If you add the cream while the soup is too hot, it will make a grainy texture.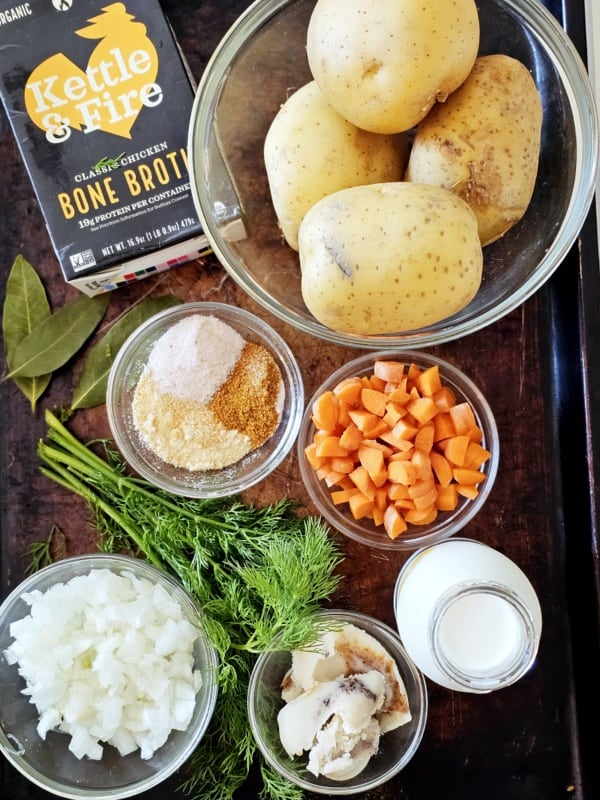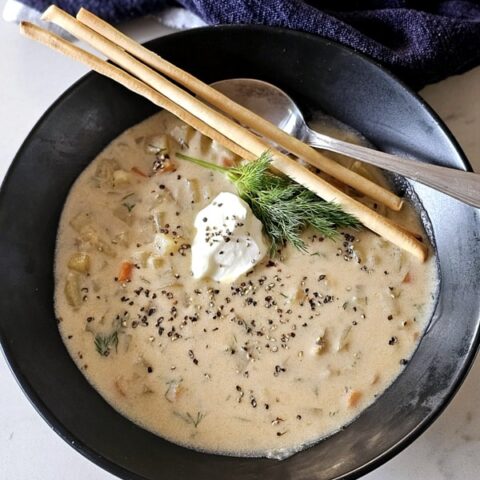 Croatian Potato Soup with Cream
Yield:
About 4-6 servings
Ingredients
1/4 cup oil, bacon drippings preferred
1/2 cup sweet onions
1/4 cup flour, all purpose
2 tsp. garlic granules
2 tsp. onion powder
3 bay leaves
1 tsp. smoked paprika
Salt and Pepper to taste
1 box (16 oz.) Kettle & Fire Chicken Bone Broth + 2 cups water
4-5 cups of Yukon potatoes, small dice
1 cup carrots, small dice
12 oz. cream or half and half
1/4 cup fresh dill, chopped
Instructions
In a Dutch oven or pot over medium heat, put the oil in and let it get hot. Add the onions and saute about 2-3 minutes.
Add the flour and blend into this mixture, then add the spices and blend into the flour paste.
Reduce the heat to medium low, and slowly add the bone broth and water, whisking and blending quickly to work out lumps and thicken the liquid somewhat. Add the bay leaves.
Increase heat to medium. Add the potatoes and carrots. Blend, cover and cook about 20 minutes.
Add the cream, blend, cover and cook another 15-20 minutes on medium low.
Add the fresh dill. Blend. Serve!