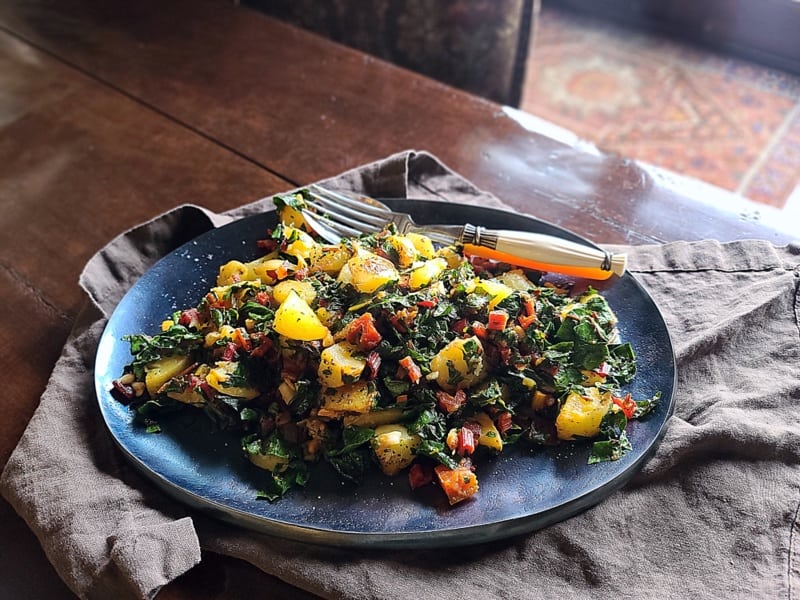 Taste the national side dish of Croatia! Easy Croatian Blitva. Simple to make. Rustic, peasant and super healthy! Only 3 basic ingredients!
Croatian Food
How do you describe Croatian food? Well, depending upon the region you're in, there are differences. But, overall Croatian food is fresh, rustic and close to the earth eating!
Croatian Recipes
Lunch is usually the Croatian 'big' meal. It begins with soup. And, then there's always a hearty meat, potatoes or noodles, a salad and dessert. The lunch lasts a couple of hours. And, if there's dinner it's typically light or not at all.
You might like to check some of my Croatian inspired recipes!
Swiss Chard Potatoes
Croatia's national side dish is 'blitva'. In Croatian this means swiss chard.
And, as long as Croats have existed, blitva has been important to their diet! As 101 Tastes of Croatia explains, blitva has been on menus since the 7th century!
Blitva Recipe
Totally uncomplicated and natural, blitva is simple and easy to make.
Only three basic ingredients, Swiss chard, potatoes and garlic!
And, traditionally blitva is served as a side dish with seafood. But, if you prefer another protein, have at it!
Recipes from Croatia
I love creating and re-creating recipes from Croatia. And, maybe you'll want to understand why. See I'm half Croatian. My grandparents immigrated here at the young age of 16 to have a better life. On my grandfather's passport there was a question that asked, "How long do you plan to stay?" (in America). He wrote 'Forever'! And, he did.
Read more about how I searched and found my roots in Croatia. What an experience and adventure. Ancestry.com couldn't have orchestrated it more perfectly!
Chard and Potatoes
Nothing's more farm fresh than chard and potatoes.
If you don't have chard for this recipe, then you can substitute any other leafy green like kale, collards, mustard greens.
Swiss Chard Recipes Main Dish
There's so much heartiness to this recipe. Yes, it can be a main dish! And, as such it is vegan and vegetarian!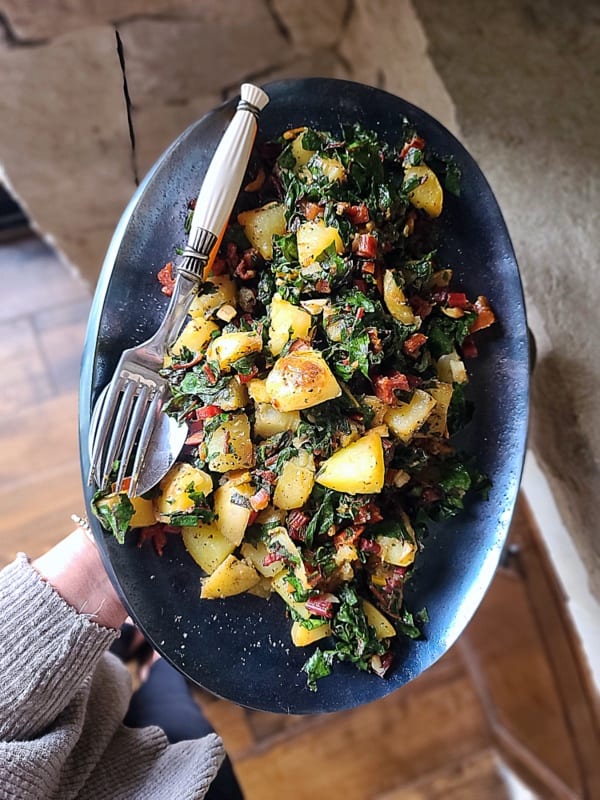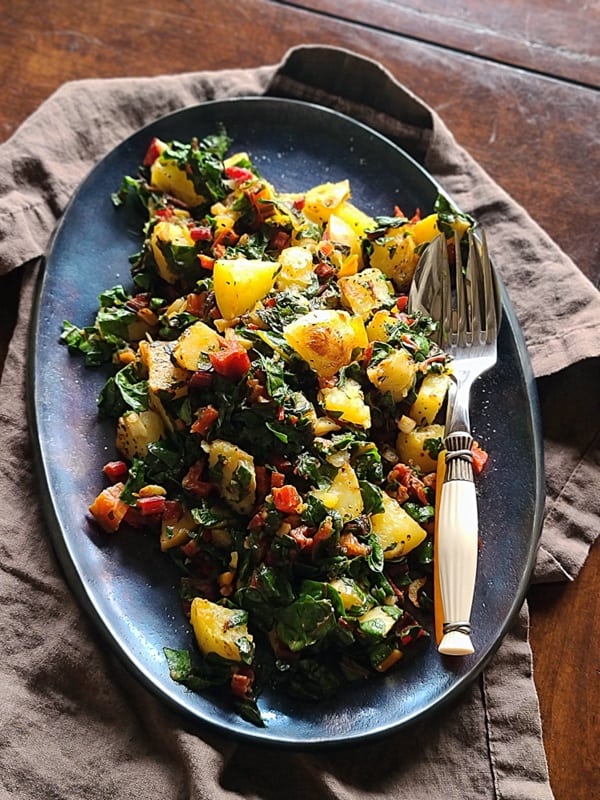 Easy Croatian Blitva
Yield:
About 2-4 servings
Ingredients
6-8 Yukon potatoes, washed, rinsed, cut into cubes
1 large bunch of Swiss chard, about 12-14 stalks, stems sliced, leaves chopped
6 garlic, sliced
1/2 cup extra virgin olive oil
1/2 tsp. red chili flakes, optional
Sea salt and Pepper to taste
Instructions
Put the potatoes in a medium pot (with a lid) with about 2 cups of water. Bring to boil. Reduce and cook until tender, usually about 20-25 minutes. Drain off liquid. Set aside.
In a large skillet (12" diameter) over medium heat, pour about half the olive oil. Add garlic and sauté until fragrant and tender, several minutes.
Increase heat to medium high. Add the potatoes and fry in the garlic olive oil for about 5 minutes tossing and turning.
Add the Swiss chard and with tongs toss and blend together. Add the remaining olive oil, red chili flakes and salt and pepper to taste.
Reduce heat to low. Cover. Let this mixture steam/cook about 10 minutes.
Notes
You can substitute another type of green, collards, kale, mustard greens.
Yukon potatoes are HIGHLY recommended. Do not peel. They're creamy, buttery and perfect for this recipe!
Serve with a protein for a complete meal.
Blitva is typically served with seafood.