Earthy. Hearty. Filling. Rustic. Those are just a few adjectives that describe this Bosnian Pot. Add to that flexible and easy, and you know you want this on your dinner table now!
Actually called Bosanski Lonac, this Eastern European culinary specialty has deep rich flavors, and you can vary the veggies according to your likes. The two main things you must have in it are meat and vegetables! And, in the old country, the vegetables were chosen according to what was in season. So, adjust this recipe accordingly depending upon your time of the year.
The roots of the Bosnian Pot are similar to the Middle Eastern tagine. Originally, this dish was made in ceramic pots that were cooked over a fireplace or buried in a pit in the ground. For centuries, this pot of meat(s) and vegetables has been eaten by families, privileged and poor, and been a staple on dinner tables. It's a historical adventure for your palate!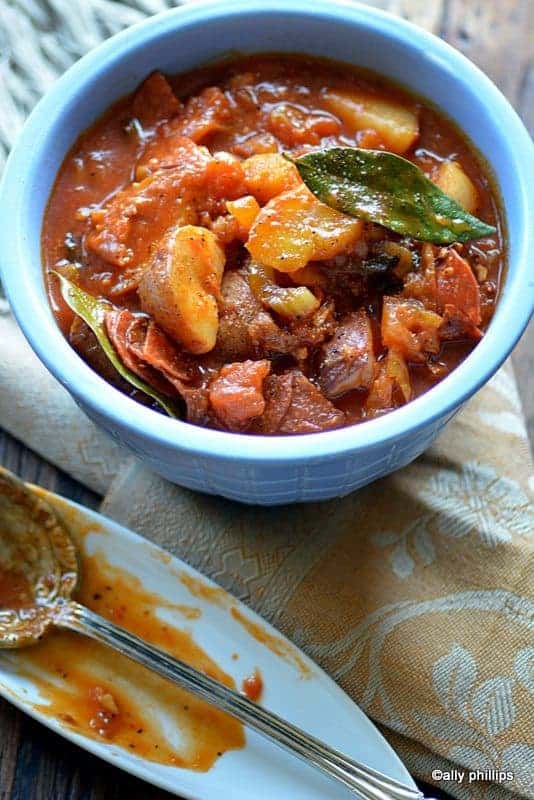 Ingredients
Preheat oven to 400
SPICE MIXTURE:
1 tsp. sea salt
2 tsp. peppercorns, whole
1 tsp. red chili flakes (reduce amount if you don't want as much heat)
3 bay leaves
POT:
2 Tbl. Butter
¾ to 1 lb. beef, cut into bite-size pieces (tender cut of beef like ribeye or NY strip)
1/3 cup pepperoni, cut in halves
2 Tbl. Garlic, minced
1/3 cup shallots, thinly sliced
¼ cup vodka
4 cups vegetable juice
3 tomatoes, cut into chunks
2 large carrots, cut into chunks
2 cups red potatoes, cut into chunks
2 cups celery, sliced with leaves
½ cup whole fresh basil leaves, packed & roughly torn
Instructions
In a small bowl blend together the salt, peppercorns, red chili flakes and add the bay leaves. Set aside.
In a heavy stew pot over medium high heat, add the butter, melt then add the beef and brown on all sides. Add the pepperoni. Blend and cook about 3 minutes then add the garlic, shallots, spice mixture and cook another 2-3 minutes.
Add the vodka and blend (scraping and deglazing the pot). Slowly drizzle in the 2 cups of the vegetable juice and let it start bubbling. Cook about 3 minutes then add in (making layers) the tomatoes, carrots, potatoes. Top with the remaining vegetable juice. Don't blend.
Cover tightly with a lid then put the pot on a cookie sheet and into a preheated 400 oven for about 45 minutes. Add the celery and blend. Return to oven for another 15 minutes. Remove and blend in the fresh basil before serving. Let the Bosnian Pot rest about 15 minutes.
Serve!
https://allyskitchen.com/bosnian-pot/
©ally's kitchen intellectual property