A rainy Saturday afternoon.  Fall. Football season.  What better than to curl up on the sofa  with some great snacks that are easy to make and that disappear in no time!
That's what happens when you whip up these oven roasted drumettes. And, the smoky chipotle sour cream sauce just tops off each luscious bite, what else can I say other than, you'd better have a tall cool one ready to sip on after you down these wicked legs! With love and creole seasoning and smoky chipotle sauce in your future
xoxo ~peace & cool drinks~ ally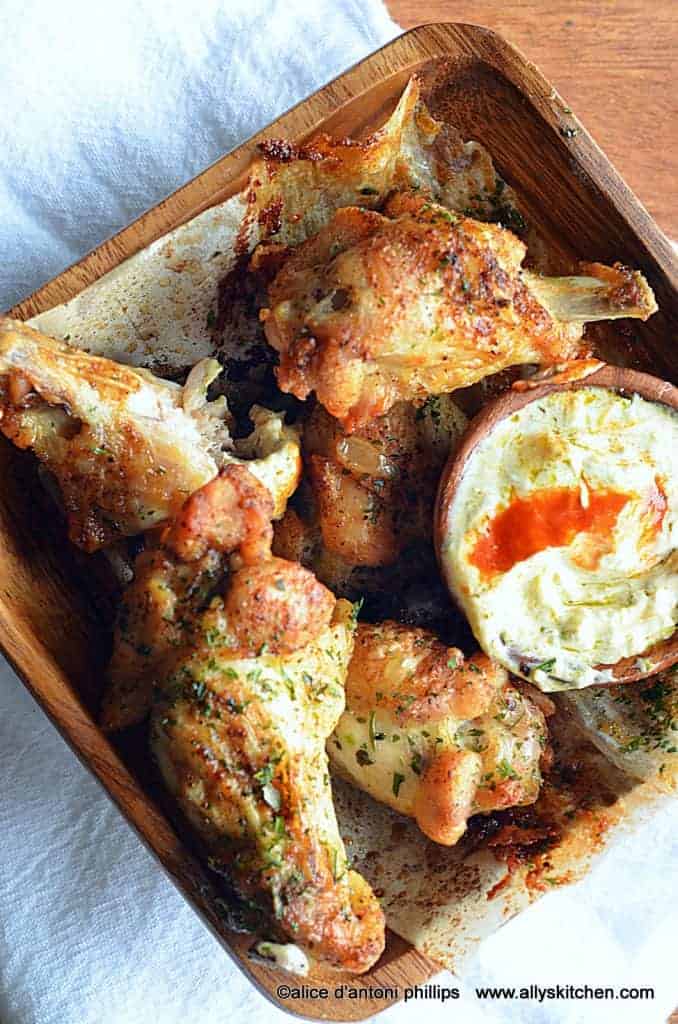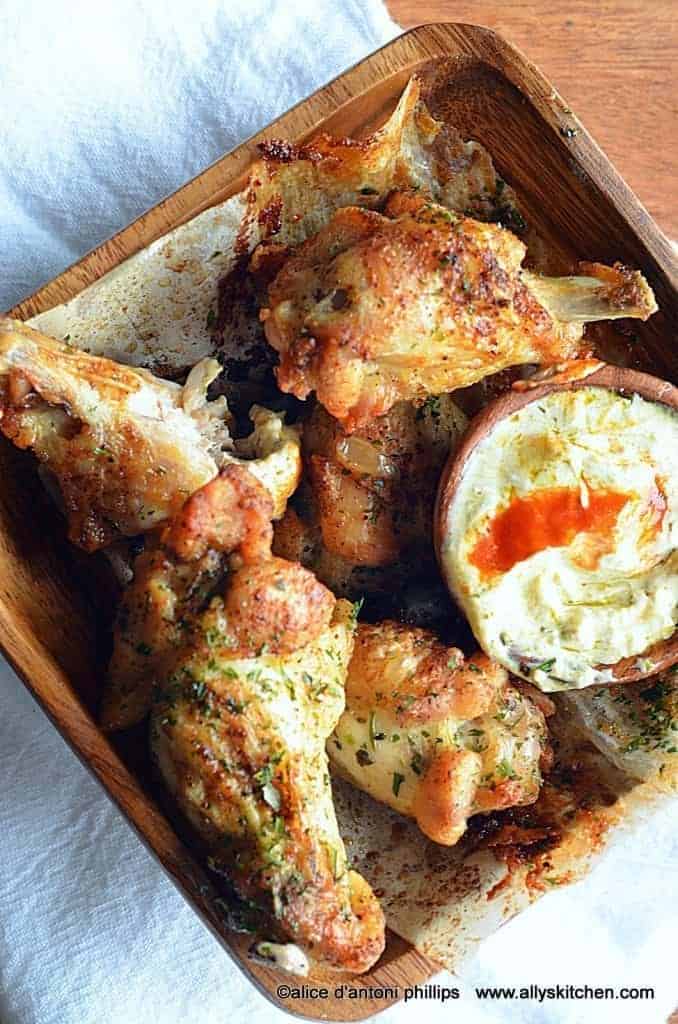 creole drumettes with herbs & smoky chipotle sour cream sauce
Ingredients
Preheat oven to 425
16-20 chicken ddrumettes
4 Tbl. butter
1 Tbl. Creole seasoning mix (I used Tony Chachere's Originial Creole Seasoning. You could substitute cajun seasoning.)
1/2 tsp. sea salt
1/2 tsp. paprika
2 tsp. dried mixed herbs (your choice~~I used parsley, basil and oregano.)
Sauce:
1/2 cup sour cream
4 Tbl. mayonnaise
1 Tbl. Smoky Chipotle sauce (I used 9-80 Panama Gourmet Sauce ~~ you could substitute another hot sauce)
1/2 tsp. sea salt
1/2 lime juice
Instructions
Put the butter in a small microwavable bowl; heat on high for 15 seconds.  Add the creole seasoning, salt and paprika and mix.
Wash and dry the drumettes.  Spread on a parchment paper lined cookie sheet.  Drizzle on the seasoned butter and toss and coat the drumettes well.  Bake in a preheated 425 oven for about 20-25 minutes or until golden brown and some crisping forms on the drumettes.  Remove, sprinkle on the dried herbs and let rest a few minutes then serve.
Sauce: Combine the sour cream mayonnaise, smoky chipotle sauce, salt and lime juice and blend. Refrigerate until ready to serve with the drumettes.
https://allyskitchen.com/creole-drumettes-with-herbs-smoky-chipotle-sour-cream-sauce/
©ally's kitchen intellectual property