Thanks to Dole Sunshine for partnering with me for this post! I am the creator of this recipe and for the description and information that follows. For a full disclosure, click here!
Healthy food doesn't have to be boring. I mean you can have something packed with flavors and textures with just a few ingredients. And, that's exactly what this pineapple tidbit salmon salad is. Healthy and packed with flavors and textures!
You also have some good options when you're thinking about the protein you want to use. Now I decided to grill some salmon, let it cool, then shred and make into a divine salad. But, if you don't have time to do that then grab a pouch of delicious salmon that's found in most grocery stores in the same place as canned and pouch tuna! And, if you want to pick up a rotisserie chicken and use that, then that's tops on the 'easy' scale.
This pineapple tidbit salmon salad is loaded with other healthy things like almonds, celery and red onions. But, the star of the salad offering a distinct contrast to the savory going on are the pineapple tidbits! You're gonna have a small burst of juicy mother nature sweetness in each bite! And, we're going to use some of the 100% natural juice in making our dressing. So get crackin' and pick up some cans of Dole Sunshine Pineapple Tidbits. There are soooooooo many things you can do with this product. Like salt and pepper, they're a staple in my pantry and I always have them on hand! xo ~ally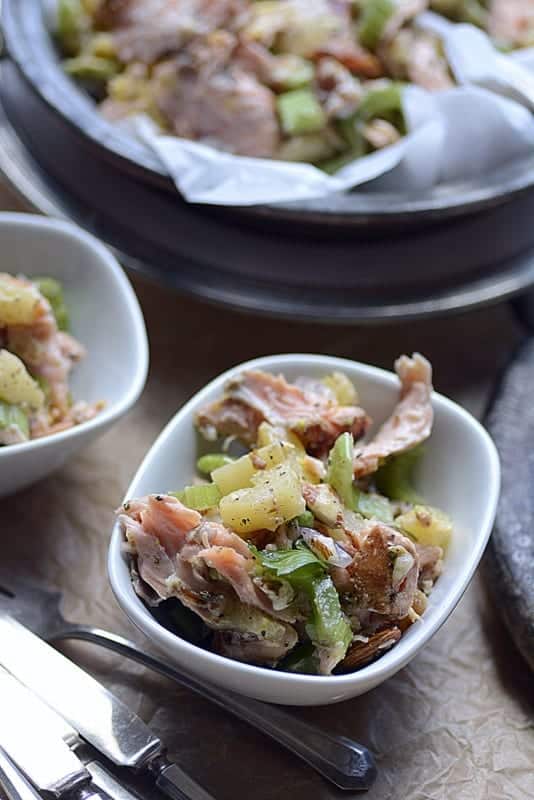 pineapple tidbit salmon salad
Ingredients
¼ cup mayonnaise, can use low fat
2 Tbl. mustard, classic yellow
3 Tbl. Gourmet Garden Basil Stir in Paste, can substitute basil pesto
2 (5 oz. each) pouches salmon (skinless and boneless) or chicken breast meat
1 ¾ tsp. sea salt, divided
1 ¾ tsp. coarse ground pepper, divided
1 can (20 oz.) Dole Sunshine Pineapple Tidbits.drain well, reserve ¼ cup juice
2 cups celery, with green leaves, sliced
½ cup red onions, fine dice
¾ cup almonds, roughly chopped/crushed
Instructions
In a small bowl, combine the mayonnaise, mustard, basil and reserved pineapple juice from tidbits draining. Whisk together. Set aside.
Open the pouches of salmon (or chicken). Place in large mixing bowl. Use a fork to separate meat somewhat.
Add the pineapple tidbits, celery, onions, almonds and remaining salt and pepper. Toss and blend. Add mayonnaise mixture and gently toss and blend.
Serve immediately or refrigerate and serve chilled.
Notes
Fresh cooked salmon or rotisserie chicken (shredded) can be used in this recipe.
Serve in pita pockets.
Serve with chips or crackers.
Serve on a bed of fresh arugula or spinach.
Garnish with chow mein noodles for more crunch.
Squeeze a splash of fresh lemon juice on it for more refreshing citrus flavors.
Serve atop an opened and flaked baked potato.
Butter and grill a slice of artisan bread and serve atop it.
https://allyskitchen.com/pineapple-tidbit-salmon-salad/
©ally's kitchen intellectual property