The Best Asian Beef Bone Broth Soup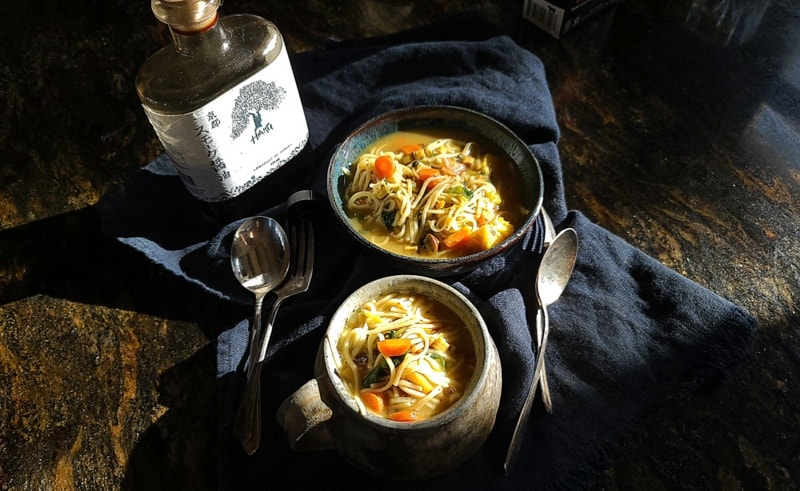 The Best Asian Beef Bone Broth Soup is made in no time! With the BEST beef bone broth out there, you build with spices, herbs and veggies!
Bone Soups
Alrighty, the best way to get some serious nutrition in your body is through amazing soups.
And, nothing beats bone broth soup. Don't know that much about the nutritional value of bone broth? Not to worry. Here's a quick read that I've prepared for you!
Bone Broth Noodles Recipe
What makes this bone broth noodle soup so easy is that you don't have to make your bone broth.
No, sireeee bobby, and I've spent hours making my own bone broth. But, now with Kettle and Fire bone broths, you can have this nutritional boost anytime of the day.
Check out Kettle and Fire. Use my discount code at checkout (good on one-time purchases only, not subscription plans) ALLYSKITCHEH.
Yes, I'm a brand partner with them. And, here's a full disclosure about my working with brands, and only brands that I believe are compatible with my Ally's Kitchen values.
Believe me I wouldn't recommend anything that I don't eat myself or give my friends and family. And, this is good stuff.
Ramen Broth
Noodles are pure comfort food. But, what makes noodles slurpable and delicious is the broth.
You're going to see how I boost the value of this already healthy broth with my selection of spices.
Soup with Noodles
Soups with noodles are quite filling and delicious.
In 2018, Ben and I spent a month in China. Our breakfast was traditional soups each morning. It sustained us throughout the day. Hot broths, a selection of fresh vegetables and if we wanted, meats and/or seafood in the bowls. We loved it! And, recreating it here with this soup and others brings back glorious memories of China, like climbing the Great Wall of China.
Is Bone Broth Good for Soup
You might ask this question, Is bone broth good for soup? It's a no brainer. The simple answer is YES YES YES! My Mom used to make homemade bone broths for us kids growing up in the Appalachian Mountains of West Virginia. Coming from the old country values (Croatia), she knew that foods were 'medicinal' and could heal.
It would take her hours and hours to boil and cook the bone broth. I'd get the bones free at the little coal company grocery store. Yes, the butcher would give them away. Not so now. The value of bones of beef and chicken and even fish can't be understated!
Is Beef Bone Soup Healthy
So dig in and eat healthy. Try some of my other bone broth soups, too!
Collards and Potatoes Italian Soup
Beef Broth Soups
Honestly, I don't want to seem 'pushy' but do yourself a favor and stock your pantry with bone broth. And, nothing's better than Kettle and Fire.
And, if you're still skeptical, and maybe think I'm just giving you a sales pitch, then Google and read up on it. The best way to serve yourself and what you put in your body is to read and do your own investigative work. Geeze, Mom didn't have the Internet in the 1950s and 1960s. But, somehow she knew the value of bone marrow and bone broth. Thank goodness she passed on this learning to me! xoxxo ~ally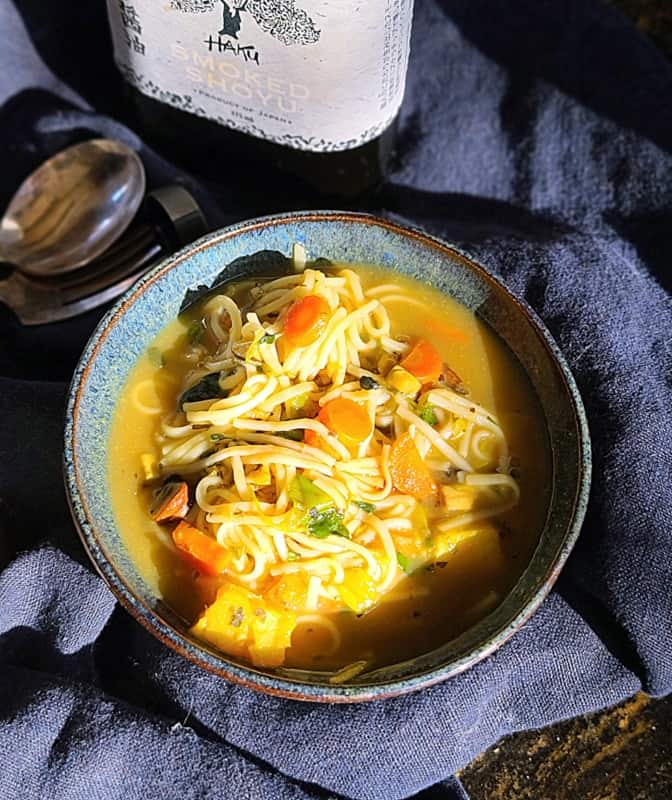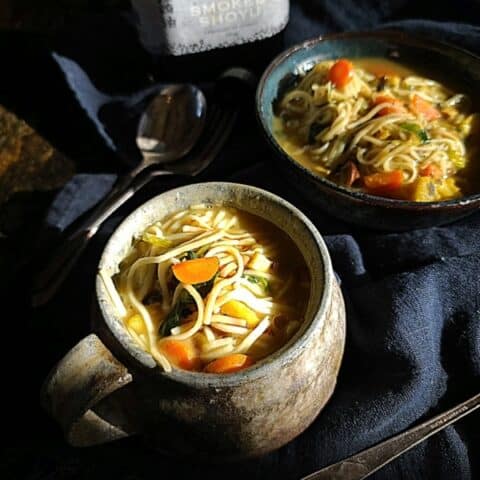 The Best Asian Beef Bone Broth Soup
Ingredients
1 box (16 oz.) Kettle & Fire Beef Bone Broth + 1 1/2 cups water
2 Tbl. ginger, freshly grated
1/2 tsp. turmeric
1/2 tsp. garlic granules
1/2 tsp. onion powder
1/2 tsp. sea salt
1/2 tsp pepper
1 tsp. Italian seasoning mixture
3 Tbl. soy sauce + more for serving
1/2 cup carrots, small dice
1/2 cup mushrooms, small dice
1/2 cup microgreens, packed, can substitute baby arugula or spinach
8 oz. rice noodles
Instructions
Put the bone broth and water in a medium sauce pan. Bring to a simmering boil. Add the ginger, turmeric, garlic, onion powder, salt, pepper, Italian seasoning and soy sauce. Whisk and blend.
Reduce heat to medium low. Add the carrots, mushroom and microgreens. Cover and cook about 5 minutes.
Add the noodles. Cover with the liquid. Use tongs or a spaghetti scoop to separate. Cover and let the noodles cook. Should take about 5-7 minutes.
Serve immediately.
Notes
1. The broth will thicken. Add water or more broth as needed.
2. Any types of veggies can be used. Cuts should be small dice for easy eating.
3. Toppings like crunchy chow mein noodles are fabulous on the soup. A new texture!