Thanks to Dole Sunshine for partnering with me on this aloha chicken wings recipe! I am the creator of this recipe and for the description and information that follows. For a full disclosure, click here! These aloha chicken wings will make you want to start dancing! Not only simple and easy, but, ohhhh, the flavors with the spice and pineapple!
Who doesn't love a new recipe for wings. I mean chicken wings are the American quintessential go to food for so many occasions. From Super Bowl to tailgating to picnics and just nibbling bar food, you can't beat chicken wings.
These wings are just so super simple. I love my wings with just a spice combo dry rub then roasting them in a very hot oven. After they're all cooked and crisped up, you can then slather on the sauce to whatever slather level makes you happy.
Pineapple Benefits
And, this slather sauce is the key to making these wings so aloha chicken wing perrrrrrrrrrrrrfect! You're making a sweet and savory thick sauce with actually some littl' chunks of sweet juicy pineapple since you're using Dole's crushed pineapples in it. Now while pineapples are tasty and delicious, they're also good for you. Pineapples are an:
Excellent Source of Vitamin C, which supports a healthy immune system.
Excellent Source of Manganese, which supports energy metabolism.
If you want to read more about the health benefits of pineapple chunks and tidbits, well, pineapple in general, then check out this article on 'health benefits'. From antioxidants and manganese to copper and bromelain, eating pineapple has goodliness for you!
This is not my only recipe for chicken wings using Dole's delicious fruits! You might want to try my Mandarin Spicy Wings!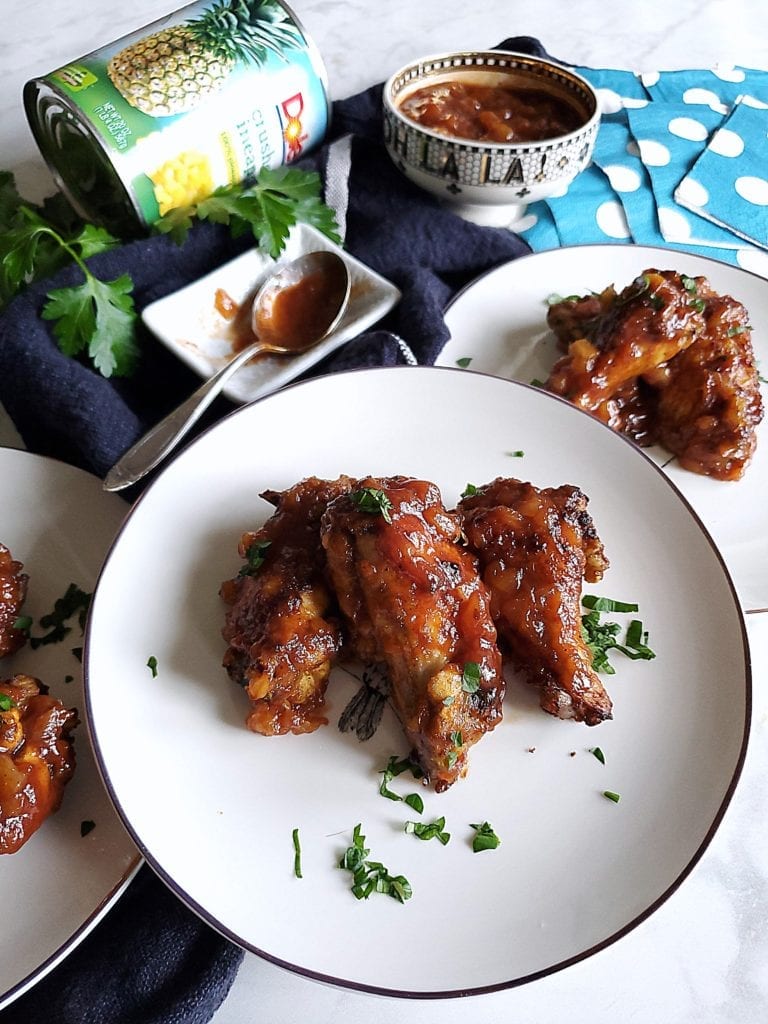 Ingredients
25 individual chicken wings
1/4 cup soy sauce
3 tablespoons cider vinegar
2 tablespoons garlic salt
1 tablespoon onion powder
1 teaspoon ground ginger
1 teaspoon paprika
1 can (20 oz.) DOLE® Crushed Pineapple
1 cup BBQ Sauce, your choice
Instructions
Split chicken wings at joints; discard wing tip. Place chicken in single layer in two baking pans sprayed with vegetable cooking spray. Pierce skin with fork.
Combine vinegar, garlic salt, onion powder, ginger and paprika; brush over chicken.
Bake at 400°F., 30 minutes, turning chicken over halfway through cooking.
Combine undrained crushed pineapple, ketchup, brown sugar and soy sauce in small bowl. Spoon half of sauce over wings.
Combine undrained crushed pineapple, ketchup, brown sugar and soy sauce in small bowl. Spoon half of sauce over wings.
Bake chicken 15 minutes more. Turn wings over; spoon remaining sauce over wings. Bake 15 minutes more or until chicken is no longer pink in center. Serve warm.
Tip: Wings can be made ahead and reheated in oven or over grill.
Notes
Save yourself some time and buy precut chicken wings. If you like both the wing and drumettte, great. If you just like the drumettes, then those usually are available at your grocery store.
https://allyskitchen.com/aloha-chicken-wings/
©ally's kitchen intellectual property