fresh herb cannellini beans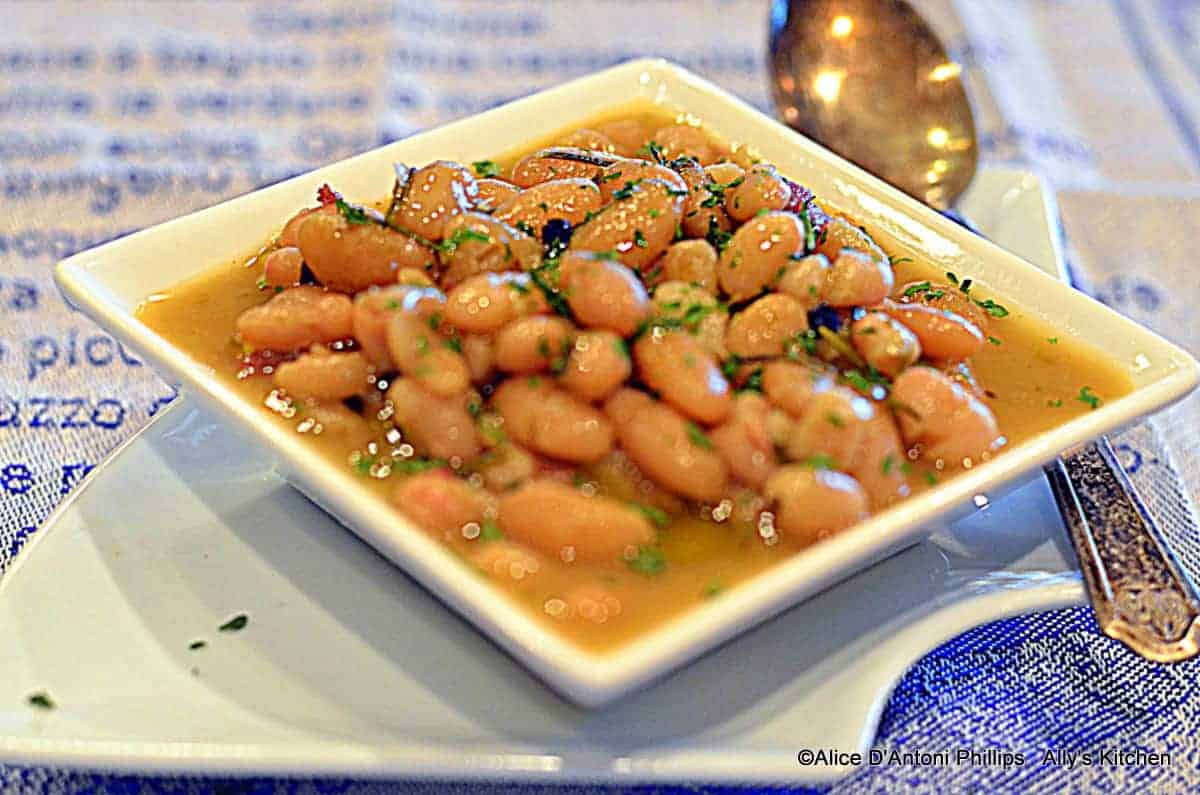 Cannellini beans~an Italian white kidney bean. So creamy and tasty. I love them best when I cook from scratch. Oh, yes, you can buy them canned, but they're scrumptuously easy to prepare and just perfect as a side or as the main dish. With the fresh herbs, the flavors just explode.
If you want to make them even a more hearty meal, stir in two cups of chopped greens~kale, chard, spinach~as well as about three-fourths cup of a small size pasta the last 30 minutes of cooking and you've got a dinner dish worth raving about! Don't forget to grate on plenty of parmesan reggiano!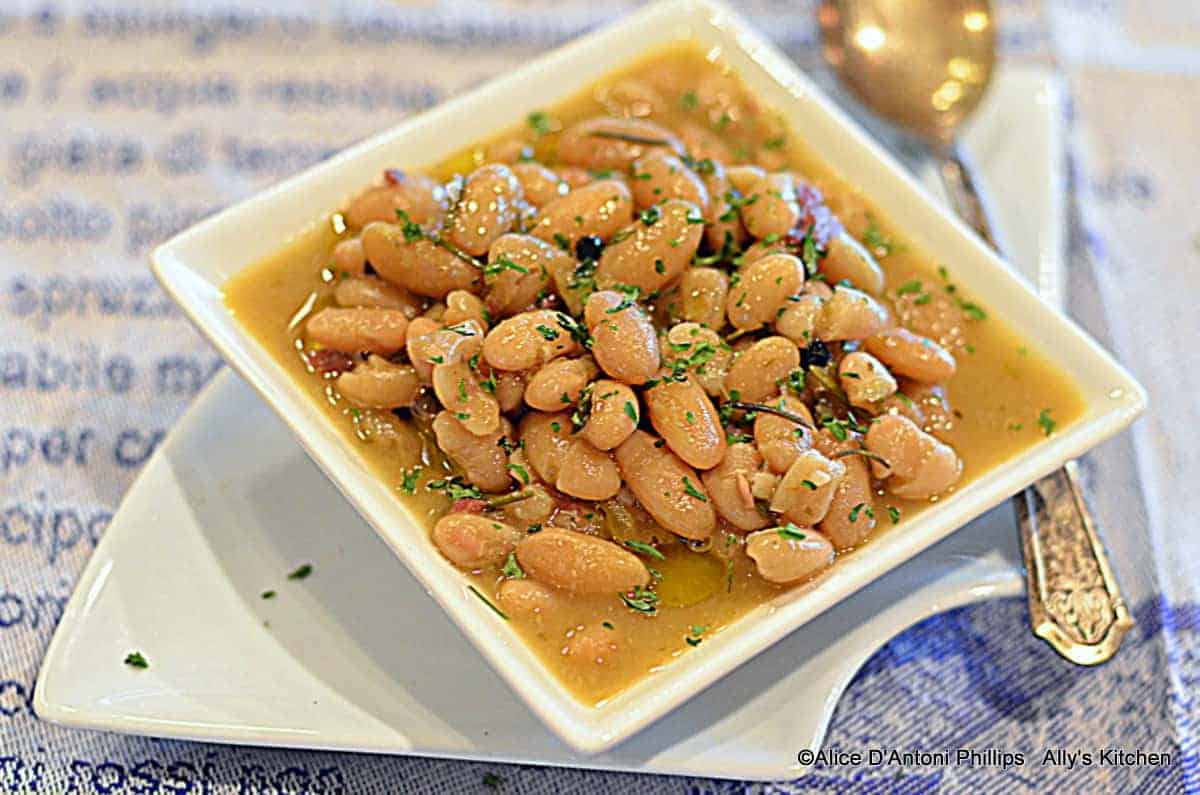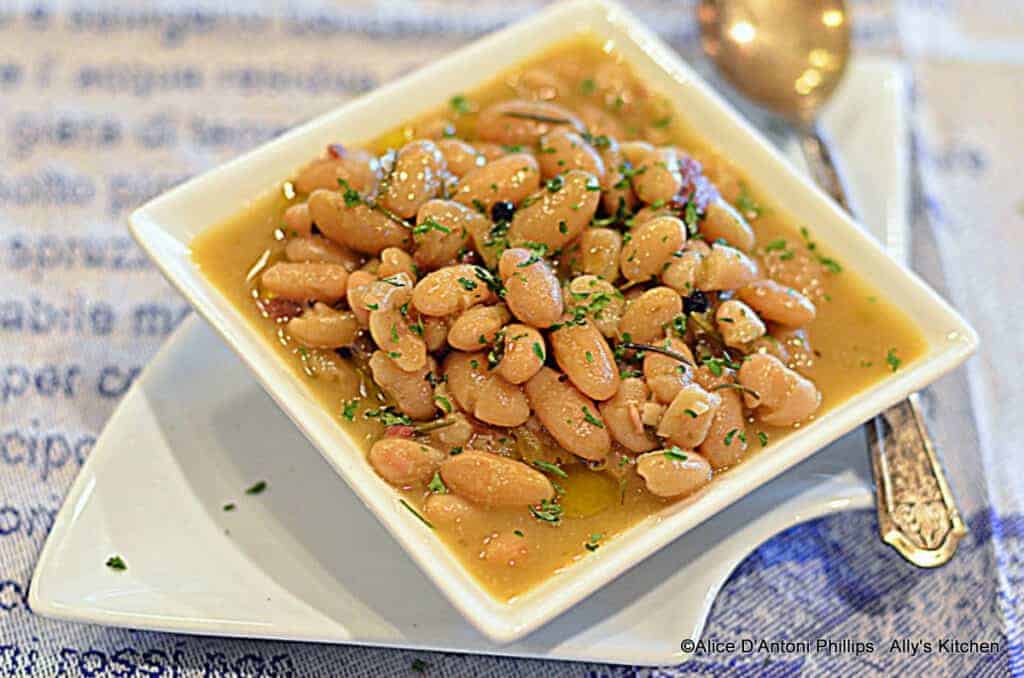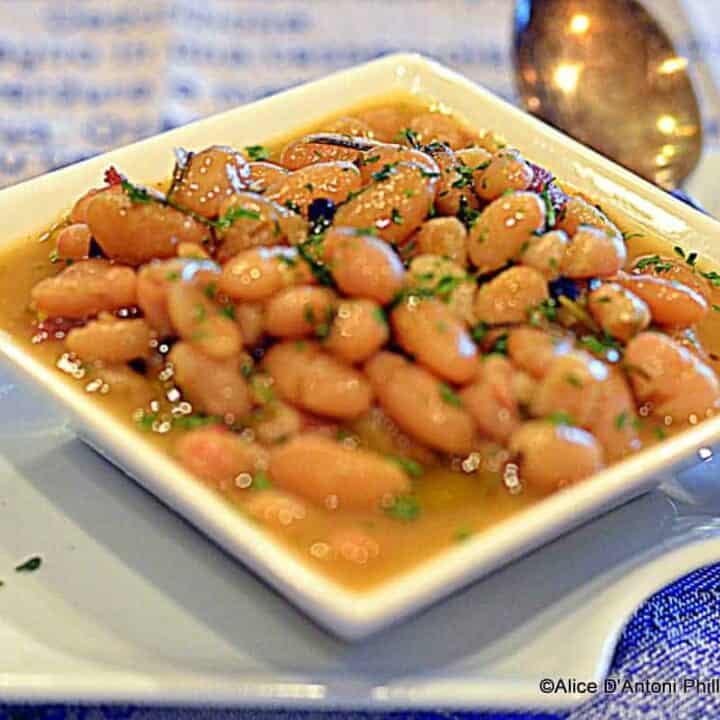 fresh herb cannellini beans
Ingredients
2 cups dry cannellini beans
¼ cup bacon drippings (can substitute a ham hock or olive oil)
3 garlic cloves, smashed
Water (lots of it)
32 oz. chicken broth (divided)
2 tsp. sea salt
1 tsp. white pepper
1 tsp. red chili flakes
1 bouquet bundle of fresh rosemary, thyme, and oregano tied with cooking twine + more for garnish
1 cup ham, diced
!
Instructions
Put the beans, bacon drippings, garlic, 3 cups of water, 3 cups of chicken broth, salt, and pepper in a heavy pot. Turn heat to high, put a lid askew and bring to boil cooking about an hour. Check to see if they need more water/chicken broth. Don't let them boil down and burn.
!
Reduce heat to medium. Cover with the lid, Add the chili flakes and herb bundle. Continue to add water/remaining chicken broth and cook another 60-75 minutes or until the beans are tender. Test by tasting a bean or two. Stir occasionally. Remove the herb bundles and discard.
!
Add the ham, put beans on simmer and let them rest about 30 minutes until serving (again, adding any water if needed.)