lemon blueberry ricotta custard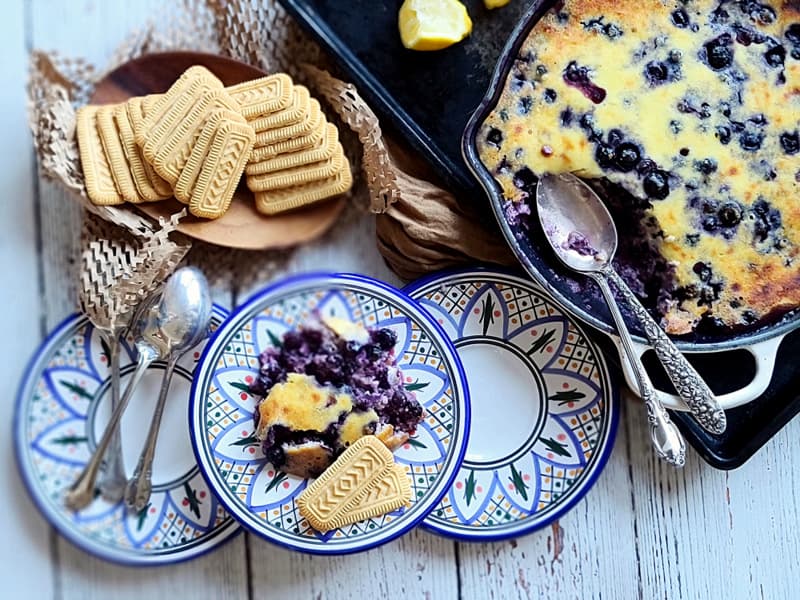 A simple rustic dessert. Lemon blueberry ricotta custard is surprisingly effortless to make! Bursts of blueberries in every bite!
Baked Ricotta Custard
This lemon blueberry ricotta custard is just so easy to make. And, it's perfect for not only desserts but also breakfast!
But you could even sneak this blueberry recipe into your breakfast or brunch!
Sweet Ricotta Bake
Now I love ricotta cheese and it's perfect for using with baking. With some farm fresh free-range eggs, sugar and vanilla, you have a creamy delicious dessert. As you can see, I served with simple little butter cookies. The extra crunch is just perfect with all the creaminess of the custard bake.
Ricotta Baking
Ricotta baking can be done in a skillet, pie plate, bread pan or whatever you like. Depending upon the vessel in which the ricotta is baked will also make a difference in the baking time. The thicker the custard batter, the longer it will take to bake completely.
If you're hankerin' for a ricotta cake, then check out this recipe!
Baked Ricotta
This baked ricotta has a refreshing lemoneeeee citrus burst and then you have the sweetness of the blueberries. And, what I think I love best about this recipe is how the blueberries kind of 'explode' during the baking and how it stains the custard. Just beautiful. That's one reason I call this 'rustic'! Another fruit that I love to use with a custard bake? Peaches. Check this Custard Peach Pie!
Ricotta Cheesecake Recipe
Now I love using ricotta in cheesecake recipes. Combined with a whipped cream cheese, cream cheese, or mascarpone it's the basis for a divine cheesecake.
Baked Lemon Ricotta Cheese Recipe
Creating an easy simple baked lemon ricotta cheese recipe is what I decided was a priority with this recipe. Now, in general, I'm not fond of too sweet desserts, so please taste this batter before baking to see if it meets your sweet buds. If you want more sweetness, then add a little more sugar.
Ricotta Pudding
This lemon blueberry ricotta custard is kind of like a pudding, but not as creamy as pudding. With all the eggs, you've almost got something like a breakfast frittata.
Lemon Ricotta Custard
Now if you wanmt this to be a simple lemon ricotta custard, then just omit the blueberries. Then you'll need to judge the type of pan or skillet you want to bake in. Don't forget to grease whatever you're baking in.
Blueberry Ricotta Tart
You could bake this in a tart pan, but I strongly recommending that you put parchment paper under the removable insert. This parchment paper, cut to the shape of the tart pan, should extend up the sides of the tart pan about one-half inch. Then grease the rippled perimeter of the tart pan (and insert) and with your fingers work the slightly exposed parchment paper into the ripples. I've not done this before, so I can't guarantee success. But, when I do it, I'll update this recipe and share with you.
Healthy Baked Ricotta Dessert
Healthy baked ricotta desserts are a treat. You can substitute another berry. I think raspberries would be beautiful. Honestly, I think I'd also give slice bananas a try, too! Blackberries would be great, too. And, if you're thinking muffins then how about blackberry ricotta muffins!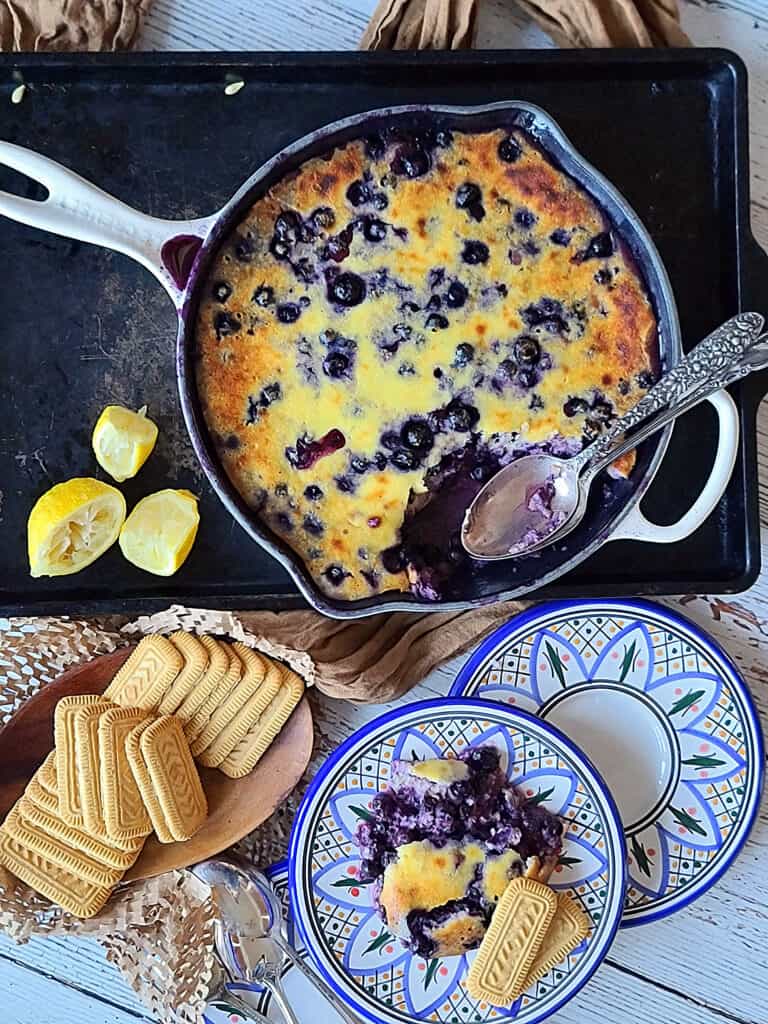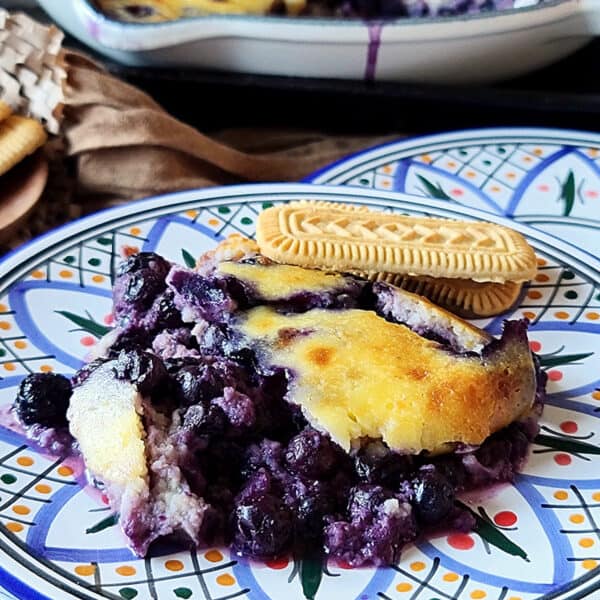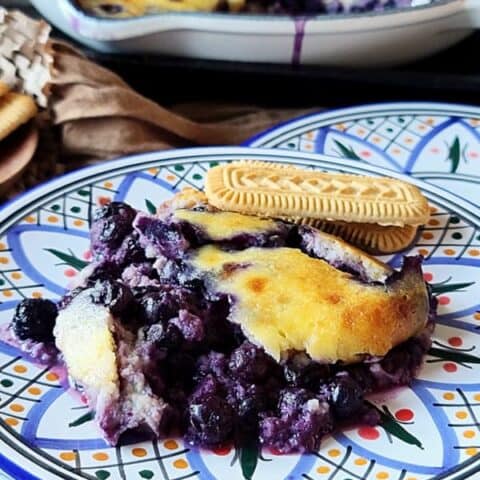 lemon blueberry ricotta custard
A simple rustic dessert. Lemon blueberry ricotta custard is surprisingly effortless to make! Bursts of blueberries in every bite!
Ingredients
Preheat oven to 350 then broil to brown
5 cups blueberries, fresh or frozen, thaw and drain if frozen
1 container (15 oz.) ricotta cheese, room temperature
3 eggs, beaten
1 lemon, juice and zest
1/3 cup sugar
1 Tbl. + 1 tsp. corn starch
Pinch salt
¼ cup heavy cream
Instructions
Grease a skillet (about 8-9" diameter). Pour in the blueberries.


In a mixing bowl, combine the ricotta, eggs, lemon juice/zest and sugar. Blend well.


In a small cup whisk together the cornstarch, salt and heavy cream. Pour into the ricotta mixture and blend well.
Pour this mixture over the blueberries.


Bake in a preheated 350 oven for 55 minutes or until a toothpick comes clean from the center.

(Optional) Turn oven to boil for about 3-5 minutes to brown top. Skillet should be about 12"+ from broiler.


Cool and serve. Can be refrigerated and served chilled.

Notes
Dust servings with powdered sugar, optional.

Serve with simple butter cookies.

Sprinkle toasted coconut on top, optional.