Chunkie Banana Nut Brown Sugar Bread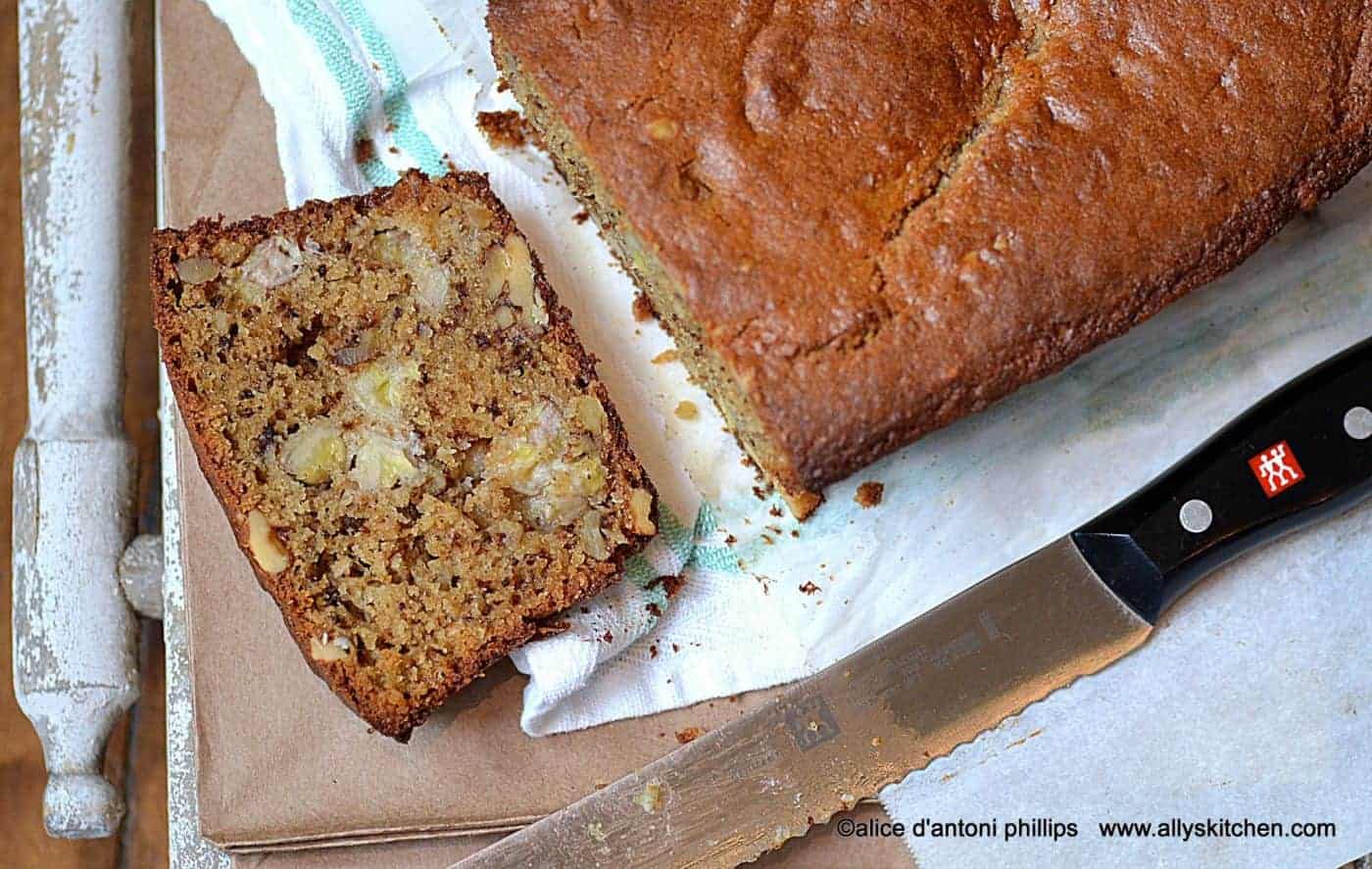 If you're looking for THE best banana bread recipe with chunks of bananas, walnuts, cinnamon, cardamom, and brown sugar love. Then here you go!
Delicious banana bread
This chunky healthy banana bread is more about seeing the bananas rather than ever eating them. I wanted to conserve the elegance of the banners in the bread, as bite-size chunks, because I figured I'd be traveling and wouldn't be able to eat them or wait for them to ripen to the good ol' mushy very ripened level.
Easy to make banana bread
There are several reasons that lead to this being the best healthier banana walnut bundt cake ever! It's completely insane! Who doesn't like a healthy crunch for every bite? Walnuts are one of the nutritious nuts that you can consume. There's a taste of cardamom in there! If you haven't experienced the seasoning yet, you're missing out. This banana bread is easy to cut into slices. Allow time for it to cool and set. I know you'll be chomping at the bit to eat, but take a deep breath and wait!
Banana bread with ginger
It performed so well that you get not just the banana pumpkin walnut spice cake link taste but also the visual bites of bananas! After two and three days, I can confidently say that this bread lasts well, is soft, and gets much tastier. I packaged two large slices in wax paper (which I like almost as much as parchment paper) and ate them days later. Even though I finished it while writing this article, the banana bread was always delicious!
Turkey sandwich and banana bread
Check out this French Madame Turkey Sandwich before I sign off! It's gaining a lot of traction on Pinterest. It's easy to see why; it's awesome! xxxx genuinely
How to make banana bread
This is my husband's recipe, which he has mastered over the years for Banana Almond Pie Pan Cake and for which he is renowned. He makes it on a regular basis, and it still sells out! It's fast and easy to produce, and it's our favourite way to stop wasting overripe bananas. It's super fluffy and making a perfect on-the-go meal. This recipe also resulted in Banana Muffins.
Flour, sugar, salt, baking soda, vanilla extract, softened butter, milk, and, of course, really ripe bananas are what you'll need to produce the perfect banana bread. It's optional to add walnuts and raisins, but they add great flavour and texture, making it into a banana nut loaf.
Banana bread with raisins
Yes, please! If the raisins and walnuts are left out in chewy oatmeal date raisin nut cookies, the recipe will still work. Due to a walnut deficiency in the household, we still keep it nut-free. You'll always get the softest, most flavorful, and delectable loaf. You can also make Chocolate Chip Banana Bread by replacing them with chocolate chips.
If your bananas are still a little green and you want them to ripen faster, put them on a baking sheet and bake them at 250°F for 15 to 20 minutes, depending on their initial ripeness.
Bananas and recipes
If you're able to wait a day, put the bunch of bananas (without splitting them) in a paper bag, seal it, and set it aside at room temperature. Ethylene is produced by bananas, which allows them to ripen. Adding an apple to the bag will further speed things up.
My sister Anna turned this into a honey banana bread by omitting the sugar and mixing it with honey. Instead of all-purpose flour, use organic whole wheat flour. 1 tbsp ground flaxseed in place of 1 tbsp flour. When using very mature bananas, will the sugar to 1/2 cup; they can add plenty of sweetness.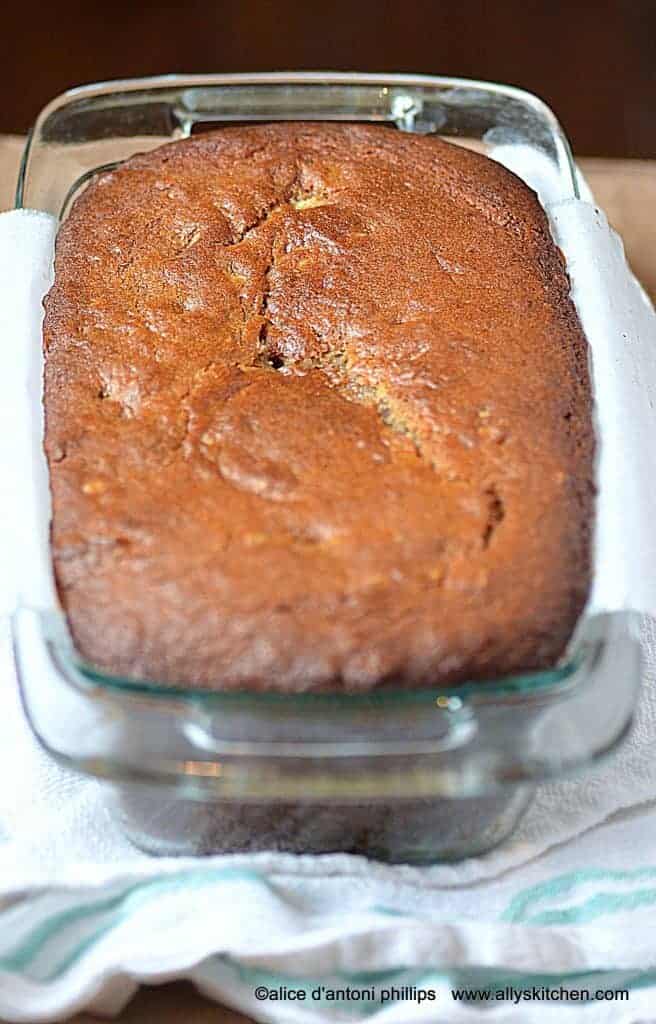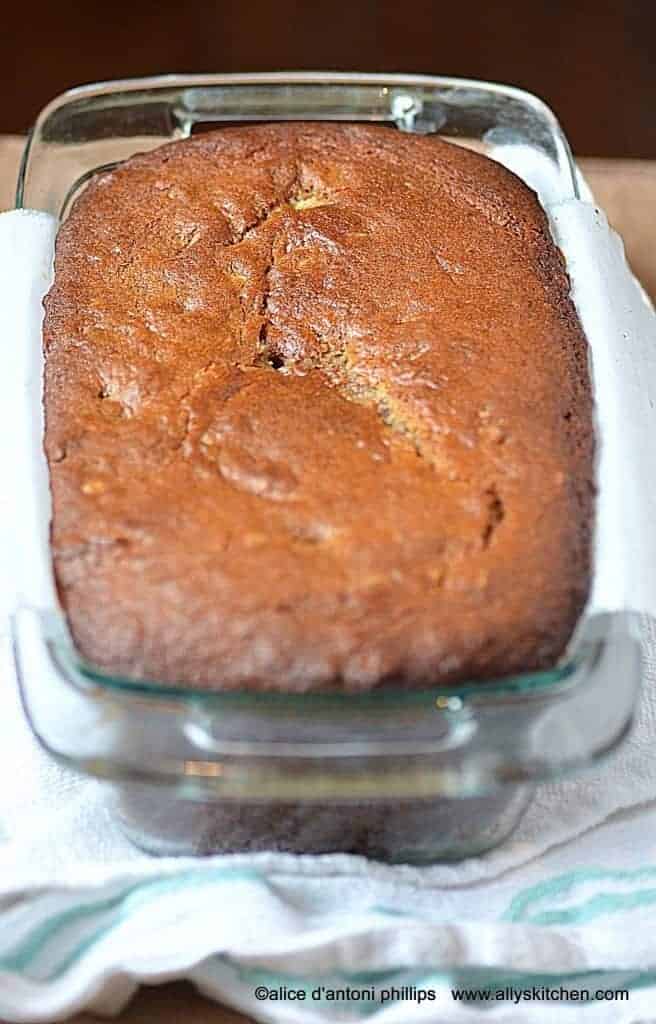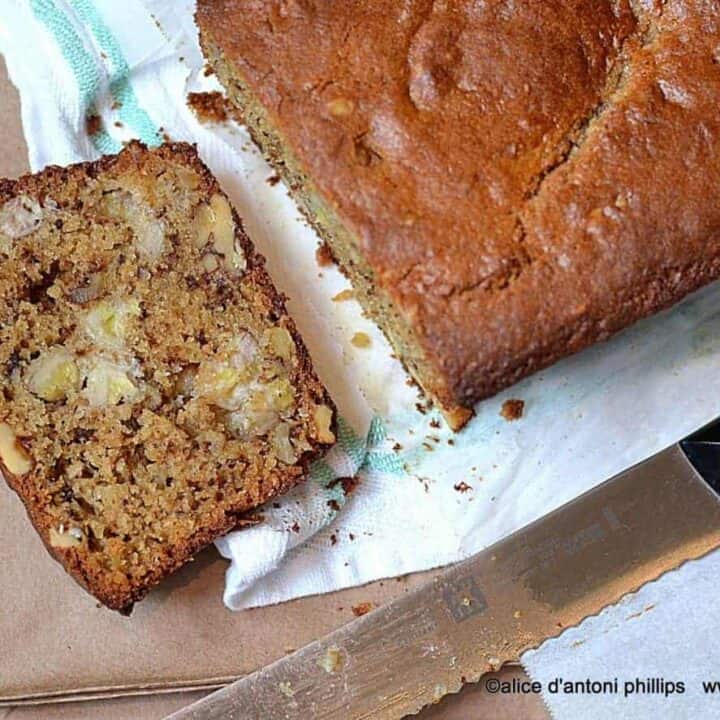 Chunkie Banana Nut Brown Sugar Bread
Yield: One Really Nice Loaf!

If you're looking for THE best banana bread recipe with chunks of bananas, walnuts, cinnaomon, cardamom and brown sugar love. Then here you go!
Ingredients
Preheat oven to 350
½ cup white sugar
½ cup brown sugar
½ cup butter, softened
2 eggs, beaten
½ cup buttermilk
2/3 cup plain yogurt
2 tsp. vanilla
2 cups all-purpose flour
1 tsp. baking soda
3 tsp. baking powder
½ tsp. sea salt
1 tsp. cinnamon
½ tsp. cardamom
1 ½ cup walnuts, chopped
2  large or 3 medium sized (not too ripe) bananas, cut into about 1" pieces
Instructions
In a large mixing bowl, combine the white, sugar, brown sugar and butter and blend with a hand mixer about 90 seconds. Add the eggs, buttermilk, yogurt and vanilla and blend together well.

In another mixing bowl, combine the flour, baking soda, baking powder, salt, cinnamon and cardamom and blend. Pour half into the wet ingredients and blend well, then add the remainder and blend well.

Add the walnuts and blend in well. Add the banana pieces, fold in gently.

Grease a bread pan well. Pour batter in and bake in a preheated 350 oven about 60-75 minutes.

After about 35-40 minutes, cover the top of the bread with a foil tent, so it won't get too brown. Do the toothpick test to check for doneness . Remove to a cooling rack.
Notes
This chunkie banana bread freezes very well!

Serve slices with a slather of whipped cream cheese or mascarpone.

Believe it or not, you can make French toast from the slices. Just make sure the slices are about a minimum of one-inch thick. Then treat this slice like you would bread for making the French toast.