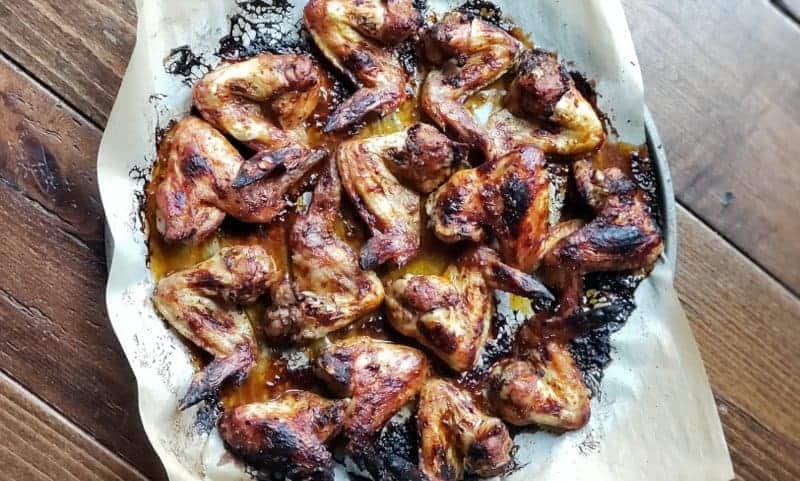 These kung pao chicken wings will probably be THE easiest recipe you've ever tried! Basically two, yes, two, ingredients. Come see why!
Yummy, Spicy, and Delicious Kung Pao Chicken Wings
Really want to taste something spicy this evening?
The spicy Kung pao chicken wings can be a great recipe, which brings in a big smile on your kids' faces. It's easy to prepare the dish and once you serve at the table you can see how everyone enjoys the snack. You can easily get the ingredients in your home except for the chicken, which you can buy from the market.
Kung Pao Sauce
Chicken wings! I mean they're almost as American as hot dogs and apple pie! Kung pao chicken wings with kung pao sauce are going to be the easiest wing recipe you've ever made! And, you can do it right in your oven! Or, if you would rather, heat up the grill and put those tasty wings on the hot grates, that certainly is doable!
Chicken "Kung Pao" – when you want bright and tasty Asian cuisine! We don't need any special or rare ingredients for this delicate and aromatic chicken. But it will come out very tasty due to the thick sweet and sour sauce.
Why Kung Pao Chicken Wings are so easy?
Well, besides just two ingredients, wings and the kung pao sauce, and some salt and pepper, your option, you can't get much easier! And, when you line your cookie sheet or pizza pan with parchment paper, well, clean up is less than about 30 seconds! Just wrap the paper up, toss into your recyclable bin, and you're done!
Sticky Wings
When we have sticky wings, that's about all we want. Well, other than a big fresh healthy salad. Yep, that's dinner in no time at all!
Now, I'm a chicken lover, and here's a recipe for dill pickle chicken, and aloha chicken wings that I think you'll love!
Kung Pao Chicken Recipe
While this Kung Pao chicken recipe calls for baking the wings in a hot oven, you can fry the wings. Here're some quick instructions for that process.
First of all, rinse the chicken wings under cold water and pat dry with a paper towel. Place the wings in a bowl, add black pepper and salt. For the first frying, heat vegetable oil in a frying pan to 170 ° C, you can check the temperature with a wooden spoon, if the oil is actively bubbling around the spoon, then the oil has warmed up. Place half of the prepared chicken wings in a skillet with butter, fry for 3 minutes until light brown, 1.5 minutes on each side, then transfer the wings from the skillet to a plate lined with paper towels.
Kung Pao Wings
As you know, oil cools during frying, so reheat the oil in the pan for 1-2 minutes to 170 ° C and put the remaining wings in the pan. Fry the second part of the wings in the same way as the first, then transfer from the pan to a plate with a paper napkin. For the second fry, heat the oil in the skillet to 200 ° C and fry the wings in two equal portions until golden brown, about 1.5 minutes on each side. Transfer from the skillet to a plate with a paper towel to drain off any excess oil.
Pour soy sauce into a clean skillet and add sugar, cook over medium heat, stirring until the sauce begins to thicken, about 2-3 minutes. Place the fried chicken wings in the sauce, stir so that the wings are completely covered with the sauce, sprinkle with sesame seeds.
The Kung Pao chicken is ready. Now served it as a main course or as a hot snack.
That's it for today! My easy spicy chicken wings recipe will be a winner for you. If you want more chicken wing recipes just check:
Mandarin spicy chicken wings
Bloody mary chicken wings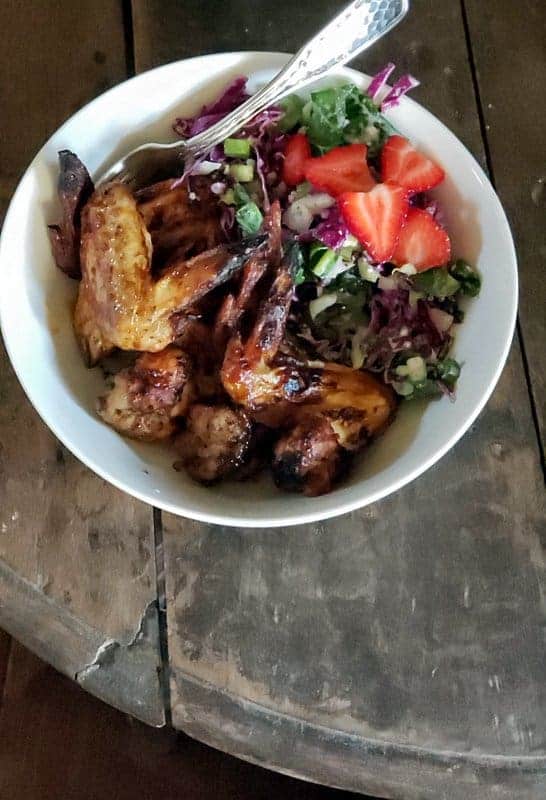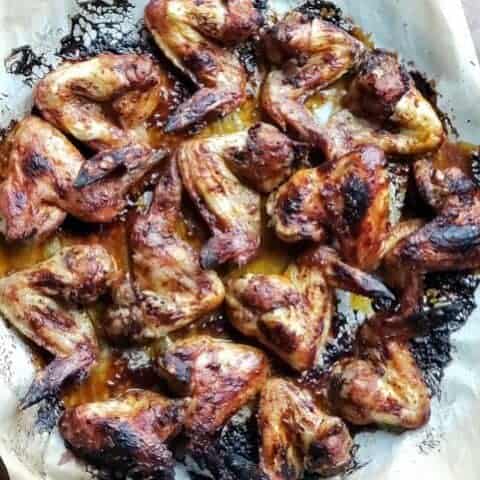 kung pao chicken wings
These kung pao chicken wings will probably be THE easiest recipe you've ever tried! Basically two, yes, two, ingredients. Come see why!
Ingredients
Preheat oven to 400
12-15 chicken wings, washed, dried
1/4 cup olive oil
1/2 tsp. sea salt
1 tsp. coarse ground pepper
KUNG PAO SAUCE (2 options):
1/2 cup Kung Pao Chicken Sauce, prepared/store packaged
SCRATCH SAUCE:
1 tablespoon soy sauce
1/2 teaspoon dark soy sauce
1 tablespoon rice wine vinegar
1 teaspoon sugar
2 tablespoons chicken stock, can substitute water
1 teaspoon cornstarch
2 Tbl. tomato paste
Instructions
Place the chicken wings on a large parchment paper covered cookie or pizza sheet.
Drizzle on the olive oil and work into all the wings. Add the salt, pepper and toss and blend.
Prepare Sauce from Scratch: Whisk together all ingredients in a small bowl and set aside. Let it sit about 10 minutes..
Place the wings on the cookie sheet. Use a pastry brush to coat the wings with the kung pao chicken sauce.
If you want your wings more brown, turn oven to broil (cookie sheet should be about 12" from broiler) for a few minutes.
Remove and let the wings rest a few minutes before serving.