Balsamic Basil Pan Seared Chicken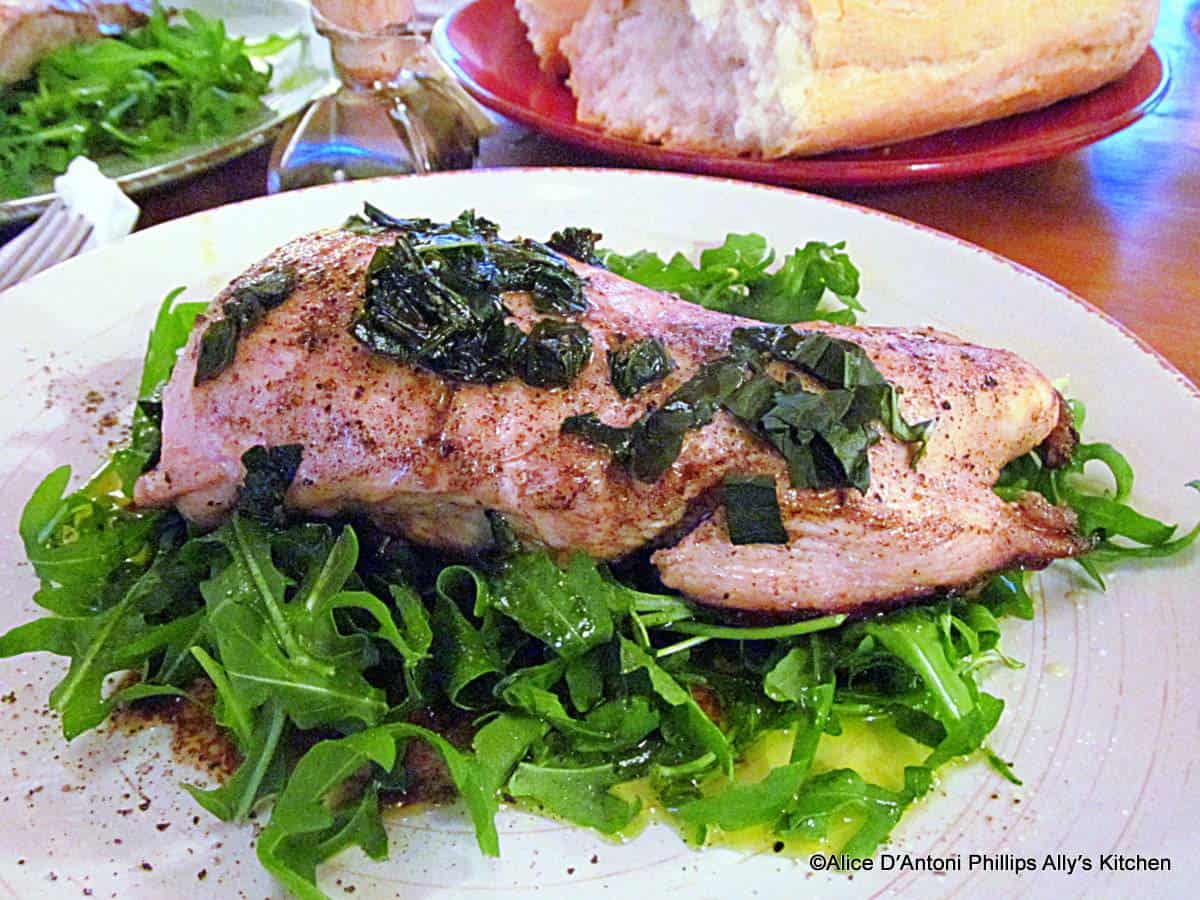 Our days in Tuscany in the Chianti area have been marked with a huge meal in the middle of the day at a fabulous restaurant somewhere in one of the many medieval villages that are sprinkled only a few miles apart.  When we return back to villa, we have yet another glass of wine, maybe some cheese and bread…after a couple of hours, we have no inclination to go out!  Two reasons drive this~~one,   it's getting dark and the narrow winding roads over the mountains scare the baaajjeeebeees outta me in the day, so no way I'm doing them at night , and, two, we're slabdab pooped!  So what do we do?  We cook in!  The kitchen is sparse about the size of my wine bar at home~~ya know, it's amazing how it's all I really need!
Today we stopped in Radda in Chianti and did some 'grocery' shopping at Casa Porciatti…now the market is not much larger than my living room back in the U.S., but it has everything you can imagine, shelves are well stocked, a few of many items, there are especially great meats, cured meats, vegetables, fruits, cheeses and wines!  There are no push baskets, the aged wooden floors barely are wide enough to let two pass side by side, and the butcher is the everything guy!  We got two huge chicken breasts…these were filets, still connected with some bone…it was as if they'd just come off the farm!
Since we don't have much to cook with, I've used what we have and that includes wine, fresh herbs, really good balsamic, olive oil, butter, Parmesan reggiano and lots of arugula~~a popular green in Italy~~and, of course, salt and pepper!  I definitely think this dish could pass for a real Tuscan meal!  PS…excuse the low-quality photos~~I've got this Brownie camera that is bush league!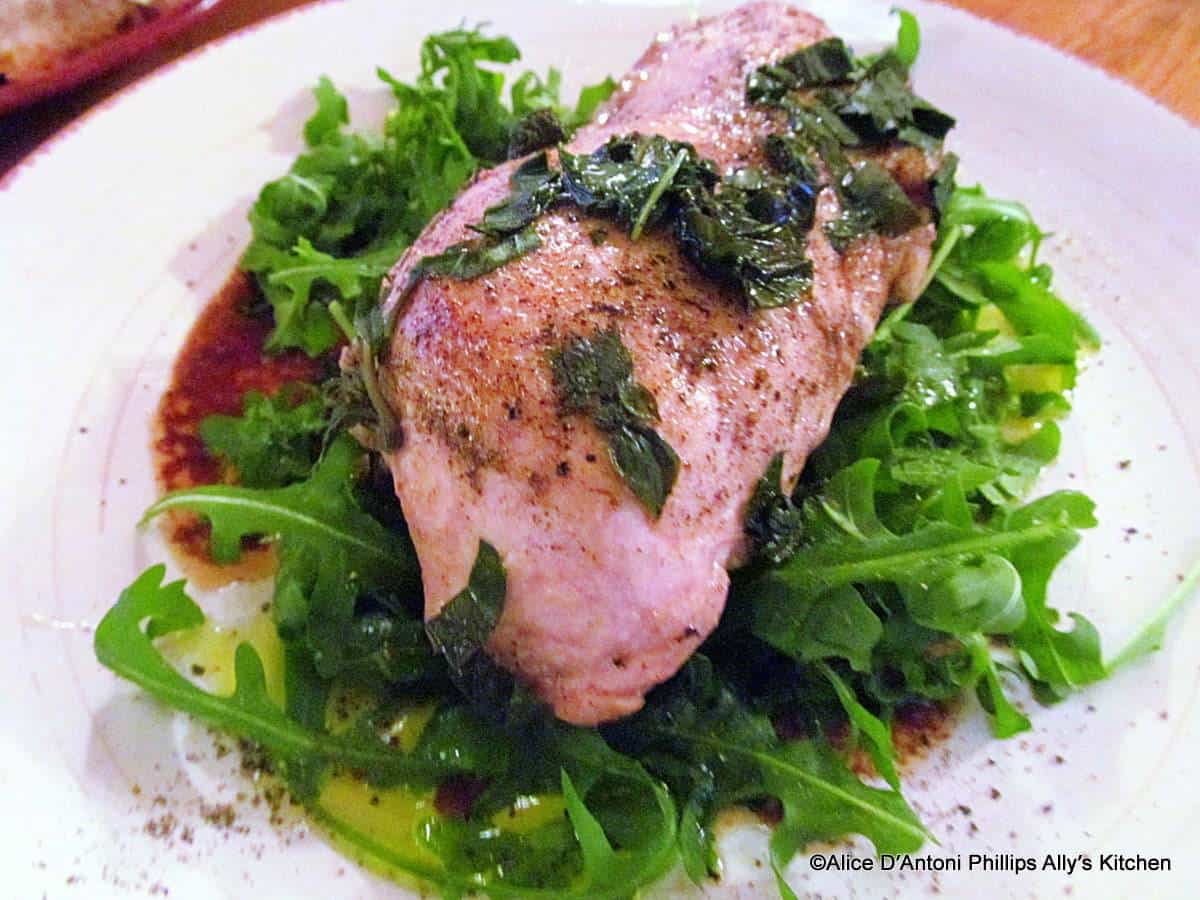 Serves:  2
What you need:
2 chicken breasts (boneless—thick)
Sea Salt
Fresh Ground Pepper
6 tbl butter
6-8 tbl balsamic (good quality!)
1/3 to 1/2 cup Chianti red wine
¼ cup chopped fresh basil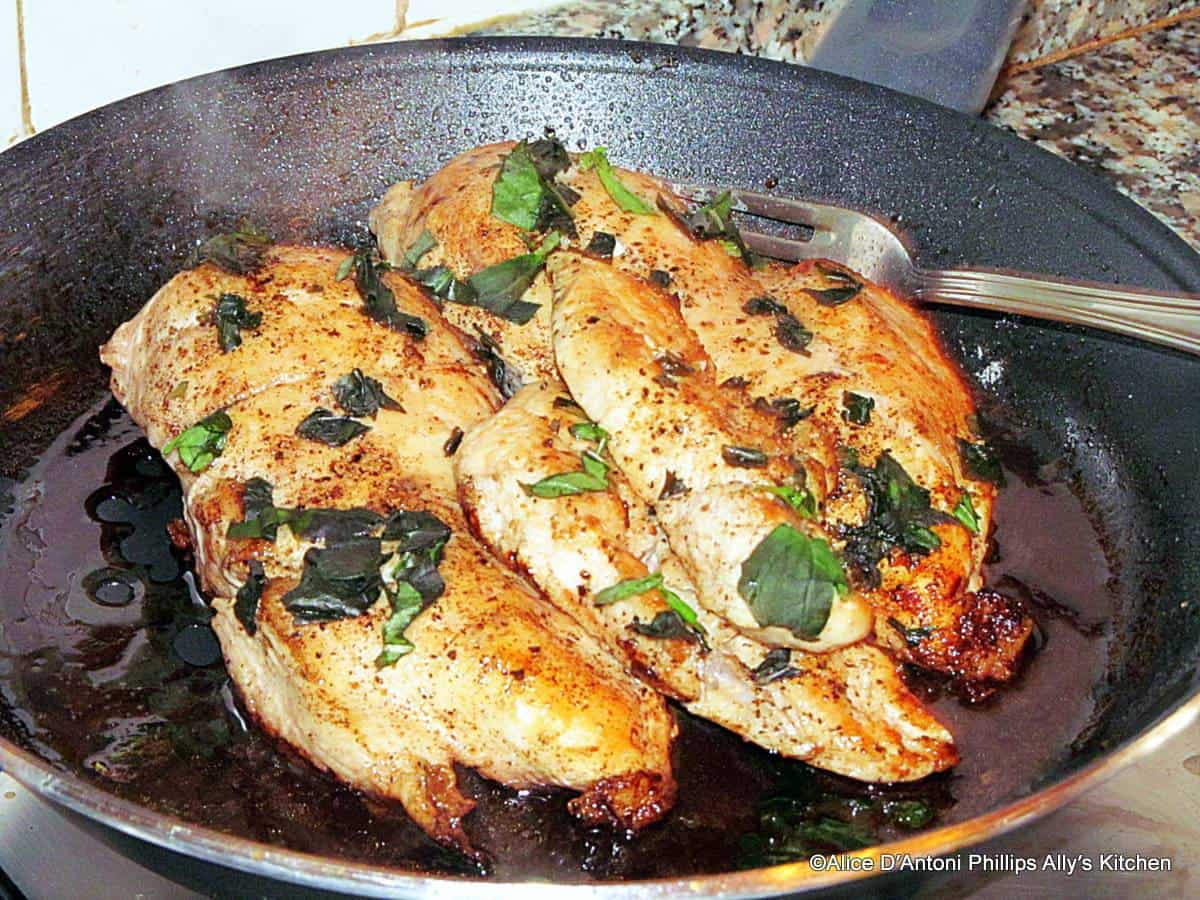 What you do:
Salt and pepper both sides of the chicken breasts.  Melt butter over medium high heat until it's slightly brown.  Place chicken top side down first.  Sear about 5 minutes or until there's a nice golden brown.  Flip the chicken and sear on the bottom side about 3-5 minutes.
Reduce heat to medium low, cover with a lid, and let cook about 10 minutes.  (Cooking time will depend upon the thickness of your chicken breasts.)
Remove lid and increase heat back medium high.  Drizzle the balsamic around the skillet (not on the chicken) then the wine and let sizzle and cook about 3-5 minutes reducing somewhat.  Turn off heat.  Sprinkle basil on chicken.  Cover with lid and let the chicken sit on the blaze another about 10 minutes.
Serve on a bed of arugula drizzled with extra virgin olive oil, sea salt and pepper.  Pour all the good balsamic-wine sauce on the greens and chicken!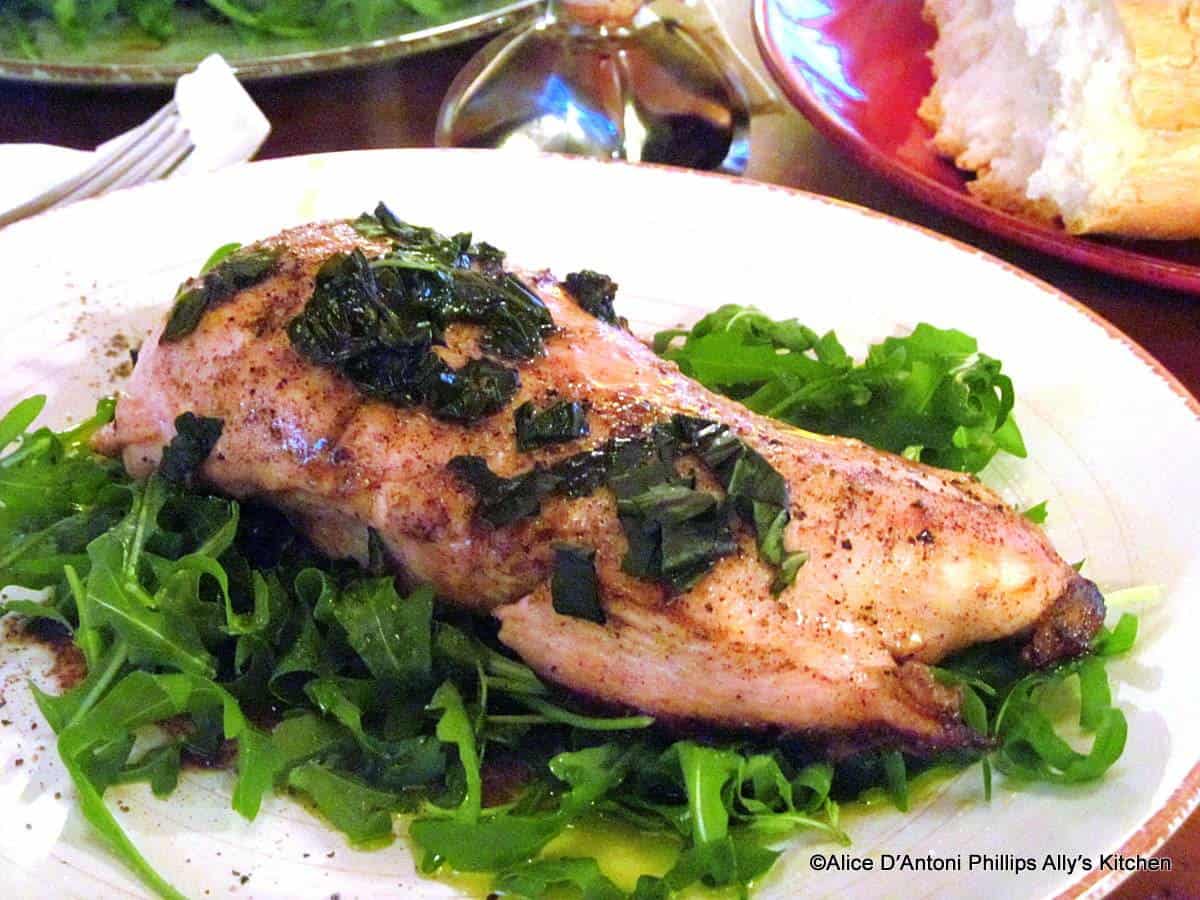 ©Alice D'Antoni Phillips  Ally's Kitchen