dark red cherry biscuit scones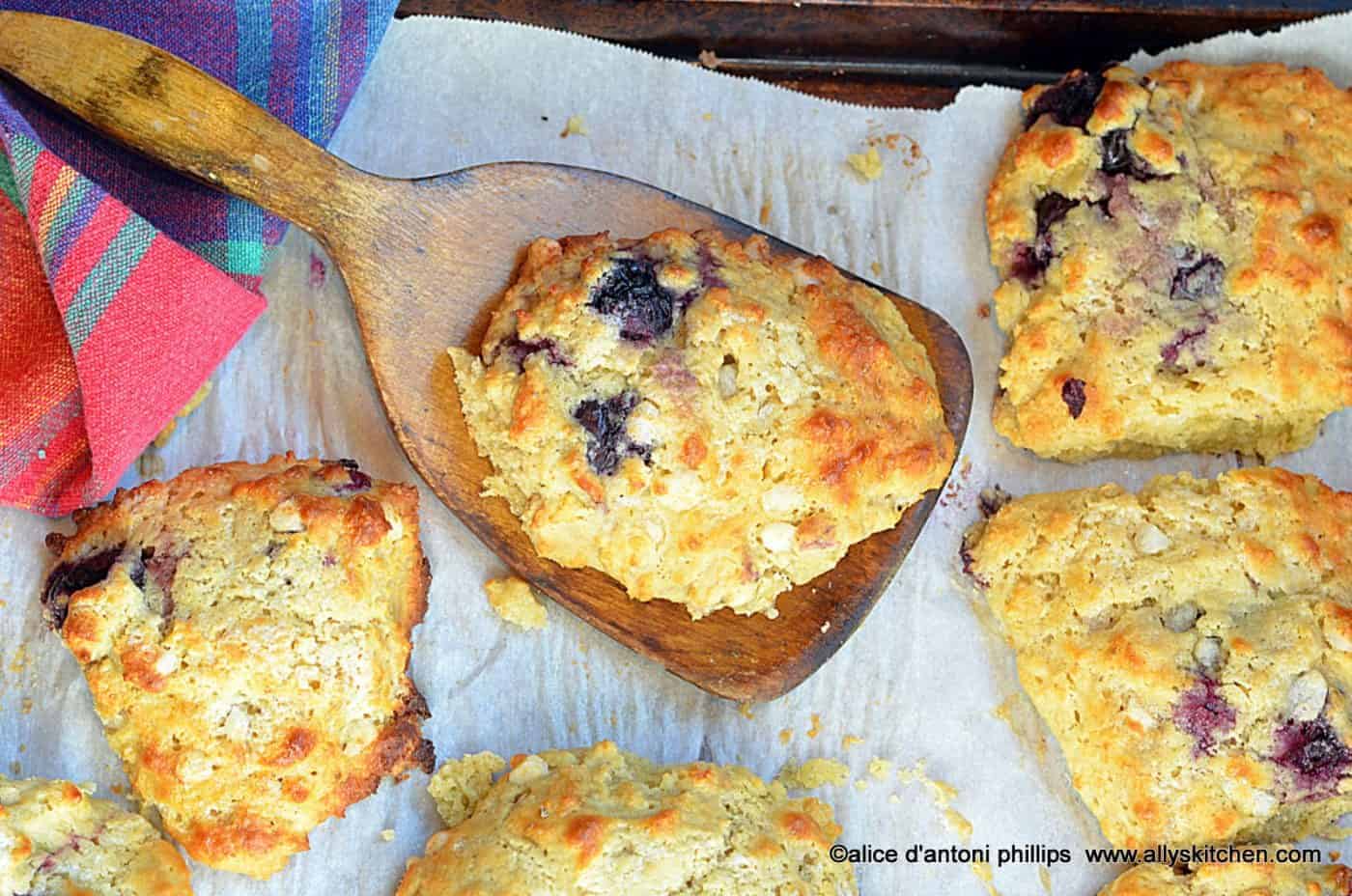 Thanks to Dole Sunshine for partnering with me for this post! I am the creator of this recipe and for the description and information that follows. For a full disclosure, click here!
When you have a real down-to-goodness born and bred dear French girlfriend and you serve her a pastry, you know you're could be treading on sacred ground~~I mean who knows their pastries better than the French. And, I knew I'd hit a homerun out of the park when Frenchie bit into one of these hot dark red cherry biscuit scones because there was a glaze over her eyes and a slow simmering grin that emerged on her face~~oh, yes, this was good, better than other scones that she'd eaten that were too dense and dry.
Gluten-free, tender and flaky, these biscuit-scones are a cross between a fluffy sweet biscuit and a scone. I like them very natural and organic in shape, hence, the big dollops of thick batter on the cookie sheet. The sugar pearls in the batter give you a surprise when you bite into one. Of course, you can substitute just sugar for the sweetness, but finding sugar pearls on the Internet makes this pastry special. And, you'll be using those sugar pearls for many other recipes, too. Of course, a substitution idea would be to take sugar cubes and coarsely chop them so you still have the 'chunks' of sugar in the batter.
Finally, and, yes, the best, is the large sweet burst of dark red cherry goodness that brings an oozing of flavor that's totally unexpected. Now, as with any of my boholicious recipes, I fully expect you to make them your own by putting on your own signature touches. If you want to use another berry (or none at all), have at it~~that's what 'bohemian bold' cooking's all about. Delighting in the magnificence of your own seductive power in the kitchen! xoxo peace and sugar pearls   ally
For more on my Dole work click here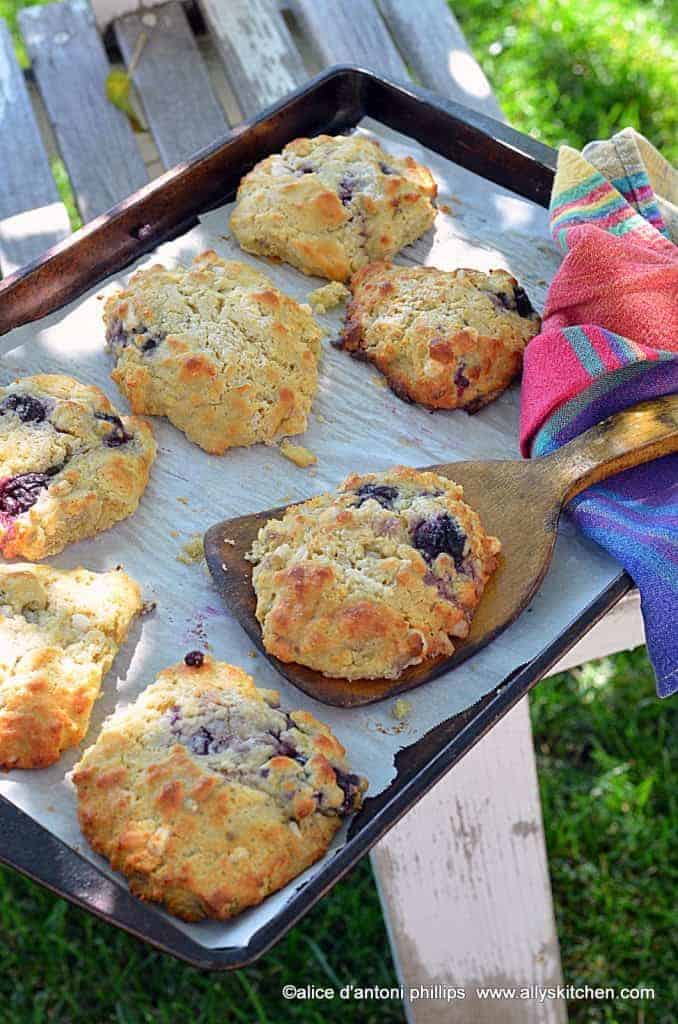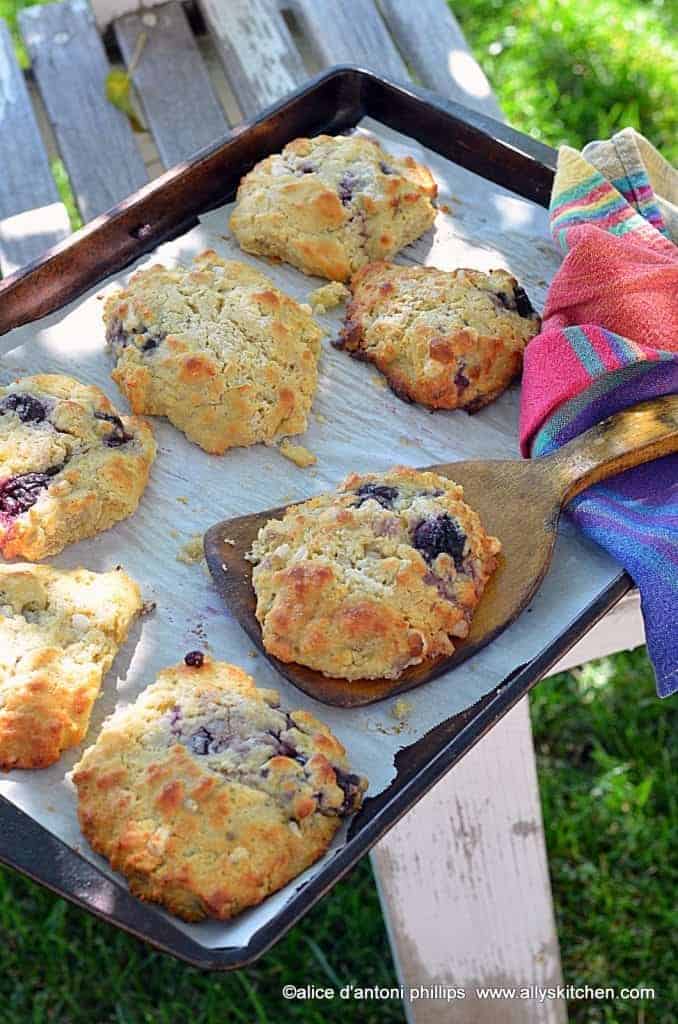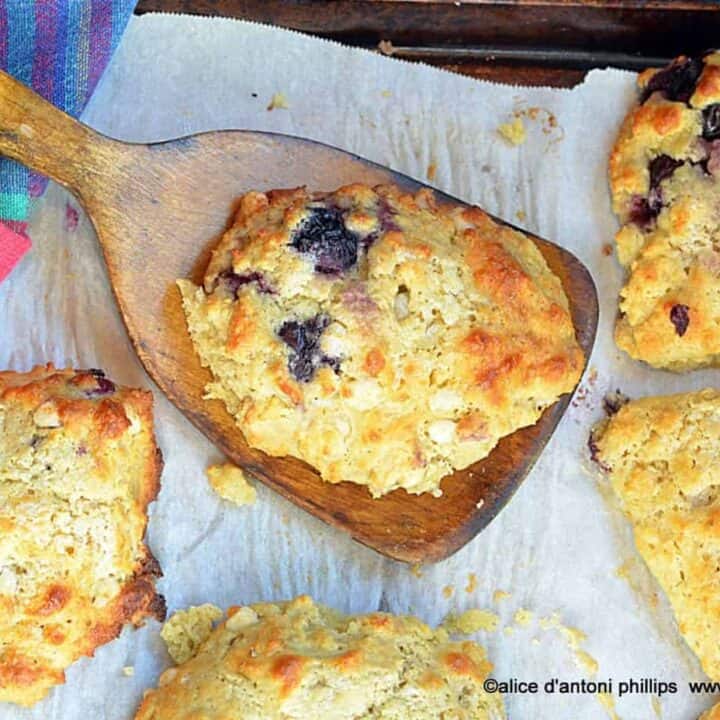 dark red cherry biscuit scones
Ingredients
Preheat oven to 375
2 cups quinoa (or rice) flour + 2 Tbl. (divided)
3 tsp. baking powder
½ tsp. baking soda
¼ cup sugar
½ cup sugar pearls (can substitute more regular sugar—increase to ¾ cup)
¼ tsp sea salt
4 Tbl. Cold butter + 2 Tbl. Room temperature butter (divided)
2 eggs (one beaten and one unbeaten—divided)
1 cup buttermilk
1 ½ cups Dole Packaged Foods frozen dark red cherries
Instructions
In a large mixing bowl, combine the flour, baking powder, baking soda, sugar, sugar pearls and salt and blend together with your fingers. Add 4 tablespoons of butter and work into the dry ingredients until the butter is pebbly.
Combine one beaten egg and ¾ cups buttermilk and add to the dry ingredients. Blend and mix. Add the buttermilk and blend. The batter should be thick.
Put the 2 tablespoons of flour in a bowl and toss the frozen cherries coating them well. Fold the cherries into the batter.
Dollop about 12 equal amounts on a parchement-paper lined cookie sheet leaving about 1-2" between each biscuit-scone. Take the unbeaten egg and using a pastry brush, coat the top of each then add equal amounts of a dab of the room temperature butter to each.
Bake in a preheated 375 oven about 18-20 minutes or until the tops are kind of crackled and golden brown.
Remove and watch them disappear!
Notes
These are gluten free, but if you want to use wheat flour (non-GF) or another variation, like coconut or almond flour, it will work!