jewel of the nile chicken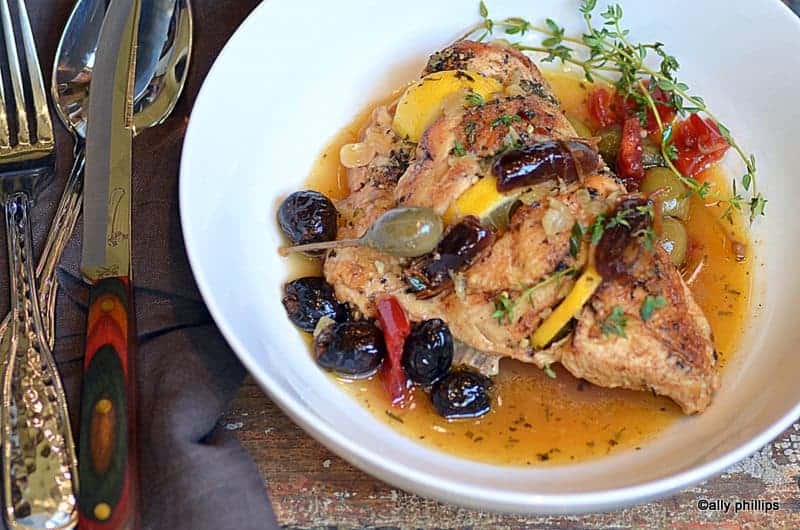 Dates, yes, a fruit, have such an exotic flair, and they date back to ancient history being a staple in Middle Eastern foods for thousands of years. There's even evidence that this fruit goes back to the BC era. Get this, there are even fossil records that record the date back 50 million years. Pretty groovy!
Many folks think that dates are primarily for using in sweet dishes and recipes~desserts, bread, cookies, cakes and more. But, dates have a versatility with savory dishes that just make your palate tingle with happiness! Not only are dates tasty but they're good for you, too. So this dish, jewel of the nile chicken, lets you have your date and eat it, too, without any shred of guilt. I call this 'jewel of the nile chicken' because of the history surrounding the date with ancient Egyptians and the fact that civilization in the areas of the Nile also dates back to antiquity. There is clear evidence of dates being used for medicinal, religious, industrial and food purposes.
Bet you'll never look at a date again in the same way, huh? There's a load of history in everything we eat~take the time to explore the adventure of cultural eating and dining.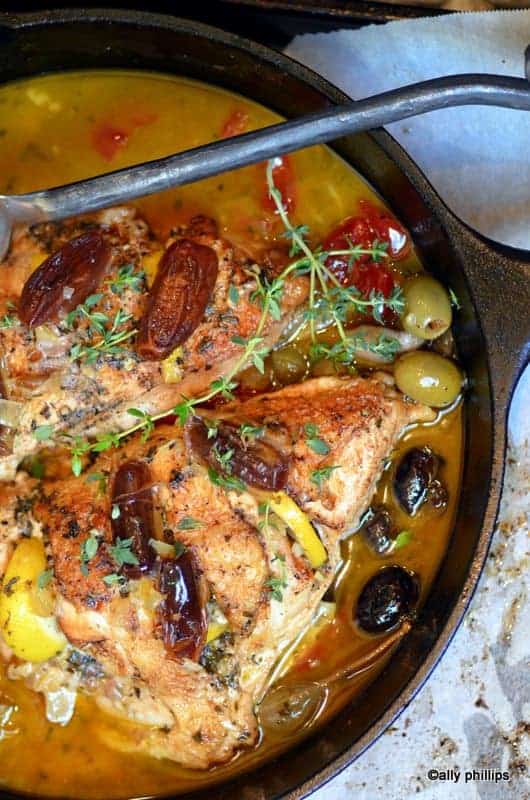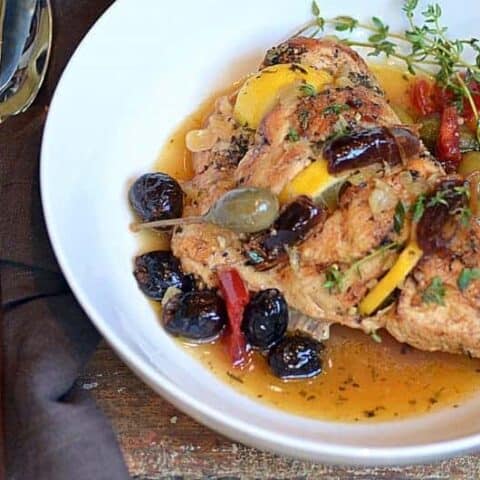 jewel of the nile chicken
Ingredients
Preheat oven to 350
2 large chicken breasts, bone-in & skin on
2 Tbl. butter
1 cup white wine (I used chardonnay.)
1 cup chicken broth
12 whole green olives, pitted
8 black olives, pitted
10 DOLE whole dates, sliced lengthwise in halves
½ cup roasted red bell peppers, drained, found at grocers in jars
SPICE MIXTURE:
1 ½ tsp. Greek seasoning
½ tsp. cumin, ground
½ tsp. paprika
½ tsp. mint, dried
1/ tsp. red chili flakes
½ tsp. lemon pepper
½ tsp. tarragon, dried
¼ cup extra virgin olive oil
3 large lemon slices, cut in half moon shape
Fresh thyme (garnish)
Instructions
Wash and pat dry the chicken. Put the chicken on a parchment paper lined cookie sheet. Take a sharp knife and make three slits in the top of the breast going about to the bone (you will feel it with your knife). Put the cast iron skillet over medium high heat and let it get hot.
Add the butter then the chicken, skin side down, and sear and brown for about 3 minutes. Reverse the parchment paper on the cookie sheet. Then put the chicken back on it. Secure the lemons into the slits of the chicken. Turn heat to low and deglaze the skillet with the wine and broth.
In a small bowl, mix the spices and olive oil. Put equal amounts of the mixture into the slits of the chicken and drizzle more on top. Put the chicken back in the skillet. Add the olives, dates and peppers. Cover with a layer of doubled foil and a lid. Roast in a preheated 350 oven for about 35-40 minutes.
Remove and ready to serve. Be sure to divvy up the flavorful broth and have plenty of hot crusty bread. You'll feel like you're Cleopatra and/or Mark Antony dining al fresco along the Nile! Add fresh thyme for garnish when serving.
Notes
You can substitute apple juice for the wine.